Back Talk with Brett Amory
Juxtapoz // Friday, 04 Jun 2010
1
Today, I feel:
Excited about the LA show I'm about to have and content with my work.
If you had three wishes, what would they be?
To be liked, have a great personality and a perfect body.
Do you consider yourself a funny person?
Maybe funny looking.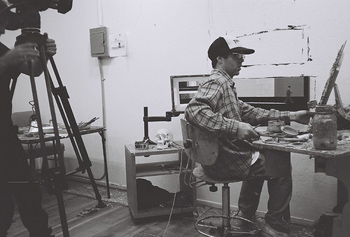 If you had one magic power, what would it be?
I wish I could stop time so I could be more prolific.
Something that makes you happy?
Coffee.
Something that makes you mad?
Smoking because I can't quit.
What was your favorite subject in elementary school?
Lunch.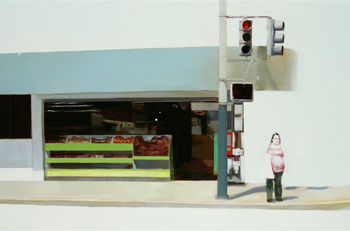 If you feel a creative block, what do you do to jumpstart inspiration?
I'm in one right now. I just got back from a 10-mile walk. It didn't work.
When someone is taking a photo, do you smile for the camera or turn your head?
I try and look cool by not smiling but I usually end up looking like a kook.
Are you a social network enthusiast?
Not really but I'm learning.
What is a quality you don't like about yourself?
Obsession.
Last good book you read?
I never have.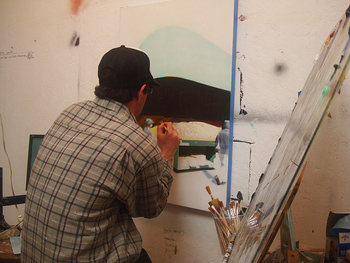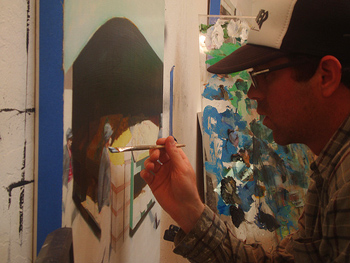 Who has had the most impact on your life?
My mother.
Are you spiritual?
When I want something to go my way.
One word to describe your artwork?
Quiet.
What's missing in your life?
Interaction with humans.
Are you a pet person?
I have a cat his name is Minus. That's where all the hair in my paintings comes from.
Is your artwork understood?
If I explain it.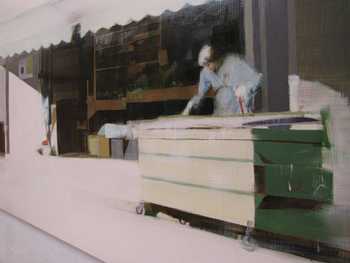 The most trouble you've ever gotten into:
I was always pretty good but one time I ripped that "do not remove" tag off my mattress and my mom found out.
Where do you imagine yourself in five years?
Hopefully I will be making pretty pictures and having them on display at your local flea marked. I'm keeping my fingers crossed.
Brett Amory's newest works will be on display in a show titled The Waiting Room at Thinkspace Gallery.
June 11th - July 2nd
Opening Reception: Friday, June 11th 7-10pm
More info at www.thinkspacegallery.com