Back Talk with Adam Wallacavage
Juxtapoz // Friday, 23 Apr 2010
1
For ROOMS, opening tomorrow April 24th, Wallacavage's custom chandeliers and frocked wallpaper will fill his guest room. For Art From the New World, he will also be showing off stunning new octopus chandeliers. That show will open in May at the Bristol City Museum of Art.
Today, I feel:
Overwhelmed to do my taxes, build 6 different crates to ship chandeliers to Bristol UK, San Francisco, and Los Angeles. Then I need to finish casting a plaster owl medallion, photograph my art, drive to NYC to Jonathan LeVine Gallery and do a bunch of work there, have a BBQ at my house tonight, finish this interview, feed the birds, somehow pay the bills.
If you had three wishes, what would they be?
1: I would like the ocean to go back to the way it was in prehistoric days with huge monster sized monsters were eating stuff and those weird looking seashells were crawling around with their tentacles.
2: I would love for my house to be used in a movie set where they build this fantastic roof deck garden and I get to keep it after
3: I live on a main street in Philadelphia and there is a subway that goes in front of my house so I also wish I had an underground pool complex like Lex Luthor did in the Superman movie.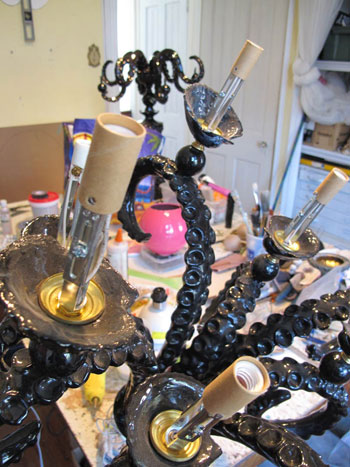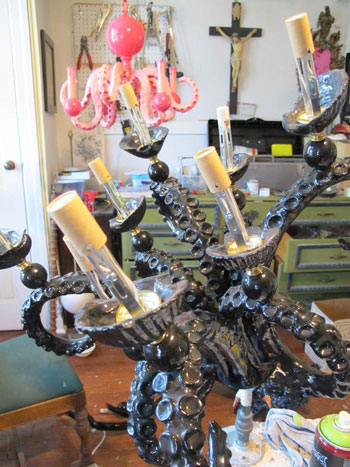 Do you consider yourself a funny person?
I used to, but then I hurt someone's feelings and now I feel bad about it.
If you had one magic power, what would it be?
It would be the ability to pull rabbits out of top hats.
Something that makes you happy?
A certain Goth girl I know.
Something that makes you mad?
Mosquitoes, evildoers, that itch I can't scratch.
What was your favorite subject in elementary school?
Arrrt.
If you feel a creative block, what do you do to jumpstart inspiration?
I put on my Che Guevara t-shirt and then I go on the Huffington Post and get really mad at conservatives and then try to make the world a better place with my opinion about stuff. Ha! No! I just go hang out with my friends and have fun until I get really paranoid about not working.
When someone is taking a photo, do you smile for the camera or turn your head?
I try to hide my beer behind my back. I can't be holding a beer can in every photo, right?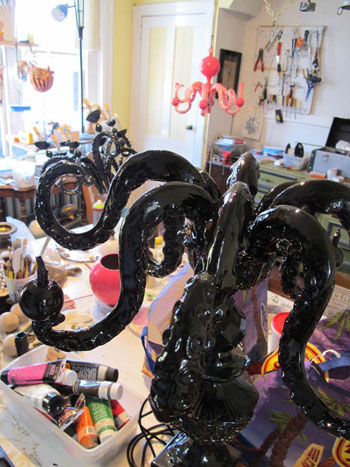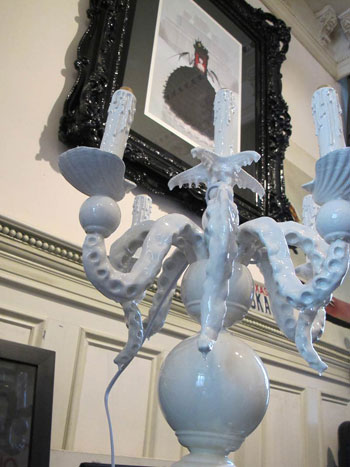 Are you a social network enthusiast?
Actually I was a bit too into that stuff for a while and now I'm trying to back off a bit by not posting too many personal photos and stuff. I don't like how Facebook's central command knows so much now about everyone and how it's so easy to give away too much information about myself to people I don't know. I'm joined twitter because someone told me I needed to. I didn't know what to do with it so I just started making up stuff.
I used to do that with Facebook, I'd make up that I was on trips to other countries and I would do mobile uploads from Google images of airports and stuff, but then it became too much trouble explaining it to people who I ran into and my family was getting concerned because they would hear about me through other people who were reading my nonsense.
What is a quality you don't like about yourself?
My nose runs and my feet smell.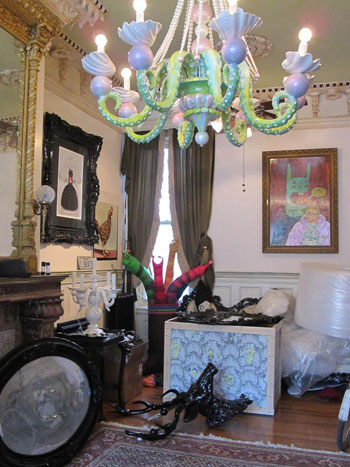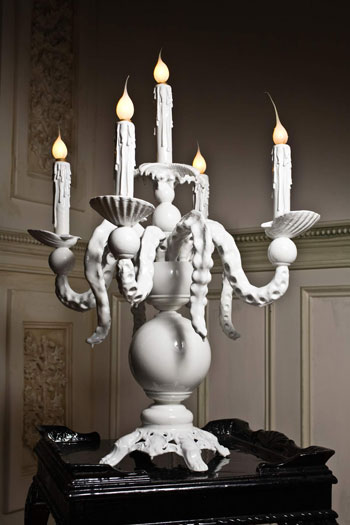 Last good book you read?
Tony Duquette. I just looked at the pictures actually.
Who has had the most impact on your life?
Me, I suppose. I mean, not in an egotistical way but I've been hanging around myself for most of my life, so I'm sure it's had some sort of impact, right?
Are you spiritual?
Yes, I share a similar spirituality to Antoni Gaudí, Andy Warhol, and Salvador Dali in his later years.
One word to describe your artwork?
Jingle cats doing the Benny Hill theme song.
What's missing in your life?
Honestly, I'm quite happy so, not much, besides not having a secret underground pool complex like Lex Luthor.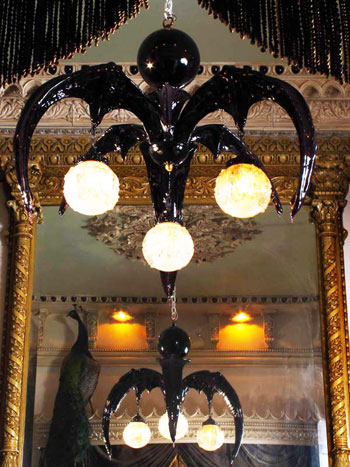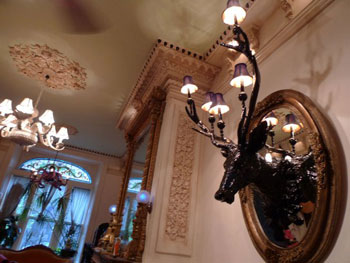 Are you a pet person?
I have a bunch of birds but I don't think of them as pets.
Is your artwork understood?
Once I made a chandelier that had octopus tentacles and an art critic called them elephant trunks, so I'd have to say, no. I want to know what zoo they have been going to but I'd like see it.
The most trouble you've ever gotten into:
I'm pretty much a wimp and not very prone to doing the dirty work myself. I'm more of an observer of trouble and I'm quite good at finding it when I need too for research purposes mainly.
Where do you imagine yourself in five years?
I don't think too much about the future. I do so many different things; I'm still trying to process what I did last week. I don't have time for the future right now.
More information on Adam Wallacavage at www.adamwallacavage.com