Back Talk: Dabs Myla
Juxtapoz // Thursday, 26 Aug 2010
1
The pair is infectiously energetic and genuinely kind. They truly love art and get along like two peas in a pod. Tokyo Deluxe is inspired by a trip to Japan, taking their round-faced characters on a romp throughout the bustling city.
One reason you make art:
MYLA: We make art for each other! We make it for fun and for work, everyday!
The last good movie you saw:
MYLA: We watch a lot of movies, and we really like pretty much everything from trashy to thrillers...but I think our favorite movie in the last year was Fantastic Mr Fox.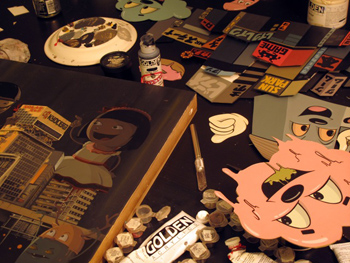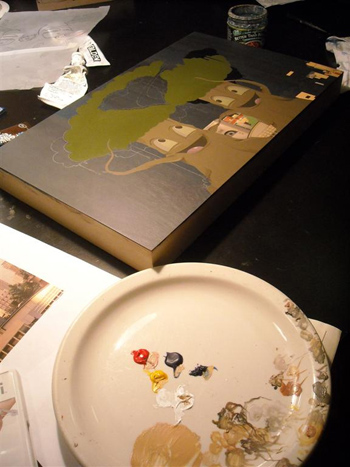 Something you've always wanted to do, but have yet to:
MYLA: Enter Dabs into a pie eating competition! He is always bragging about how many pies he could eat (I don't really think it would be many at all). It would be really really disgusting and very funny!
Favorite country or city visited:
DABS: It's too hard to choose! There are so many amazing places to see in the world. We did just recently visit Tokyo earlier this year, and totally fell in love with that city! We spent a lot of time gathering references and drawing for our upcoming show, Tokyo Deluxe, which is all based on our time in Japan. So I guess we must have really liked it there to spend the last 4 months painting pictures about it.
MYLA: Los Angeles. Whenever we leave I can't wait to come back!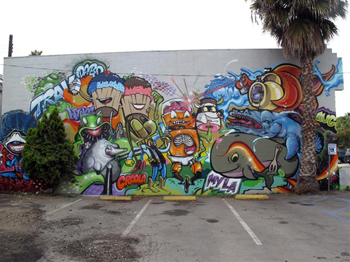 A few words that sum up your philosophy on life:
DABS: Do what makes you happy...life's too short to compromise it with shitty people and shitty work!
Something you want the world to know about you:
DABS: I totally cheated my ass off in my grade 10 end of year exams. I had been expelled from my former school for smoking weed and had started late year at a new school. The only way they could determine my passing or failing was from the end of year exams. My new school was an alternative learning school run by hippies, which made it all to easy to cheat! I feel bad for taking advantage of hippies' good will and trust, but sometimes you gotta just take what you can when you can.
Actually the only test I didn't technically 'cheat' on was the English exam, which was a written essay/short story and you can't just straight up cheat on a story. But knowing my English teacher was an old hippie, I figured he probably doesn't watch too much TV, or get to the movies to often, so I totally wrote out the whole plot to Back to the Future Part 1...start to finish! I had the flux capacitor and everything, the crazy Doc Brown, getting my parents back together, it was a straight up rip! Anyways, he thought I was the most imaginative storyteller ever, a literary genius in the making. Ahhh...feels good to get that confession of my chest!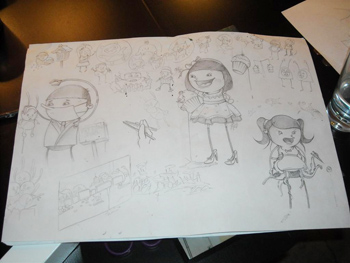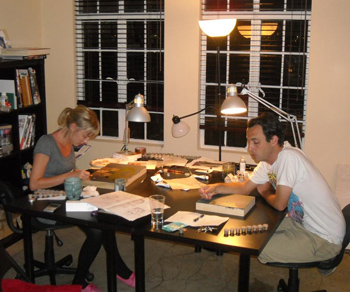 Something that annoys or frustrates you about people:
DABS: I've got a real problem with people chewing crunchy food. It's totally fucked up! I can't help it whenever someone eats an apple, or potato chips I just see red! It's completely irrational. I think maybe my parents chewed a lot of crunchy food right up in my face when I was a baby or something? MYLA: It's true! I have to eat crunchy things in another room!
Something that concerns you:
DABS: Nothing really. We usually just go with the flow and try not to think about things that concern us. Stay positive and just think about the things we love, no worries!
Artists you admire:
Greg Simkins, Logan Hicks, Jeff Sotto, Mary Blair, Jim Phillips, Amy Sol, KMNDZ, Mark Ryden, Sergio Hernandez, Jersey Joe Rime, The Witnes, Revok, Ewok, Pose, Sever, Saber, Askew, New2, Tame, Jorz, Puzle, Askem, Dvate, Osamu Tezuka, Bill Ward, Carlos Ramos...oh there are so many more!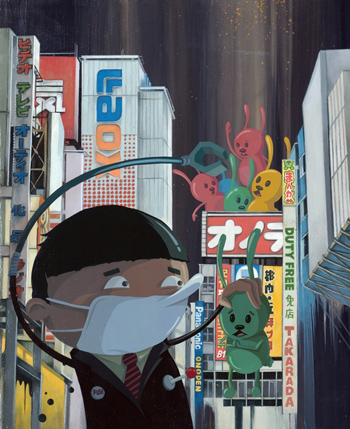 Favorite quote(s):
MYLA: We both have a favorite quote. It was said by Samuel Goldwyn: "The harder I work, the luckier I get."
The first record or CD you ever bought? The last album you downloaded?
DABS: The first album I think I bought was Faith No More "The Real Thing". And the last album I downloaded was from the greatest band in the history of the world...Ween's "Pure Guava." MYLA: The first cassingle I bought was Bon Jovi 'I'll Be There For You" and the last album downloaded was Eddy Current Suppression Ring "Primary Colours." They are an Australian band that is totally awesome!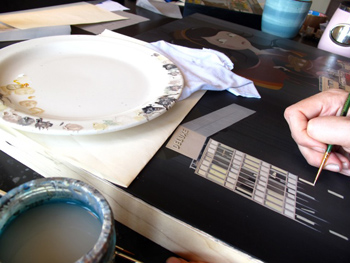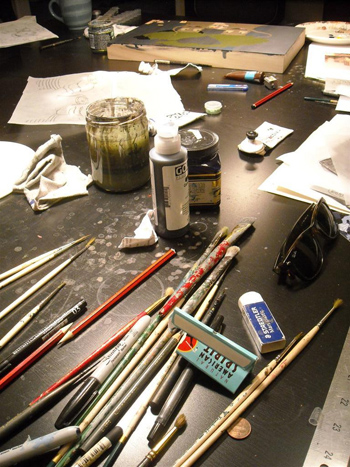 Something you do when you're procrastinating?
MYLA: Um, procrastinating? What's that? I guess just make more art...but maybe just do it a little slower than usual!
What is your most defining characteristic?
MYLA: We are two people who live and work like one person.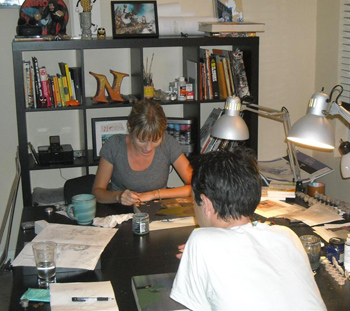 What is your greatest fear?
DABS: I'm not sure...doesn't fear lead to anger and anger lead to hate and hate leads to suffering?! We try not to be fearful of anything cause we don't want to end up on the dark side!
The moment you realized you were an 'artist':
DABS: When I realized I'm pretty much useless at everything else in life! Which didn't really leave me with many other choices.
Your greatest quality:
MYLA: Mixing colours. I can mix any colour...serious!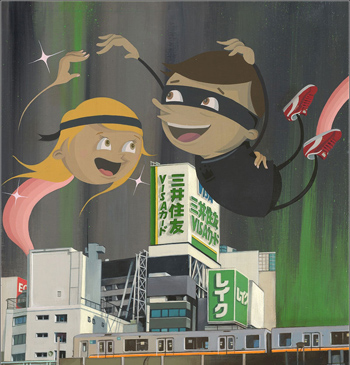 Something you wish you could change or alter about yourself:
DABS: I would really like it if I could somehow gain the strength and willpower to not scratch mosquito bites when I get them. It's an awful habit to scratch at your skin, but when I get 'em I just can't help myself.
What is the biggest risk you've ever taken and was it worth it?
MYLA: I think moving over to LA seemed like a pretty big risk at the time. To just leave everything and come over to a country with no jobs lined up, no visa, no idea of how or what we were going to do. Now that I think of it, it was kinda risky! Our very good friend Logan Hicks, who is always full of knowledge and good advice. was very helpful, and definitely helped motivate us to make the leap!
Something you wish you had known five years ago:
DABS: I don't know about 5 years ago because that's when Myla and I first met each other. But if we could make it 10 years ago, it would have been nice to know that I would meet the girl of my dreams 5 years from then. Maybe I could have tried to meet her earlier!
What do you hope to accomplish in the next five years of your life?
MYLA: Continue living in LA, work out how to make really, really big paintings, paint better graffiti and get married to Dabs!
DABS: Ditto!
Dabs Myla's show, Tokyo Deluxe, opens Friday, Septeber 3rd from 7-10pm in the Thinkspace project room, alongside Sarah Joncas' 'Siren' in their main gallery.
More info at www.thinkspacegallery.com
More on Dabs Myla at www.dabsmyla.com