Back Talk: A Conversation with White Cocoa
Juxtapoz // Monday, 01 Aug 2011
1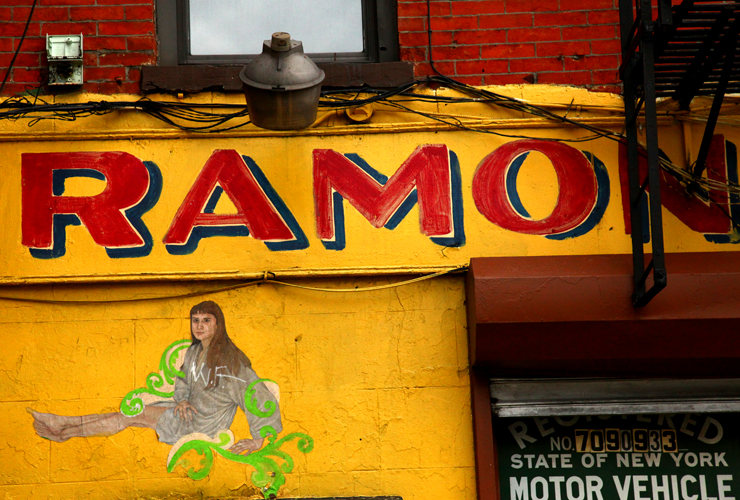 Newcomer White Cocoa wheat-pastes realistically hand drawn healthy, if troubled, middleclass people interacting with one another privately, in front of you, with multiples of limbs and movements merged into one. The level of detail and warmly dimensioned rendering in a portrait can pop the face and gestures out from the wall, making you think you may have met them before somewhere else and possibly even hung out.  But you are outside now, and their stares are intense and their lips aren't moving, even as the undulating bed of tags waves wildly at you from behind them. ~ Steven P. Harrington and Jaime Rojo
One reason you make art:
It's the only job I've ever been able to stand...

2. The last good movie you saw:
I saw "Unstoppable" on an airplane just the other day and totally loved it; Based on a true story about a runaway train in Pennsylvania. I'm a total sucker for cheesy low-brow man vs. machine action adventures where the good guy always wins and gets the girl. Or at least I am at 30,000 feet.

3. Something you've always wanted to do, but have yet to:
Ride a mechanical bull!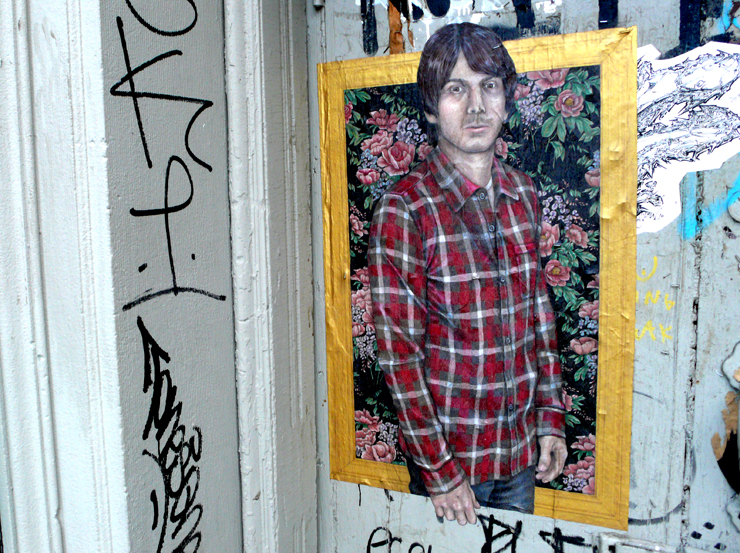 4. Favorite country or city visited:
Well I'm in Barcelona right now and it's pretty amazing.

5. A few words that sum up your philosophy on life:
I'm out of ideas...

6. Something you want the world to know about you:
...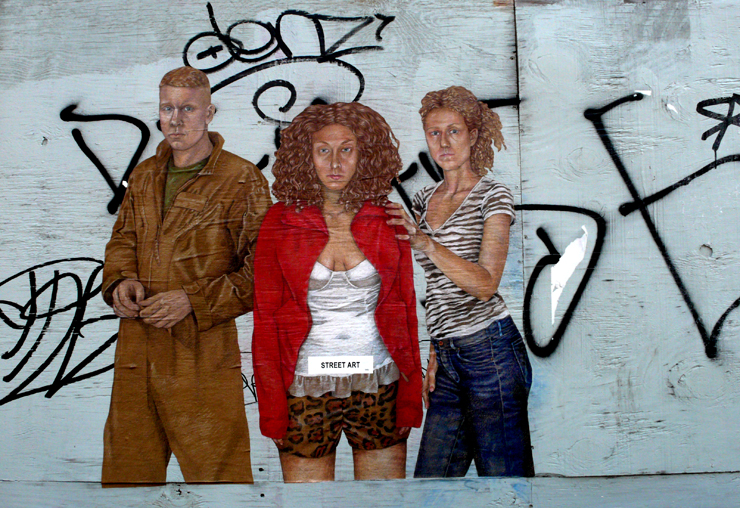 7. Something that annoys or frustrates you about people:
Know-it-alls really bug me. People who always have an answer for everything, who always know more than you do. They never ask questions or listen. I think it shows a real unwillingness to learn.

8. Something that concerns you:
Money. Not having any, and how to get people to give me some for drawing pretty pictures on their walls.

9. Artists you admire:
My mother for her quiet private paintings. Barnabe Whitfield for his imagination. Hope Gangloff for her skills with a pen. Vincent Desedario for his straight up skills.  And my man Over Under for the constant inspiration and kicks in the butt.

10. Favorite quote:
"We are all brothers under the skin- and I, for one, am willing to skin humanity to prove it." -Ayn Rand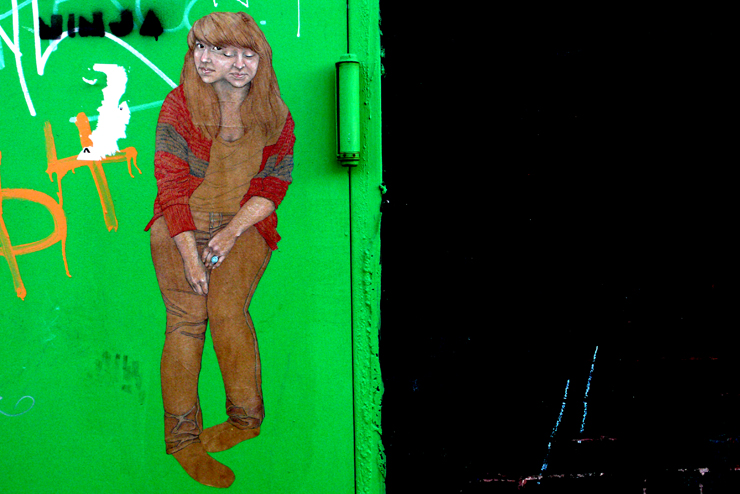 11. The first record or CD you ever bought? The last album you downloaded?
Haha, Allanis morrisette " Jagged little pill" was the first album I bought. I was twelve! It was the cassette and I wore out the tape, I knew every word.
The last album I downloaded was Adele.

12. Something you do when you're procrastinating?
Hmmm, well I usually I do things like fold all my socks, organize my paper supply, and put my colored pencils in perfect rainbow order. And when that's all done I'll watch really cheesy medical dramas on the Internet until I feel so guilty I have to get to work.

13. What is your most defining characteristic?
Probably my choice of medium... I don't know a lot of other artists, street or otherwise, who work only in colored pencils. I love when people look at my work and have no idea how I did it, or assume it's an oil painting. I just love my pencils!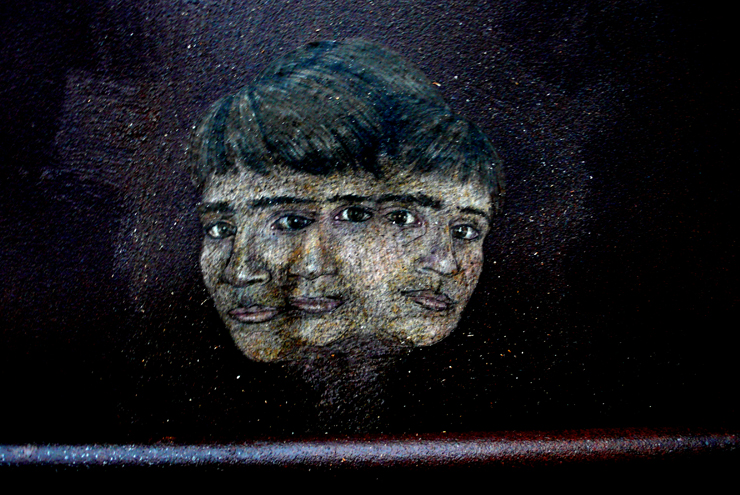 14. What is your greatest fear?
Not moving forward, not doing well, getting stuck in a routine, being bored and being boring.

15. The moment you realized you were an artist:
Any day now....

16. Your greatest quality:
Willingness.

17. Something you wish you could change or alter about yourself:
I wish I was more assertive and self-promoting, and that I didn't avoid confrontation so much.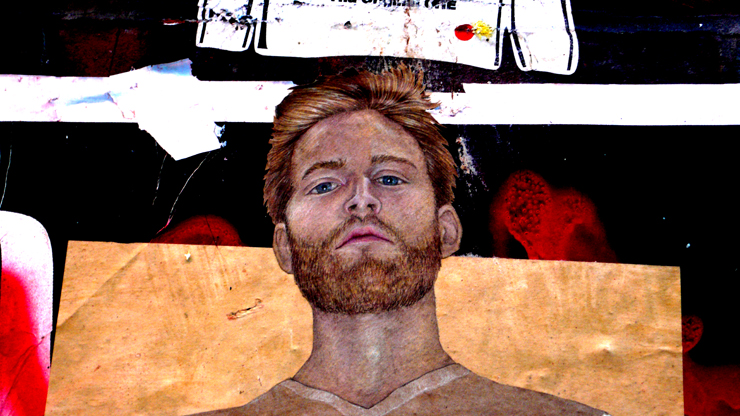 18. What is the biggest risk you've ever taken and was it worth it?
Dropping out if college the first time around. It was scary as hell, and I had no idea what I was going to do with my life, let alone how I was going to pay rent and feed myself, but I am so glad I did. By the time I found my way back six years later and ended up at Parsons, I really knew what I wanted to do, and I got so much out of it.  If I had stayed all those years ago I would be a very different person; Plus it led me to meeting that special someone... So worth it!

19. Something you wish you had known five years ago:
...

20. What do you hope to accomplish in the next five years of your life?
Be able to quit my day job! Live for a while overseas, become more flexible with my art making process, be able to work faster while on the move and care less about perfection. Build a more permanent home (perhaps from scratch), maybe start a family.

All photos © Jaime Rojo


You can see White Cocoa's work in the new group show, "Street Art Saved My Life: 39 New York Stories"
Curated by Steven P. Harrington and Jaime Rojo, founders of Brooklyn Street Art
In collaboration with ThinkSpace Gallery
Opens at C.A.V.E. Gallery, Friday August 12th 6-10pm
Runs until September 4th
C.A.V.E. Gallery
www.cavegallery.net