Back Talk: A Conversation with TipToe
Juxtapoz // Tuesday, 09 Aug 2011
1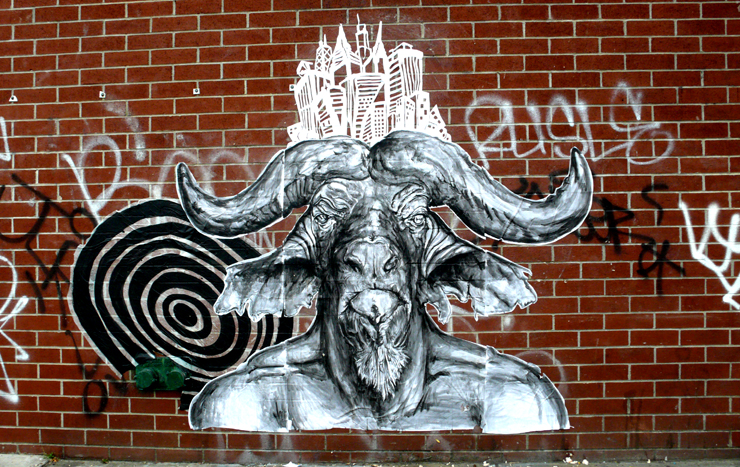 Chicago based street artist TipToe showed up on the New York scene a year or so ago as a kid in a ferocious werewolf headpiece. Inspired by ideas of Greek serial killers in wolf's hides as well as Allen Ginsburg's lunatic friends howling at the moon, the woodcut prints appeared like rugged anti-heroic talismans from another epic era. Together with mythological, burdensome beasts and minotaurs springing from his sunless whirlpool, Tiptoe creates his pieces by hand and carries them with his wounded psyche. ~ Steven P. Harrington and Jaime Rojo
1. One reason you make art:
I'm trying to establish a mythos in a quest for understanding and directing the darker currents of the mind into more positive ventures.
2. The last good movie you saw:
I'll just give you a list of my favorite filmmakers.
1.   Ingmar Bergman
2.   David Fincher
3.   Akira Kurosawa
4.   Jean-Pierre Jeunet
5.   Charlie Kaufman
3. Something you've always wanted to do, but have yet to:
Build a time machine and experience the world pre-television.
That and I kind of would have liked to box with Hemmingway.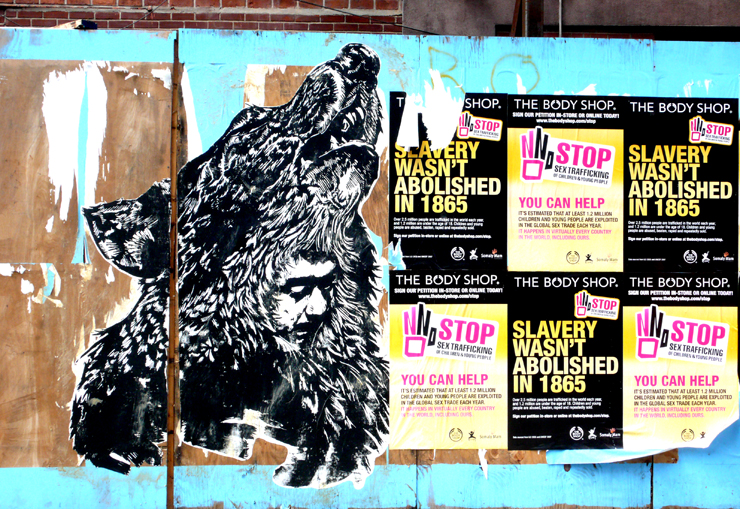 4. Favorite country or city visited:
It's the people that make a place great, but I can tell you I had a lot of fun in Barcelona, Berlin, and Brazil.
5. A few words that sum up your philosophy on life:
4 Billion years of life and WHAT LUCK! I am alive during the brief moment of conscious self-awareness before we all turn to sand and dust.
6. Something you want the world to know about you:
I think real men should be able to shoot pool, hold their liquor, and know how to take a punch.
7. Something that annoys or frustrates you about people:
Obsessions with Warhol and people who don't know the difference between ambiguous and arbitrary.
8. Something that concerns you:
Time. The Darkness. And The Truth (not in Biblical sense)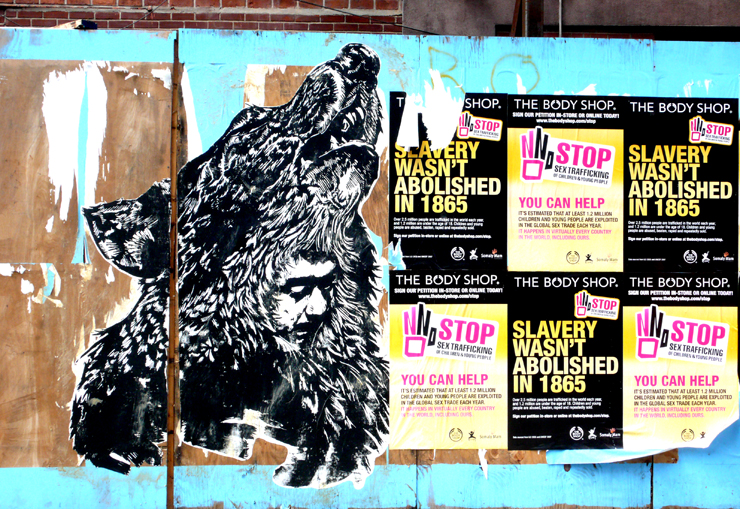 9. Artists you admire:
I would like to qualify this….  It is hard to separate these artists from their humanity.  Despite their apparent personal flaws I find their stories to be uniquely expressive of their humanity and revolutionary in their time and place.  I believe they have contributed to culture rather than subtracted from it.
Duchamp
Pollock
Gordon Matta-Clark
Phil Solomon
Ginsberg
Kerouac
Kafka
Ovid
John Cage
Radiohead
Basquiat
Tom Waits
REVS
Miro
Polk


10. Favorite quote(s):
"I dare do all that may become a man; Who dares do more is none."
-Macbeth
"Life is nothing but a competition to be the criminal rather than the victim."
-Bertrand Russell
"Through the alley, back from hell. When you hear that steeple bell, you must say good bye to me."
-Tom Waits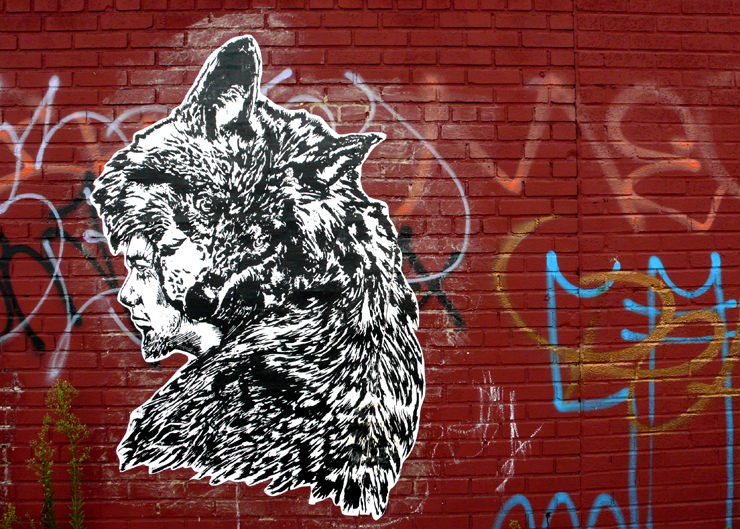 11. The first record or CD you ever bought? The last album you downloaded?
I really don't remember…
12. Something you do when you're procrastinating?
Anything and everything that is NOT what I'm supposed to be doing, but primarily:
Build forts on my roof.
Ride my bike to the park.
Read
Study theoretical-physics
Nap (the best dreaming happens at nap time)
13. What is your most defining characteristic?
On the street I would say my most defining characteristic is my interested in the paradox; My sympathy for the devil or the sorrows of love.  Structuring my life around the ephemeral is like building a house on quick sand.  I live for the challenge and constant effort to stay truly alive.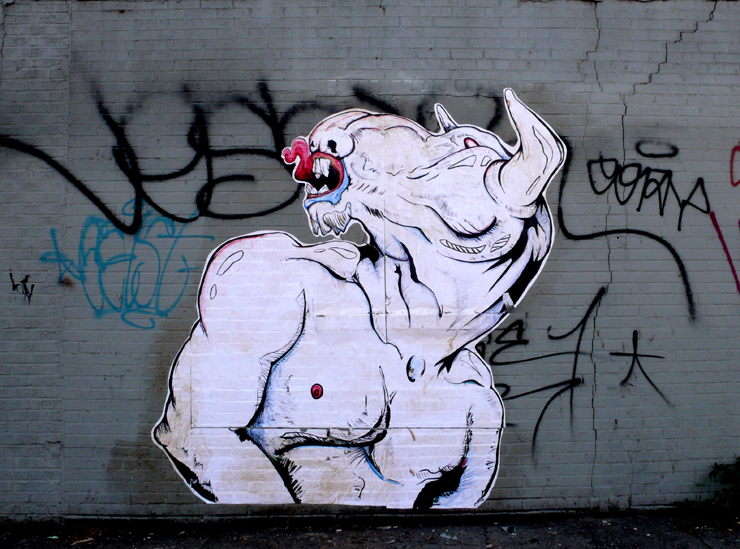 14. What is your greatest fear?
Laziness, cowardice, and the lack of purpose or direction…
15. The moment you realized you were an 'artist':
When I realized I would rather be broke and painting then working a 9 to 5.
16. Your greatest quality:
I try hard to work with intention.  Even at the times where I try to leave people with questions or multiple conclusions there is a guiding purpose and specific intent.  This is especially true on the street.
17. Something you wish you could change or alter about yourself:
Change that matters is evolutionary… it's something which comes from time and experience… Something that grows upon you or you grow into.  Otherwise the "change" is a kind of fake… "Change" done for the purposes of getting something… or to pleasing someone… that doesn't seem to work with me.  Growth is the kind of change that makes sense to me.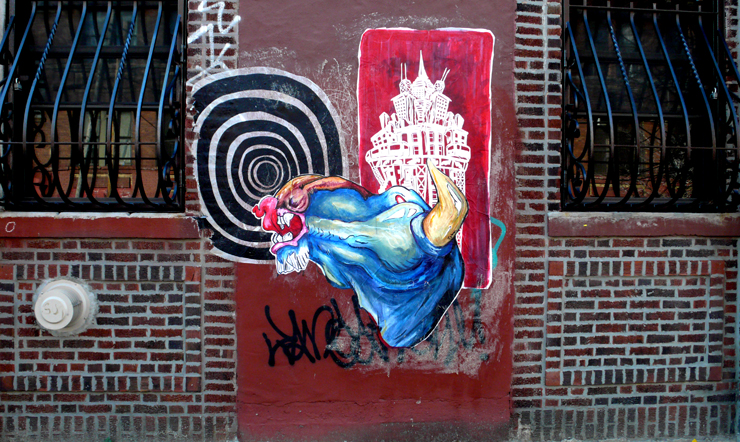 18. What is the biggest risk you've ever taken and was it worth it?
"No person shall […] be compelled […] to be a witness against himself…"
19. Something you wish you had known five years ago:
If I could go back 5 years I would tell myself, "trust your gut, and work it everyday."
20. What do you hope to accomplish in the next five years of your life?
I don't think it's the accomplishments, I think it's the practice and the motivation to keep the work authentic which is important.  I just hope I continue to have the ability to keep doing this.

All photos © Jaime Rojo
You can see TipToe's work in the new group show, "Street Art Saved My Life: 39 New York Stories"
Curated by Steven P. Harrington and Jaime Rojo, founders of Brooklyn Street Art
In collaboration with ThinkSpace Gallery
Opens at C.A.V.E. Gallery, Friday August 12th 6-10pm
Runs until September 4th
C.A.V.E. Gallery
www.cavegallery.net