Back Talk: A Conversation with Stella Im Hultberg
Juxtapoz // Friday, 07 Oct 2011
1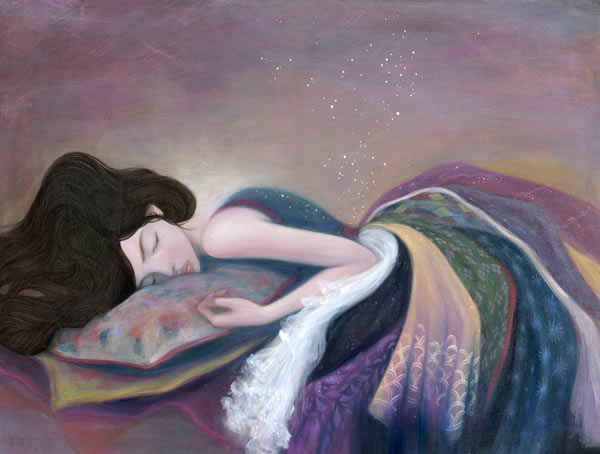 Stella Im Hultberg is a part of the group exhibition, In the Wake of Dreams, featuring news works from the artist as well as new works from Audrey Kawasaki, Amy Sol, and Mari Inukai. The show opens at Thinkspace Gallery on Saturday, October 8 in Culver City. We sat down with Hultberg for a few Back Talk questions...
1. One reason you make art: The in-between emotions and moments that words fail to describe (and I'm already so bad with words).
2. The last good movie you saw: Norwegian Wood while in London.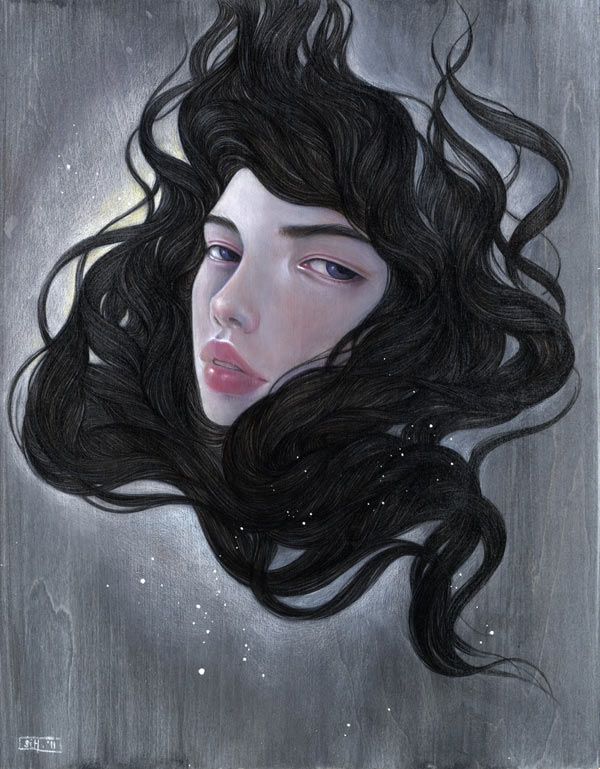 3. Something you've always wanted to do, but have yet to: Making really large works.
4. Favorite country or city visited: Japan
5. A few words that sum up your philosophy on life: Wabi sabi
6. Something you want the world to know about you: I'm not who you think I am. ;)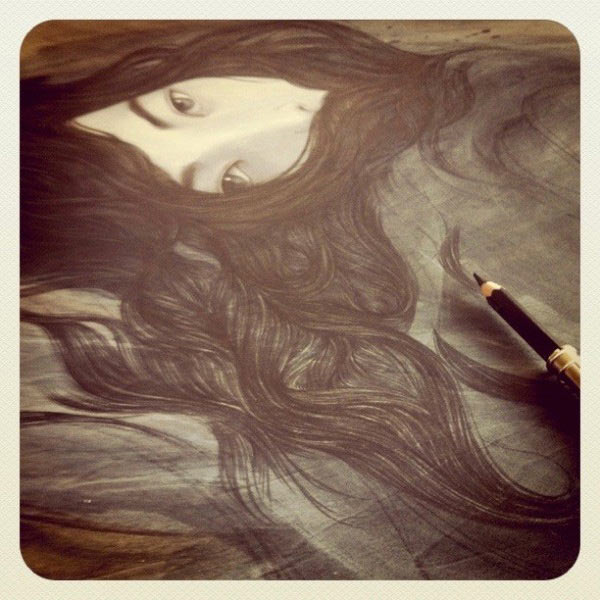 7. Something that annoys or frustrates you about people: Inconsiderateness
8. Something that concerns you: Right now, greed & powers.
9. Artists you admire: Goya, Klimt, Schiele, Degas, Munch, Barry McGee, Margaret Kilgallen, Kent WIlliams, Ursula Von Rydingsvard, Marlene Dumas, Jin Young Yoo, Do ho Suh, and of course, Audrey Kawasaki, Mari Inukai, Amy Sol. :)
10. Favorite quote(s): Pain is inevitable. Suffering is optional. (Murakami Haruki, What I Think about When I Think About Running)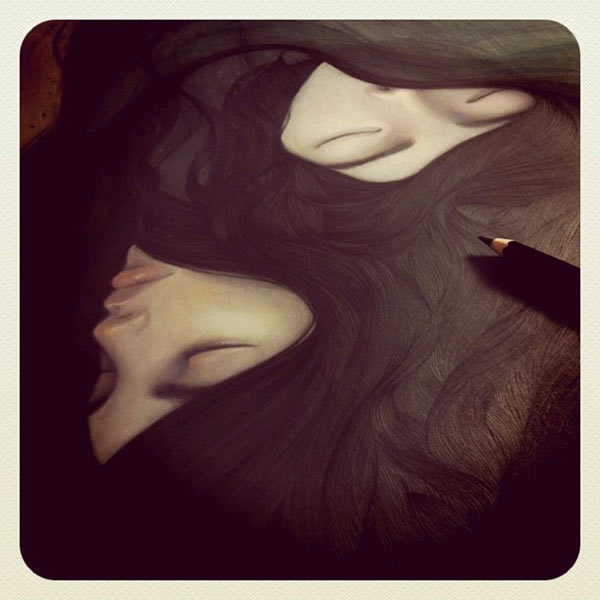 11. The first record or CD you ever bought? The last album you downloaded?: The first cassette for my walkman I bought was Debbie Gibson (well, I was 10).
Can't remember the first CD. The last music I downloaded was still a while ago, i think it was Blonde Redhead.
12. Something you do when you're procrastinating?: NYT crossword puzzles.
13. What is your most defining characteristic?: Maybe lack of such a defining characteristic - Ambiguity & Rootlessness.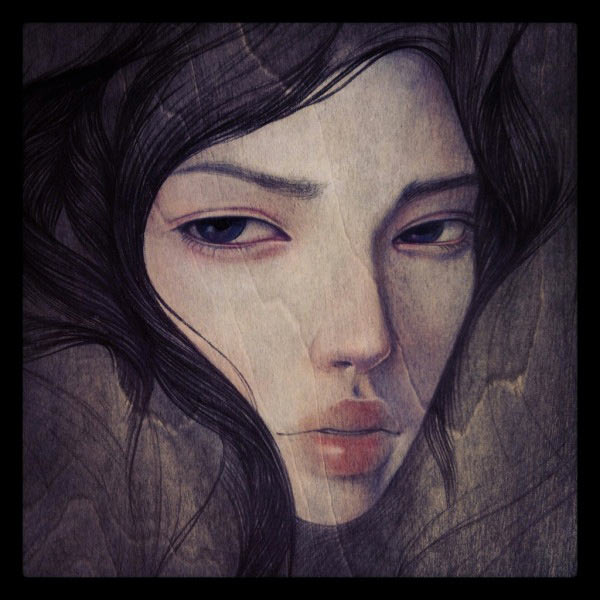 14. What is your greatest fear?: Mediocrity & regrets.
15. The moment you realized you were an 'artist': I'm not sure. But during the last semester in college working on my industrial design thesis project,
I did realize I was a little too unstructured to be a designer and wanted something a little freer.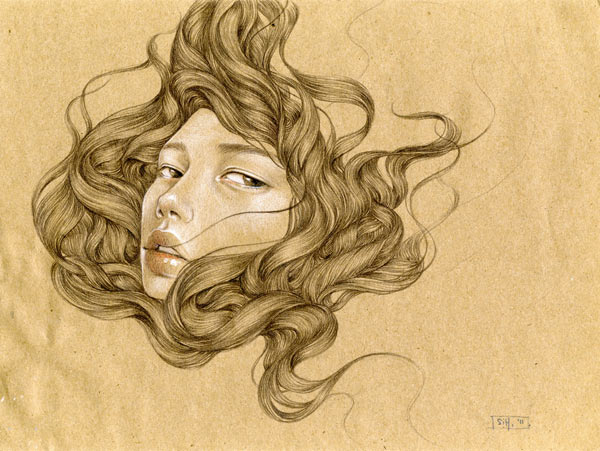 16. Your greatest quality: Lack of rigidly pre-conceived notions.


17. Something you wish you could change or alter about yourself: My ambiguity - although it allows me to be open to a lot of things, but sometimes it feels as though I'm never anchored down, probably from having moved around and raised in different cultures. I wish I had a more definite focus as a person.
18. What is the biggest risk you've ever taken and was it worth it?: All the risks I'd taken so far has been worth it. Being a full-time artists is definitely one of them.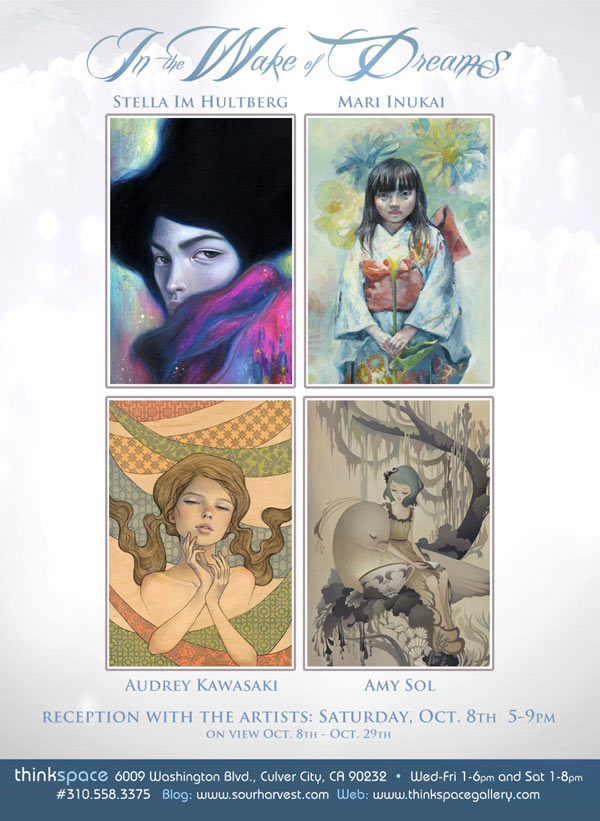 19. Something you wish you had known five years ago: That's around the time I'd started showing at galleries, becoming an artist. I wish I'd known a whole lot of things back then - I kind of feel like maybe I could've been more ready to show at first.
20. What do you hope to accomplish in the next five years of your life?: More studying & learning. About art, techniques, life, people, world, etc…
"In the Wake of Dreams"

New paintings, drawings and the debut of a new print set from:
Stella Im Hultberg
Mari Inukai
Audrey Kawasaki
Amy Sol

Reception with the artists:
Sat., October 8th 5-8PM
Exhibition Runs: Oct. 8th - Oct. 29th
Thinkspace / 6009 Washington Blvd / Culver City, CA 90232 / www.thinkspacegallery.com