Back Talk: A Conversation with Radical
Juxtapoz // Monday, 08 Aug 2011
1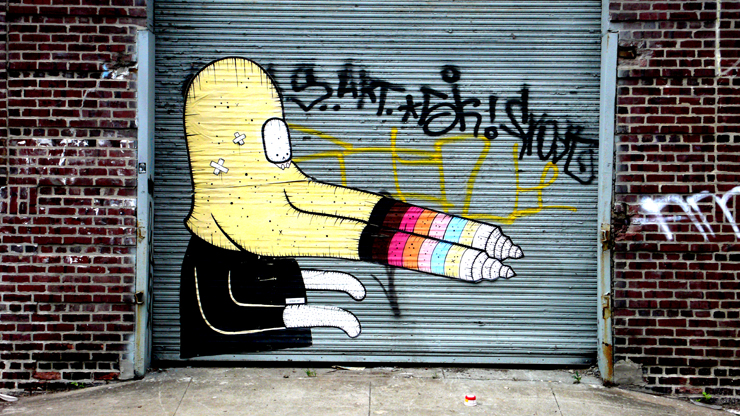 Radical! takes his work seriously, and he has been seriously getting up in New York with his comically anthropomorphic characters and their extended appendages. The snaking tongue always grabs attention from the other features of his flamboyant and grotesque creatures, sweetly telling you this kid born will have a lot say, and some of it is going to be challenging. Whether on a rolldown gate or a sticker, Radical!'s imaginative illustrations are metaphors about things he observes in society, which may be why his characters, though whimsical, feel solidly grounded. ~ Steven P. Harrington and Jaime Rojo
1. One reason you make art: It's about all I'm good for.


2. The last good movie you saw: "Natural Born Killers".  It was badass.



3. Something you've always wanted to do, but have yet to: Paint an oval water tower to look like a giant cheeseburger.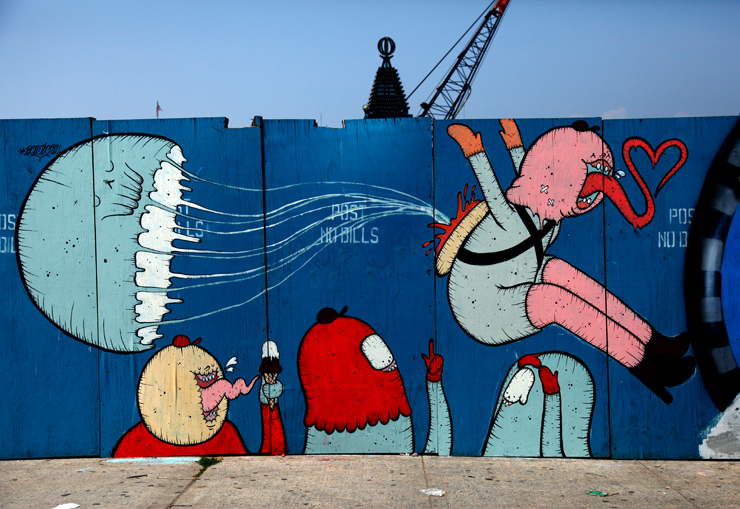 4. Favorite country or city visited: The only place outside of the U.S. I've been to is Cologne, Germany.  It was an amazing experience in every aspect, especially visually with all of the graffiti and other artwork.



5. A few words that sum up your philosophy on life: A lot of it is what you make of it.



6. Something you want the world to know about you: I like making things.



7. Something that annoys or frustrates you about people: Oh man, sadly I could go on and on with this.  Violence and disregard for human life, and life in general can frustrate me.  Drunk college kids tend to annoy me.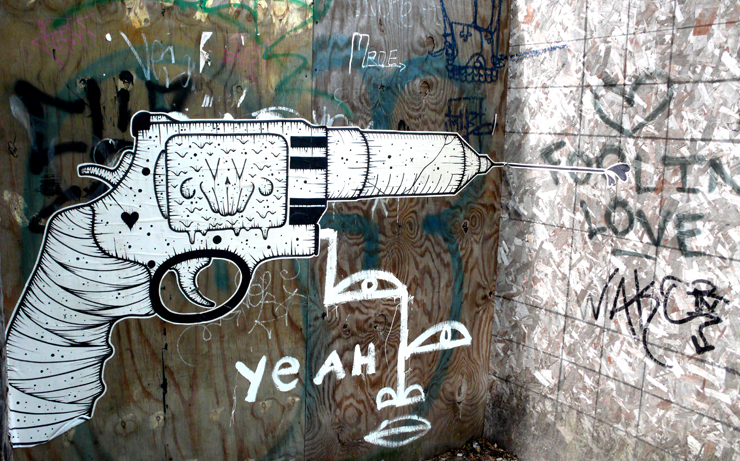 8. Something that concerns you: Deadlines, and keeping my left hand from getting broken or cut off (I need it to make stuff)



9. Artists you admire: Henry Darger, Margaret Kilgallen (RIP), Barry McGee, Booker (Read More Books), Blu, Barbara Kruger, Robert Longo, C215, Chris Stain, Dondi White (RIP), Os Gemeos, Vrno, Gaia, Josh Keyes, the old Pottymouth Crew (Dwell, Oneunit, Mr. Prvrt), my grandpa, my professors, all of the people still going big these days.



10. Favorite quote(s): "All violence is the illustration of a pathetic stereotype" - Barbara Kruger


"When you punish a person for dreaming his dream, don't expect him to thank or forgive you." -John Darnielle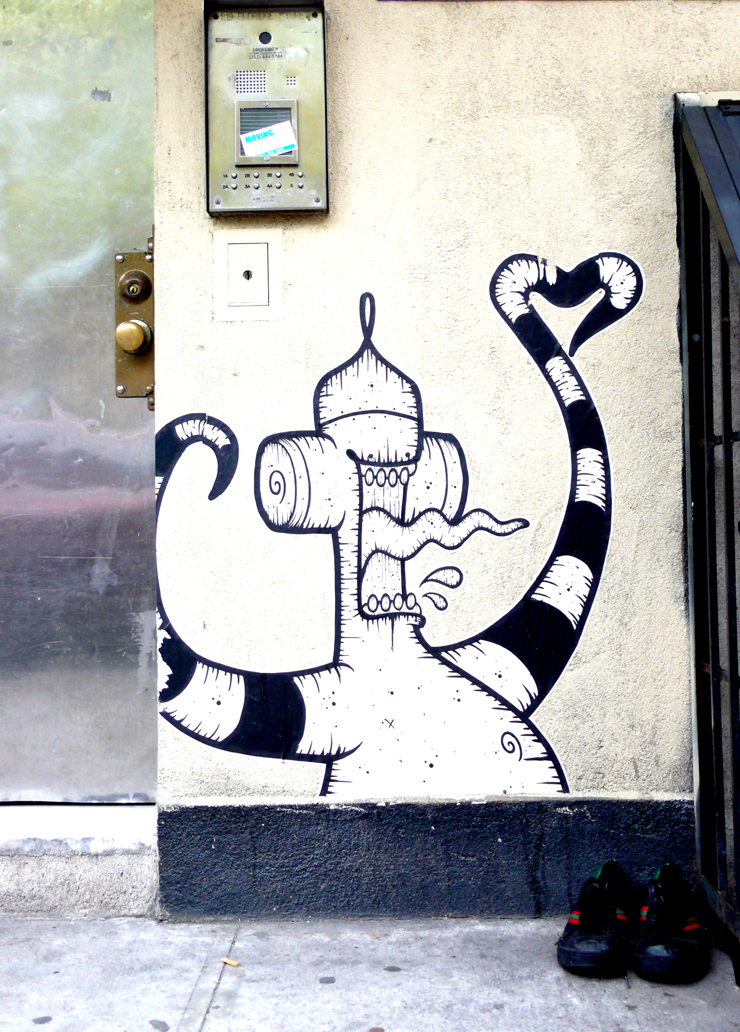 11. The first record or CD you ever bought? The last album you downloaded? The first CD I bought was Eiffel 65 back in the day, haha.  First record I bought was an MxPx 7".  The last album I downloaded was by either Hatred Surge or The Rats I think.



12. Something you do when you're procrastinating? Walk around, eat candy, play my bass.



13. What is your most defining characteristic? My hair is pretty ridiculous right now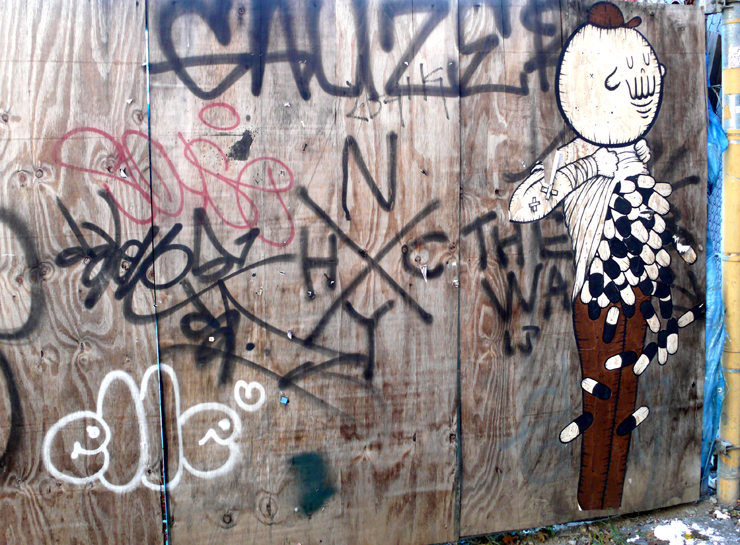 14. What is your greatest fear? Don't know if there is a top one for me.  Getting eaten by a shark would suck seeing as you're both being helplessly eaten alive and drowned at the same time.  I hate to admit it, but I am quite afraid of cops. Running from them isn't much fun until you get away.



15. The moment you realized you were an 'artist': When I realized making art was the one thing that had stuck with me all my life.



16. Your greatest quality: I am happy.



17. Something you wish you could change or alter about yourself: Me not having a car.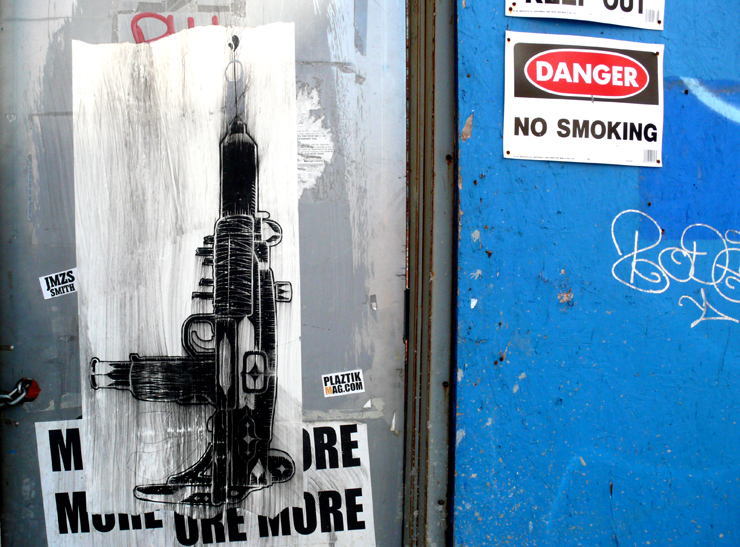 18. What is the biggest risk you've ever taken and was it worth it? Either graffiti or loving someone, and I'd say for now both risks are well worth taking.


19. Something you wish you had known five years ago: That going places isn't very hard if you just take the bus.


20. What do you hope to accomplish in the next five years of your life? Learn more, apply more knowledge to my work, see more places, paint a water tower to look like a giant cheeseburger, see more of the West Coast, have a car, hopefully be out of the house by then. Also not being dead would be swell.

All photos © Jaime Rojo
You can see Radical!'s work in the new group show, "Street Art Saved My Life: 39 New York Stories"
Curated by Steven P. Harrington and Jaime Rojo, founders of Brooklyn Street Art
In collaboration with ThinkSpace Gallery
Opens at C.A.V.E. Gallery, Friday August 12th 6-10pm
Runs until September 4th
C.A.V.E. Gallery
www.cavegallery.net