Back Talk: A Conversation with OverUnder
Juxtapoz // Sunday, 07 Aug 2011
1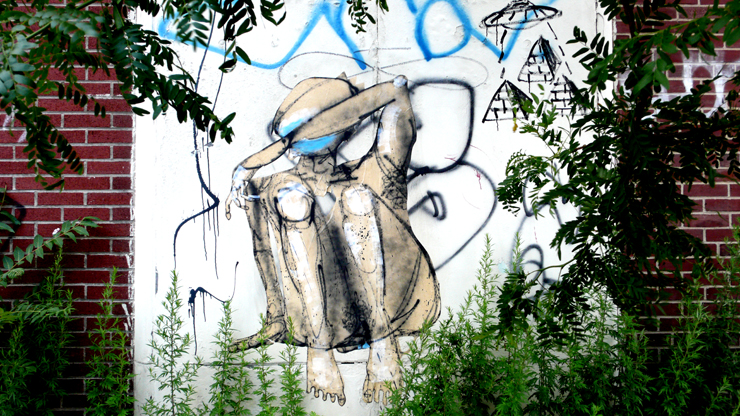 Illustrator, painter, and text writer, OverUnder's fluid fantasy forms and figures cavort with architecture on wheat-pasted butcher paper and freehand collaborative mural pieces on the street.  Intuitive and free associating, his enormous affection for train writers and bike riders led him to use traditional graffiti and signage as his muse, painting spontaneously bendable human forms everywhere. Now pedaling wildly through the dirty man-made New York environment, he's blending bodies and disembodied structures together, absurdly recombining and stacking them like a tornado layer cake. ~ Steven P. Harrington and Jaime Rojo1. One reason you make art:
Almost habitually my brain tells me to.
2. The last good movie you saw:
"Unstoppable". It was an in-flight movie.
3. Something you've always wanted to do, but have yet to:
Dive out of a car before it flies off a cliff.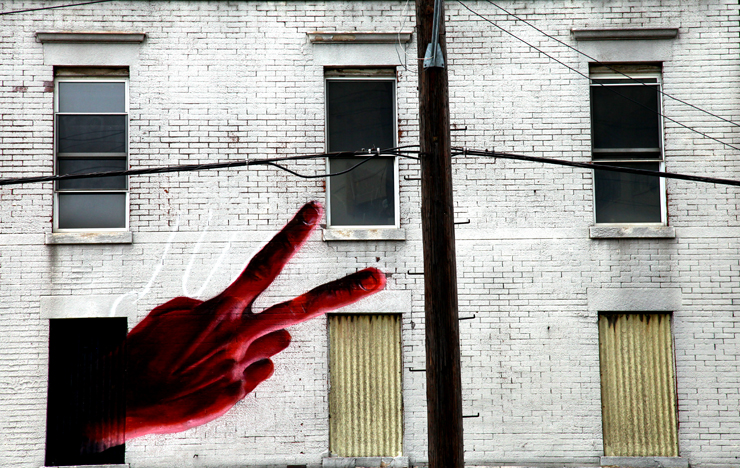 4. Favorite country or city visited:
So many good places in the world. The stand-outs for me are Lekeitio in the Basque country, Lisbon, and Sarajevo.
5. A few words that sum up your philosophy on life:
Work so hard that it becomes play.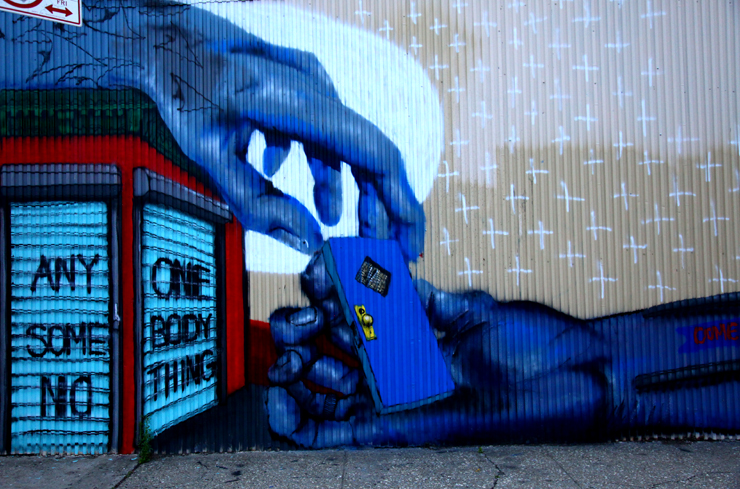 8. Something that concerns you:
Enjoying friends and family while they are around.
9. Artists you admire:
My brother, Ryan Mitchel, Chevis Gadda, buZ blurr, Os Gemeos, Stephen Powers, ARYS, BLU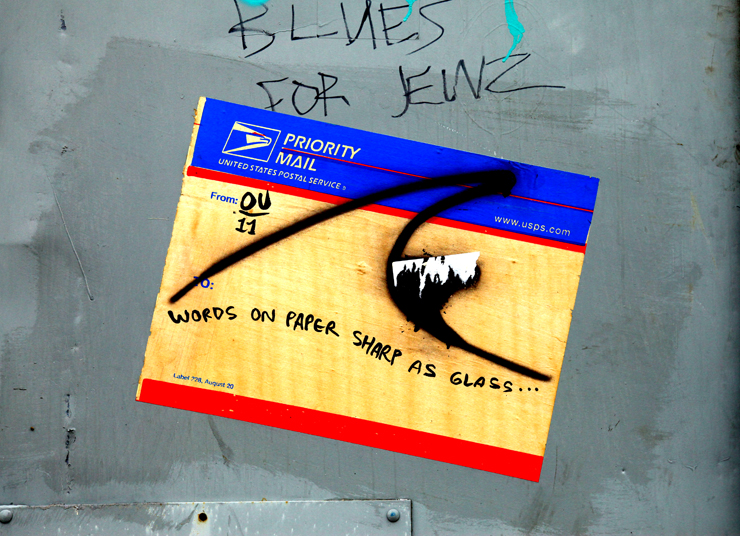 10. Favorite quote(s):
A man that walks in front of bullets never felt so at home till it knocked on his door.
11. The first record or CD you ever bought? The last album you downloaded?
My first record was a Dead Kennedy's 7" and the first tape I bought was Elton John and last album I downloaded was a remix of Kanye's "Power" by The Surecut Kids. Someone should screw and chop all that together!
12. Something you do when you're procrastinating?
Flickr.
13. What is your most defining characteristic?
A strong work ethic.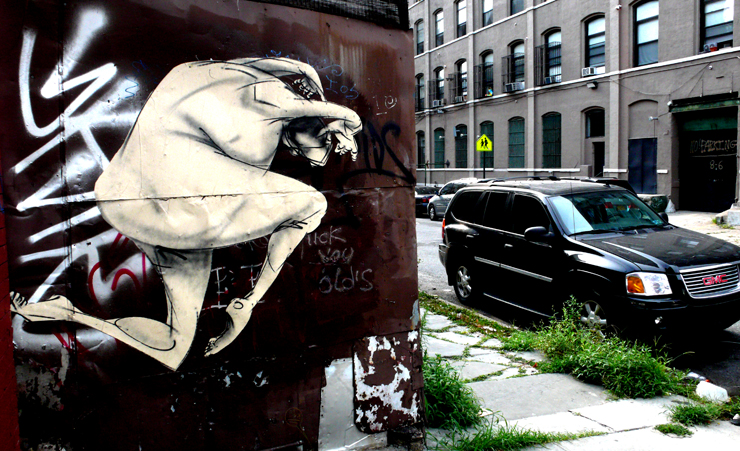 14. What is your greatest fear?
Stagnation.
15. The moment you realized you were an 'artist':
That moment ebb and flows often. I feel most like an 'artist' when either (a) my hands are covered in wheat paste or (b) people are putting money in my hands for making them something. I guess it's a hand thing.
16. Your greatest quality:
Tie between pancake flipping, hat wearing, and endless pedaling.
17. Something you wish you could change or alter about yourself:
I wish I could make my hair stop growing so I never had to get a haircut ever again.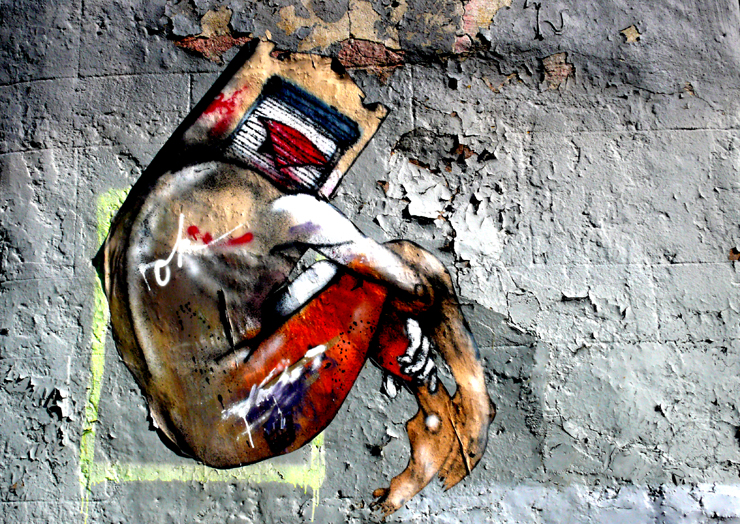 18. What is the biggest risk you've ever taken and was it worth it?
I have no idea how to answer this. Maybe secretly climbing the Bay Bridge: Definitely worth it. Or biking through the steepest part of Extramadura with too big of a chainring. Tiring but worth it. Or building up a small house in a Brooklyn backyard to brave the crazy winter of 2010/2011. Worth it! Going to grad school, moving to NY, moving out of NY, moving back to NY, breaking up with people, starting new relationships, getting one-way tickets to foreign countries with no contacts, wandering into abandoned places in the pitch black night… Maybe the better question is what is the biggest risk you decided not to take?
19. Something you wish you had known five years ago:
I wish I knew that I tend to forget things in just under five years.
20. What do you hope to accomplish in the next five years of your life?
In the next 5 years I hope to strengthen my ties to my family and extend my family. I want to build another house; this time from scratch and in my hometown where you can hear the passing trains sing and the whiskey springs.
All photos © Jaime Rojo
You can see OverUnders's work in the new group show, "Street Art Saved My Life: 39 New York Stories"
Curated by Steven P. Harrington and Jaime Rojo, founders of Brooklyn Street Art
In collaboration with ThinkSpace Gallery
Opens at C.A.V.E. Gallery, Friday August 12th 6-10pm
Runs until September 4th
C.A.V.E. Gallery
www.cavegallery.net