Back Talk: A Conversation with Nick Walker
Juxtapoz // Monday, 18 Jul 2011
1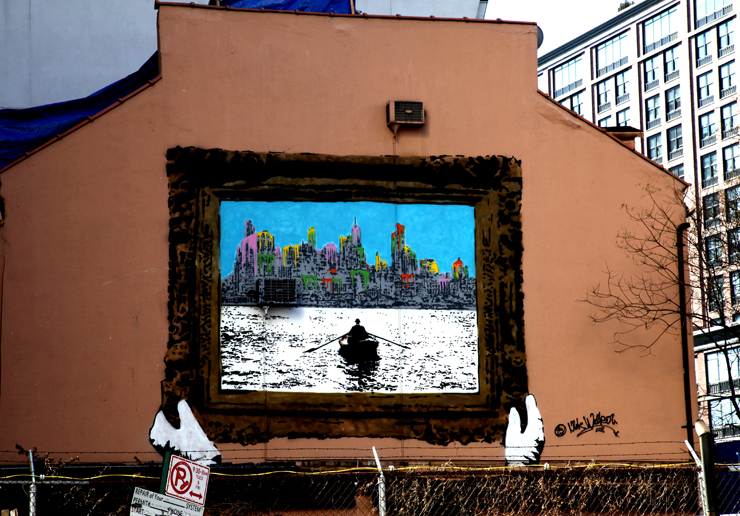 A graffiti writer on the scene in 1980s Bristol, Nick started combining stencils with his freehand work in 1992 and injecting his photographic imagery with irony, social commentary and schoolboy humor.  A pioneer for this brand of fusion, his style of understated funnery influenced a number of artists in his generation during what eventually grew into a stencil-heavy scene.  In recent work his Street Art stencil satire has take on more serious targets like the hypocrisy of the Pope and the Catholic church in light of child sex abuse scandals, the banning of the Burkha for Muslim women in France, and the prevalence of violence in today's America. —
Steven P. Harrington and Jaime Rojo

1. One reason you make art:
I love to paint.


2. The last good movie you saw:
"A Prophet" by Jacques Audiard


3. Something you've always wanted to do, but have yet to:
If I told you that, a certain well-known artist would probably do it before me.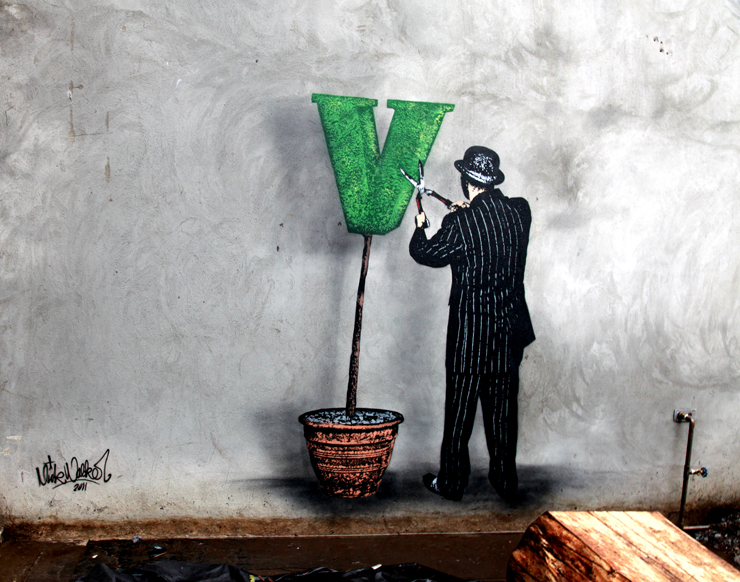 4. Favorite country or city visited:
New York City every time.


5. A few words that sum up your philosophy on life:
Treat people how you would like to be treated - what goes around comes around.



6. Something you want the world to know about you:
I'm happy.


7. Something that annoys or frustrates you about people:
Arrogance.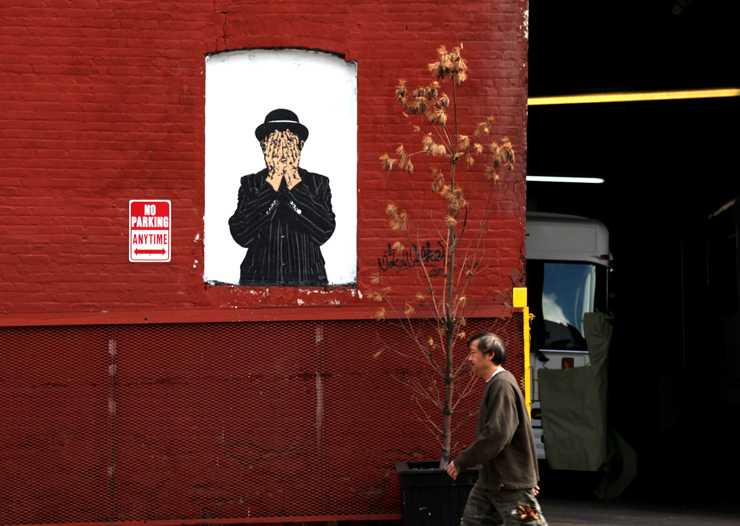 8. Something that concerns you:
People who speed in neighborhoods where kids are playing.


9. Artists you admire:
Retna & Mac, Os Gemeos, Revok



10. Favorite quote(s):
"Success has many friends" - it's not my favorite but it resonates quite strongly.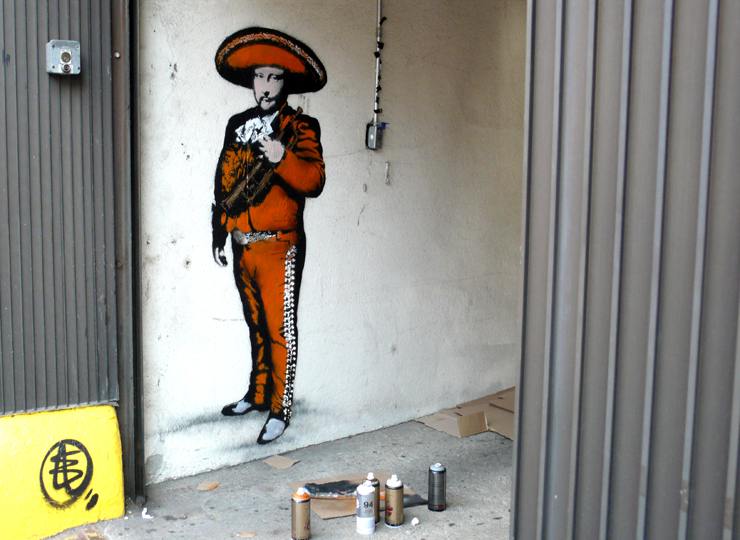 11. The first record or CD you ever bought? The last album you downloaded?
"Poison Ivy" by the Lambrettas

12. Something you do when you're procrastinating?
I rip up the newspaper and change peoples' heads around and stuff.

13. What is your most defining characteristic?
Hats I suppose - If I don't want to be recognized I don't wear a hat.

14. What is your greatest fear?
Tax bills.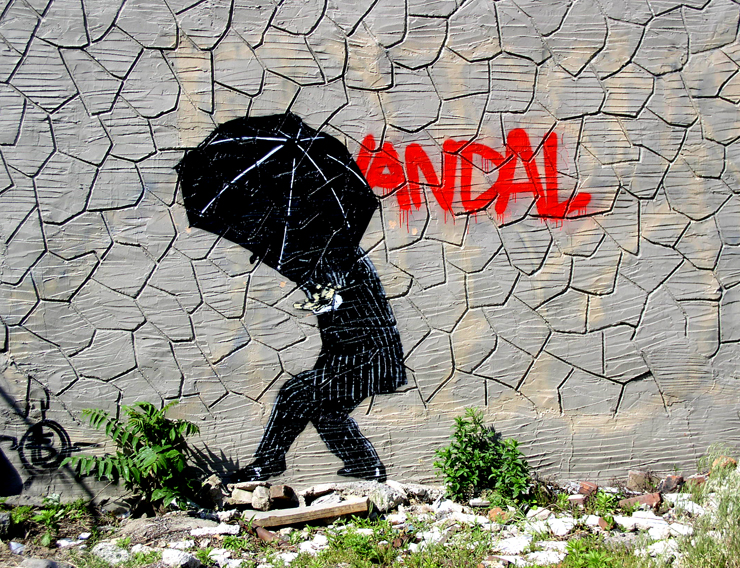 15. The moment you realized you were an 'artist':
The day I made my hands look like a Wearwolves with permanent marker. Mummerzz wasn't happy!

16. Your greatest quality:
I've been told it's generosity.

17. Something you wish you could change or alter about yourself:
My right knee. 

18. What is the biggest risk you've ever taken and was it worth it?
Trusting people who talk the talk; Never worth it.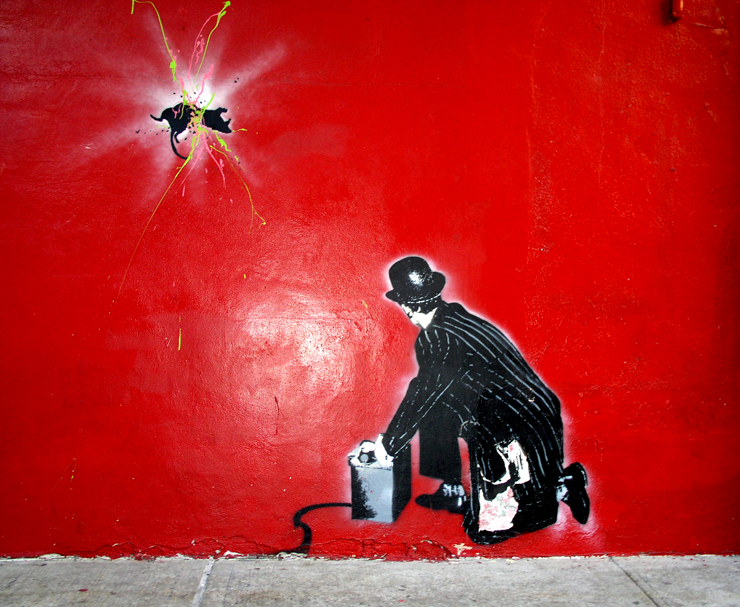 19. Something you wish you had known five years ago:
Knowledge of the disasters that have happened on this planet of late – we could have saved some lives!

20. What do you hope to accomplish in the next five years of your life?
Happinesssss - always.
All images copyright Jaime Rojo


You can see Nick Walker's work in the new group show, "Street Art Saved My Life: 39 New York Stories"
Curated by Steven P. Harrington and Jaime Rojo, founders of Brooklyn Street Art
In collaboration with ThinkSpace Gallery
Opens at C.A.V.E. Gallery, Friday August 12th 6-10pm
Runs until September 4th
C.A.V.E. Gallery
www.cavegallery.net