Back Talk: A Conversation with Miss Bugs
Juxtapoz // Sunday, 24 Jul 2011
1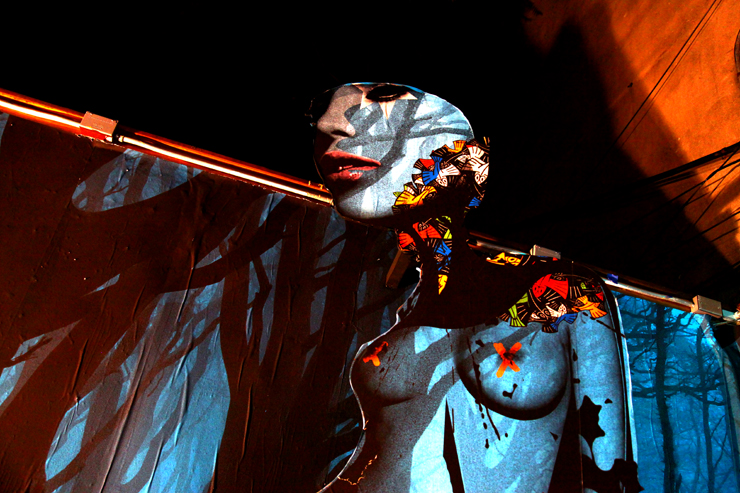 London Street Art duo Miss Bugs are design culture mixologist who take the practice of appropriation to a more finished end than the stencil kings of recent years heralding from their hometown of Bristol.  While brashly mashing the visual stories of your recent past, they're telling new stories about hybrids and technology and the practice of untethering of pop and modern art imagery from it's original docking. With disinterested and postmodern ladies acting as curvaceous archetypes of sensuality and as foil, Miss Bugs incorporates signature elements of other artists' works into their distorted forms, weaving them into the hair, tattooing them across the skin, and then place them in the public sphere. ~
Steven P. Harrington and Jaime Rojo
1. One reason you make art:
To fill our day so we don't have to watch daytime TV.


2. The last good movie you saw:
"Back to the Future"- no. 1, 2 & 3 (on DVD, obviously not when they first came out)...


3. Something you've always wanted to do, but have yet to:
Swim with dolphins and go to Disneyworld.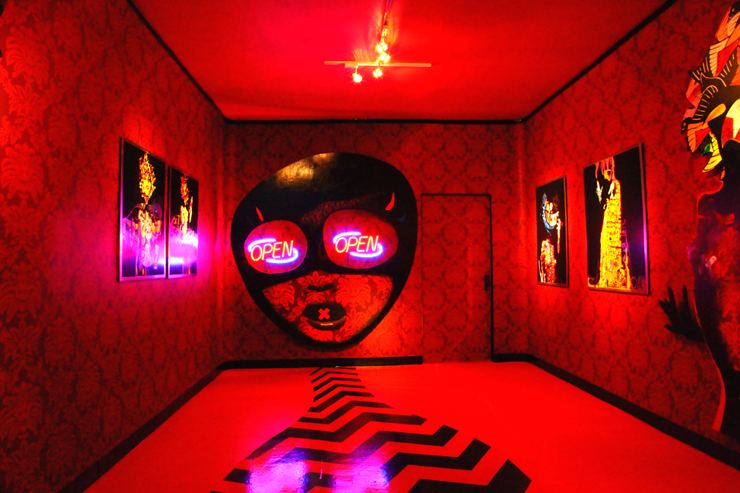 4. Favorite country or city visited:
New York (fave city) and England (home).


5. A few words that sum up your philosophy on life:
Have a good one.


6. Something you want the world to know about you:
How much we dislike Cheryl Cole.


7. Something that annoys or frustrates you about people:
Cheryl Cole.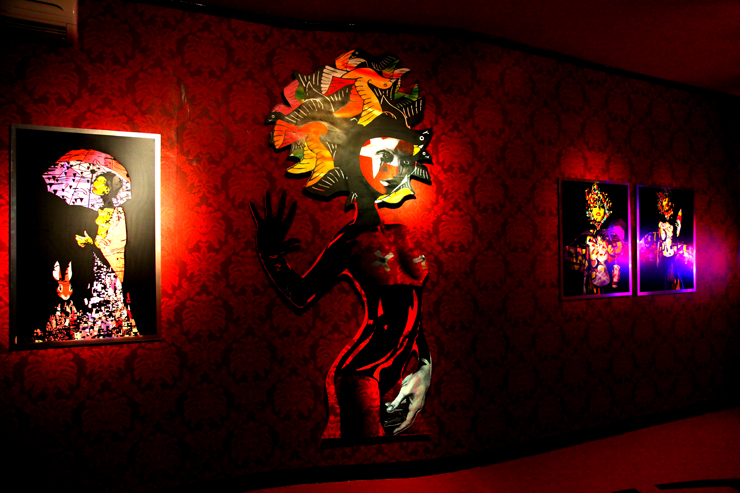 8. Something that concerns you:
Cheryl Cole.


9. Artists you admire:
At the moment, Vera Lehndorff.


10. Favorite quote(s):
"If I don't have red, I use blue." Pablo Picasso


11. The first record or CD you ever bought? The last album you downloaded?
Michael Jackson 'Bad' (1st record). Last download was by Little Dragon.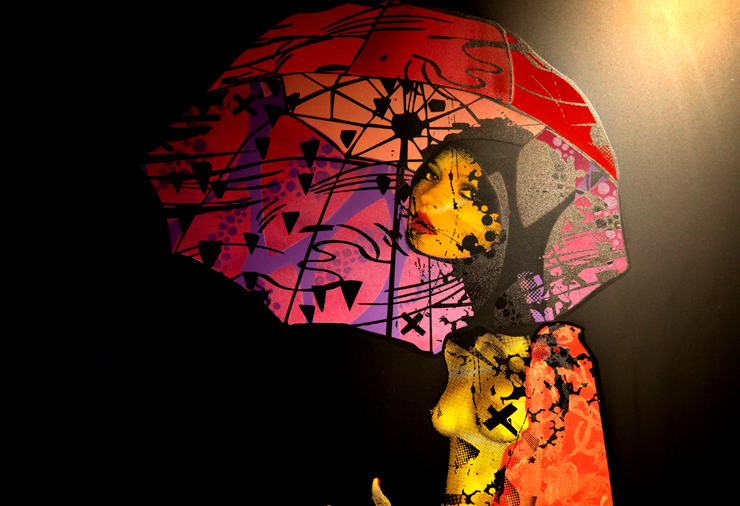 12. Something you do when you're procrastinating?
Internet.


13. What is your most defining characteristic?
n/a


14. What is your greatest fear?
Losing both my hands, and my eyes and the ability to talk...


15. The moment you realized you were an 'artist':
When my first picture was hung on the fridge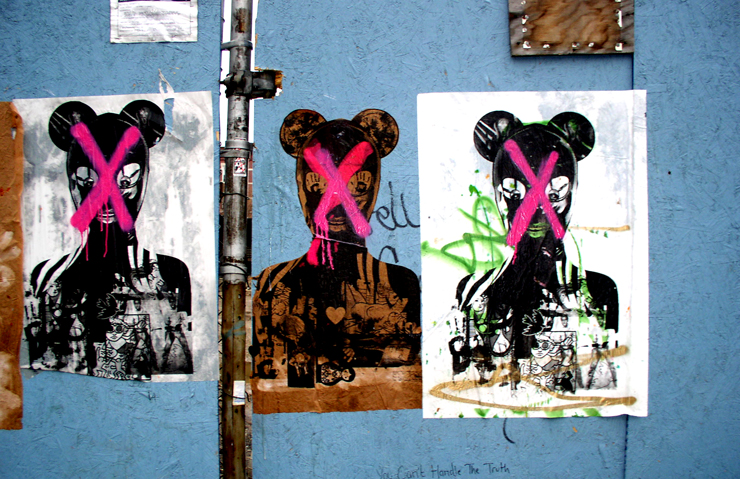 16. Your greatest quality:
n/a



17. Something you wish you could change or alter about yourself:
n/a


18. What is the biggest risk you've ever taken and was it worth it?
Going on the Nemesis ride at Altpon Towers Theme Park. It was pretty scary and we felt pretty queasy for about 10 minutes after. Life on the edge!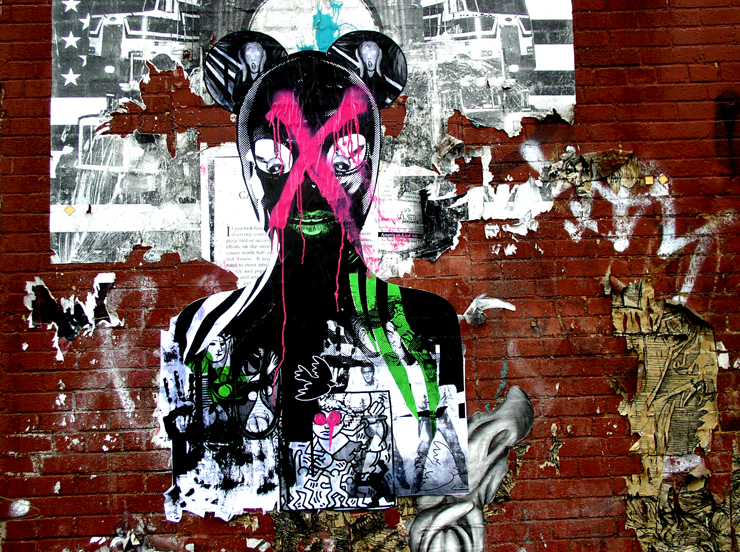 19. Something you wish you had known five years ago:
n/a


20. What do you hope to accomplish in the next five years of your life?
A lot...

All photos © Jaime Rojo
You can see Miss Bugs's work in the new group show, "Street Art Saved My Life: 39 New York Stories"
Curated by Steven P. Harrington and Jaime Rojo, founders of Brooklyn Street Art
In collaboration with ThinkSpace Gallery
Opens at C.A.V.E. Gallery, Friday August 12th 6-10pm
Runs until September 4th
C.A.V.E. Gallery
www.cavegallery.net