Back Talk: A Conversation with Mark Carvalho
Juxtapoz // Tuesday, 30 Aug 2011
1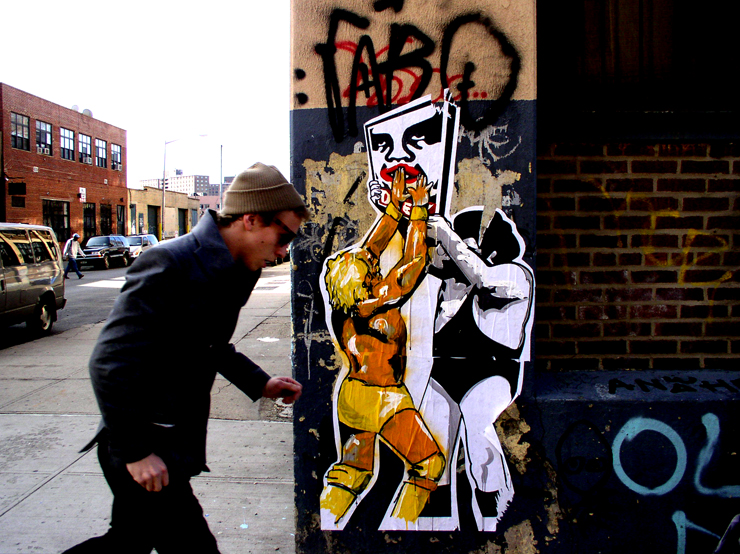 Boston based painter Mark Carvalho set his classical training free when he started hanging with graffiti artists in his neighborhood in the late nineties. Fresh out of college, the open forum of a collective environment opened his eyes to graffiti and the power of large, expressionist gesture. He likes the liberated movement of the violent, delicate aerosol handstyles of some graffiti artists and Street Art grants him autonomy to experiment with new techniques that he might not have tried before. Personal, political and religious messages keep coming up, and he thinks of his street stuff as a way to communicate with regular people.
~ Steven P. Harrington and Jaime Rojo


1. One reason you make art:
Most of the time I feel as though I don't have a choice. It's the only thing that calms my being. It's the only thing that makes me feel like I matter in this world.


2. The last good movie you saw: "127 Hours".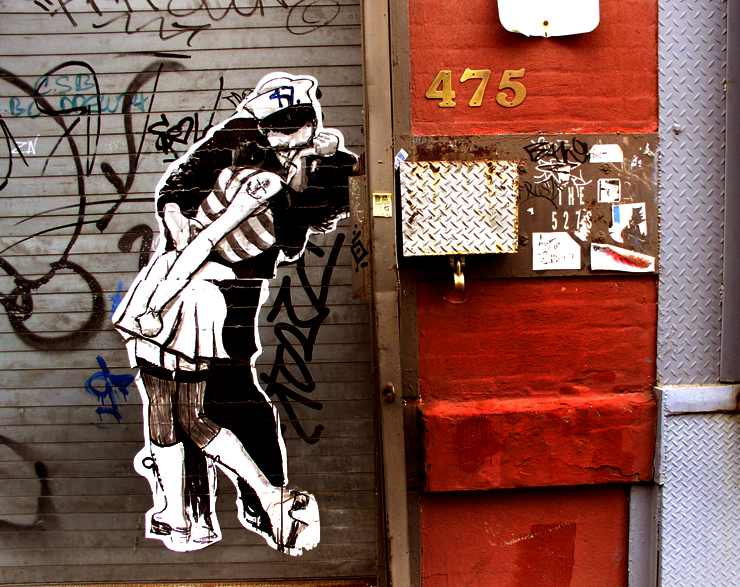 3. Something you've always wanted to do, but have yet to:
Take a bubble bath with Lindsay Lohan and Paris Hilton while Kim Kardashian feeds me grapes.


4. Favorite country or city visited:
Key West, Florida.


5. A few words that sum up your philosophy on life:
You need to do what you need to do, to do what you need to do.


6. Something you want the world to know about you:
I only sing two songs for karaoke; Lionel Richie's "Hello" and Tupac's "How do you want it"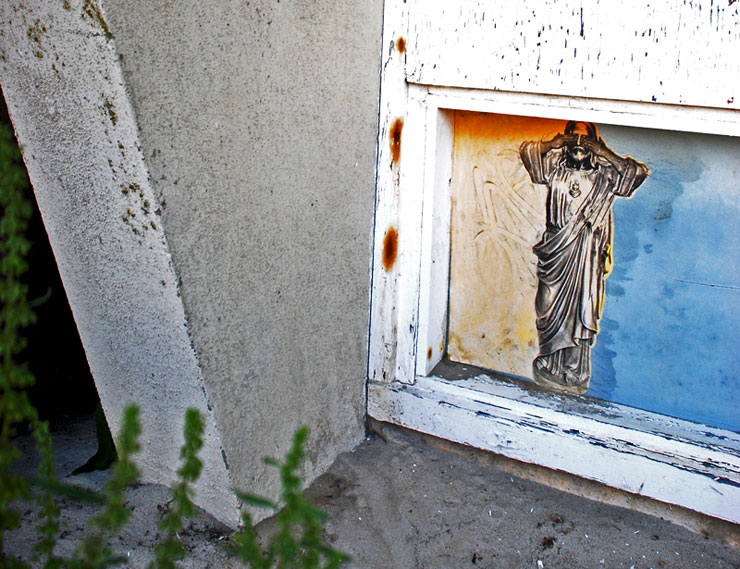 7. Something that annoys or frustrates you about people:
People are often too quick to judge and get angry. Chill Out. Smoke a bowl.


8. Something that concerns you:
The bullshit of politicians.


9. Artists you admire:
Francis Bacon, Chihuly.


10. Favorite quote(s):
"I see. I Like. I take."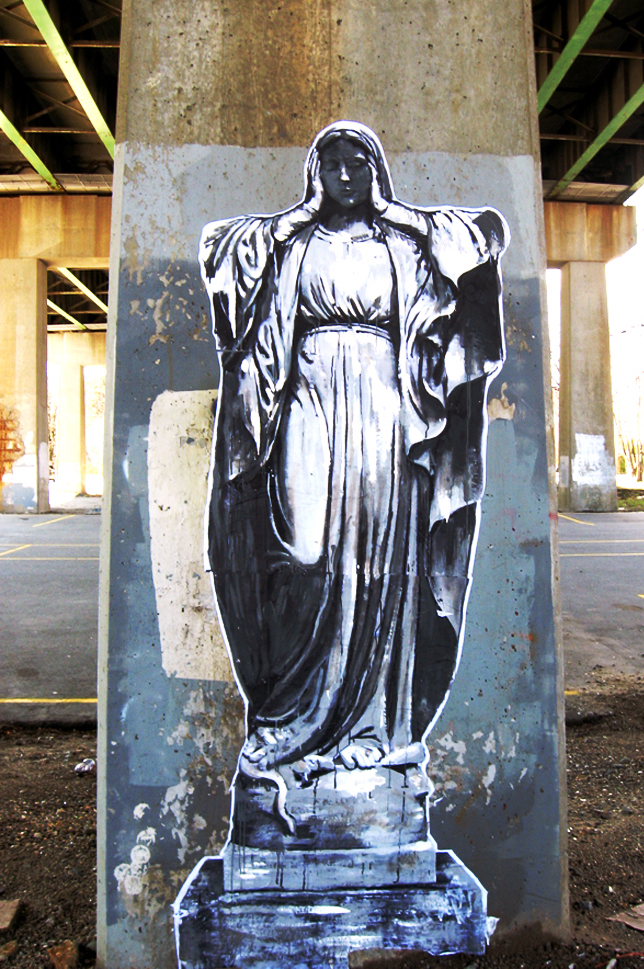 11. The first record or CD you ever bought? The last album you downloaded?
I'm pretty sure it was NWA "Straight Outta Compton" when I was like 13. Couldn't play it in the house when my parents were around. I just downloaded Johnny Cash's "Greatest Hits, Vol. 1 and 2"


12. Something you do when you're procrastinating?
Look at porn.


13. What is your most defining characteristic?
My hands. I burnt them when I was 2 still have scars to this day but they remind me of just how fragile life can be.


14. What is your greatest fear?
Drowning.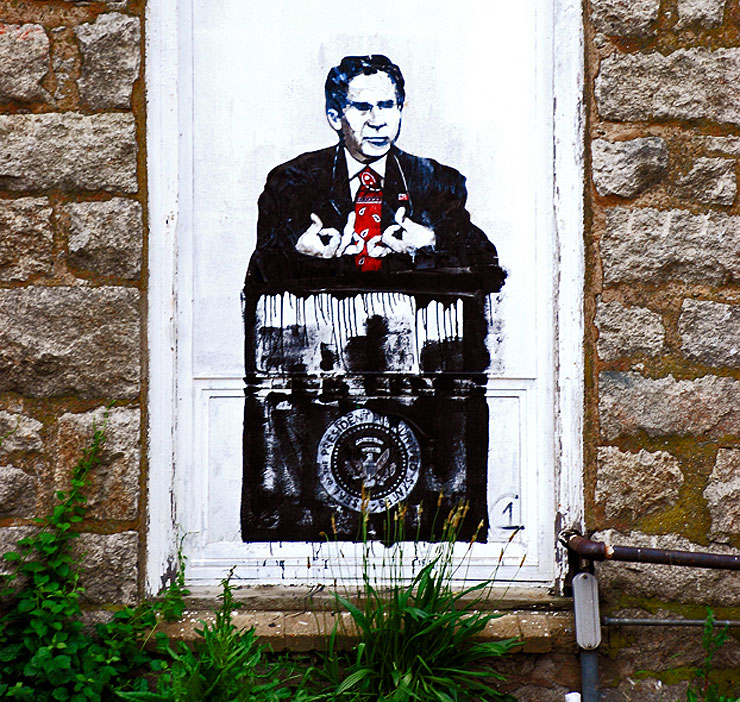 15. The moment you realized you were an 'artist':
I'm still not sure I've quite realized it. That's for the history books to decide. I just paint.


16. Your greatest quality:
Man that's a tough one…I tend to not focus on anything like that. I think I dwell more on what I need to improve on rather than what I do well.


17. Something you wish you could change or alter about yourself:
I wish I were more organized. I tend to go into a whirlwind of thoughts and doing and all the things that don't matter like bills and cleaning catch up to me.


18. What is the biggest risk you've ever taken and was it worth it?:
Spent my last $3,000 on a local solo show. People enjoyed what I created so it was definitely worth it.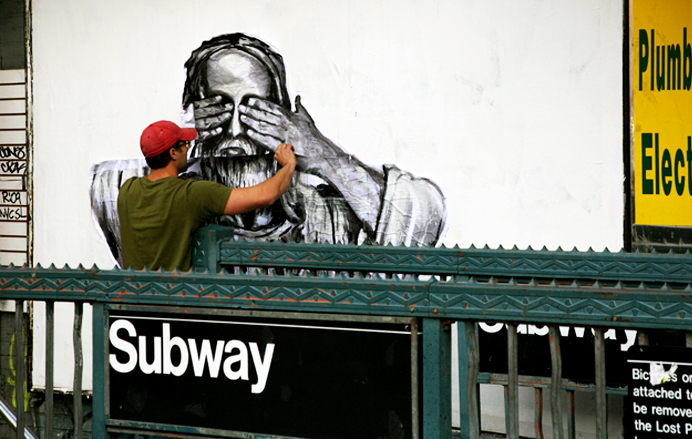 19. Something you wish you had known five years ago:
That the RedSox were going to win Another World Series…could have made some sweet $$$.


20. What do you hope to accomplish in the next five years of your life?:
Well there are so many things …be in some great shows, get featured in Juxtapoz, meet the girl of my dreams, survive the insanity of the world…just for starters.
Images #1,2 © Jaime Rojo
Images #3-6 © Mark Carvalho
You can see Mark Carlvalho's work in the new group show, "Street Art Saved My Life: 39 New York Stories"
Curated by Steven P. Harrington and Jaime Rojo, founders of Brooklyn Street Art
In collaboration with ThinkSpace Gallery
Opens at C.A.V.E. Gallery, Friday August 12th 6-10pm
Runs until September 4th
C.A.V.E. Gallery
www.cavegallery.net