Back Talk: A Conversation with Leontine Greenberg
Juxtapoz // Wednesday, 07 Dec 2011
1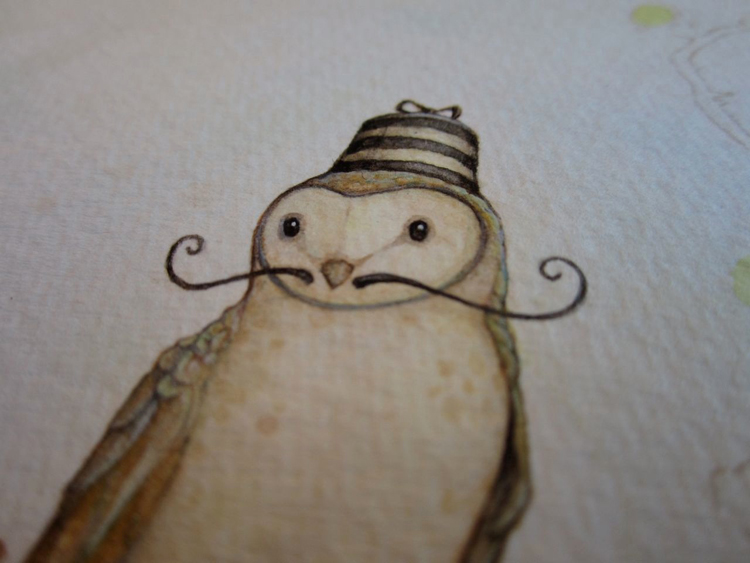 Leontine Greenberg will have her work on display at Thinkspace Gallery's Project Room starting this Saturday, December 10.
Specimens
will feature the Jackson Heights, Queens-based artists new body of work, inspired by old boats, city rooftops, the coming environmental apocalypse, and Beatrix Potter.
1. One reason you make art:
I can't help it, basically. If I go too long without making something, I start arranging the crumbs on the table into pictures.
2. The last good movie you saw:
Starship Troopers. So gross and weird, yet completely awesome.
3. Something you've always wanted to do, but have yet to:
Learn Spanish. It's just embarrassing to live where I live and not speak Spanish.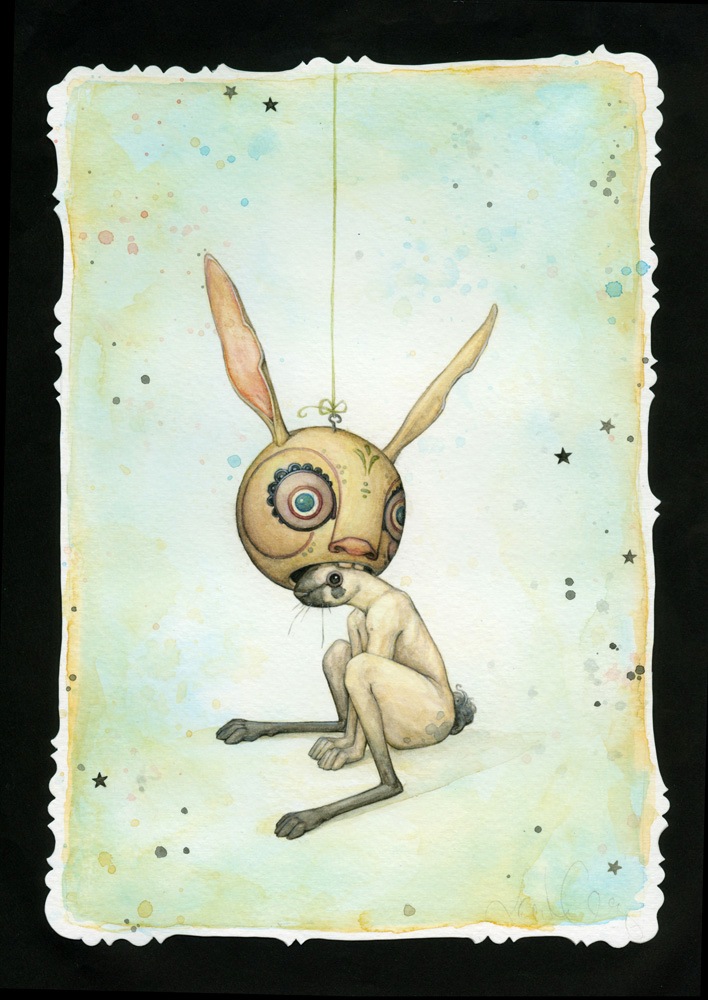 4. Favorite country or city visited:
Barcelona. I used to fantasize about meals made up entirely of canapes, so tapas is for me. And the architecture! The palm trees! The little green parrots eating sandwich crumbs in the park!
5. A few words that sum up your philosophy on life:
"You play the hand you're dealt. I think the game's worthwhile" - CS Lewis.
6. Something you want the world to know about you:
I spend about 75% of my days convinced that I've forgotten how to paint, that I'll never paint anything decent again, and that I'll never have another good idea. So encouraging words are always welcome.
7. Something that annoys or frustrates you about people:
How determined we are to destroy the planet and each other.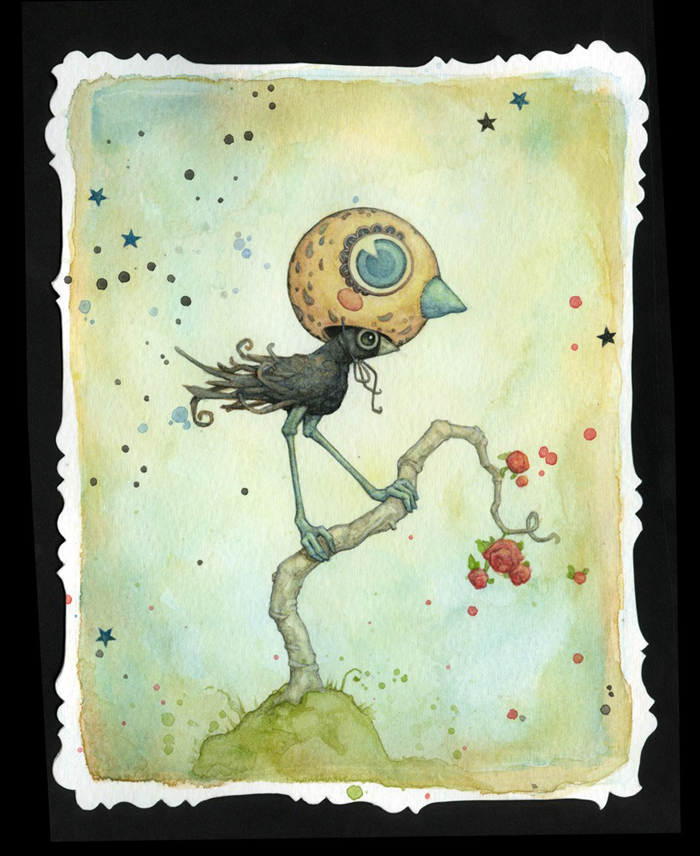 8. Something that concerns you:
See above.
9. Artists you admire:
Anyone who follows their vision wholeheartedly. Off the top of my head: Shaun Tan, James Jean, Molly Crabapple, Allison Sommers, Ray Caesar, Brandi Milne, Inka Essenhigh...
10. Favorite quote(s):
"Razors pain you;
Rivers are damp;
Acids stain you;
And drugs cause cramp.
Guns aren't lawful;
Nooses give;
Gas smells awful;
You might as well live."
? Dorothy Parker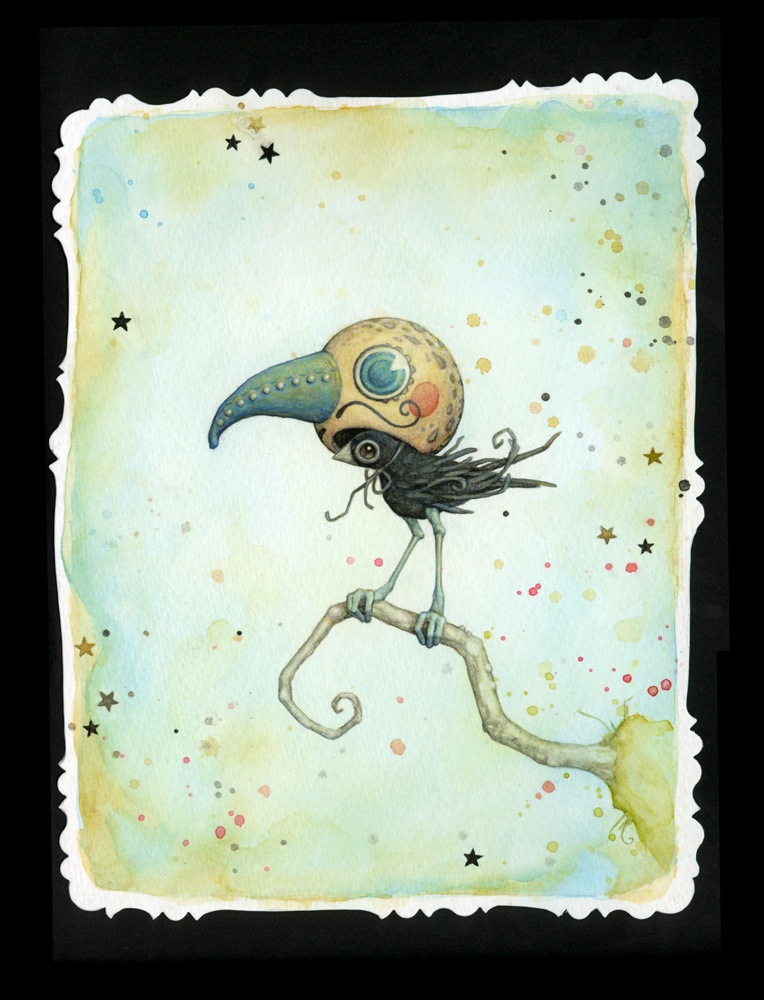 11. The first record or CD you ever bought? The last album you downloaded?
I don't know if I bought it or found it in my parents' record collection, but the first album I remember being aware of was ChangesOneBowie. The last album I downloaded was High Violet, by The National. I really love the video for Conversation 16. It has Kirsten Schaal, John Slattery, and a man in a bear suit.
12. Something you do when you're procrastinating?
Make art. It's all that stands between me and getting the laundry done.
13. What is your most defining characteristic?
Neurosis.
14. What is your greatest fear?
Losing the people I love.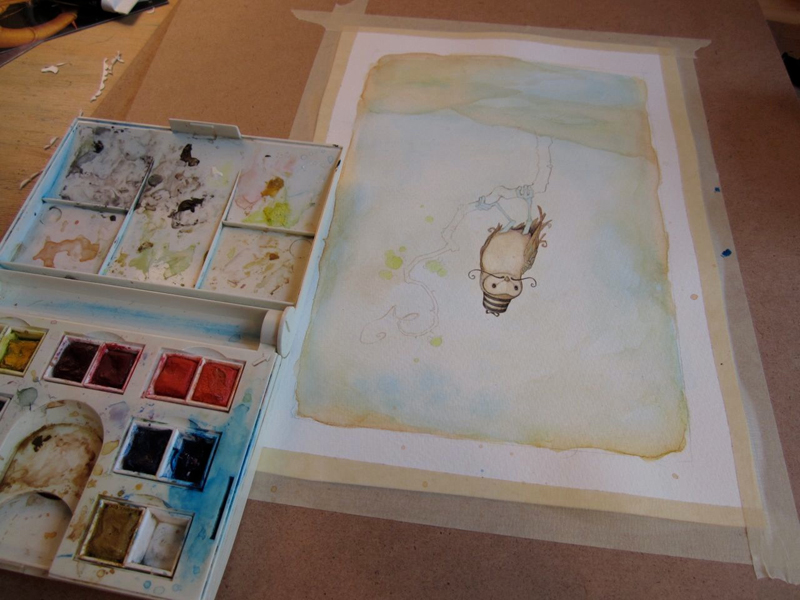 15. The moment you realized you were an 'artist':
The first time someone paid me for a painting.
16. Your greatest quality:
I'm fairly accommodating. And I'm a good cook.
17. Something you wish you could change or alter about yourself:
I'd like to be more patient and worry less.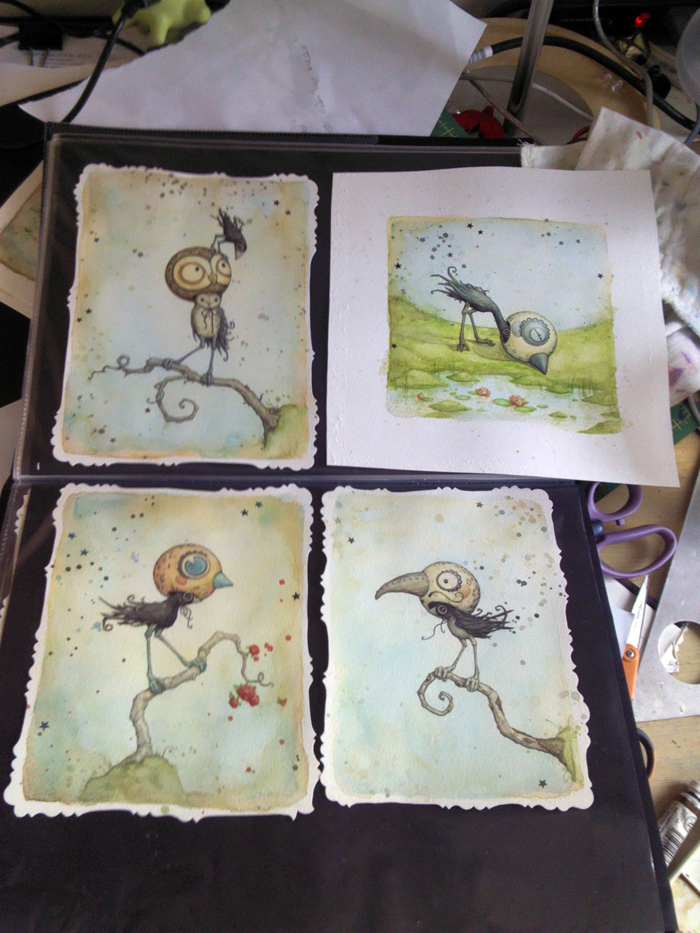 18. What is the biggest risk you've ever taken and was it worth it?
I had a kid! I guess I'm still taking that risk, but yes, it is totally worth it. She's awesome.
19. Something you wish you had known five years ago:
I wish I'd known that I if I just painted what I wanted to paint, I would be able to find an audience. I'm still surprised and thrilled that other people are as excited as I am about what I'm doing.
20. What do you hope to accomplish in the next five years of your life?
I'd like to publish some kind of book. Children's book? Comic book? I'm not sure yet. Stay tuned.


Leontine Greenberg
'Specimens'
Reception with the artist:
Sat, Dec. 10th 5-8PM
On view Dec. 10th - Dec. 30th, 2011