Back Talk: A Conversation with How and Nosm
Juxtapoz // Tuesday, 12 Jul 2011
1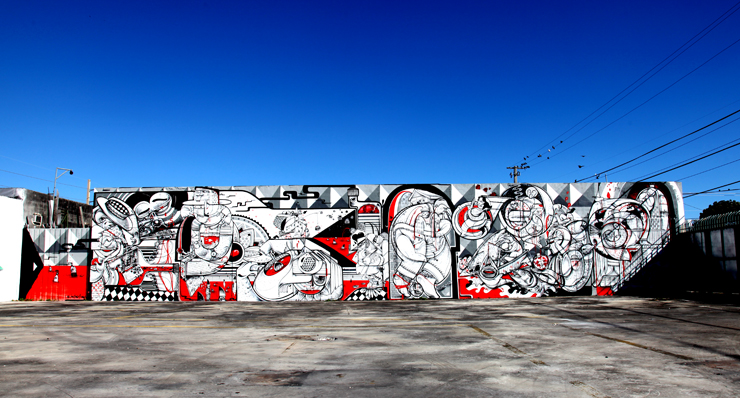 With a little over two decades of painting that began with graffiti, German twins How & Nosm now create a more illustrated mural based Street Art, tightly defining their style by stripping it back to essential lines, textures, and colorways. Members of New York's famous muralists Tats Cru, these guys rock cans the way traditional painters wish they could use a brush, their illustrative curvilinear forms echoing their graff roots with a reductivist clarity and swoon. With sharp figurative action and stenciled patterns, it's How & Nosm's sense of fantasy and surreality that make it a slick and swirly train ride to the other side. ~ Steven P. Harrington and Jaime Rojo

1. One reason you make art:


When we started out as Graffiti writers in 1988 it kept us busy and productive instead of just getting into trouble and being street kids. Then eventually we did it for the fame and to become one of the best in our little city in Düsseldorf, Germany. Over the years this has changed and now it is an everyday thing that is part of our lives. We make art because it gives us an inner calmness and relaxes us when we paint and see the outcome of each created piece of art, yet another reason might be the urge to have to do it. At the same time it is the habit after so many years that gives us the constant drive to evolve our art work.

2. The last good movie you saw:


The last good movie we saw is actually a documentary about the history of the animation studio Pixar. Amazing how art and technology can complement each other.

3. Something you've always wanted to do, but have yet to:

We always wanted to build a huge sculpture including a lot of our signature elements like bottles, birds, knives and such…eventually when we have more time we will.
4. Favorite country or city visited:

Rio de Janeiro, Brazil. Watch out for our "Brazil Diaries" book coming out in October this year.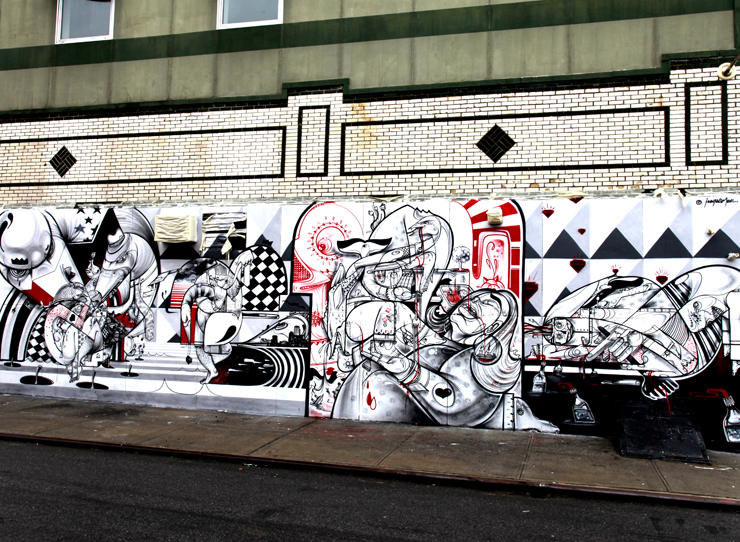 5. A few words that sum up your philosophy on life:

Be happy with yourself so you can make others happy too!
6. Something you want the world to know about you:  

For those who don't know we are twins but gained our own identities in the street art world separately (How&Nosm) but also have a fused style that has been seen and noticed more the last few years (HowNosm and our black, white and red artwork).

7. Something that annoys or frustrates you about people:

Dishonesty and people who show up late.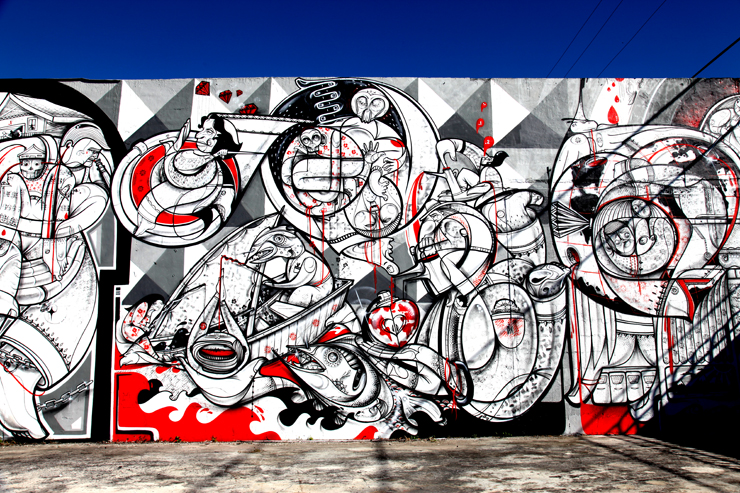 8. Something that concerns you:

The Social Security, health insurance and educational systems in the US.

9. Artists you admire:

Picasso, Dali, Daze and Crash.
10. Favorite quote(s):

What goes around comes around…this quote is pretty true and we are somewhat superstitious.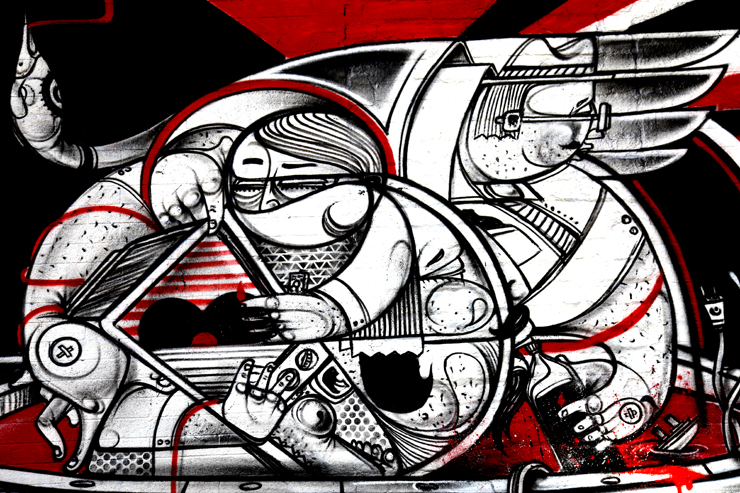 11. The first record or CD you ever bought? The last album you downloaded?

"Only Built for Cuban Links" by Raekwon

12. Something you do when you're procrastinating?

Eat some healthy food and watch an episode of Law & Order, play with the dog…
13. What is your most defining characteristic?

Honesty.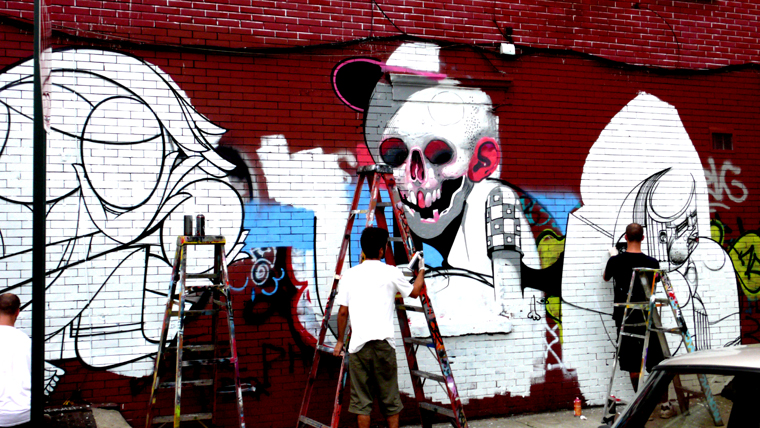 14. What is your greatest fear?

That our loved ones get sick or hurt. R.I.P Bleu!
15. The moment you realized you were an 'artist':

Filling out work applications, immigration forms and such requested that we write down our profession: "Artist"

16. Your greatest quality:

Precision and determination, oh and you cant forget punctuality.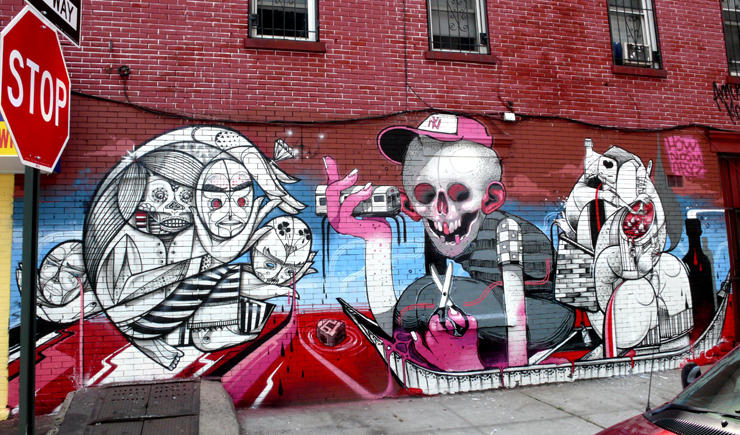 17. Something you wish you could change or alter about yourself:

Sometimes we say what we think and feel out loud too fast and hurt the feelings of individuals. We don't mean to be rude – it's just our way of being honest and showing you who you are dealing with. It has gotten better and our wives play a major role in improving that, lol.
18. What is the biggest risk you've ever taken and was it worth it?

Coming from a graffiti background taking risks was an everyday thing. But if we wouldn't have taken those risks we wouldn't be where we are now, wouldn't have met our friends, wives and we probably would have a different career .

19. Something you wish you had known five years ago:

Nothing specific to be honest. We like to be spontaneous and look back at our actions afterwards and criticize them later.  Knowing something ahead might take that away and manipulate our imaginations of what might come. We are fine with what we know now :).
20. What do you hope to accomplish in the next five years of your life?

Hopefully we stay busy and successful for the next five years and we get to do some original projects but who knows what the future brings. As long as we keep the work ethic and the fast pace of producing murals and paintings we believe we have great things coming our way.
All photos © Jaime Rojo


You can see How & Nosm's work in the new group show, "Street Art Saved My Life: 39 New York Stories"
Curated by Steven P. Harrington and Jaime Rojo, founders of Brooklyn Street Art
In collaboration with ThinkSpace Gallery
Opens at C.A.V.E. Gallery, Friday August 12th 6-10pm
Runs until September 4th
C.A.V.E. Gallery
www.cavegallery.net