Back Talk: A Conversation with Hellbent
Juxtapoz // Saturday, 06 Aug 2011
1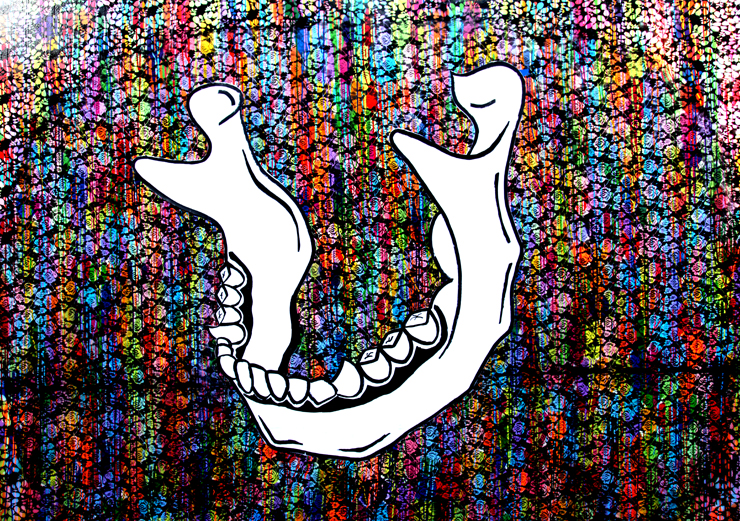 The very varied Hellbent history hits all the touchstones of street art in the last decade; spray paint, stencils, wheat paste, stickers, and rollers. But it's his hand carved plaques of animal and floral motifs, screwed to wooden surfaces around town, that most poignantly display his smiling distress signal. Part punk rage and part Mission School, Hellbent's ongoing practice is rooted in duality. Aggressively carved line drawings of roaring wild animals overlay patterned floral pastures; Serene hummingbirds are mid air above flowers stained and dripping with black soot, effectively drowning out beauty. His reoccurring near obsession with Freud's jawbone is his fascination with death and the fragility of the living. ~ Steven P. Harrington and Jaime Rojo
1. One reason you make art: For that feeling when you lose yourself, time slips away and you're in it. It is the best drug and it keeps me sane(ish).


2. The last good movie you saw: "Knife on the Water", Roman Polanski


3. Something you've always wanted to do, but have yet to: Skydive.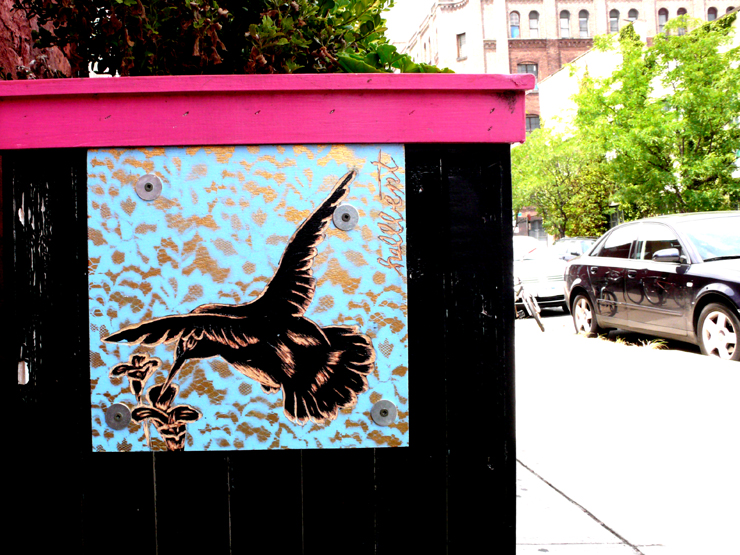 4. Favorite country or city visited: Morocco- the hand painted signs for all the barber shops were incredible, the people were amazing, and it was totally different than any place I had been to. Europe and Central/ South America are great but there is something familiar about them but North Africa is its own thing.


5. A few words that sum up your philosophy on life: You don't have to fuck people over to get ahead.


6. Something you want the world to know about you: I ain't gonna stop.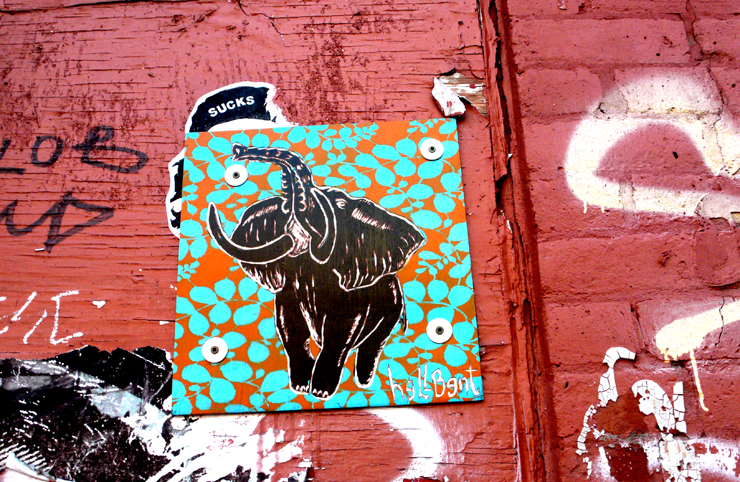 7. Something that annoys or frustrates you about people: Obviousness 



8. Something that concerns you: Censorship. What happened at The Smithsonian with David Wojnarowicz's video "Fire in my Belly" is absolutely horrid. To think that this could happen in America where supposedly there is freedom of expression just makes me sick and embarrassed to be an American. I think self-censorship is the most frightening aspect of what happened at the Smithsonian. If we as artists are not going to say what we think needs to be said because of the ramifications that might occur then what is the point, you might as well paint puppy dogs and rainbows for the Republican Party. Not to say that there is anything wrong with puppy dogs or rainbows.


9. Artists you admire: Max Ernst, Stephan Doitschinoff, Otto Dix, Goya, Dan Witz, Francis Bacon, Barry McGee, Nan Goldin, Richard Hell, Augusto Giacometti, Cy Twombly, Richard Hambleton,


10. Favorite quote(s): Graffiti is an unheard voice screaming.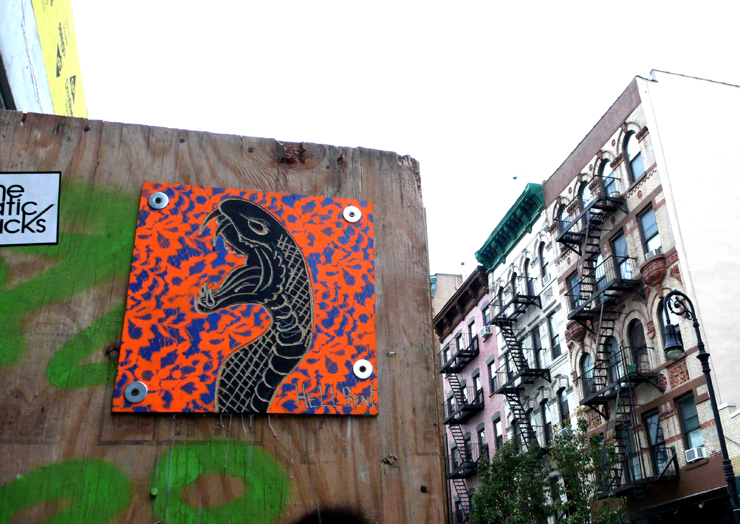 11. The first record or CD you ever bought? The last album you downloaded? "Mental Health" - Quite Riot- (on vinyl). The Babies Ep


12. Something you do when you're procrastinating? Pace and smoke.


13. What is your most defining characteristic? Floral stencils. They started off as background elements in the plaques and paintings I have been working on, but have gotten more intricate, colorful, and varied. They are now there own thing.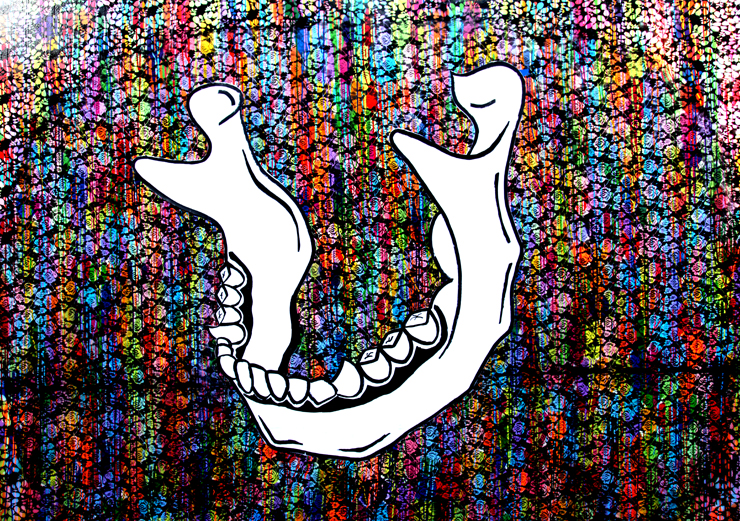 14. What is your greatest fear? Losing my sight.


15. The moment you realized you were an 'artist': When my art was published in a book.


16. Your greatest quality: Humility.


17. Something you wish you could change or alter about yourself: I wish I could fly.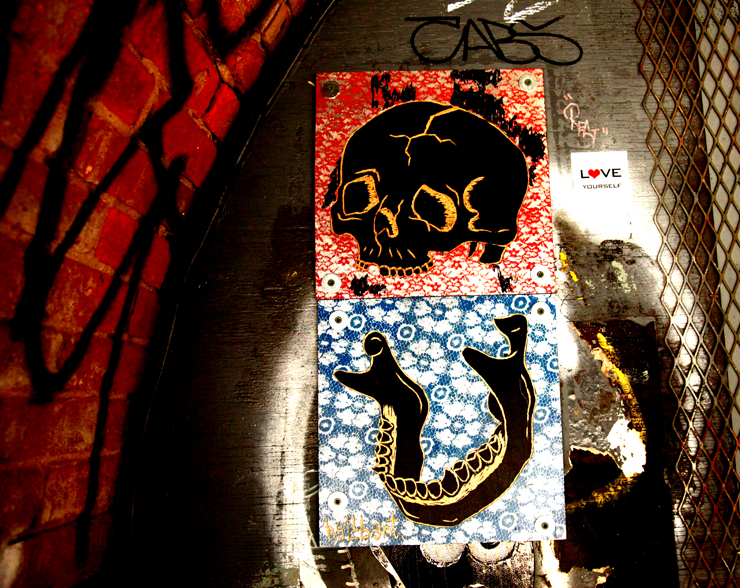 18. What is the biggest risk you've ever taken and was it worth it? To be an artist, move to NYC and suffer, worth it? Hells yeah!


19. Something you wish you had known five years ago: That it's going to take five years to get here 

20. What do you hope to accomplish in the next five years of your life?
I would like to have a book published of my work, be collected in a major museum, go to China and catch a tag or two, be living off my art and traveling around the world doing it!

All photos © Jaime Rojo
You can see Hellbent's work in the new group show, "Street Art Saved My Life: 39 New York Stories"
Curated by Steven P. Harrington and Jaime Rojo, founders of Brooklyn Street Art
In collaboration with ThinkSpace Gallery
Opens at C.A.V.E. Gallery, Friday August 12th 6-10pm
Runs until September 4th
C.A.V.E. Gallery
www.cavegallery.net