Back Talk: A Conversation with Fernando Chamarelli
Juxtapoz // Wednesday, 10 Aug 2011
1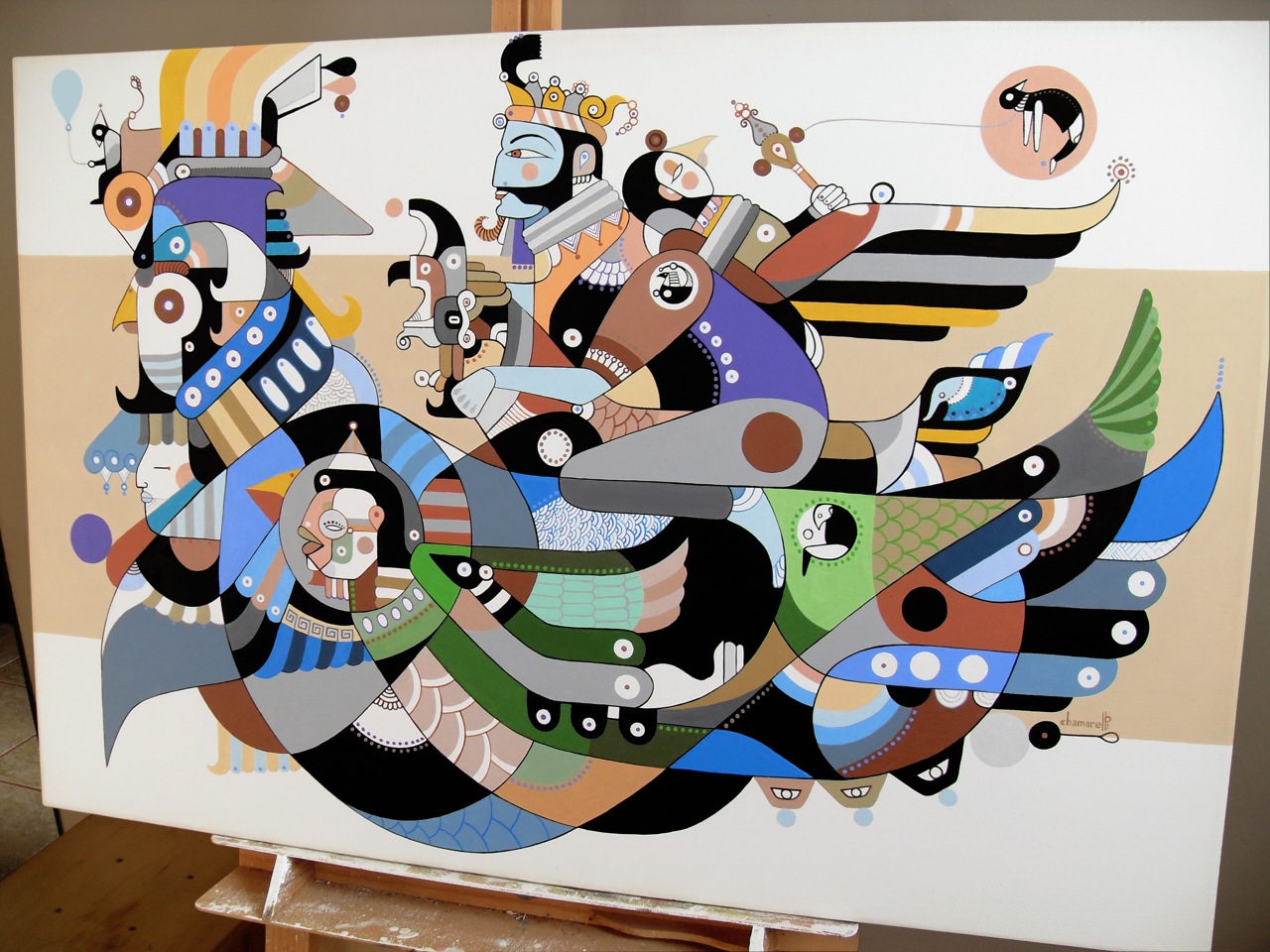 Fernando Chamarelli is a graphic designer, illustrator and visual artist. After initially drawing cartoons, caricatures and portraits he later became involved in street art and tattooing: it is by merging these different mediums that he creates his art. The Brazilian artist opens a show at Thinkspace Gallery, Lost Civilization, this Saturday, August 13.
Chamarelli lives in Brazil, a multicultural country of contrasts, many of which are reflected in his work. Everpresent, is the influence of Brazilian popular culture and pre-Columbian indigenous art on the Sao Paulo-based artist. His work includes mosaic, geometric elements, organic forms and harmonic lines connecting symbols, legends, philosophies, religions and customs of ancient and modern civilizations. Chamarelli has to date exhibited extensively in North and South America, as well as in Europe. —Courtesy of Tina Ziegler (Moniker Projects / Hunt and Gather)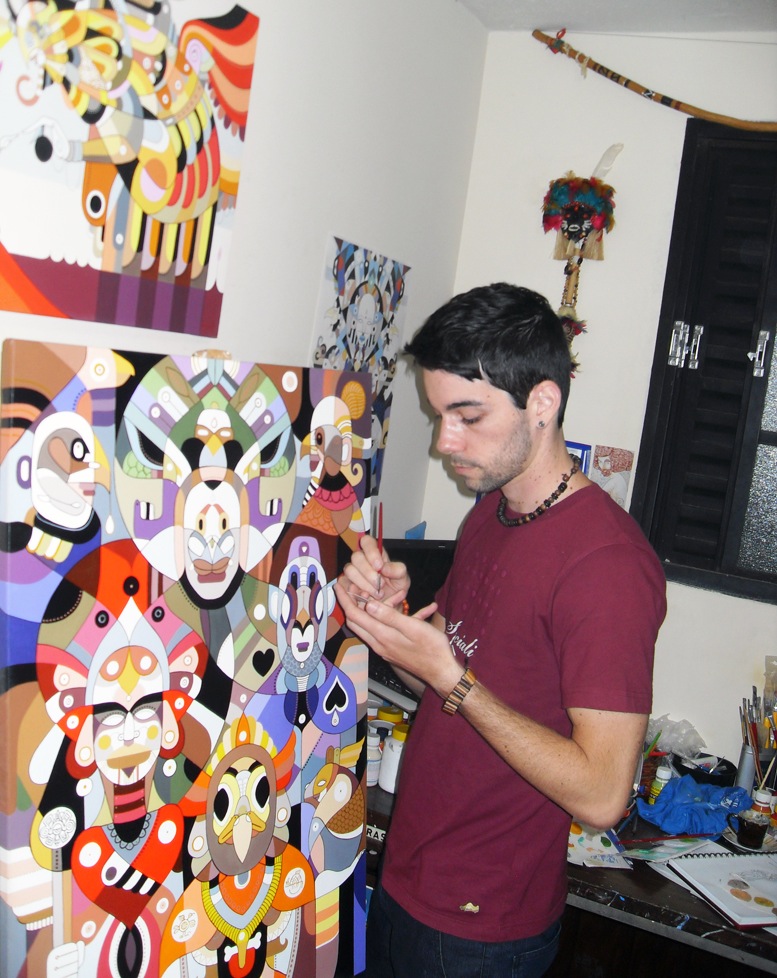 1. One reason you make art:
Making art is a necessity. My addiction
2. The last good movie you saw:
Edukators
3. Something you've always wanted to do, but have yet to:
To sit on a stone in the ruins of Macchu Picchu and to do a drawing.
4. Favorite country or city visited:
Ilha do Mel, Parana, Brazil.It is an island paradise.
5. A few words that sum up your philosophy on life:
Happiness, charity and creativity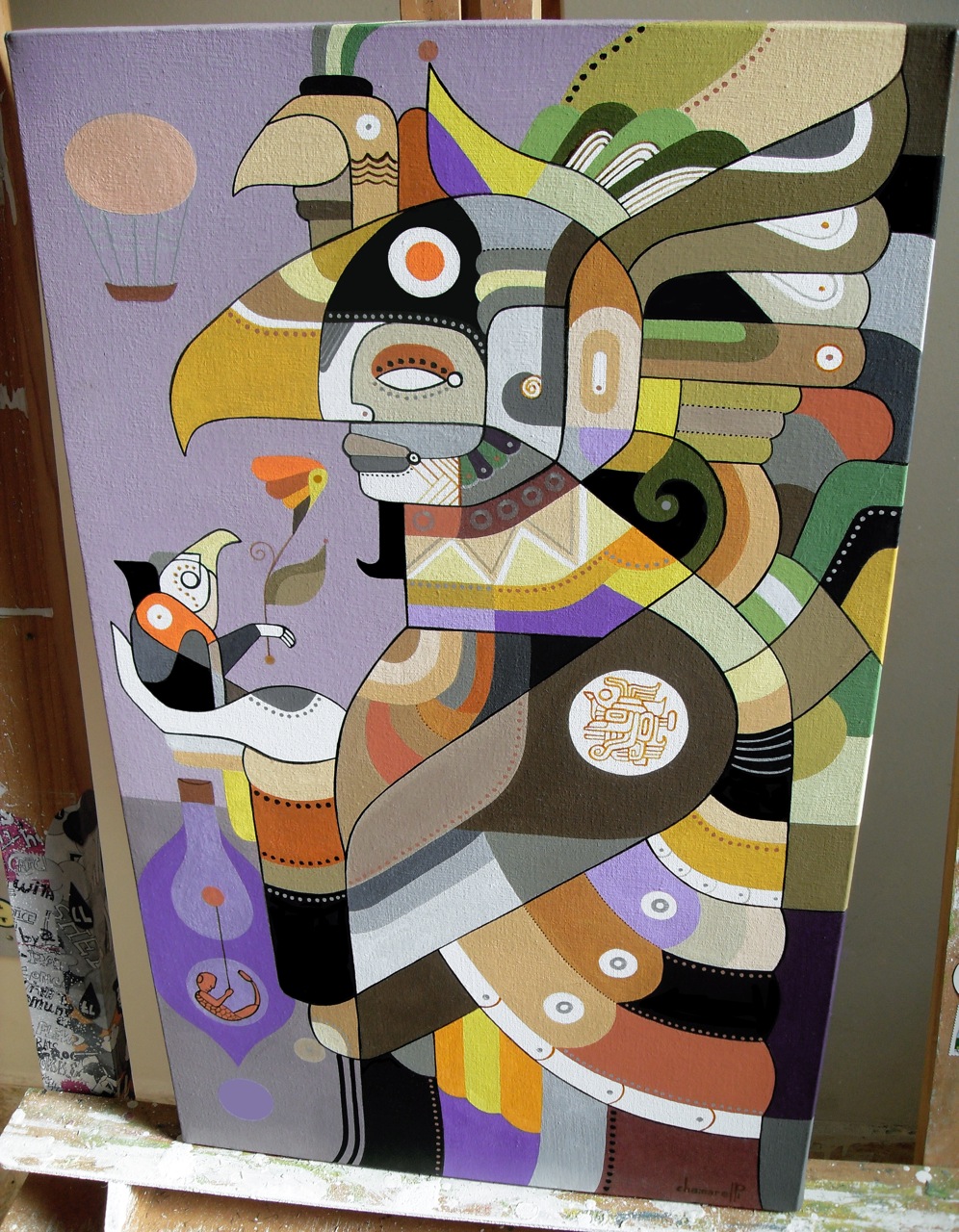 6. Something you want the world to know about you:
I'm not good with words, but I can communicate with images.
7. Something that annoys or frustrates you about people:
Greed and selfishness
8. Something that concerns you:
The politics in Brazil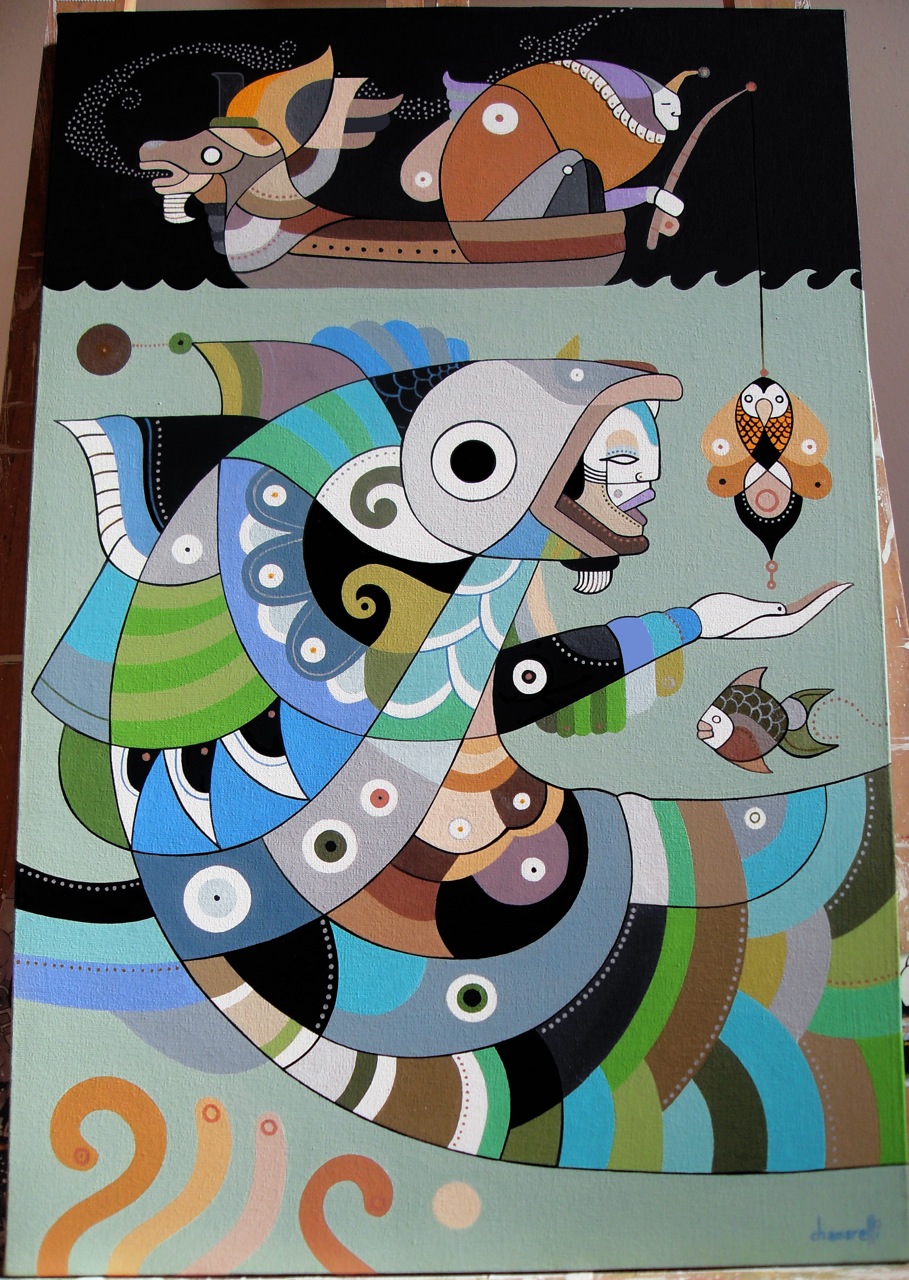 9. Artists you admire:
I like the traditional Magritte, Klimt, Escher... However I really admire the ancient Polynesians artists who tattooed using pieces of bone.
10. Favorite quote(s):
"Why do I need feet when I have wings to fly?" Frida Kahlo
"As a day well spent gives a good sleep, a life well spent brings a happy death". Leonardo da Vinci
11. The first record or CD you ever bought? The last album you downloaded?
Racionais mc's / Samba de Coco Raízes de Arcoverde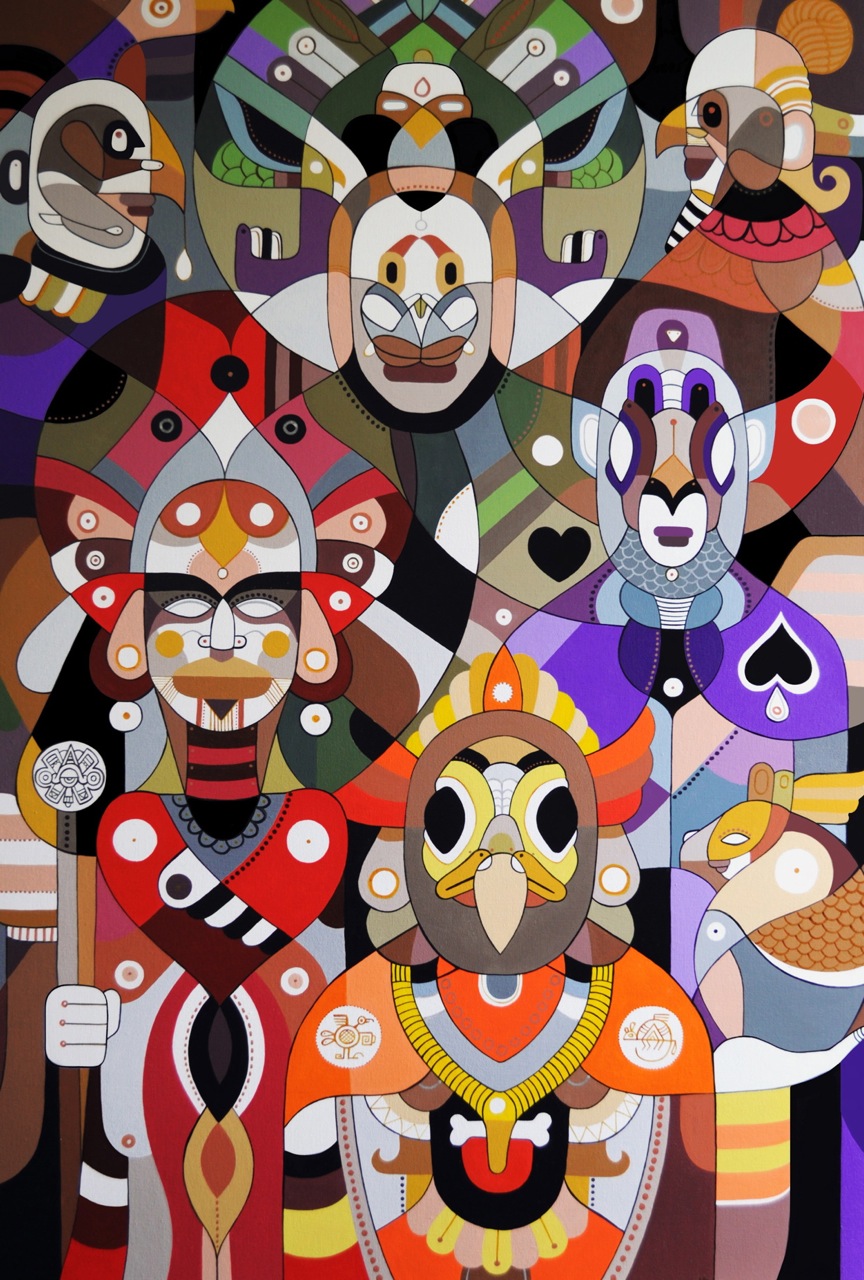 12. Something you do when you're procrastinating?
Internet, cheking emails, or as any good Brazilian I watch and play soccer.
13. What is your most defining characteristic?
Perhaps to make good long lines, together elements from various cultures and be able to tell several stories with a single image.
14. What is your greatest fear?
Get old and realize that I could not do the things I dreamed.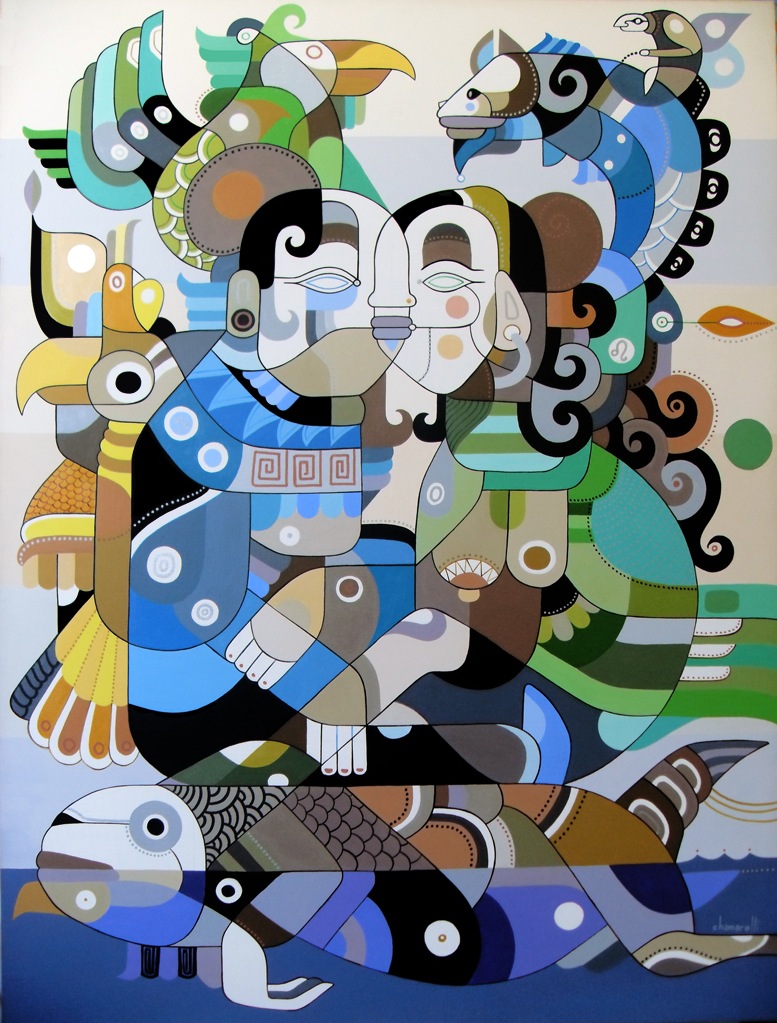 15. The moment you realized you were an 'artist':
I think when I was invited to participate in a group exhibition in Atlanta,USA. It was the first time that my paintings have left my home.
16. Your greatest quality:
To be a simple person with a complex work.
17. Something you wish you could change or alter about yourself:
I feel good about myself.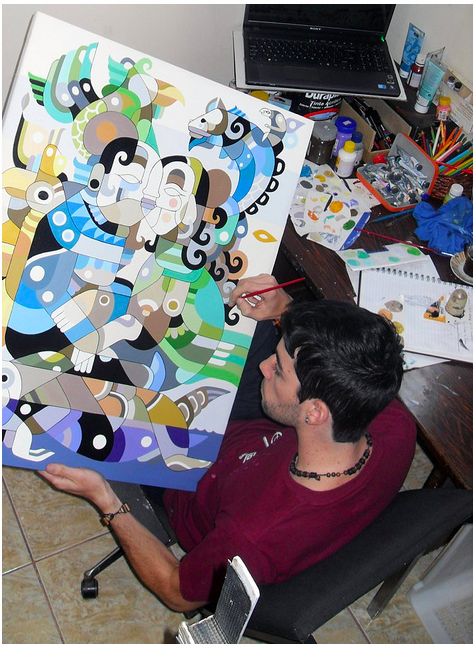 18. What is the biggest risk you've ever taken and was it worth it?
I had a good job as graphic designer, but I left it and wanted to live just making art. Living making art in a coutry like Brazil is very difficult, especially for beginners.
19. Something you wish you had known five years ago:
How is good to live doing what really like.
20. What do you hope to accomplish in the next five years of your life?
To continue to live making art. Painting larger and larger canvas. To paint a large building, it would be great and challenging.
Fernando Chamarelli
'Lost Civilization'
Reception with the artist:
Sat, August 13th 5-9PM
On view August 13th - September 3rd in our project room
Thinkspace Gallery
Culver City, California