Back Talk: A Conversation with Ema
Juxtapoz // Thursday, 04 Aug 2011
1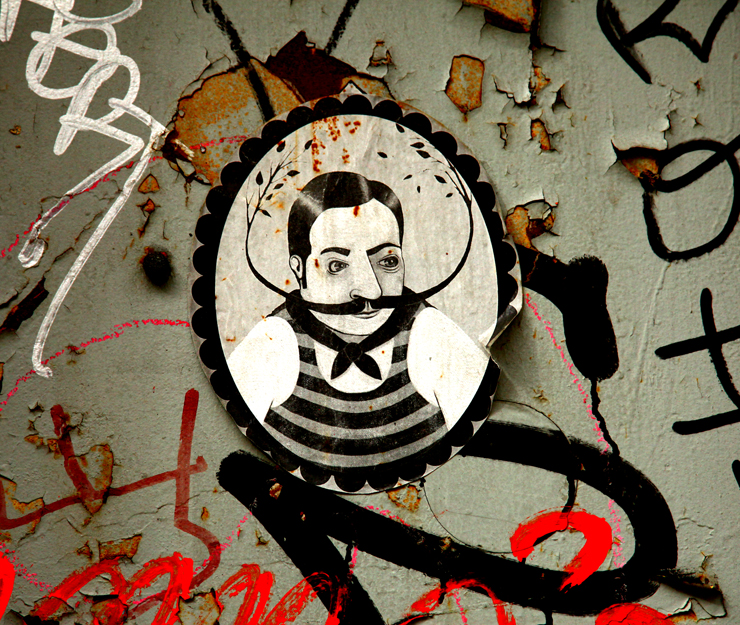 Street Artist and doctor of biology EMA likes shiny headed mustachioed men in striped muscle shirts, but who doesn't? A wheat-paster, painter, and screen printer, EMA has developed an illustrated 1910s character style by completing hundreds of very finely detailed tiny brush pieces on the street and in the gallery while living in Brooklyn for a decade. A complex and focused talent, she makes hanging sculpture and stuffed pillows and she crushes very large wall-sized walls along highways and in abandoned warehouses. Talk to her about her twenty years of street work which began in the graffiti scene, and you may be surprised to find her talking about her work in terms of synchrotronic waves and particule collision, which could make you stare at her forehead and try to steer the subject back to fatcaps and aerosol. ~ Steven P. Harrington and Jaime Rojo
1. One reason you make art:
I can't help it, there is no reason behind it.

2. The last good movie you saw:
TRON

3. Something you've always wanted to do, but have yet to:
Start a band.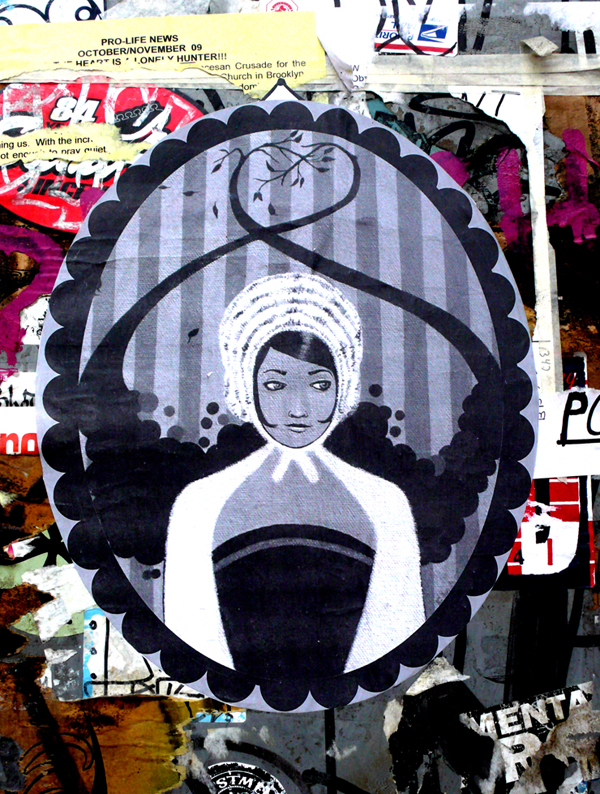 4. Favorite country or city visited:
Japan, Puerto Rico, San Francisco...

5. A few words that sum up your philosophy on life:
One thing at a time.

6. Something you want the world to know about you:
I drove a train once.

7. Something that annoys or frustrates you about people:
When they don't listen.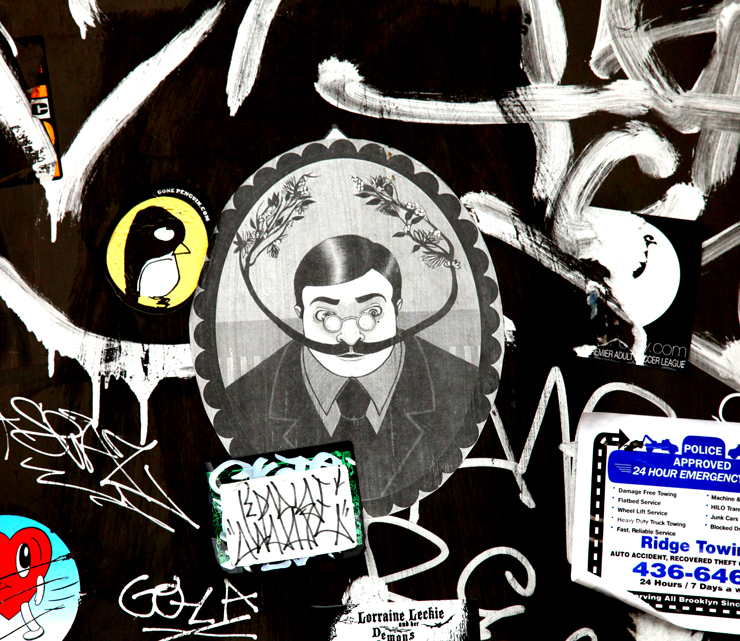 8. Something that concerns you:
My upstairs' neighbors.

9. Artists you admire:
The genuine ones.

10. Favorite quote(s):
No idea.

11. The first record or CD you ever bought? The last album you downloaded?
"De la Soul is Dead"- De La Soul, "Rough Trade Counter Culture 09" - Various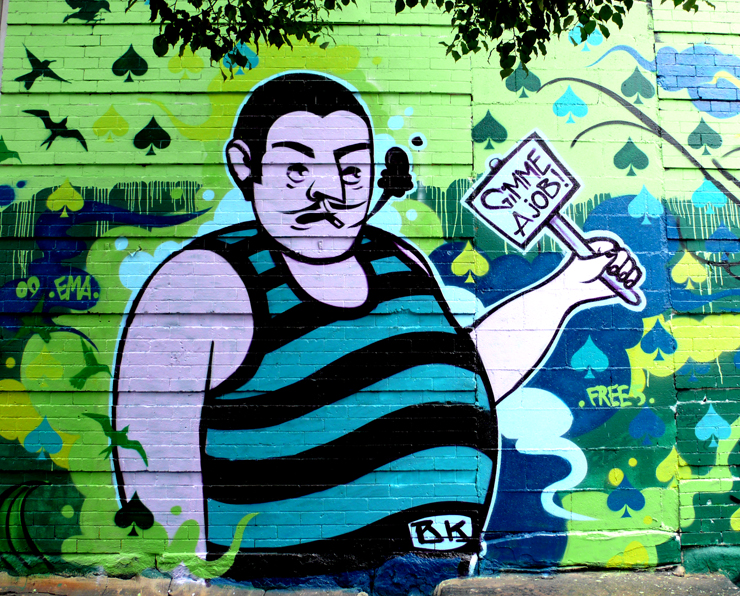 12. Something you do when you're procrastinating?
I delete emails from my inbox.

13. What is your most defining characteristic?
I'm not sure.

14. What is your greatest fear?
Grasshoppers.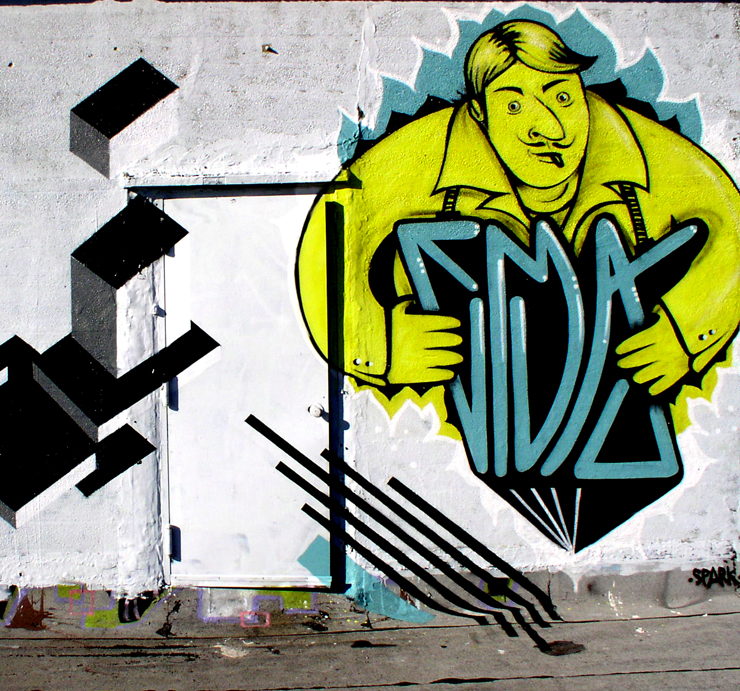 15. The moment you realized you were an 'artist':
There wasn't such a moment.

16. Your greatest quality:
Persistence.

17. Something you wish you could change or alter about yourself:
Persistence.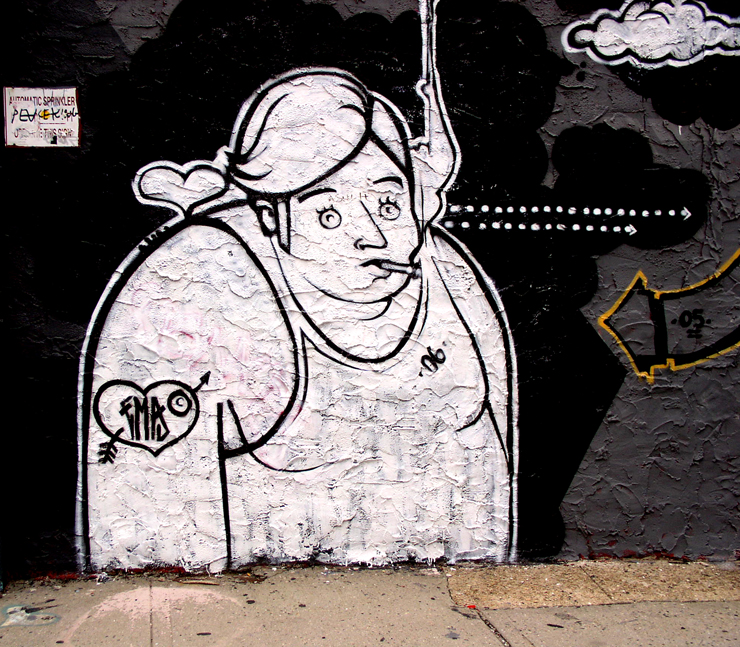 18. What is the biggest risk you've ever taken and was it worth it?
I ate an oyster once. I hated it.

19. Something you wish you had known five years ago:
The tool 'select > similar' on Photoshop.

20. What do you hope to accomplish in the next five years of your life?
Find the perfect drawing desk, and the chair that goes with it.

All photos © Jaime Rojo

You can see EMA's work in the new group show, "Street Art Saved My Life: 39 New York Stories"
Curated by Steven P. Harrington and Jaime Rojo, founders of Brooklyn Street Art
In collaboration with ThinkSpace Gallery
Opens at C.A.V.E. Gallery, Friday August 12th 6-10pm
Runs until September 4th
C.A.V.E. Gallery
www.cavegallery.net