Back Talk: A Conversation with El Sol 25
Juxtapoz // Wednesday, 27 Jul 2011
1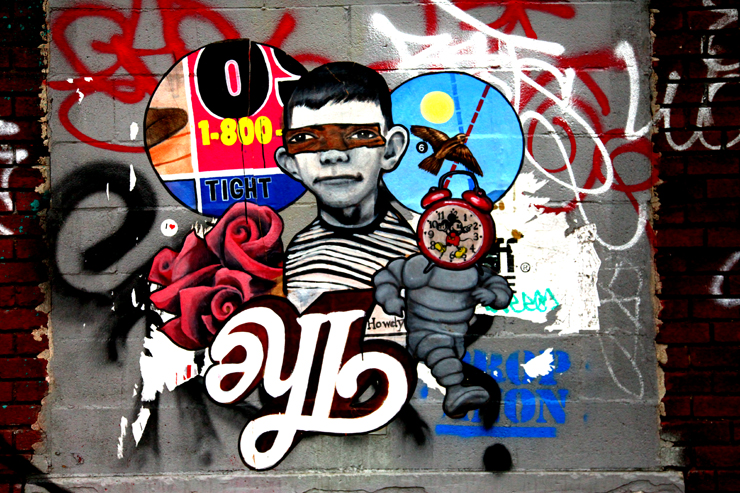 Former graffiti writer El Sol 25 is now a droll mashup enigma on New York streets, pasting up fully formed composites of people like puzzles in doorways. With a mix-n-match irreverent Girltalk mashup style emblematic of this time, the warmth and continuity come when you see that it is handmade and hand painted. Despite the non sequiturs that pile up; from skulls to tutus to dildos and Obama, the eye-popping combinations are sometimes avatars or portraits of people in his life, poor kid. ~
Steven P. Harrington and Jaime Rojo

1. One reason you make art:

I make art because I want the rest of the world to be my mothers refrigerator door.....

2. The last good movie you saw:

"Rivers and Tides: Andy Goldsworthy Working with Time"

3. Something you've always wanted to do, but have yet to:

Legal walls.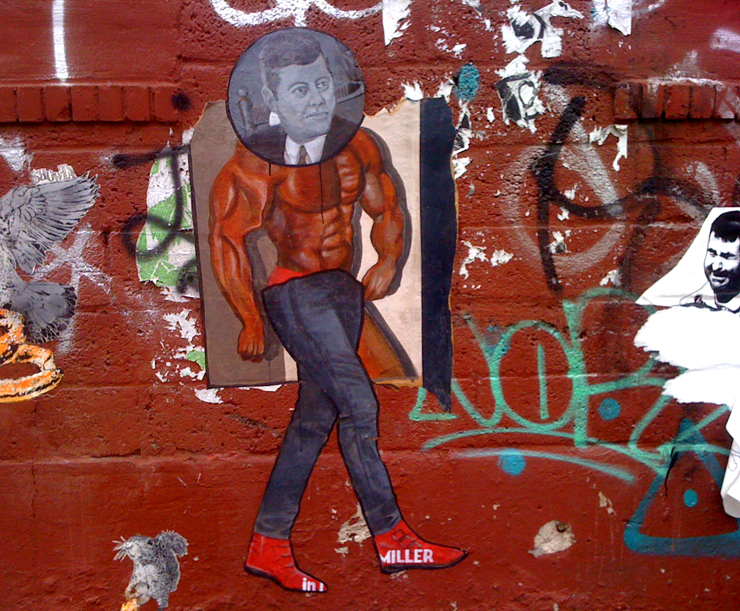 4. Favorite country or city visited:

My family and I lived in Panama for a while when I was a child and we would take trips in the car to see the indigenous villages to buy artworks and take photos. The Kuna indian women dressed head to toe in elaborate colorful beaded garments, and had thick golden jewelry and face piercings.

We had to give them money to take their photo as they believed that cameras "robe su alma"- Steal your soul.

5. A few words that sum up your philosophy on life:

"We are the music makers and we are the dreamers of dreams" - Arthur William Edgar O'Shaughnessy
These are not my own words, but they seem to work out just right as my general philosophy on life. You know; Give to life and life gives back.

6. Something you want the world to know about you:

...
7. Something that annoys or frustrates you about people:
It frustrates me sometimes when I notice people becoming annoyed and frustrated.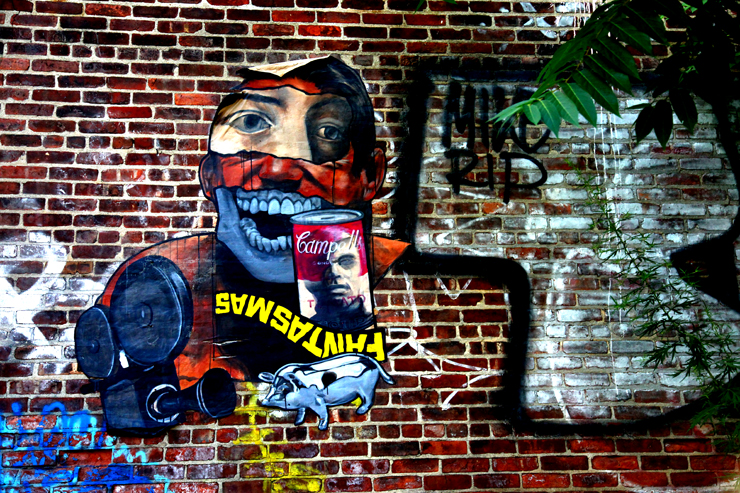 8. Something that concerns you:


See question #7


9. Artists you admire:

All the greats/losers.


10. Favorite quote(s):

"plush safe he think"  (Jean Michel Basquiat)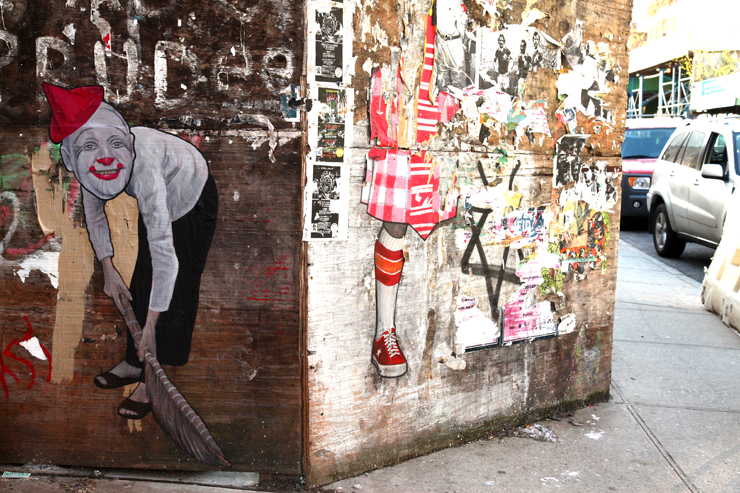 11. The first record or CD you ever bought? The last album you downloaded?


BMG 3pack- Aerosmith "Get a Grip", Bob Marley "Legend", and Tears for Fears "The Seeds of Love". Also I just downloaded every Stevie Knicks song ever.


12. Something you do when you're procrastinating?

Internetting.


13. What is your most defining characteristic?

Manboy.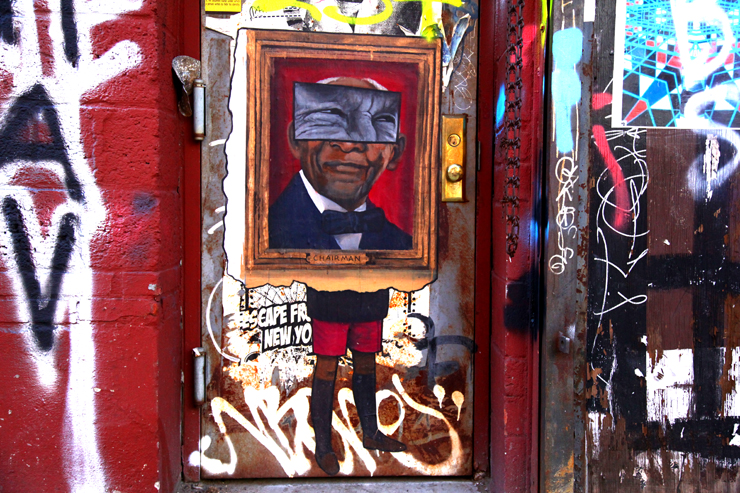 14. What is your greatest fear?

NYPD.


15. The moment you realized you were an 'artist':


We made our own laminated placemats to take home in kindergarten. To me, seeing the little fork and knife characters dressed as farmers at every meal was a memory that stayed with me. That and Halloween.


16. Your greatest quality:

My OCD is both my greatest quality and my greatest inferiority.


17. Something you wish you could change or alter about yourself:

Some sweet robot arms or legs might be nice......um.....  Hmm, I guess I'd have to go with photographic memory.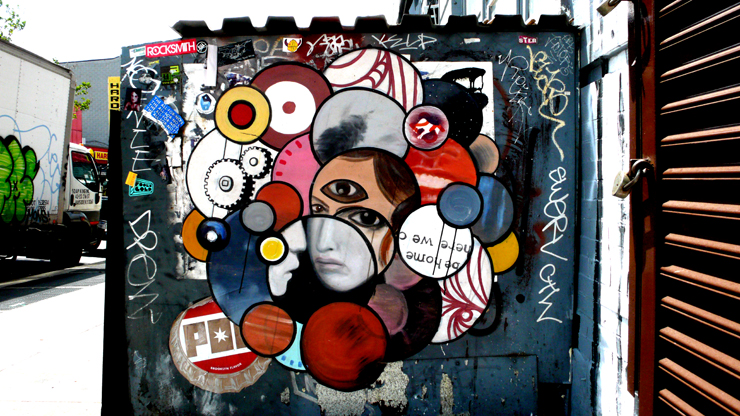 18. What is the biggest risk you've ever taken and was it worth it?

A couple of years back I was pasting near the art museum in the middle of the day in downtown El Paso, Texas. I managed to put up about five posters before being stopped and questioned by two fat undercover policeman dressed in plain clothes.
They searched my bag and pockets and called for back up. I gave them a fake name and story.
My name was Pedro Alvarado--the fakest sounding name ever, and I was from Juarez, Mexico, just across the border.  I asked if I could sit down on the curb while we waited for ''la migra" to come, which they allowed.
But, when I walked over to the curb I pushed past the cops and sprinted across the parking lot. I made it past the museum through the library courtyard and across the freeway before being tackled by awaiting officers in two squad cars on the other side. I was dead tired from running and was carried into the squad car where I puked and passed out. Spent 3 days in jail before I was bonded out, but all of the posters stayed up for about a year.
In retrospect it was worth it, but at the time it was the biggest bummer ever.


19. Something you wish you had known five years ago:

I dunno......Karate maybe.  Or maybe how do my taxes correctly.


20. What do you hope to accomplish in the next five years of your life?

I would love to make enough money to get all of my broken teeth fixed.



All photos © Jaime Rojo


You can see El Sol 25's work in the new group show, "Street Art Saved My Life: 39 New York Stories"
Curated by Steven P. Harrington and Jaime Rojo, founders of Brooklyn Street Art
In collaboration with ThinkSpace Gallery
Opens at C.A.V.E. Gallery, Friday August 12th 6-10pm
Runs until September 4th
C.A.V.E. Gallery
www.cavegallery.net