Back Talk: A Conversation with David Chung
Juxtapoz // Friday, 14 Oct 2011
1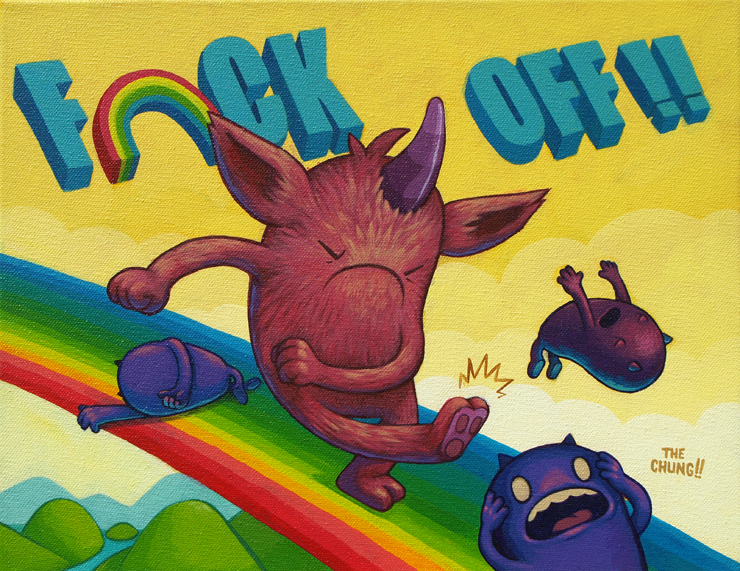 Tonight, October 15, WWA Gallery in Culver City, California will open two exhibitions: Ben Kehoe's The Endless Frontier, and David Chung's Smells Better Than It Tastes. We sat down with David Chung before the exhibition for a little Back Talk and to see some of his newest works.

David Chung uses his off-beat humor like a sledgehammer to your funny bone to examine the inevitable misfortunes and disappointments that accompany all of our live, and finds a glimmering ray of light therein. Smells Better Than it Tastes reminds you to step back, stop taking ourselves so seriously, and use the moment to laugh at our failures, because—after all—feeling sorry for yourself never got anyone anywhere.
1. One reason you make art:
I do it for the bitches.
2. The last good movie you saw:
Scott Pilgrim vs. The World and The Human Centipede
3. Something you've always wanted to do, but have yet to:
Create a human centipede
4. Favorite country or city visited:
I've lived in and visited several places in the world, but at the moment, I'd say Kauai. Mainly because they have the original Puka Dog hot dog hut. And if you've never had a Puka Dog, get one. it's one of the most magical hot dogs you'll ever have. forreal. visit Kauai just for the Puka Dogs. You won't regret it.
5. A few words that sum up your philosophy on life:
OMG WTF STFU PENIS LMFAO!!
6. Something you want the world to know about you:
That I have a birthmark on my butt that looks like Christopher Walken.
7. Something that annoys or frustrates you about people:
People who are ass kissers.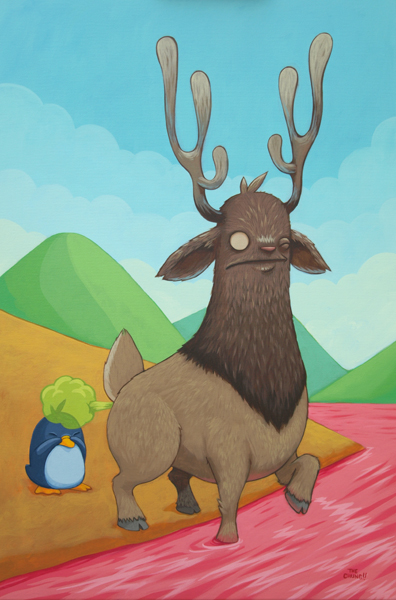 8. Something that concerns you:
The birthmark on my butt that looks like Christopher Walken.
9. Artists you admire:
Your mom.
10. Favorite quote(s):
"Okey Dokey...Hold on to your potatoes!!" ~Short Round
11. The first record or CD you ever bought? The last album you downloaded?
Doggy Style - Snoop Dogg
Doggy Style - Snoop Dogg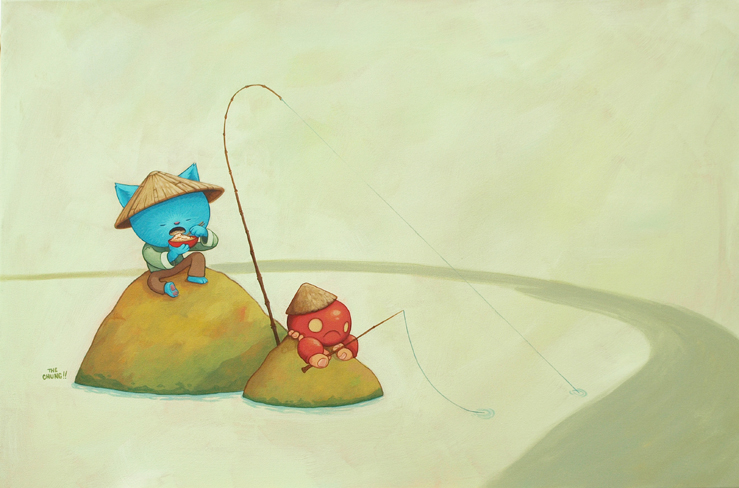 12. Something you do when you're procrastinating?
I was trying to come up with an answer for this but instead i ended up making a sandwich, ate it, then made another sandwich and ate that one too, then i passed out on the floor.
13. What is your most defining characteristic?
My wife says that I'm really annoying.
14. What is your greatest fear?
That she's right.


15. The moment you realized you were an 'artist':
The moment I realized I'd make a horrible doctor.
16. Your greatest quality:
I'm REALLY annoying
17. Something you wish you could change or alter about yourself:
I've always wished i had the ability to move things with my mind like a jedi. either that or have spiderman's powers. yes. i don't think i really understand the question.



18. What is the biggest risk you've ever taken and was it worth it?
I left my now wife, job, and everything I owned to move across the country to Los Angeles in hopes of becoming a successful artist. And while on the road to LA, I met a wise old man at a Denny's who said he too moved to LA when he was younger in hopes of becoming rich and famous. That old man dared me to eat a piece of gum under the table for 5 bucks. There was a 50/50 chance of that piece of gum being covered in syphilis...but i won 5 bucks and it was totally worth it.
19. Something you wish you had known five years ago:
The winning lottery numbers to the MegaMillions jackpot.
20. What do you hope to accomplish in the next five years of your life?
I have been working on a pitch for an animated show for the past 2 years that I'd like to see get picked up eventually. Then I'd like to buy a lion. Then i would like to eat that lion during the premier of my show.
David Chung
www.thechung.com

David Chung and Ben Kehoe
Opening Reception: Friday, October 14, 2011 from 8–11pm
On View Through: November 12, 2011
WWA Gallery
Culver City, California