Image Gallery
Back Talk: A Conversation with David Bray
Juxtapoz // Tuesday, 05 Jul 2011
1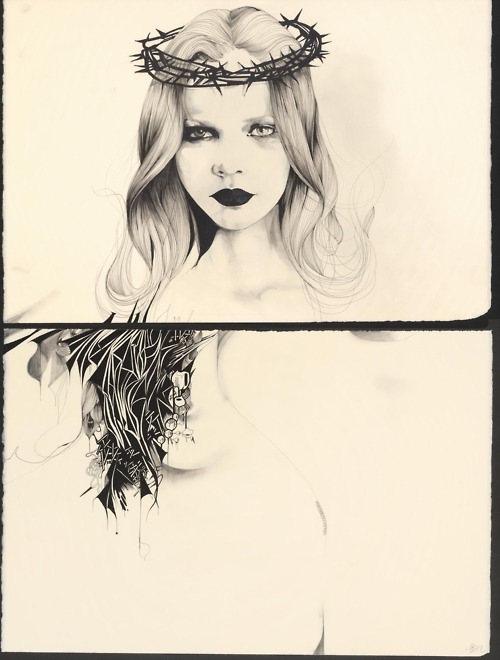 UK-based fine artist, David Bray, will be opening a new solo show, Return of Bad Wisdom, at Thinkspace Gallery in Culver City on July 16, 2011. Using basic drawing tools, such as pens, pencils and paper, Bray creates delicate and time-consuming drawings which explore emotion, utopia and a world of fantasy through his subject matter of the beautiful and erotic, but the unnatainable female form.
Here is our conversation with Mr. Bray . . .
1. One reason you make art:
To breathe easy.


2. The last good movie you saw:
Let The Right One In.

3. Something you've always wanted to do, but have yet to:
Space travel.


4. Favorite country or city visited:
The next one.


5. A few words that sum up your philosophy on life:
Suspect your elders.


6. Something you want the world to know about you:
I did it, I did it - but I'll never confess it.


7. Something that annoys or frustrates you about people:
People who feel the need to tell you how much they've spent, or how much they've taken. But are you having a good time?



8. Something that concerns you:
Impending baldness.


9. Artists you admire:
Eric Stanton, Helmut Newton, Richard Prince, Egon Schiele, Charles Burns, Araki, Cy Twombly.


10. Favorite quote(s):
'I never fall apart, because I never fall together' Andy Warhol
11. The first record or CD you ever bought? The last album you downloaded?
I cant remember the first cd I bought, I remember the first vinyl. Adam and the Ants - 'Young Parisians' 7-inch single from KMK Records (r.i.p.), I was about 9.
The last album I downloaded was by Wu Lyf 'Go Tell Fire To The Mountain', my internal jury is still out on that one. All the good music you need to download though is here.... www.various.co.uk (shameless plug!)

12. Something you do when you're procrastinating?
Elaborate coffee construction, google, chat, clean, stare out the window, go look at boats on the river....

13. What is your most defining characteristic?
A 17th century parisian aristocrat trapped in the body of a darts player...


14. What is your greatest fear?
Baldness.


15. The moment you realized you were an 'artist':
Answering these questions.




16. Your greatest quality:
Stupidity.


17. Something you wish you could change or alter about yourself:
i met a buyer the other day who said they expected me to be a different shape! Wish i could have frozen my body aged 20 to counter this er midlife growth spurt. Ahem. And bigger hair.


18. What is the biggest risk you've ever taken and was it worth it?
Jacking in the security of a regular income to be happy. So yes, was worth it.....

19. Something you wish you had known five years ago:
Midlife growth spurt. That it would be all right.

20. What do you hope to accomplish in the next five years of your life?
Remain happy (with a lush head of hair) and an appearance at MOCA. That will do.

David Bray
Return of Bad Wisdom
July 16—August 6, 2011
Thinkspace Gallery
Culver City, California