Back Talk: A Conversation with Creepy
Juxtapoz // Tuesday, 26 Jul 2011
1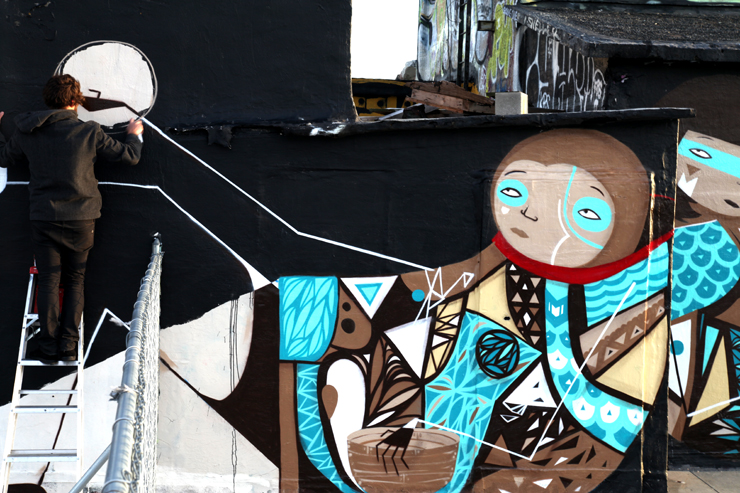 The gladdening and clean aesthetic of Street Artist Creepy belies a deeper well of existential considerations that are always a part of his narrative-driven character-based folk art. His large-scale public murals of illustrative aerosol toss and bounce skinny limbed people telling dark stories of ennui and disconnection, non-plussed in their muted earthen tones. The Perth, Australia based artist seems pretty chipper even as he wrestles with burden, nostalgia and a sinking feeling that time is being lost. ~ Steven P. Harrington and Jaime Rojo

1. One reason you make art:
I like to use my hands, it feels natural.

2. The last good movie you saw:
"Bill Cunningham : New York"

3. Something you've always wanted to do, but have yet to:
Paint a lighthouse in a very remote place.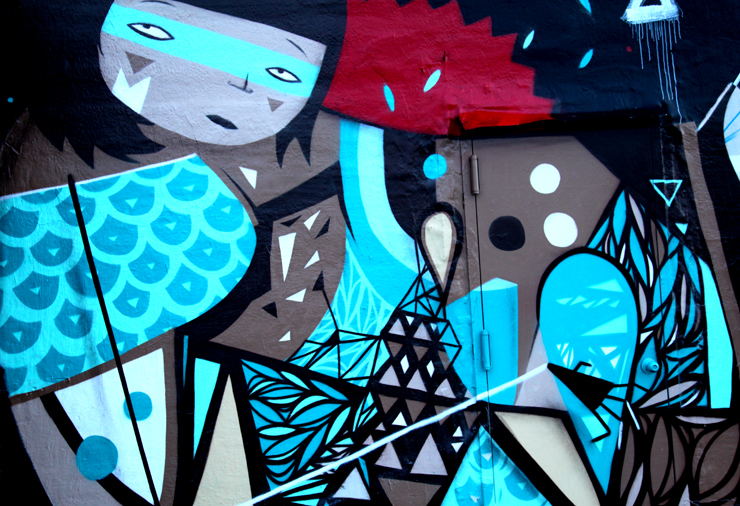 4. Favorite country or city visited:
Papua New Guinea

5. A few words that sum up your philosophy on life:
Create something every day. Be nice to people.

6. Something you want the world to know about you:
I nearly had my foot removed because I was bitten by a poisonous white-tail spider. But my foot won.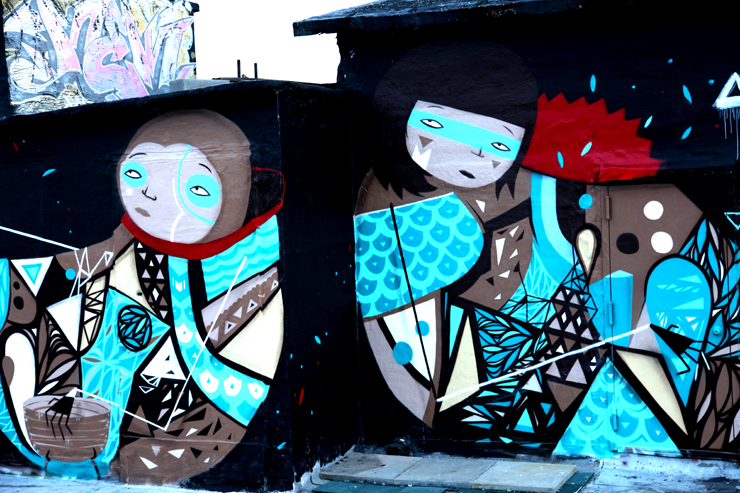 7. Something that annoys or frustrates you about people:
Big egos.

8. Something that concerns you:
Nearly losing my foot because I was bitten by a poisonous white-tail spider.

9. Artists you admire:
Sean Morris, Daek, Yok, Kid Zoom, Escif, Remed, Blu.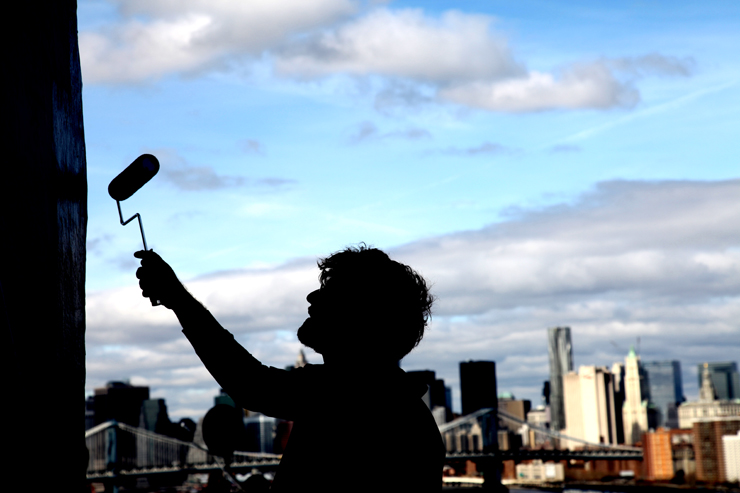 10. Favorite quote(s):
"The rules are there ain't no rules." Grease

11. The first record or CD you ever bought? The last album you downloaded?
Michael Jackson "Bad"
Friska Viljor "The Beginning Of The Beginning Of The End"

12. Something you do when you're procrastinating?
Make a nice coffee and sit in the sun.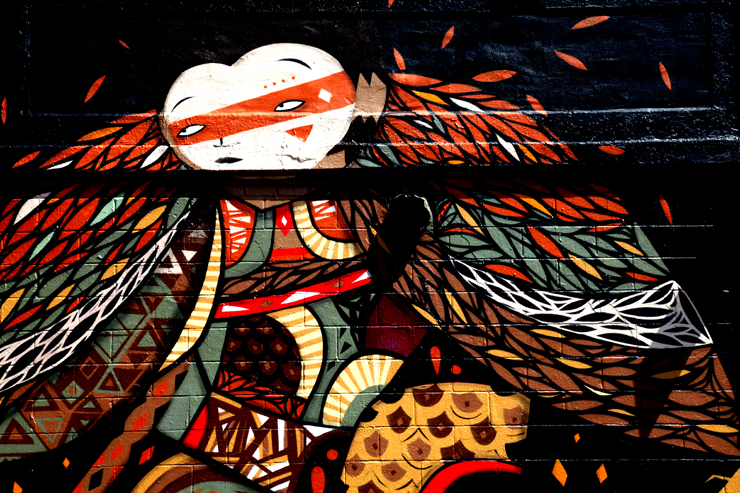 13. What is your most defining characteristic?
My dad hands. They are infamous in my home town...

14. What is your greatest fear?
Australian magpies. They swoop for eyes.

15. The moment you realized you were an 'artist':
When I left my day job and lasted my first year from painting.

16. Your greatest quality:
It seems weird to claim my own greatest quality...

17. Something you wish you could change or alter about yourself:
Bigger beard. More arms.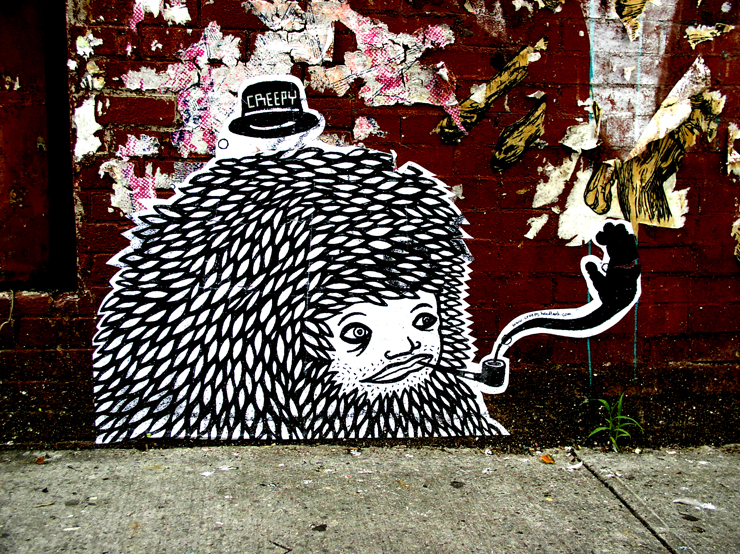 18. What is the biggest risk you've ever taken and was it worth it?
I once got a cricket ball off a 2 story warehouse roof, then couldn't get down so I jumped the alleyway one  floor down and I went straight through the roof. Totally worth it because I got the cricket ball and didn't rip my pants.

19. Something you wish you had known five years ago:
Spending money on good brushes is always worth it!

20. What do you hope to accomplish in the next five years of your life?
Paint a lighthouse, more international exhibitions and large scale street work  - lots of travelling with my wife, and hopefully meeting more inspiring people!
All photos © Jaime Rojo


You can see Creepy's work in the new group show, "Street Art Saved My Life: 39 New York Stories"
Curated by Steven P. Harrington and Jaime Rojo, founders of Brooklyn Street Art
In collaboration with ThinkSpace Gallery
Opens at C.A.V.E. Gallery, Friday August 12th 6-10pm
Runs until September 4th
C.A.V.E. Gallery
www.cavegallery.net