Back Talk: A Conversation with Chris Stain
Juxtapoz // Wednesday, 20 Jul 2011
1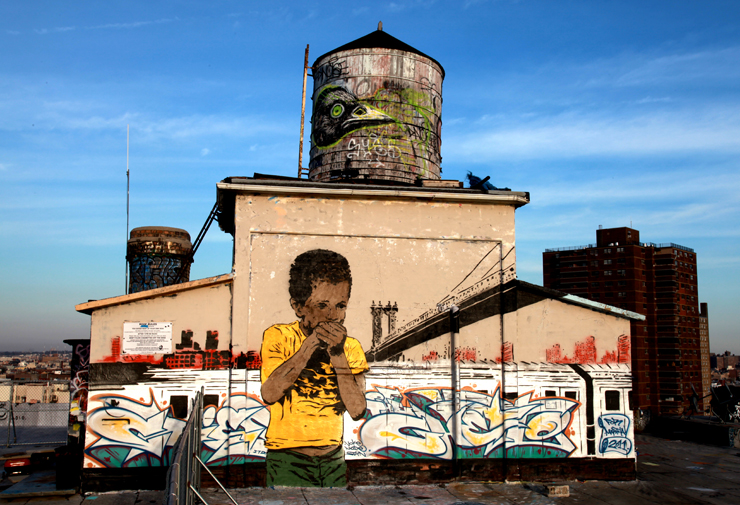 Born in 1972 and raised in East Baltimore, Chris Stain is a New York-based, self taught stencil artist and print maker influenced by social realism, the plight of working people, and skateboarder culture. His straight-forward portraits in urban or industrial settings harken back to the Depression, when bankers and masters of industry declared war on the blue collar and poor. With blunt realism and everyday protagonists, Stain encourages passersby on the street to draw direct connections between social and economic conditions of then and today. ~ Steven P. Harrington and Jaime Rojo

1. One reason you make art:
Art is therapy for me.

2. The last good movie you saw:
A Guide to Recognizing Your Saints.


3. Something you've always wanted to do, but have yet to:
Get some rest.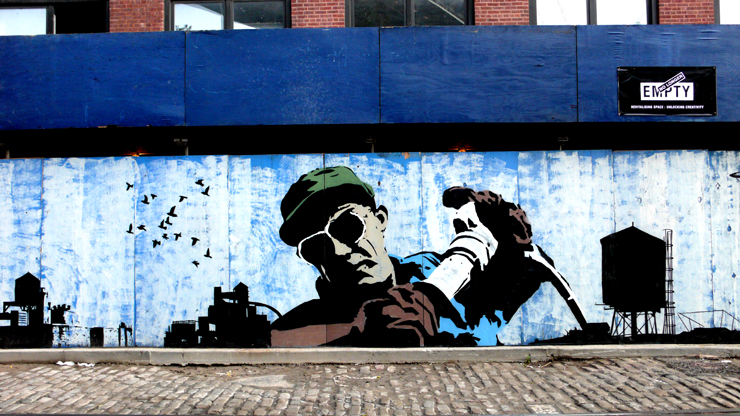 4. Favorite country or city visited:
Norway. Thanks Martyn!


5. A few words that sum up your philosophy on life:
"You don't have to fuck people over to survive."- Seth Tobocman

6. Something you want the world to know about you:
Baltimore born. Mixed breed. House broken. Got two kids I love. Get along with punks and skins, b-boys and b-girls. Like to cut stencils. Spray paint. Write my name on shit. Member of justseeds.org, Out to Live, and In the Dream. Been vegetarian for 22 years goin' on 23. Wish I could still skateboard like it was '87.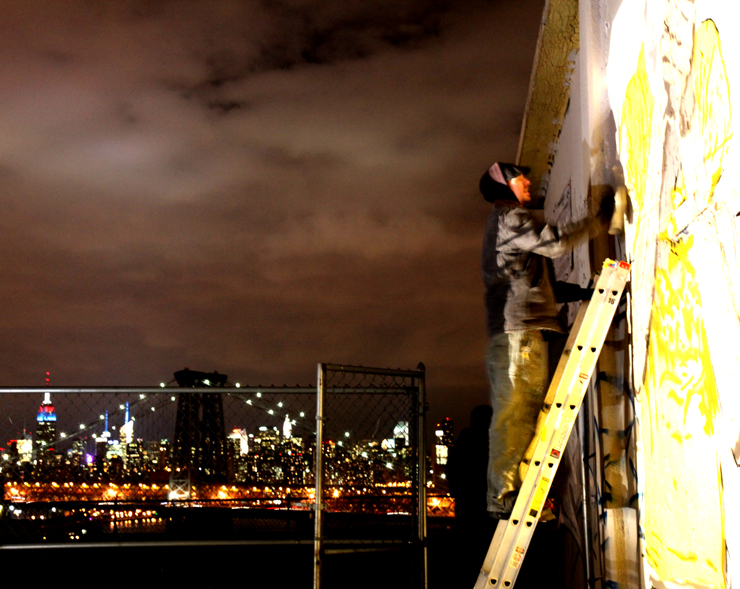 7. Something that annoys or frustrates you about people:
When people are mean and cold for no good reason.

8. Something that concerns you:
All these people in power screwing up things for regular folks just trying to survive. Greed.


9. Artists you admire:
Kathe Kollwitz, Ezra Jack Keats, Jacob Lawrence, Augusta Savage, John Fekner, Gil Scot Heron, Charles Bukowski, Nina Simone, Louis Armstrong, Chet Baker, Miles Davis, Martha Cooper, Boogie, and Robert Frank.


10. Favorite quote(s):
"I know what you're here for, you're here to fuck us!!!" - Earl Weaver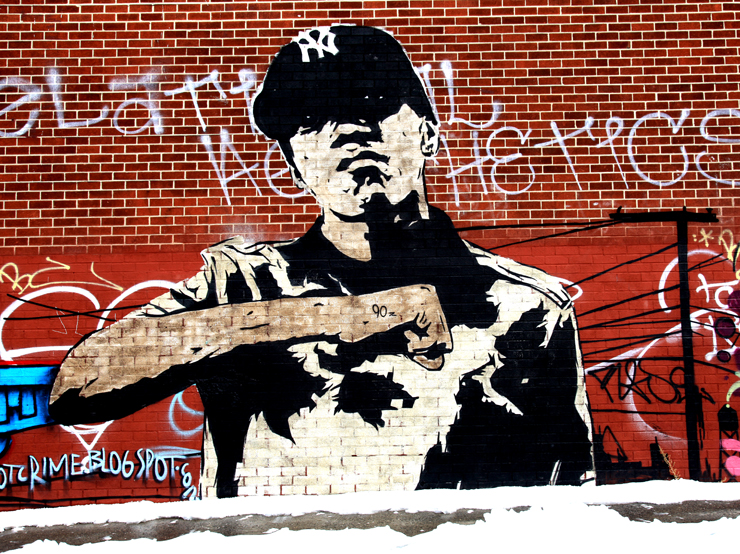 11. The first record or CD you ever bought? The last album you downloaded?
First record I bought with my own money was Ozzy Osborne's "Diary of a Madman". Just downloaded "Cookin'" with the MIles Davis Quintet two days ago.


12. Something you do when you're procrastinating?
Eat.


13. What is your most defining characteristic?
That's not really for me to answer.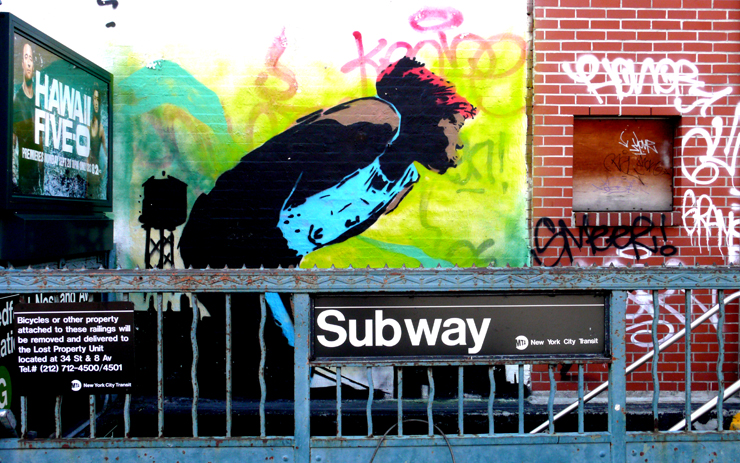 14. What is your greatest fear?
Losing my kids.


15. The moment you realized you were an 'artist':
I'll get back to you on that one.


16. Your greatest quality:
Never thought about it.

17. Something you wish you could change or alter about yourself:
Wish I worked harder.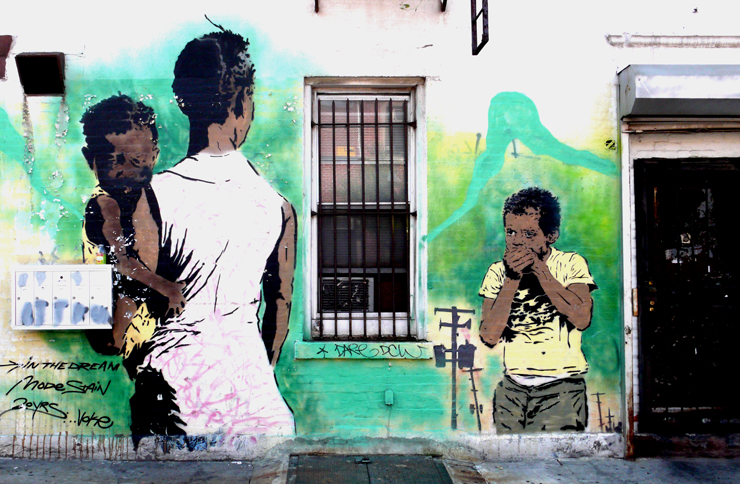 18. What is the biggest risk you've ever taken and was it worth it?

Had kids. Hell yes it was worth it.

19. Something you wish you had known five years ago:

That certain aspects of the gallery world are a joke and full of investors and fakes. Well actually I had a hunch but tried it anyway.

20. What do you hope to accomplish in the next five years of your life?
Get my degree in Art Education and work with inner city kids in hope to inspire creativity and offer an alternative to the bullshit some of these kids go through. I want to run an Art Center like this country use to have back during the depression that was run by the WPA. If you want to help email me chrisstain@gmail.com
All photos © Jaime Rojo
You can see Chris Stain's work in the new group show, "Street Art Saved My Life: 39 New York Stories"
Curated by Steven P. Harrington and Jaime Rojo, founders of Brooklyn Street Art
In collaboration with ThinkSpace Gallery
Opens at C.A.V.E. Gallery, Friday August 12th 6-10pm
Runs until September 4th
C.A.V.E. Gallery
www.cavegallery.net