Back Talk: A Conversation with C215
Juxtapoz // Wednesday, 13 Jul 2011
1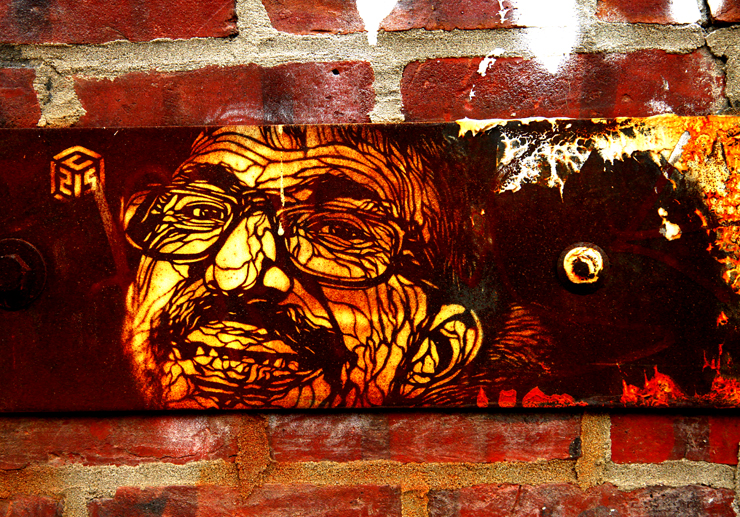 French Street Artist C215 is known in cities and neighborhoods around the globe for his achingly honest and glowing stencil portraits of people who live on the street, and in his life. Considering his work a form of community service, the artist first takes photos of people in your neighborhood who live on the street or who otherwise participate in local life. From his photos he creates friends you haven't met, many with penetrating eyes and uncanny presence, with articulating detail that gives an impression that something more is at play than simple stenciling. ~ Steven P. Harrington and Jaime Rojo

1. One reason you make art:
To make my daughter Nina proud of her father.

2. The last good movie you saw:
"Last Exit to Brooklyn"

3. Something you've always wanted to do, but have yet to:
Going to paint in Tibet.


4. Favorite country or city visited:
Rome, and all of Italy.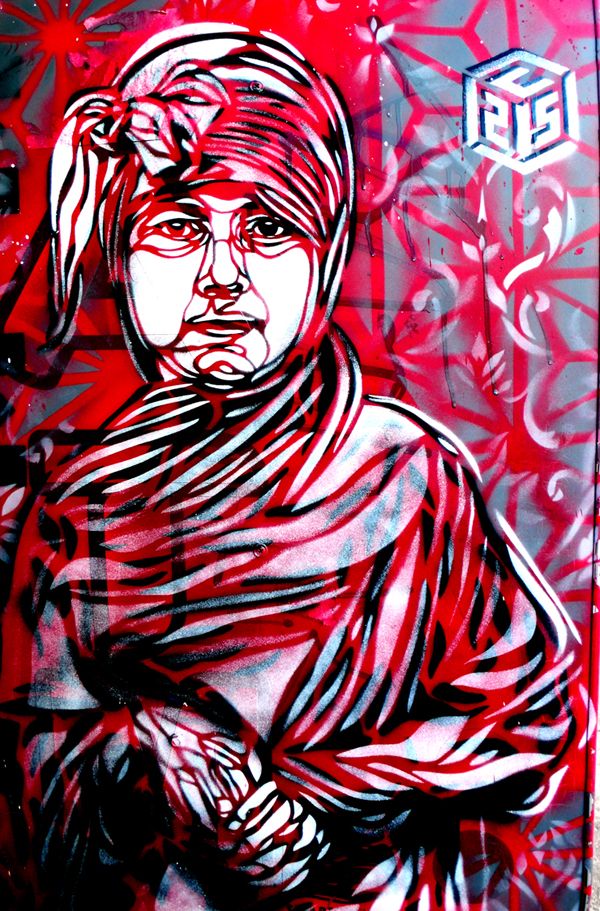 5. A few words that sum up your philosophy on life:
Trying to turn ugly shit into art when possible.


6. Something you want the world to know about you:
That I am not supporting Nicolas Sarkozy despite being French.


7. Something that annoys or frustrates you about people:
Consumerism.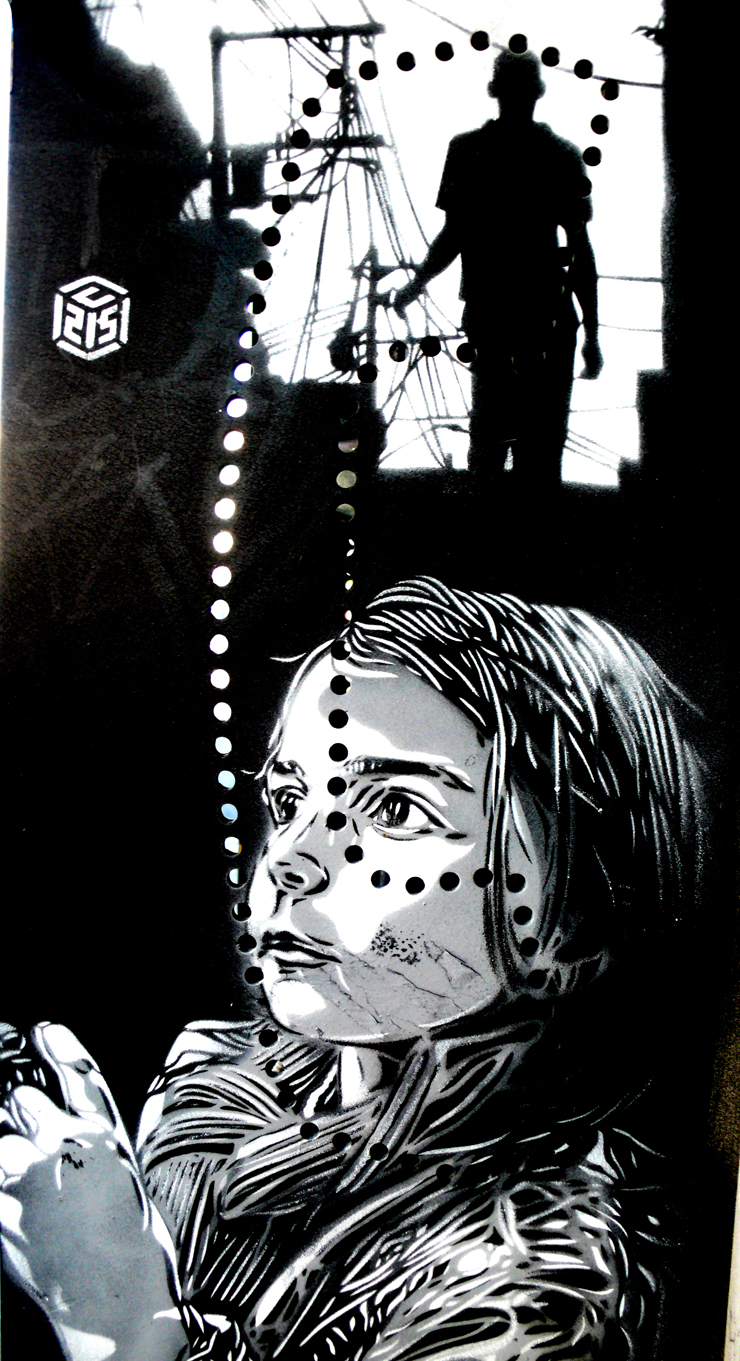 8. Something that concerns you:
The future of my daughter Nina.


9. Artists you admire:
Caravaggio, Pignon Ernest and Banksy.


10. Favorite quote(s):
"You can run but you can't hide."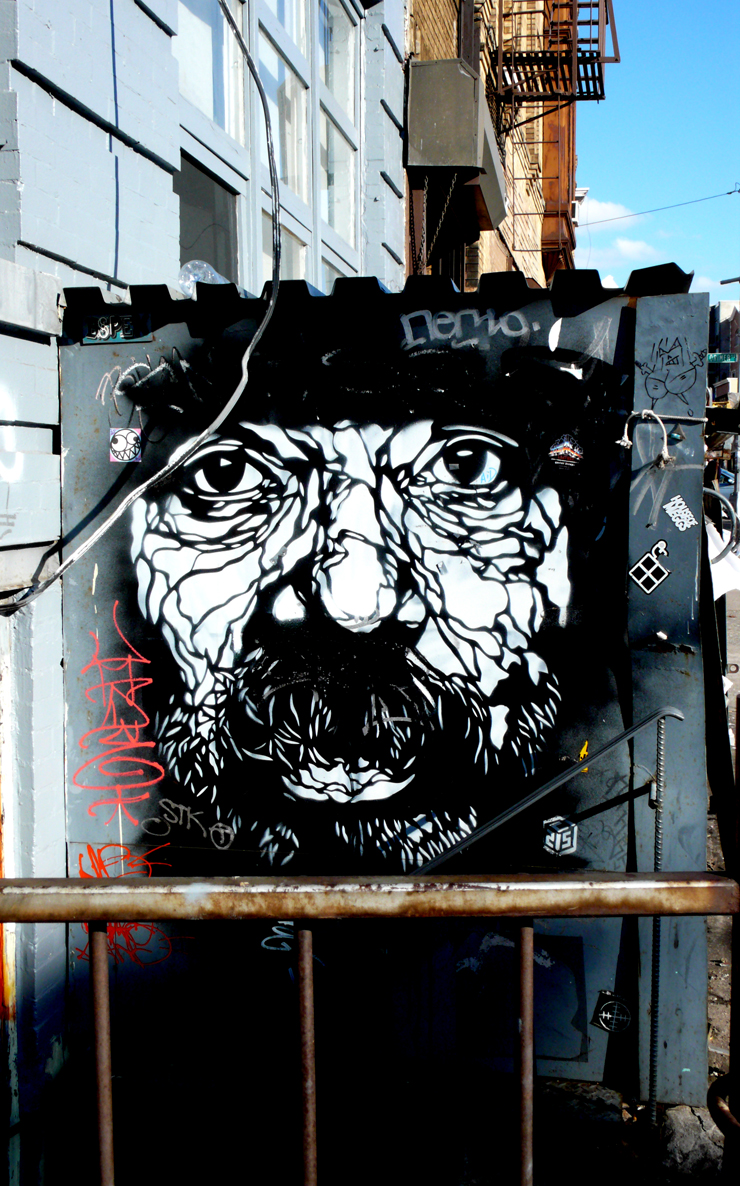 11. The first record or CD you ever bought? The last album you downloaded?
My first CD was a Bob Marley compilation.


12. Something you do when you're procrastinating?
I cut stencils.


13. What is your most defining characteristic?
I am obsessed by graffiti and art history.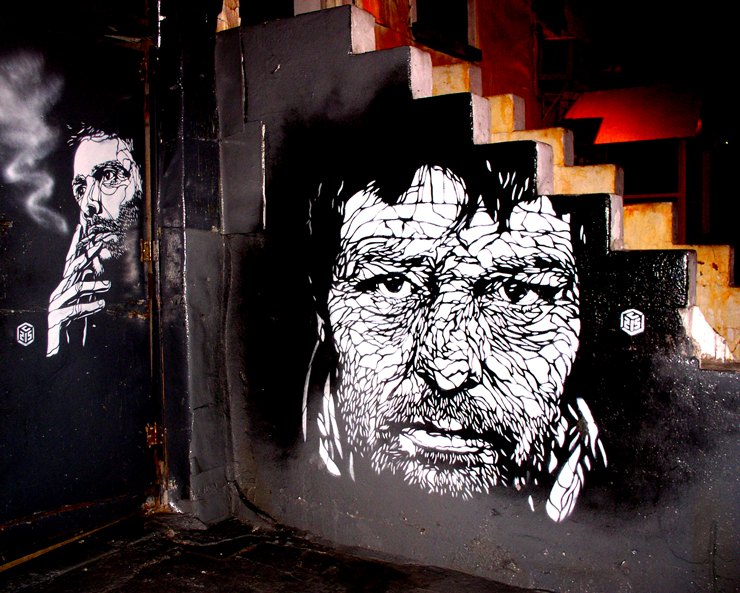 14. What is your greatest fear?
To lose my freedom and my right hand.


15. The moment you realized you were an 'artist':
When people began to say it to me, so little by little. I'm still not completely sure about it and I try not to think about it but simply continue working.

16. Your greatest quality:
I prefer not to know. I just hope that nobody will answer "modesty" to this question.


17. Something you wish you could change or alter about yourself:
I stopped completely smoking one month ago. This has been an important step.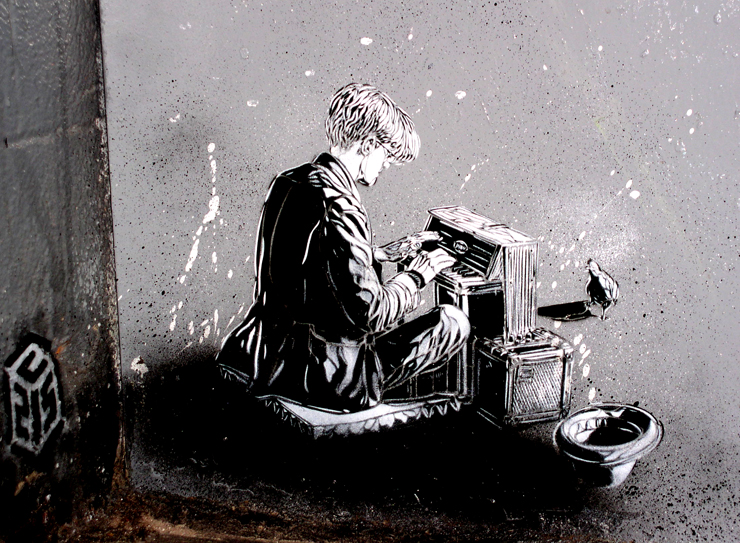 18. What is the biggest risk you've ever taken and was it worth it?
To paint more than 90 times illegally in the Williamsburg streets in the last three years despite the stupid American over-repressive laws against graffiti.


19. Something you wish you had known five years ago:
That my daughter would be loving her father so much as she is today...


20. What do you hope to accomplish in the next five years of your life?
To paint a church.

All photos © Jaime Rojo


You can see C215's work in the new group show, "Street Art Saved My Life: 39 New York Stories"
Curated by Steven P. Harrington and Jaime Rojo, founders of Brooklyn Street Art
In collaboration with ThinkSpace Gallery
Opens at C.A.V.E. Gallery, Friday August 12th 6-10pm
Runs until September 4th
C.A.V.E. Gallery
www.cavegallery.net