Back Talk: A conversation with Anthony Lister
Juxtapoz // Monday, 11 Jul 2011
1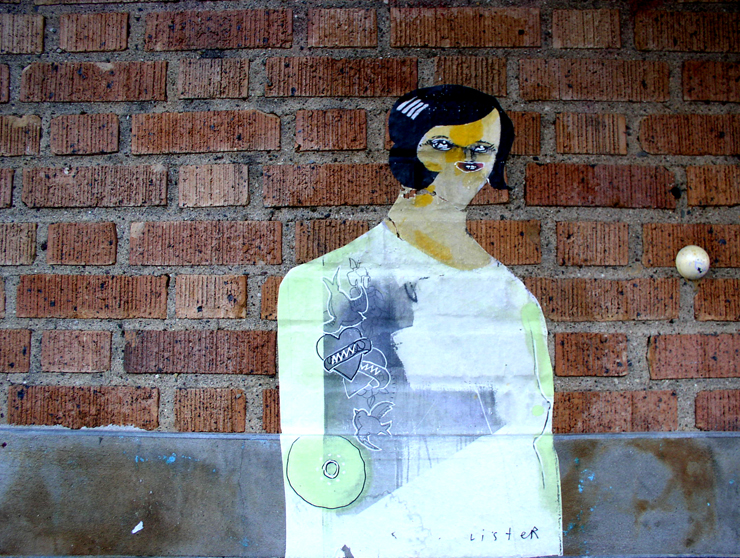 Jumping off and on a Sydney-Brooklyn continuum, Street Artist and fine artist Anthony Lister makes his own tangential badass path into contorted experimentation, whether it is beat poet metal music, family home theatre, super heroes gone awry, or the warping asymmetry of a plastic surgery glamour puss 18 feet in diameter on the street.  Skipping past your boundaries, Lister employs stories throughout his work, the painter/ sculptor/ toy maker races back to your childhood games and comic action heroes with blurry imagination and a wink and a kick; diverting into grown-up desires that are illustrated with finely drawn lines, demonic masks, luscious boobies and smeared lipstick everywhere.
~ Steven P. Harrington and Jaime Rojo, Brooklyn Street Art
1. One reason you make art:
To make beautiful things that I fall in love with.

2. The last good movie you saw:

3. Something you've always wanted to do, but have yet to:
Be infected with radiation and become a mutant with super powers.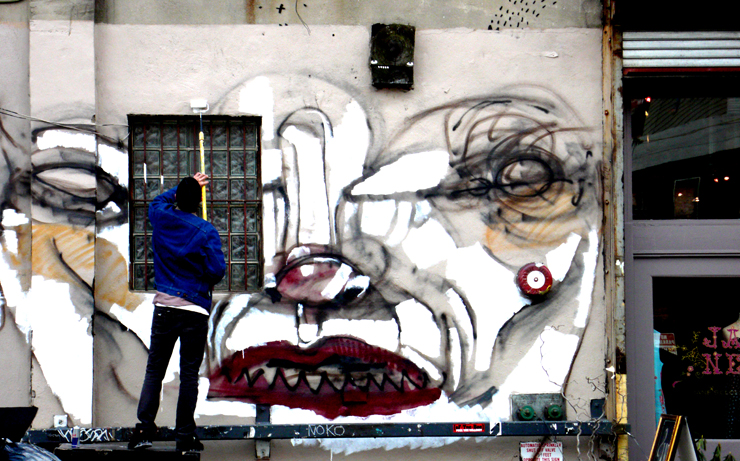 4. Favorite country or city visited:
Berlin

5. A few words that sum up your philosophy on life:
You got the cup - I got the guts.

6. Something you want the world to know about you:
I listen to classical music mostly.

7. Something that annoys or frustrates you about people:
Backstabbers and shit talkers.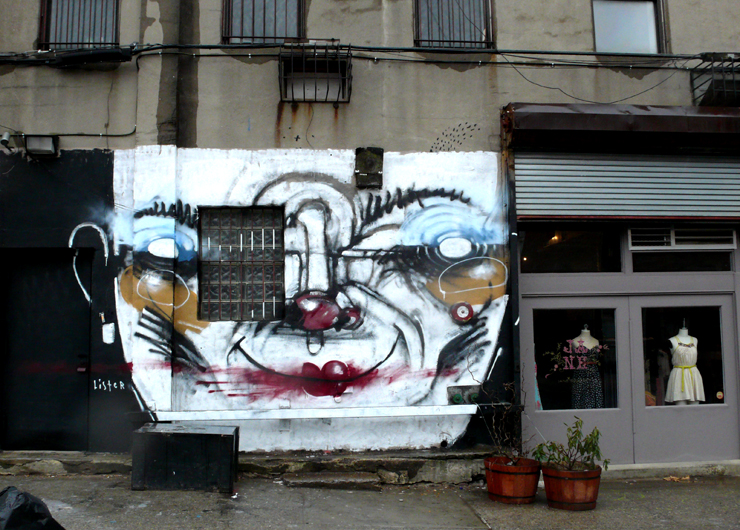 8. Something that concerns you:
The abuse of animals in slaughterhouses in Indonesia.

9. Artists you admire:
The ones that do it for love and discovery.

10. Favorite quote(s):
You can have it all, but not all at once.

11. The first record or CD you ever bought? The last album you downloaded?
The b-52's.  Mozart piano sonatas vol.3, k.279.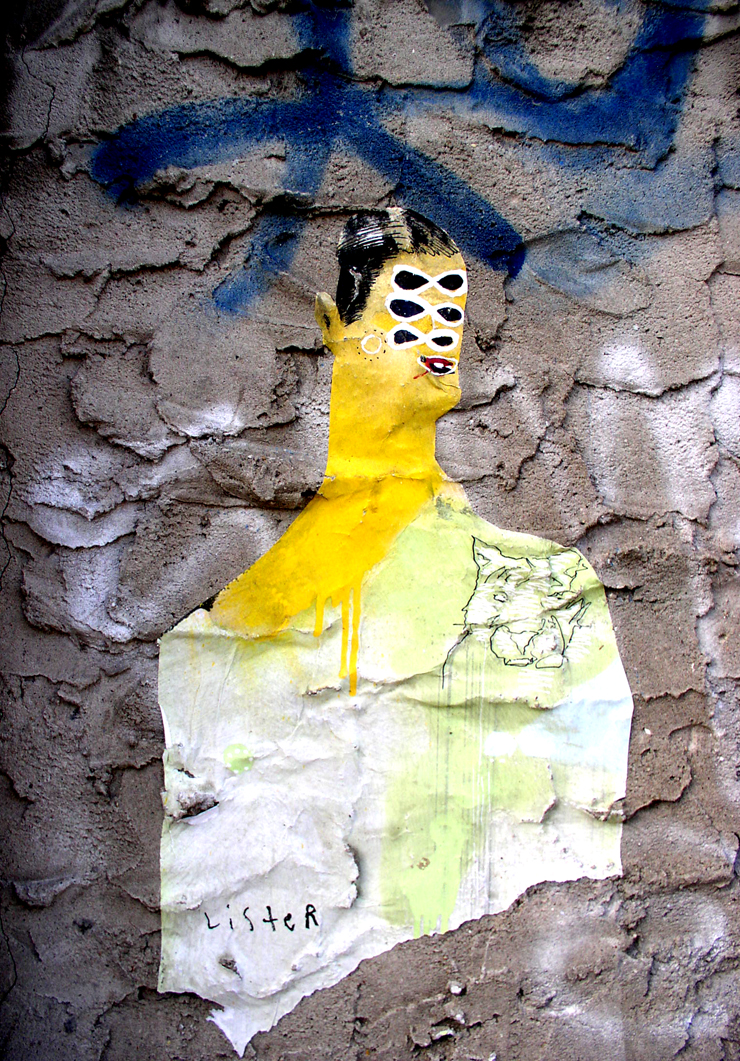 12. Something you do when you're procrastinating?
Touch myself in private areas.

13. What is your most defining characteristic?
My wheelchair.

14. What is your greatest fear?
Walking again.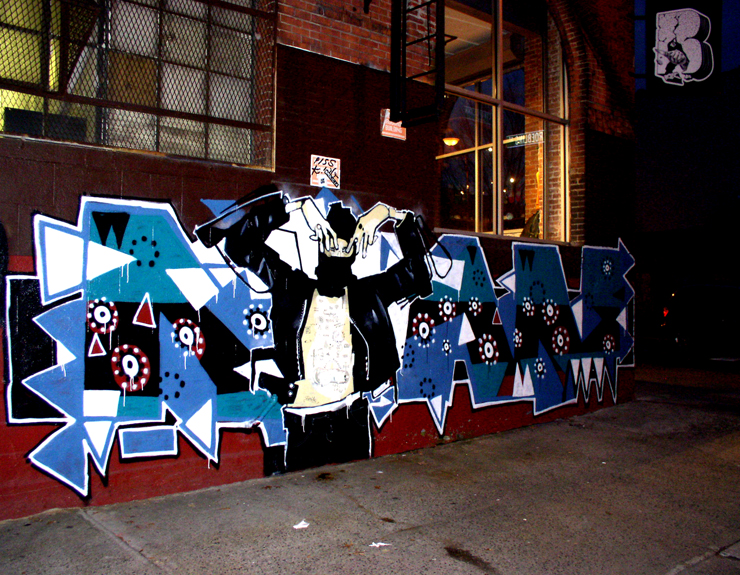 15. The moment you realized you were an 'artist':
When painting became problem solving.


16. Your greatest quality:
Obtuse theories.


17. Something you wish you could change or alter about yourself:
The color of my skin.


18. What is the biggest risk you've ever taken and was it worth it?
Having children and YES.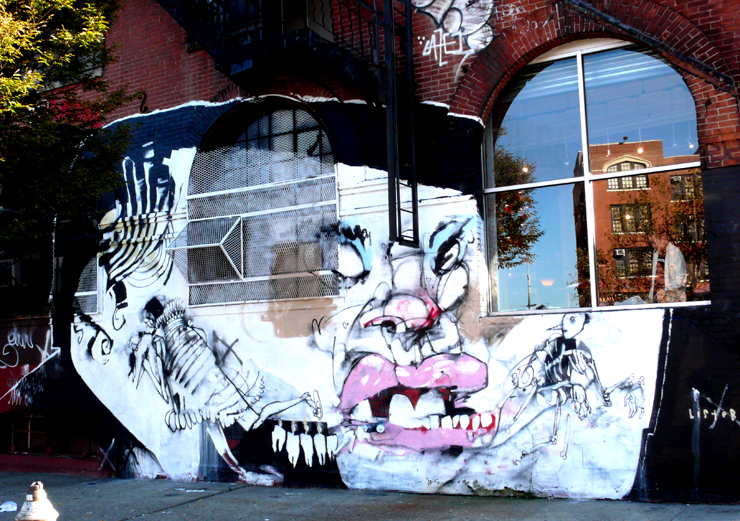 19. Something you wish you had known five years ago:
That going to jail sucks.


20. What do you hope to accomplish in the next five years of your life?
Space travel and landscape studies.


All photos © Jaime Rojo
You can see Anthony Lister's work in the new group show, "Street Art Saved My Life: 39 New York Stories"
Curated by Steven P. Harrington and Jaime Rojo, founders of Brooklyn Street Art
In collaboration with ThinkSpace Gallery
Opens at C.A.V.E. Gallery, Friday August 12th 6-10pm
Runs until September 4th
C.A.V.E. Gallery
www.cavegallery.net