Augor Prepares for the Uprising: Exclusive Interview
Juxtapoz // Tuesday, 23 Mar 2010
1

Katie Zuppann: For your new show at Fifty24PDX Gallery in Portland, you have decided to explore the gollywog (a children's literary character from the late 19th century, inspired by a blackface minstrel doll). How do find the gollywog interesting and/or inspiring?
Augor: When staring into those big black eyes as a child, at first they resembled a shark's eyes; lifeless and cold. Then progressed a fascination with how old each doll was, and the hands that it must have been past through to get into mine. What adventures, sorrows, horrors, and history those eyes have seen is impossible to even imagine.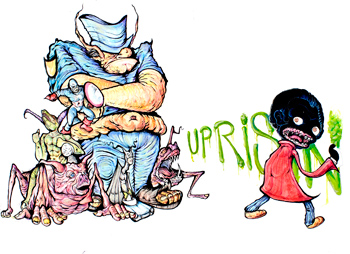 As a young black child, were you intrigued or ever offended by the portrayal of black face in these gollywogs?
I'm a visual person by nature. At a young age the mere shapes and simplicity of the image was what first got my liking. As I now grow older I still keep the aesthetic as my main drawing point, trying not to delve into its racial backgrounds. I simply liked the look- enough to ignore its controversial past.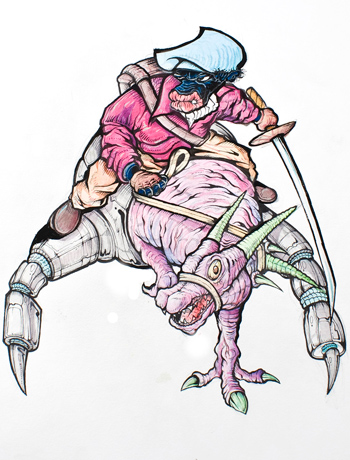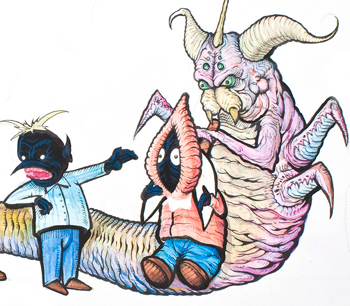 Why did you choose Uprising as the title for this series? Do you incorporate any elements of rebellion/revolt in the message of this series?
The focus of Uprising is for me to start the fire again in another gallery setting after my last solo show (So Called Artist at the Los Angeles Fifty24 gallery space in conjunction with Upper Playground).
Of course, coming from a graffiti background, the main concept with any child running in the streets is to revolt. What I am trying to convey is the way a young child sees revolting. It would appear as if you had giant tyrant-like monsters with boar hair and talon like teeth trying to play jump rope with your intestines. With that picture painted in my head, I tried to illustrate a show and this is what came out.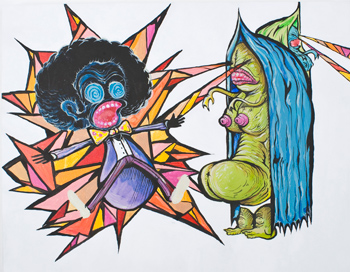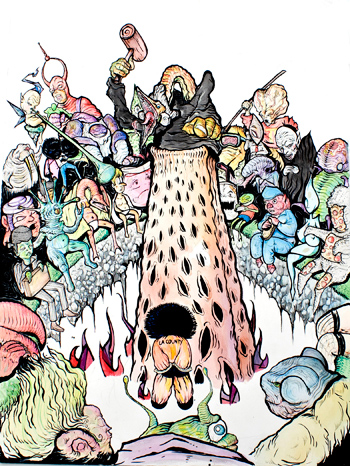 You've stated, "A lot of the pieces are using the gollywog to represent myself going through fantasy-like situations." To what fantasy-like situations are you referring? Recent or older situations from childhood?
My art has always been my main form of therapy. From situations where you're up for days, the skies look as if they are burning and in those fires you see all of your demons laughing at you. Lust, greed, envy… all those 'mah fuckas' just taunting you to situations of entering a rabbit hole from waaaay too many mushrooms and you're stuck with those same demons and you can't escape because you put yourself there. Where I saw people and situations in such a state of mind are exactly how they look in my work.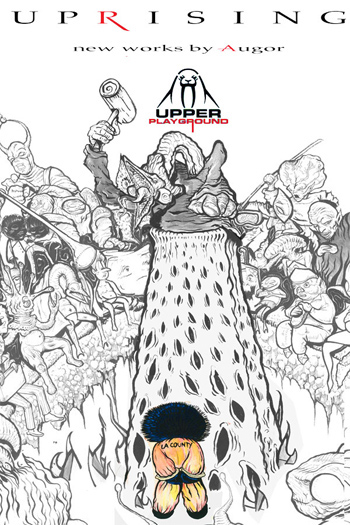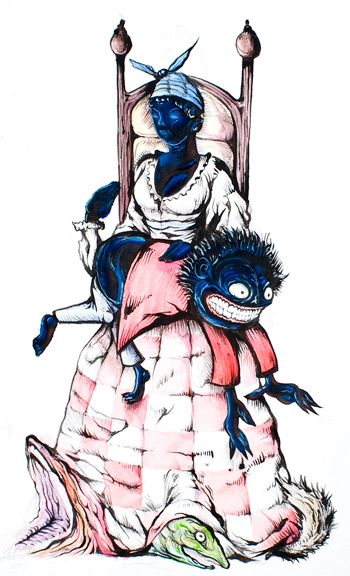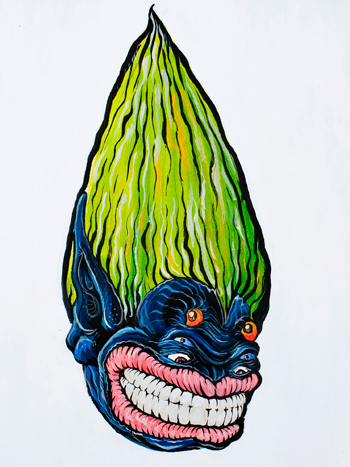 You refer to your matured narrative as an illustrator. How do you feel your work and self have matured within the past year?
At first my illustrations were mere abstract ramblings saturated with detail and bombarded with organic dibble. I was getting sick of feeling like I didn't have a story to tell besides "this is what happens when you take too much drugs," which is what had a lot of people worried about me for a while.
I calmed down, took a long shower and said I gotta tell a story. I'm trying to use the same look of my older work but give it a stronger flow from piece to piece. I guess that's where the little black guy comes in.
What else have you been working on and what do you have planned for the future?
I've been working on a lot of commercial projects in apparel that are about to drop, And I learned its best not to let people know what's in store for the future. Ya'll jus gonna have to wait.