At Home with Lisa Ziven: A Curator of Comfort
Juxtapoz // Wednesday, 08 Sep 2010
1
at home
with
lisa ziven
a curator of comfort
by tommy tung
"Galleries obviously rotate artwork. They're not a home. They're a sublet," Lisa Ziven says and slips into laughter. "It got me thinking about how to engage viewers -- and not only viewers, but young viewers. I feel like a lot of young buyers or young art connoisseurs are really intimidated by the gallery scene and by walking into that gallery, you know -- those stark white walls and the way things are hung. That's the idea and the concept behind the show -- to make this space feel very intimate."
The 25-year-old is a first-time curator of art. Hair is golden blond and pixie cut -- bangs indefinitely windswept. Speak to her and her eyes will listen. Look and they will hypnotize with hazel attention, and while her words may lilt and her descriptions may regale, always remember their origin: a serious passion for the arts.
Ziven not only holds a degree from the Rhode Island School of Design, but also two years of experience at the Robert Berman Gallery. Prior to the art world, she worked with fashion designers like Zac Posen. Currently, she is the studio manager for photographer Alex Prager, an opportunity in which she exercises her aesthetic faculties, liaising acrobatics, and resourcefulness. There is little difference between her full-time work and her free-time endeavors. Both serve artists, established and emerging.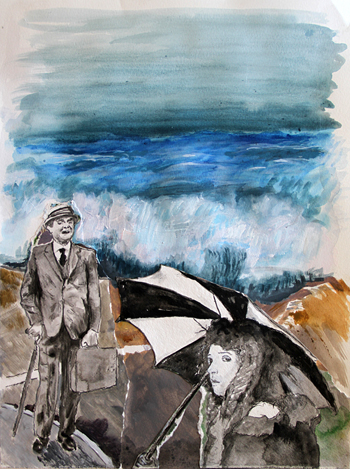 The Coast, Jon Cournoyer
The five starring in Home Sweet Home are more of the latter. Few make their living from artwork, but none obsess over supply and demand. They are inventors first and they subscribe to the exhibition theme without reservation. But despite this commitment to Home Sweet Home, some curators warn of compromises in structural integrity.
"It could be a little challenging for the artist if they've never worked with the subject matter of home," says Sarah Lee, a gallery owner in Santa Monica, CA. "The artist doesn't really have the freedom to explain themselves, explore themselves. Artists have free minds -- that's why they're artists. So why would you want to say, 'Hey, do this or do that'? That only works at art school."
More open to possibility is L. Croskey, co-founder of Thinkspace Gallery and Cannibal Flower: "I myself am opposed to most themed shows because they take artists out of their element, unless you choose the artists that already fit a theme rather than creating a theme and making these artists paint for it."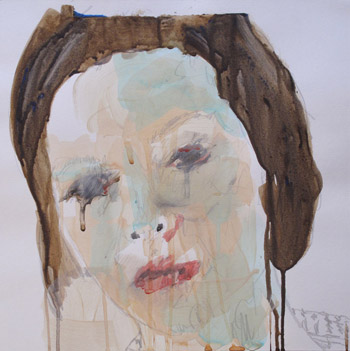 Portrait, Hannah Hooper
Jason Canning of The Happening Gallery also pairs the success of Home Sweet Home with the selection process: "They will deliver if you've got the right artists."
The right artists in question are Jon Cournoyer, Mike Gigliotti, Hannah Hooper, Vanessa Prager, and Annie Thornton. They did not solicit artwork to Ziven. They intersected their lives with hers. The chain reaction led to a molecular cohesion of interest and urgency.
Jon Cournoyer exhibited and curated art at the Robert Berman Gallery, where he and Ziven met. Mike Gigliotti traveled with Ziven to Solvang and during this trip, shared his sketchbook with her. A band member of GROUPLOVE, Hannah Hooper commissioned Ziven to design costumes for a music video. Visiting Hooper's studio, Ziven was introduced to her paintings. "I came across a treasure," Ziven recalls. As for Vanessa Prager, Ziven met her through her sister, Alex. The photography of Annie Thornton was shown to Ziven by a mutual friend. It cast an unbreakable spell. "Being around photography so much," Ziven says, "it's hard for me to be affected by it, but I was."
The effect of Home Sweet Home will then rely on the synergy of all contributors.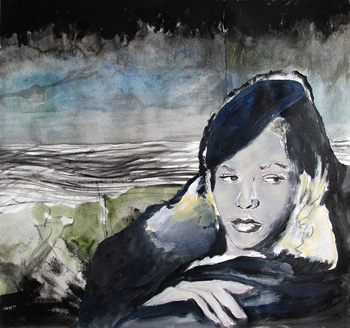 LA Woman, Jon Cournoyer
Cournoyer's portraits combine ink and acrylic on watercolor paper; in cities, they are high-angled lenses of desolation and in rural settings, investigations of the solitary.
The art of Gigliotti is founded on ink, granting his characters purposeful gesture, while strategic spots of watercolor impart dimension.
In Hooper's paintings, brushes of color merge and submerge and bleed to infinity -- the moods as sumptuously complex as the wayward abstractions. Scribbles are fault lines of character. Patches are neighboring nations.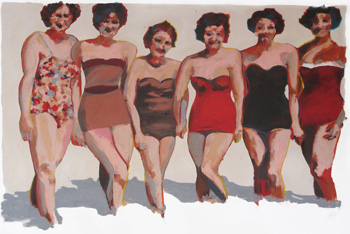 Sun Bathers, Hannah Hooper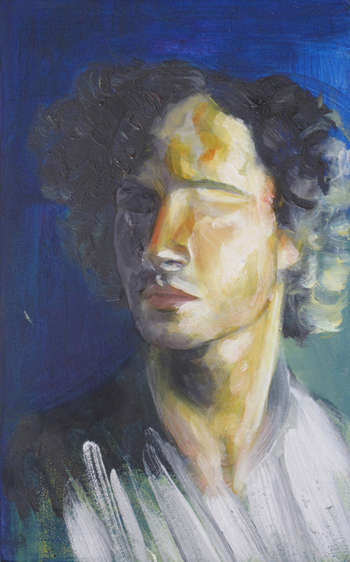 Lover, Vanessa Prager
With oils, Prager builds density in darkness and gloss in illumination. Subjects swim in reverie, some with obscured eyes, our chance to reach into their subconscious with peering inquiry.
Understated, meditative, and sardonic are just a few qualifiers for Thornton's domiciliary daydreams. The photography invites deduction to meet the question with an answer and sometimes pose the question that has no answer. It does so with poise and candor and disquieting recreation.
Disparate in craft and execution, the artists seem to build worlds entirely alien to each other. Their individuality empowers them however and their identities rendezvous to honor the architecture of Home Sweet Home, as Ziven reveals the theme was born out of accordance not legislation: "An artist said to me, 'This is really hard. It would really help me conceptually if you could write a little something about it.' And every single artist asked me that, so it was direct market research."
Less is more -- as architect Ludwig Mies van der Rohe said for his minimalist design -- and Ziven does the same in trusting the artists to expand the kernel concept.
"When preparing for this show, I took the stance that home is in my head," says Cournoyer, "that my foundation or home base is where I am with my state of mind at the moment, or where I feel in tune with myself, or where my wife is, where my close friends and family are."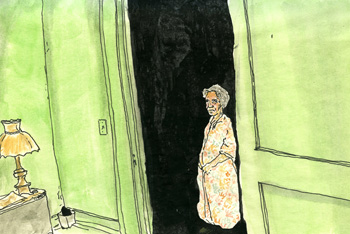 Untitled 1, Mike Gigliotti

Gigliotti broadens it to a national level: "America is my home and the work for this show is related directly to America."
For Hooper, her art is a constant conversation: "If anything my work has been affected by my music -- one, because I have less time to paint so I've got to make it count, but two, because of the energetic symbiosis really helping fuel my painting."
Prager uses home as a diving board into confidence: "It's an initial thought and then I just run with it, because if I spend too much time thinking about any aspect of my work, it just ends up messier than need be."

Brian, Annie Thornton
Thornton finds her voice by listening to ones from her upbringing: "It was about the people and their physical space in which they inhabit. It was how I saw them interact and represent their living space. I had to face a lot of emotions I had avoided over the years and confront my issues and now feel more at peace. I got to spend a lot of time with my family and overall am really happy I did it. Through imagery I feel like I found the language to best articulate myself."
Even artists uninvolved with Home Sweet Home value its generous theme.
One supporter is Rachael Rendon who has exhibited work in Los Angeles, San Francisco, and Miami. "If the theme is vague enough for many creative perceptions to come about, then the concept works," says Rendon.
Another artist, Amy Bernays, delights in the possibility of clashing or concord. "Artists as a rule don't work a lot with other artists so when they are all thrown into the mix together, conflicts can arise. That is not always a bad thing. It can lead to vibrancy that one can almost feel as you walk through the exhibit -- that or a fist fight," says Bernays who exhibited in last month's Cannibal Flower show.
One career curator, Nathan Cartwright, defends the guiding principle of Home Sweet Home. Cartwright plays the beekeeper of the Hive Gallery, a honeycomb collective of resident artists in downtown Los Angeles. For nine years, he has supervised art shows.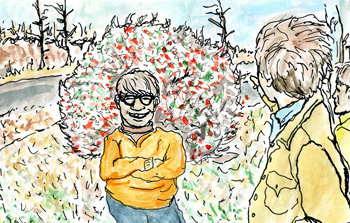 Untitled 3, Mike Gigliotti
"Themed shows make artists think," Cartwright proposes, "and thinking makes the artist and those who view art evolve. I've seen artists take on a theme and their entire body of work shifts from a simple idea that the gallery has provided. This is exciting -- and isn't viewing and participating in making art, by design, supposed to be exciting? Walk into the cerebral unknown and untold treasure, adventure, and yes, excitement await you."
Awaiting visitors at Home Sweet Home is Ziven's hospitality and simulated living environment, which may include furniture. "There are going to be smaller things like cupcakes or the way of hanging the art," the curator says. "Certain people will add finesse so it won't just be straight artwork on the walls. Or maybe some of it will be salon style or some of it will be one-piece, and mixing it up like that -- that makes people a little less nervous, because it looks less perfect. It's about the attitude. It doesn't necessarily have to be tangible."
But one gallery director keeps in mind a physical component -- sales. "People might appreciate the work but they might not want to buy the work, since it's all one theme, which sometimes is not what the artist generally does," says Gary Pressman of Copro Gallery.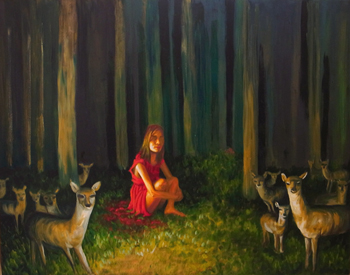 Deer, Vanessa Prager
Then again, affordable pricing may win over the crowd, according to Croskey of Thinkspace and Cannibal Flower: "I've bought some amazing art at group shows under five hundred dollars from artists that are now successful. And I think that's what people expect when they go to a group show."
Halfway through the interview, Ziven concocts a charming cure to all the art industry trends and demands. "The thing I found successful is when people come over and I have friends' work up and people really connect to it and always comment on it: 'Oh my gosh, I love this photo. Who is this photo by? Who is this painting by?' And that is really important and obviously, I can't just invite people over," she says and grins at the notion. "I thought about that. Maybe I should just have exhibitions in my house."
Invitations are pending for that event.
Meanwhile, ring the doorbell for Home Sweet Home.
-----
Home Sweet Home
September 9 – 15, 2010
Los Angeles, CA
homesweethomeartshow.wordpress.com
----- the artists and curator -----
Jon Cournoyer is based in Los Angeles. In addition to being a visual artist, he is a founding member of the art-rock band, The Nichemakers with Raymond Pettibon. He is currently filming his first documentary in the plains of South Dakota.
www.followingjon.com
Mike Gigliotti is a New Yorker with a Los Angeles upbringing. He takes inspiration from skate culture, folk music, the United States Armed Forces, and his friends and family. He shows with the artist collective, Still House, and recently designed textiles for a high-end clothing line.
Hannah Hooper has shown artwork internationally and created covers for many musicians including her own band, GROUPLOVE. Her painting, "Redondo Beach," graced the front of the album, The Big Echo, by The Morning Benders. She lives in Los Angeles.
Vanessa Prager was interviewed by Juxtapoz here regarding her recent solo exhibition, Love You Too. Raised in Los Angeles, she prepares for upcoming shows in her hometown and New York.
Annie Thornton originates from San Francisco but resides in Los Angeles. Her photography was published in Somethings With So Many Things, edited by Austin Kennedy and Keren Weiss.
Lisa Ziven is from Los Angeles and back here after several sojourns.
----- the writer -----
Tommy Tung lives in Los Angeles but grew up in Sacramento and Berkeley. Emotionally, he is still growing. He writes fiction mostly and rock music sometimes. He was born at 3 p.m. He will die when he feels like it. Give him the time of day on Facebook and Twitter. Write him at tungtalk@hotmail.com