ArtPadSF through May 22 in San Francisco
Juxtapoz // Friday, 20 May 2011
1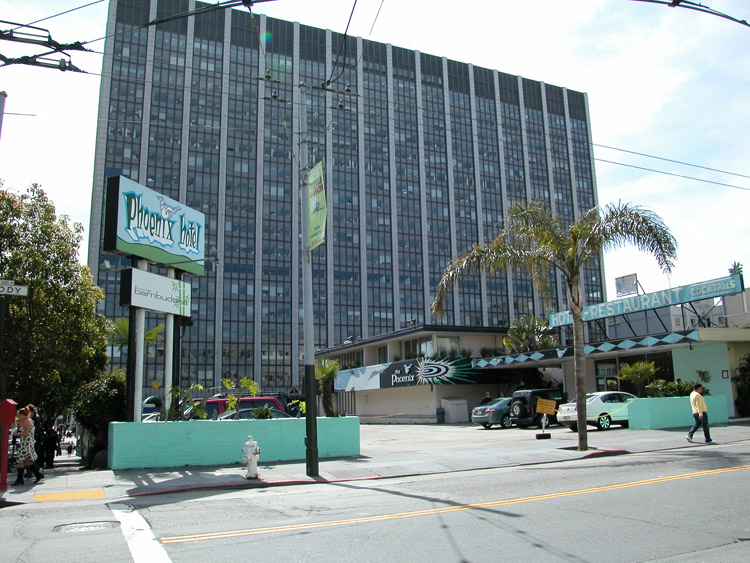 If you are in the San Francisco Bay Area this weekend, May 20-22, there is another art fair to attend, ArtPadSF, being held at the Phoenix Hotel. White Walls, Jack Hanley, Park Life, Gregory Lind, Anno Domini, Ever Gold, Guerrero Gallery, and Johansson Projects of Oakland are just a few booths to stop by and check out.


Here is the full press release:

This weekend's ArtPadSF at the Phoenix Hotel offers fair goers a broad cross-section of galleries, arts organizations, and artists a platform to present and accentuate the emerging disciplines and independent elements active in the contemporary art world and prominent in the Bay Area arts community. Art enthusiasts and seasoned collectors will discover new trends and artistic practices from approximately 30 featured galleries during four days of contemporary art programming—including the use of Phoenix's heated outdoor pool for live art performances like "Swimming Pool Social Sculpture," by graduating and continuing MFA students from California College of the Arts (CCA) Graduate Fine Arts program, and a suspended art installation by LTMH Gallery artist Alexis Laurent.


Schedule:

Friday, May 20, 1:00 PM
California Contemporary Art: in context
This panel will investigate and discuss recent artistic trends and practices in the context of California and global shifts. Where are artist focused? How do they respond to their environments? What can be gleaned from their practices? What new media or technologies are they employing? The panel aims to present an overview of various artistic practices and works.


Saturday, May 21, 1:00 PM
Collecting Street Art: from the mouths of artists
Street and graffiti art - in existence since the Maya and Roman periods – has traversed from subversive underground phenomena into a mainstream consciousness, galleries and museum collections. Most recently, The Museum of Contemporary Art (MOCA), Los Angeles organized Art in the Streets - the first major U.S. museum historical survey of graffiti and street art. The panel will explore this burgeoning genre in discourse with international artists working today.

Moderators:
Justin Giarla, Director, Shooting Gallery and White Walls, San Francisco
Alan Bamberger, author, consultant, appraiser and principal of Art Business.com

Blek le Rat currently lives and works outside of Paris. He was the first of his contemporaries to employ the combination of stencils and spray paint to achieve fast, high-contrast images on city walls. Known as the godfather of stencil graffiti art, Blek le Rat has been a major inspiration for stencil and street artists worldwide, including Banksy, Shepard Fairey, Space Invader, WK Interact, and ABOVE.

Apex When one thinks "graffiti writer" Apex might not be the first thing that comes to mind. His letters are beautifully crafted and form a unique typography –careful explorations of abstract letter forms. Having coined the term "Super Burner," his works are most commonly large, multi-layered productions, infused with patterns and color.

EINE is one of London's most ingenious, original street artists working today. Former screen printer for the elusive Banksy, his work has exhibited in Los Angeles, New York, Tokyo and Europe. His commissions have also taken him worldwide with trips to Israel, Australia, South Africa and India. He is represented by The Carmichael Gallery of Contemporary Art, Los Angeles and White Walls, San Francisco.

Sunday, May 22, 1:00 PM
About Contemporary Photography
This session will explore the state of contemporary photography in context with other regional and international art forms. What informs current work and imagery? What should one consider when collecting photography?

About the Panelists
Moderator: Cathy Kimball is the Executive Director at the San Jose Institute of Contemporary Art . During her eleven years at the ICA she has implemented a number of new programs including an annual "NextNew" presentation, focusing on emerging Bay Area artists, as well as the ICA's "Night Moves" program, which includes multi-media installations that project in the front window. In 2007, the ICA opened in a new space with expanded galleries, a contemporary art library and the only open-access Printmaking Center in the South Bay. Ms. Kimball came to the ICA from the San Jose Museum of Art (SJMA) where she served as Curator. Previously, Ms. Kimball was the curator at the New Jersey Center for Visual Arts in Summit.

Luis Delgado Qualtrough is a Bay Area-based photographer. Luis' photographic work integrates narrative and sequential still images to create idea driven content. His prints and artist books are in the collections of the San Francisco Museum of Modern Art, Museum of Fine Art Houston, Stanford University Green Library, Bancroft Library UCB, Bibliotheque Nacional Paris, Art Museum of The Americas Washington DC and others.

Meg Shiffler, Gallery Director, San Francisco Art Commission Gallery. Meg assumed the role of Gallery Director for the San Francisco Arts Commission in 2005. She is also a visiting faculty member in the MA department of the San Francisco Art Institute. Prior to her tenure at the Arts Commission, Shiffler worked in New York as a freelance curator, researcher and consultant for the New Museum of Contemporary Art, the Andrea Rosen Gallery and the Ursula Meyer Art Conservancy. She co-founded the multidisciplinary art center Consolidated Works in Seattle, WA. Meg attended the Center for Curatorial Studies at Bard College in New York.
Swimming Pool Programming:

Saturday afternoon at 3PM don't miss Glen Helfand's curated 'Swimming Pool Social Sculpture', in which graduating and continuing MFA students from California College of the Arts (CCA) Graduate Fine Arts program will hit the pool and deck for a durational series of splashy, synchronized, and sculptural performance actions.

Later in the day on Saturday as the sun begins to set, EverGold gallery will take over the Phoenix swimming pool to present an original art performance piece. What it will be, we have yet to see.

Installed throughout the duration of the Fair and suspended above the Phoenix swimming pool, LTMH Gallery artist Alexis Laurent's sculpture 'Dandelions', a teardrop arrangement of air plant sculptures, will be sure to make people look up.