ArtPadSF comes to San Francisco May 19–22, 2011
Juxtapoz // Monday, 02 May 2011
1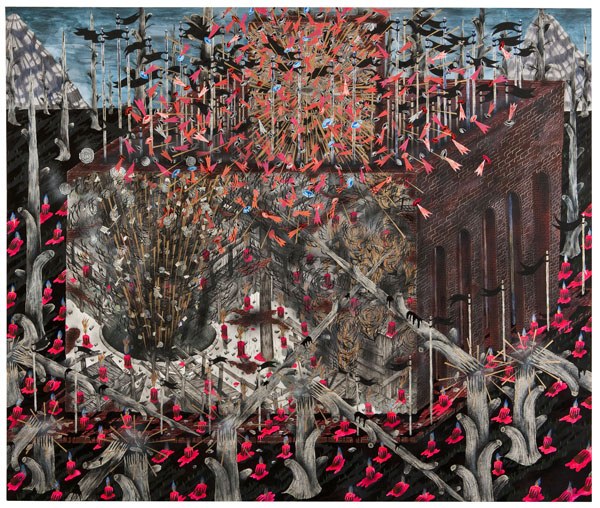 The ArtPadSF Contemporary Art Fair comes to San Francisco May 19–22, an independent hotel-based art fair focusing on emerging and contemporary galleries and artists from the Bay Area and beyond debuting at the legendary Phoenix Hotel.
"The Phoenix is the quintessential place to launch an independent art fair," ArtPadSF Director Maria Jenson notes. "It's an oasis located in a San Francisco neighborhood  that's on the edge, and for many artists, collectors, and enthusiasts, exploring the areas just outside of our comfort zones or what we recognize as familiar, is often the most invigorating way to find hidden treasures. Collecting can be fun and need not be limited to the exceptionally affluent. It can also be as much about the hunt as it is the find. ArtPadSF is an adventure–for us as producers, for our exhibiting galleries and artists, for our partners and sponsors, and hopefully for ArtPadSF visitors."

Artwork above: Andrew Schoultz, What Burns Never Returns, 2010, acrylic, ink, collage, and metal flake on paper mounted on panel, 62" x 74". Courtesy Marx & Zavattero.

Exhibiting Galleries:
111 Minna; San Francisco
Ampersand International Arts; San Francisco & Paris
Anno Domini; San Jose
Art Modern Gallery; Miami
Ever Gold; San Francisco
Galeria de la Raza; San Francisco
Gregory Lind; San Francisco
Guerrero Gallery, San Francisco
Hang Art; San Francisco
Jack Hanley; New York
Johansson Projects; Oakland
Kadist SF; San Francisco
Krowswork; Oakland
Launch LA: Los Angeles
Leila Taghinia-Milani Heller Gallery (LTMH); New York
Mark Wolfe Contemporary Art; San Francisco
Marx & Zavattero; San Francisco
Michael Rosenthal; San Francisco
Mina Dresden; San Francisco
Patricia Sweetow; San Francisco
Robert Berman / E6 Gallery; San Francisco
Steven Wolf; San Francisco
Swarm Gallery; Oakland
The McLoughlin Gallery; San Francisco
Triple Base; San Francisco
Toomey Tourell; San Francisco
White Walls Gallery; San Francisco

For a full schedule of events, visit http://artpadsf.com.