Artistic Strokes: A Chat with Jenni Tay
Juxtapoz // Wednesday, 10 Mar 2010
1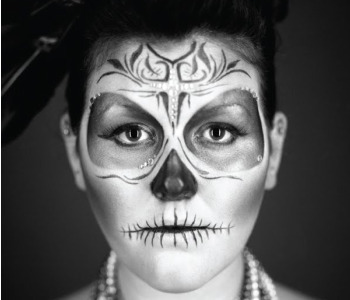 After viewing the fruits of makeup artist Jenni Tay's work for
Amanda Lopez' recent show
in Sacramento,
Cali Love
, we had to know more. The show presents a unique collaboration: a symbiosis of artfully rendered dramatic makeup on still faces and beautifully captured photographs of said subjects.
Both artists can lay claim to distinct parts of the creative process. In this case, makeup artist Jenni Tay's expression is the origin of the artistic essence, and Amanda Lopez effectively, and brilliantly immortalizes work that would otherwise have but a fleeting existence.
Jenni Tay's makeup work is nothing but sheer artistry. She is a painter whose canvasses shift, presenting their own challenges, and whose work is impossible to exactly replicate, having a shelf life of the time it takes for the subject to smudge it away.
I recently picked Jenni's brain about her path in becoming this particular type of artist, her favorite looks to create, and the transience of her craft.—Elise Hennigan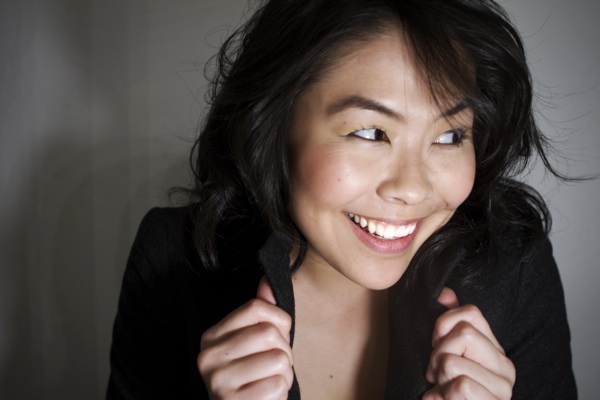 Photo of Jenni Tay by Mellisa Fuller
Elise Hennigan: How often do you get the opportunity to do dramatic costume makeup like the type that you did for Amanda Lopez' [Cali Love] show?
Jenni Tay: I feel that the number of dramatic makeup projects have grown over the years. I remember my first dramatic makeup job was with a SF salon that hosted a fashion show/promo event during pride week. I had so much fun moving outside of the norms of standard makeup that I decided to do more of it.
Doing artistic makeup work is not the type of thing that just falls into your lap.  In order to open myself up to more opportunities I try to keep the creative process alive as much as I can.  If I'm not working on a project I'm usually brainstorming and sketching out ideas to collaborate with my photog friends. I try to keep myself moving and growing.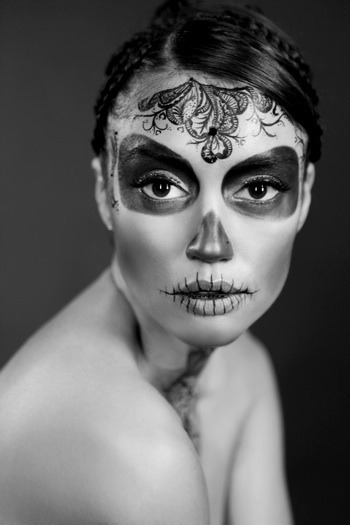 Photo by Amanda Lopez
Do you always apply makeup freehand or do you ever use stencils or templates?
I have always been a freehand applicator; it allows me the freedom to really develop a design as it makes its way from head to my hand so to say. But there are times where I use masking tape to get super clean lines. Every face is different and I feel I have more control with freehand makeup, especially when it comes to details and shading.
I do plan on playing with stencils more. I think it would be fun to start with some homemade designs and see where that takes me. Maybe create some partial stencils to help me build the "bigger picture" while I'm applying.


What is your favorite look to create?
I enjoy doing editorial/special events makeup, but I would have to say the more dramatic and artistic makeup is my favorite.
The shoot I did with Amanda Lopez for her Cali Love show would be a great example. I committed many hours to that shoot and loved every minute of it. I really got into it and researched. My goal – something new. I think the best part was that Lopez told me numerous times, "Jenni, I trust you. Do you your thing girl!" I found with that freedom I was able to work like an artist and really create something special.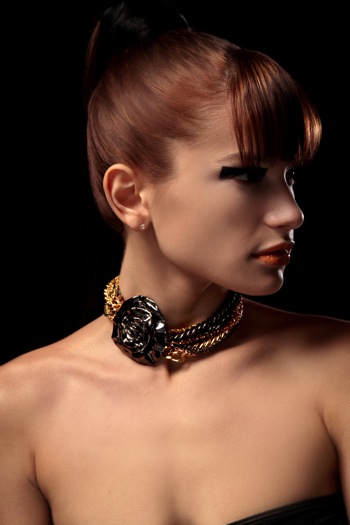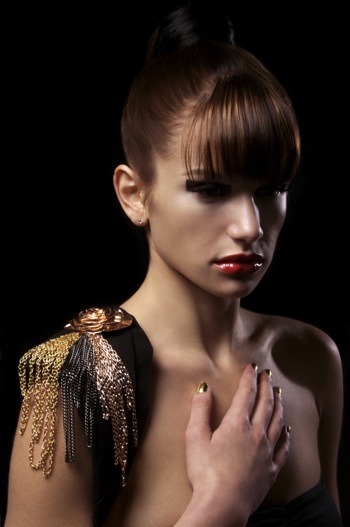 Above photos by Amanda Lopez
Did you have an artistic background growing up?
Both my parents studied art and some music in college and naturally started me with crayons, those all famous "smelly pens", and those lovely black and white keys. I did a lot of drawing and painting with various mediums growing up. Before college I narrowed my focus to either art or music. I chose music. Semi tragic, because that is when I stopped taking art classes. The music was worth it and I think it all worked out because that's how I started doing makeup.
During college my schedule was full of music classes.  I didn't have time to work on art projects.  I found that makeup application was a "faster" project, so my roommate benefited by having her face done every morning for a semester.  Soon people started to take notice and asked for their makeup to be done for special events.  I made a tip jar and started scheduling people.


Do you have any formal training?
I consider all my artistic endeavors growing up as my "formal training", so I guess I am a self-taught MUA. Growing up painting taught me to be creative, think ahead, and have a steady hand.
My first makeup encounter was one of those nightmare experiences you would read in Seventeen Magazine. I went to the cosmetic section in the mall, full of hope on finding tips to create bigger eyes. I left looking like a raccoon. That's when I decided to learn myself.
Eventually my friends asked for tips and wanted their faces done. Everything just built from there.  I try to take classes every now and then to acquaint myself with new techniques and products.  However, I think most artists would say that the best way to learn is to observe other artists and to "do" (just go for it).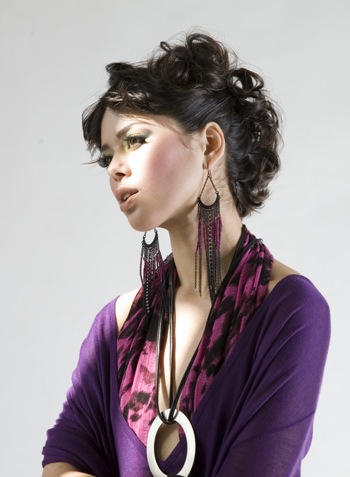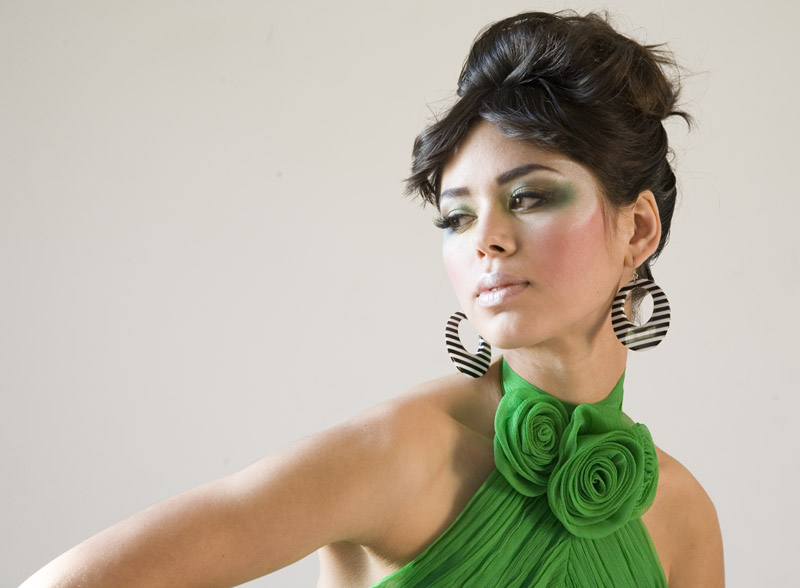 Photos by Jardy Santiago


What is the daily routine for a makeup artist on the job?
Daily routine. That's a bit hard, being that I travel to my clients and each project is different.
For me the gig really starts the day before. Depending on the project maybe even days/week before. There's a lot of prep involved, especially if it's a fashion show or a creative project. Most jobs can vary day to day, so its hard to have a standard routine. Having a readied kit is pretty basic, but I found that being organized and prepared for anything makes each job successful.
If we looked into your makeup kit what tools and materials would we see?
Chocolate!
No. I would never put food near my kit.
When you open my kit you'll notice I am an avid MAC and Bare essentials (foundation only) user. I think MAC's pigmentation is on point and really has a supportive system for MUA. I couldn't start anything without my brush set. I would have to say my "must have" brushes would be a small blush brushes (1 inch width), a blender shadow brush, and a tiny angle liner brush. Those three brushes I use every day, even for my own makeup.
Besides having actual makeup I like to bring pre makeup items, like face lotions, eye creams, lip moisturizers. Preparing the skin is always important. I always emphasize that keeping things clean and sanitized is really important. And it is the law. I always have disposable mascara applicators, tissues, rubbing alcohol, and q-tips galore.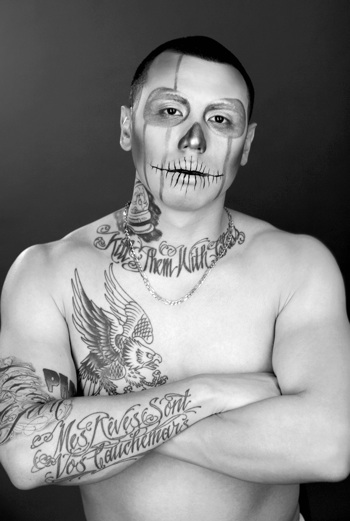 Photo by Amanda Lopez


Can you tell us a bit about makeup color theory? How do you decide which tones to use on people?
I find that coloring for makeup is very similar to the basic color wheel. Certain colors will either enhance or cancel a color out. This is what makeup does. It can take away redness, darkness, or enhance your tone.
Beside people being in different shades we also have cool (pink beiges) and warm (golden beiges) tones. In the art world cool colors would be blues and greens. Warm would be reds and oranges. So I find it helpful to mix foundations to get the right shade. I suggest testing your mix on your face. If it needs anything adjust it. It's like mixing paint.
Is it difficult to adapt to the different faces or canvases that you work on, so to speak?
Not at all. I like how every face is different. It can bring an element of challenge, but most of the time the face is what really inspires the vision.
What is your take on the transience of your artistic medium…is it worth all the time and effort for a product that fades in a matter of hours?
Well, I started as a musician.  Music is the ultimate transitory art.  The great jazz saxophonist Eric Dolphy said "once it's in the air it's gone".   And that's true, a recording is just that, a reproduction.  Makeup is similar in that essence, and I understand and appreciate that my makeup won't last forever. We have photos for memories and photos to evolve the feel of the look.  So, no, it doesn't bother me, and in fact I like it.
For more on Jenni Tay, you can find her online at www.tayfaces.com and http://taystries.blogspot.com/