Artist to Watch: Sam3
Juxtapoz // Sunday, 05 Dec 2010
1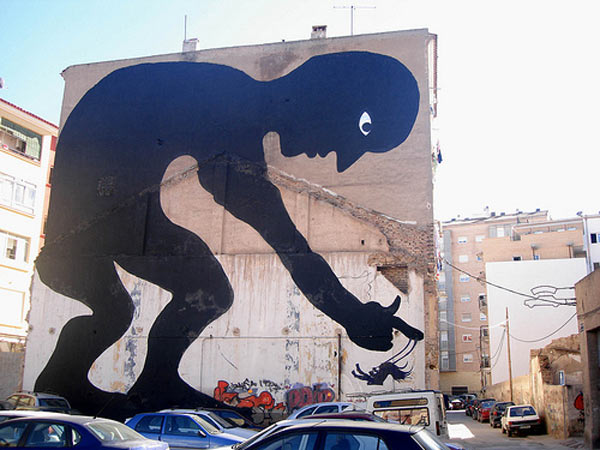 *Every Sunday, Juxtapoz.com will highlight an artist that we feel is currently on the cusp of a new level of critical and technical success. The artist we feature will not necessarily be unknown, nor will they be of a pre-established museum career. But they will be artists who have showcased progress in a new body of work that deserves continual examination. We will mostly look at the work itself and let the art speak. Today, we return to Spain to feature street and fine artist, Sam3
.
Like other extremely talented street and fine artists of this new generation,
Sam3's work
is a poetic and (overused but appropriate) existential look at the modern world. The faceless, nameless characters are recongnizable and communicating with the viewer through stories and actions that we all can relate to, all in simple black paint. Like Brazil's Herbert Baglione before him, these aren't just simple street pieces; they are narratives of greater meaning and symbolism, full of strength and fluidity.
Currently, we are preparing a longer piece on Sam3 in the magazine, but wanted to feature his work on the site today as a more thorough introduction.