Arth Daniels: Itsa Bitsa, Face And Bone
Juxtapoz // Tuesday, 20 Apr 2010
1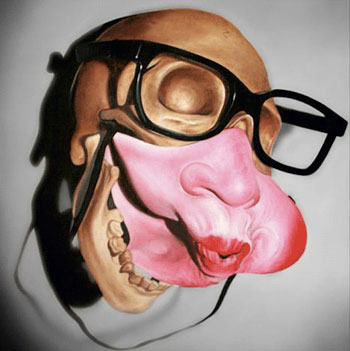 After being ranked among the top 20 international portraiture artists in 2007 in the BP National Portrait awards, Arth Daniels is shaking things up with some funky 'portraits' in a new show, Itsa Bitsa, Face And Bone.
Arth Daniels was born and raised in Highbury, North London. Drawing influence from an eclectic mix of fine, traditional and street art, Arth Daniels' work is a culmination of many disciplines. With an Illustration background and furthering independent studies into fine art, Arth takes it upon himself to develop his own mix of fractured photorealism.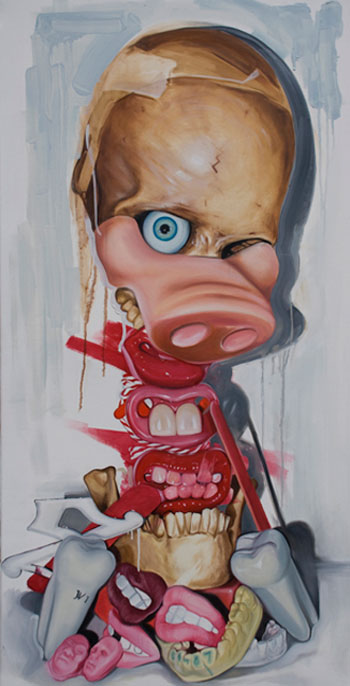 Using the traditional medium of oil paint, Daniels displays a departure from its humdrum associations by offering a self taught and fresh approach; combining hints of flair with painstaking detail. As his work progresses its primary focus is to develop portraiture without explicit use of the human face alone; but to explore its many facets of expression.
Creating a jigsaw of facial references his aim is to propose a figurative depiction of the face and its capabilities without being literal. Using mixed media assemblage, Arth creates multi-layered images for his audience to piece together themselves. With no intension to shy away from the 'graphic' image Daniels' work can often be confrontational without unwarranted arrest; using objects that are generally dismissed for their jovial and sometimes kitsch nature his work often embodies a darker undertone.
Arth Daniels
Itsa Bitsa, Face And Bone
StolenSpace
April 23 – May 5, 2010