Art Collecting 101 vs. Currency Speculating 101 Or One Man
Juxtapoz // Monday, 01 Dec 2008
1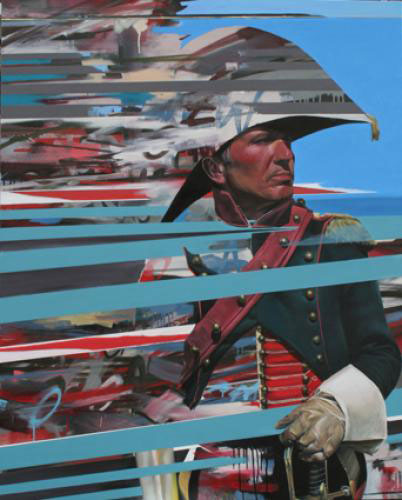 Art Collecting 101 vs. Currency Speculating 101
Or One Man's Crusade to Become a Weekend Warrior
By Michael Deeb


San Francisco, California

Sometime during my flight to London with Justin Giarla I realized that he was going to blow his wad of cash at Burberry and I figured I would simply wind up bringing home my second Greg Gossel painting. I never really thought of myself as an art collector but I knew I was in for some great viewing.

Our destination was the Red Dot Art Fair at the Grafton Radisson; just a few blocks from London's mega modern art fair, the Frieze, in Regents Park. Justin owns the Shooting Gallery in San Francisco and had decided to feature only the art work of Greg Gossel. Also along for the ride was Justin's assistant Libby, Greg's girlfriend Rachel and San Francisco street-artist Hugh Leeman.


The Artist

Justin had shipped Greg's paintings to Stolen Space art gallery, somewhere near the Truman Brewery, in London's very hip east side. Within a couple of blocks of the gallery we found a huge three story bomb by Conor Harrington. An imposing Napoleonic soldier in a red uniform with Conors' signature flashes of color slicing through the image. This was the first I'd heard of him and the first time I had seen his work. It was awesome; I was hooked.

Over the next week we would be haunted by Conor Harrington all over London. Stolen Space owner Jason Zeloof had Sowing the Seeds of Discord hanging over his desk, the lady in line at the Frieze was reading an article about Conor in "for display purpose" art magazine, Greg's paintings were shuttled over to the Radisson in a truck that Conor had bombed the side of, and of course he was on the then-current October cover of Juxtapoz.

As if that wasn't enough. Hugh Leeman spotted him on the street near the Truman Brewery (his studio is in the area). Justin belted "There's your chance Michael…you'd better hurry". I caught him up at the end of the block and introduced myself. He was very friendly and polite and didn't call the police. We chopped it up for a little and then I asked if his studio was open for visits. He replied it usually is but was currently empty as he was preparing a whole new body of work for his first solo show in the US next April in Los Angeles at Kinsey DesForges. He also made it clear that he would not do a commission piece (at least not for an American stalker). Next stop would be the Lazarides art gallery.

I clearly would not consider just waiting for his US show in April. I was concerned about how I could get on the preview list at a gallery where I don't know anyone, for a show that is sure to sell out, six months from now? Hugh and I set out for Lazarides on Saturday to view their current show The Lazarides Extravaganza featuring new works by Paul Insect, Miranda Donovan, Jonathon Yeo, Banksy, Anthony Micallef, Conor Harrington, Faile, Invader and JR. Yeah, wow! This single collective was better than any of the art fairs. Up on the second floor (the first floor in the UK) we found two new Conor paintings. These two were really just abstract works and while actually available for $24k & $28k respectively, not my cup of tea and financially out of the question.

Up again to the third floor (second floor in UK) we found another beautiful piece called King of the Dining Room. It featured one of Conor's soldiers and signature slashes of color; too bad it was already sold. I spoke with the curator Flavia. She looked up six available Conor paintings on her computer (all abstract) and offered to have me come back on Monday to see a few in person. I wasn't overly excited but we would use this appointment to visit the fourth floor (third floor if still scoring this at home) where they keep all the available Banksy pieces (about 65 originals) and that alone would be worth the trip back across town.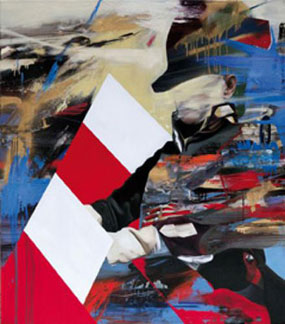 When we arrived back to the gallery on Monday another curator Victoria had laid out three or four Conor paintings in a small room filled with framed Banksy's; it was sensory overload! Immediately one of Conor's paintings grabbed my attention. It was One Man's Heroic Waste of Time (shown left)This piece was part of the original "Weekend Warriors" body of work and was not on Flavias' first list. It was listed at 8,000 BP and I was sold!


The Deal

So, here we go… I asked Victoria for some sort of concession. Victoria agreed and I received a ten percent discount on a painting that was dated 2007, but I would have to pay for the shipping; fair enough. (7,200 pounds equaled approximately $13,400). Victoria offered to get me an exact quote for shipping suggesting that it would cost approximately 700 pounds ($1300) to crate and cross the pond. Ouch! Pass! I'll deal with shipping later. I gave her my credit card just to run a deposit and then I will have thirty days to get back home to the US and rob a bank or something…She charges me to the tune of 2,200 BP's which at the time, was like $4,000. Sweet, I'm thinking…I'm on my way. I return home and send out thank you e-mails to Justin, Jason, Conor, Flavia and Victoria.


The Kink

Victoria writes me back an apology. It seems that someone had already purchased One Mans Heroic… and that the gallery forgot to mark it as sold in their computer. "Don't worry" she assured me; "I've already issued you a refund". I had not flown straight home after London, eleven days had passed. I looked at the current rate of exchange to find that the pound has plummeted from approximately $1.80 to $1.55 per; my 2,200 pounds came back $580 light. "Ah yeah, we're no stranger to the exchange rate thing, sorry!" Victoria promised to find me another Conor painting and about two days later I get an e-mail from her explaining that the deal they had on King of the Dinning Room had fallen through and was available to me if I wanted it.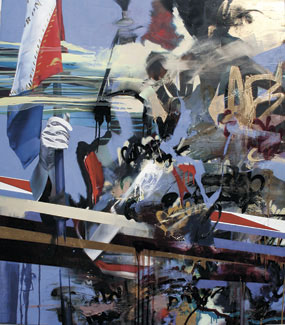 This new painting (shown above) however, was listed at 15,000 pounds! Victoria promised a very nice discount though; she offered me fifteen percent off. I was thinking more like 33% off and now I've got my eyes fixed hard on the exchange. This was a new week and the pound has recovered to $1.67. We agree on a 24% concession which equates to 11,400 pounds or $19,100 at that time.

I wasn't in a rush to give her a deposit as I was still stinging from the last one and I wanted to monitor this volatile exchange thing. I know very little about global finance but one look at graph of the pounds performance over the year and even Ray Charles could tell you it was getting ugly. I waited two weeks before I gave Victoria permission to run my credit card; this time for the whole purchase. On the morning of November 20th Lazarides ran my credit card for 11,400 pounds at an exchange rate of $1.47 or should I say for $16,750?


The Last Laugh

I was walking on air for almost three days when I stopped in to visit Justin at the Shooting Gallery. He was intent on helping me find a used crate and shuttle it over empty and then come back with the painting.

King of the Dinning Room is about a foot taller than One Mans Heroic… so the crate size and shipping cost went up significantly. In fact it would cost $700.00 just to ship over the empty crate; our idea for saving money wasn't going to work. Another call back to Victoria and she secured a company to ship for 800 pounds approximately $1,250. So much for being ahead! In the end I did recover the $580 I lost in the exchange during my refund and the extra savings really just paid for the shipping. Not bad for a novice collector. The short term test will be to compare my deal with the pricing set for the show at Kinsey in April. The long term for a Conor Harrington painting is anybody's guess. Just to cover my ass I bought another Gossel!

By: Michael Deeb