Art Basel: UR NEW YORK by 2ESAE and SKI
Juxtapoz // Thursday, 01 Dec 2011
1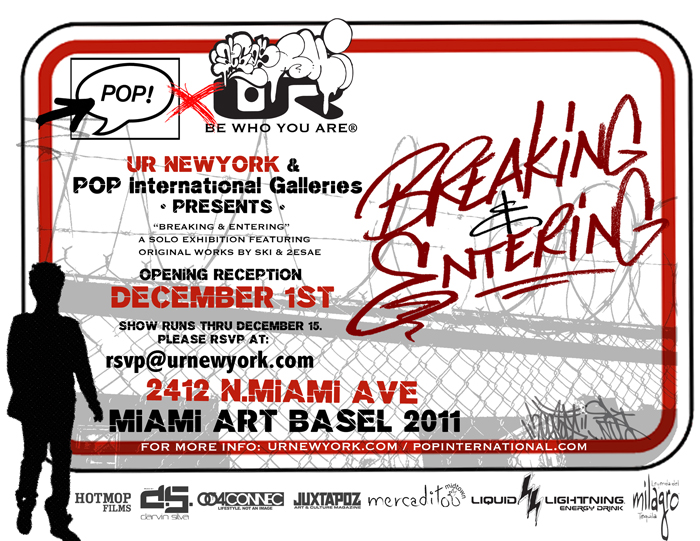 BREAKING AND ENTERING, presented by POP International Galleries and sponsored by Juxtapoz, opens Thursday, December 1, featuring UR New York's ability to continuously produce groundbreaking urban-inspired art. The exhibition and live installations showcase artists Michael Baca, 2ESAE, and Fernando Romero, aka SKI, commitment to breaking and entering in the mainstream, "letting their art loose on the world, all the while breaking the status quo and entering the art world on their own terms," offering intensely personal and vibrant works with universal appeal.

UR New York tells the stories of a new generation of talented urban and street creators generally hidden in the shadows—and more often than not arrested and punished for expressing their talents. Exhibiting in shows and collaborations globally with companies such as Nike, VH1, and Pop International, these two authentic, skillful, and versatile artists disrupt the stereotype of struggling artists. Rather than hide in obscurity, Baca and Romero break and enter into the professional art world. BREAKING AND ENTERING will be the first time they will present an entire solo collection making them some of the first artists ever to sponsor their own show in Miami around Art Basel in the Wynwood District.

Pieces inspired by the experience of traveling the world and interacting with people who have touched their lives, UR New York returns home from their travels with an approach to art that relies heavily on their NYC heritage and the people and cultures abroad to which they're paying homage. The artists will be releasing over 20 limited edition miniature trucks which they have painted to mimic the life-size NYC trucks they painted last year.

December 1 through December 15
Pop International Galleries:
2412 N Miami Ave, Miami, FL
33127