Art as Catharsis—The Combat Paper Project
Juxtapoz // Wednesday, 11 Nov 2009
1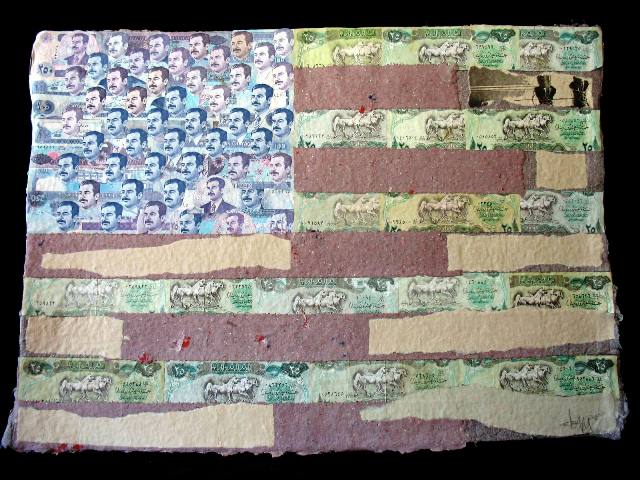 Drew Cameron, We Are All Free Now, 2008
Iraq Currency on Combat Paper with abaca
Text by Elise Hennigan
Most of us are innately aware of the therapeutic benefits that creating art brings us. How often have we said, or heard, "art keeps me sane"?
It is believed that the creative process involved in artistic expression helps people resolve conflicts, develop interpersonal skills, manage behavior, reduce stress, increase self-esteem and self-awareness and achieve insight.
Essentially, creating art is like taking a Valium without the social stigma.
When Iraq War veteran Drew Cameron and papermaking artist Drew Matott, who had been working closely since Cameron's return from overseas, first turned their sights to Cameron's retired uniforms as paper-making fodder, they were on the right track.
When Cameron shredded his own uniform to make paper in 2006, he knew then that they were on to something.
Something that, in his words, "felt fucking great."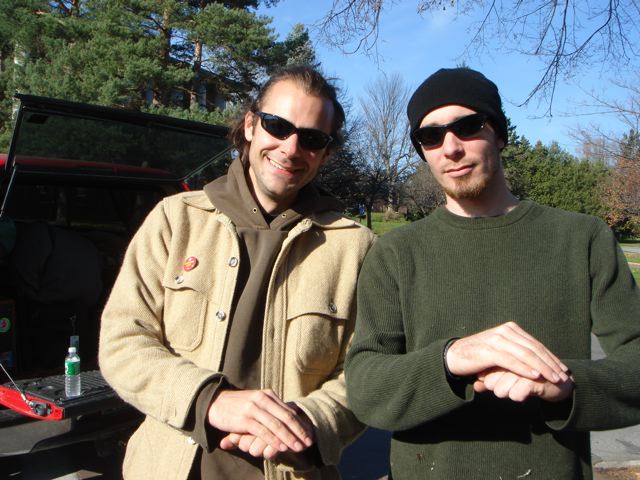 Drew Luan Matott and Drew Cameron
Cameron and Matott saw the potential benefit for this type of cathartic act for other veterans and decided to start The Combat Paper Project. They would soon find themselves in the unlikely position of artists turned art therapists.
The CPP started in 2007 as one workshop held at St. Lawerence University on Armistice Day, put on a credit card with fingers crossed.
It has since grown to a series of workshops held all over the country and internationally, bringing together veterans from different backgrounds and political affiliations with the purpose of shredding the uniforms that they wore in battle.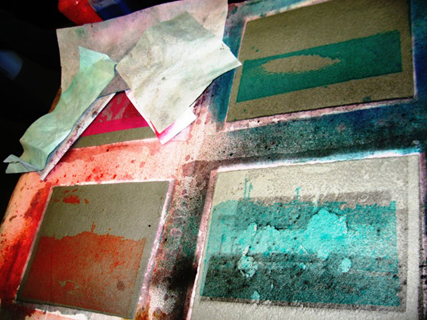 Colored pulps are used to stencil silkscreen images on combat paper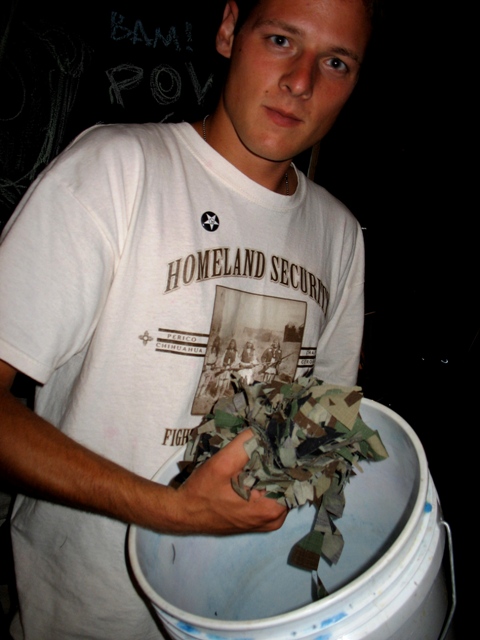 Nate Lewis, US Army
This is not destruction for destruction's sake, however. The obliteration is very precise and with reason. In the Combat Paper workshops, participants cut their used uniforms and other items of sentiment into 1" squares, which are then pulped, and pounded into sheets of paper.

This video, via www.combatpaperproject.org, shows the process start to finish:
On the paper that they create, Combat Paper, veterans silkscreen images with stencils, "paint" with colored pulp, incorporate mixed media materials or inscribe prose or poetry, (another form of artistic outlet taught in the CPP workshops.)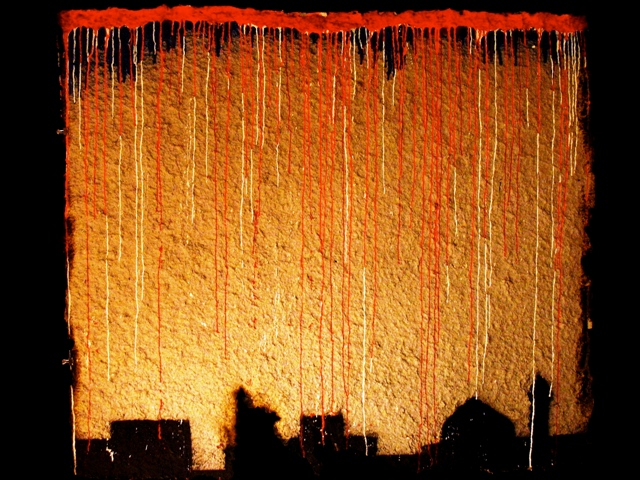 These Colors Run Everywhere by Eli Wright, 2008
Spray paint on Combat Paper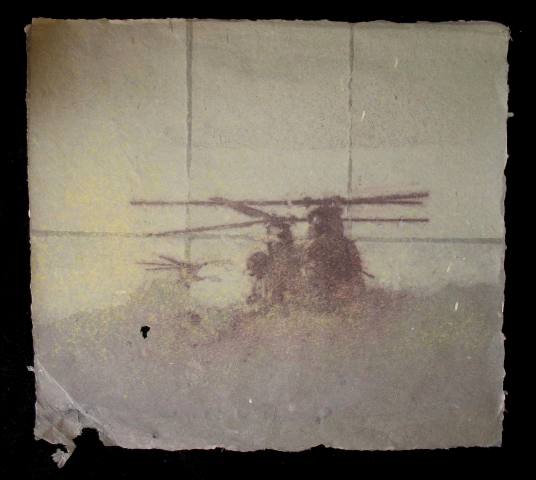 Chopper Landing by Drew Cameron, 2008
Pulp printing on Combat Paper with Kozo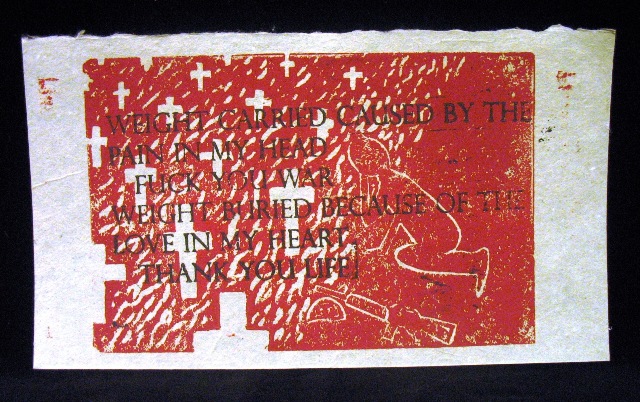 Weight Buried by Jon Michael Turner, 2008
Pulp printing on Combat Paper
Participants have stumbled upon this project through a diversity of avenues, some goaded by friends and family until they relent and begrudgingly participate, others hipped to it through media outlets.
Others, like Scott Meeker who served in the Navy, consider it for practical reasons, "I had boxes and boxes of uniforms in my attic that I needed to get rid of," he says, "I didn't have the heart to give them to Goodwill, give them away or throw them out". Enter Combat Paper Project.
"It's absolutely cathartic!" Donna Perdue of the United States Marine Corps states.  "Most of the therapy actually happens while shredding the uniform. During this time, participants are cutting small 1" pieces (that makes it easier for the beater to turn it to pulp later), and honestly, memories are being triggered.  They feel the need to share those memories.  That's when the magic happens.  People start talking quietly at first, and then the floodgates open. It's amazing to witness!"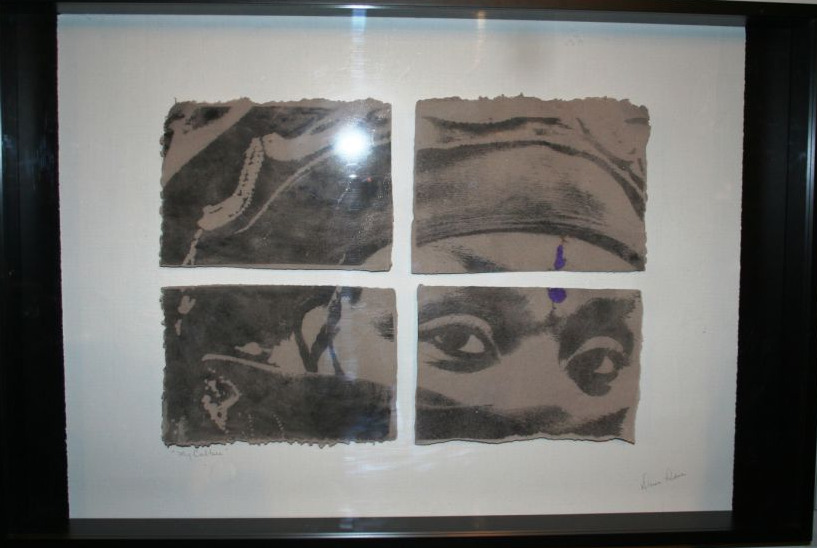 My Culture by Donna Perdue. "I call it 'My Culture' because the woman in the photo told me she wished we knew more about her culture before we occupied her country"
"As you're sitting and getting ready, these conversations are happening around you and people are putting words to feelings that I have maybe felt in the past but have never known exactly what I was thinking," relays Meeker.
Matott sums it up, "It's really about creating a space and creating artwork from their uniforms. And that whole process is the catharsis. Letting go and transforming the uniforms into something new is kind of like a renouncement and rebirth of the individual."
At the time of the project's conception, both Matott and Cameron viewed themselves as anti-war activists. Matott was speaking out against the war on the streets in Chicago, and Cameron had been doing work with the Iraq Veterans Against the War.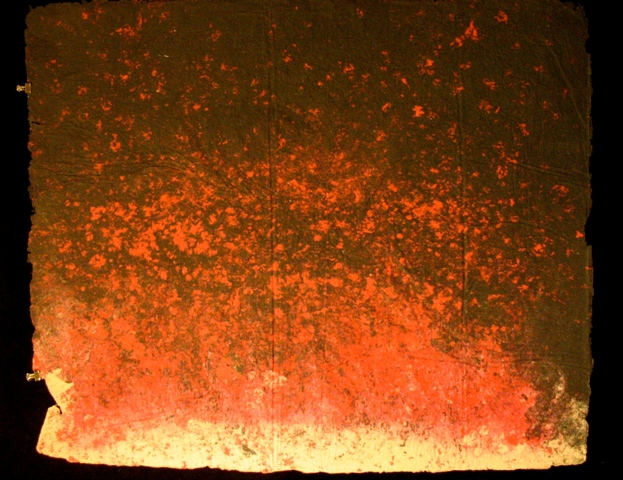 Steel Rain by Drew Matott, Eli Wright, Mike Blake & Jon Michael Turner, 2007
Pulp painting on Combat Paper with abaca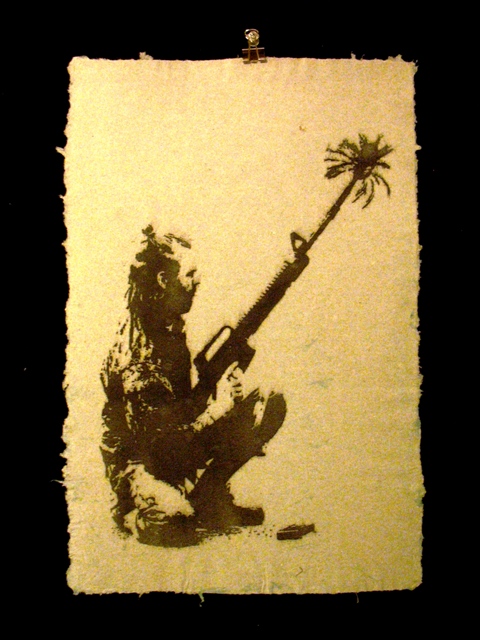 Freedom Fighter by Eli Wright, 2009
Pulp printing on Combat Paper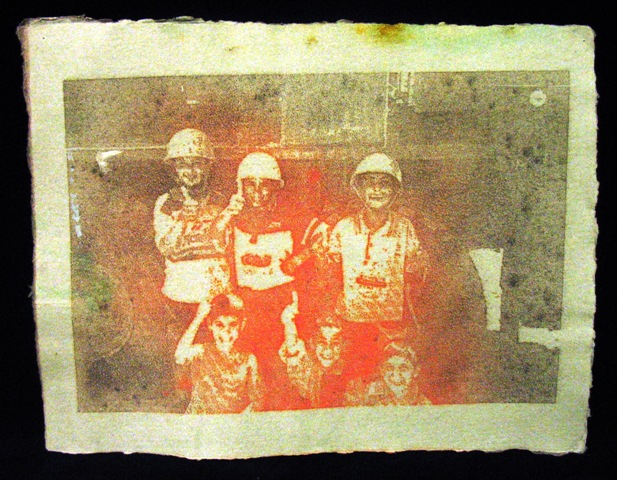 We Are Still Here by Nate Lewis, 2008
Pulp printing on Combat Paper
Matott explains, "We envisioned kind of helping people recover from their post-traumatic stress disorder and then activating them in a way where they felt okay about talking about their experiences in public, which is powerful."
It was their hope that these public declarations from the veterans themselves about the horrors and actualities of war would serve as a conduit for anti-war activism.
As the project matured, however, Matott and Cameron fell into a different type of activism—one that listens rather than speaks.
Matott relays that they now "put a lot of emphasis on focusing on the process. We don't really worry about the artifacts. If we get nice pieces, we'll throw them in the exhibit. But we really are involved almost 100% in the process."
Their focus on process over results has allowed The Combat Paper Project to center itself on empowering soldiers to deal with depression and Post Traumatic Stress Disorder and to accurately portray the individual adversity of veterans so that their families and communities have the insight needed to reach out to them.
The diversity of viewpoints from the participating veterans (Matott reports that anti-war sentiment is typically split about 50/50 in the groups that they work with) has also caused the CPP to change focus from anti-war activism to psychological reconstruction.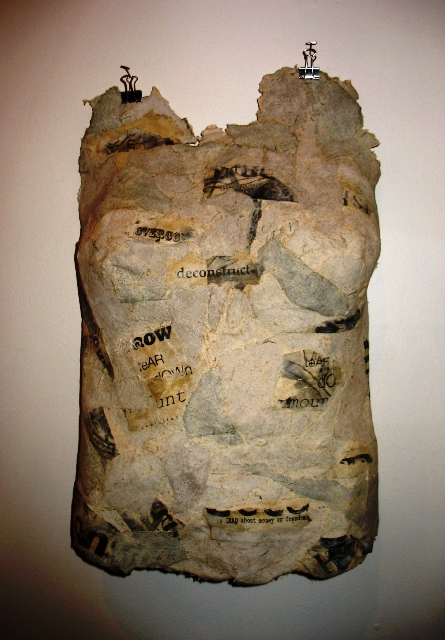 Healing by Robynn Murray, 2008
Molded Breastplate, pulp sculpture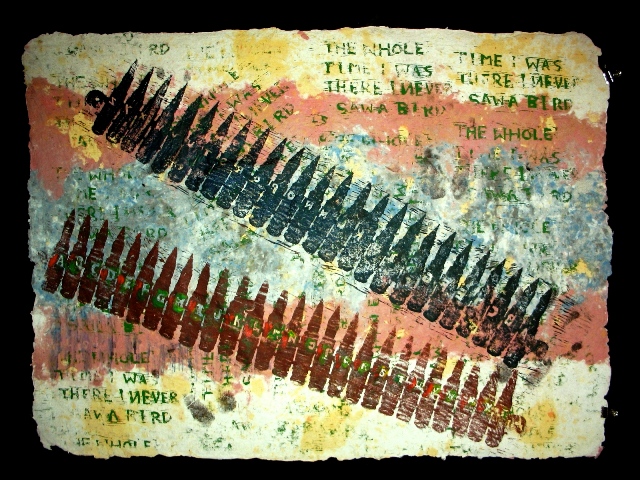 Untitled by John LaFalce, 2009
Pulp printing on Combat Paper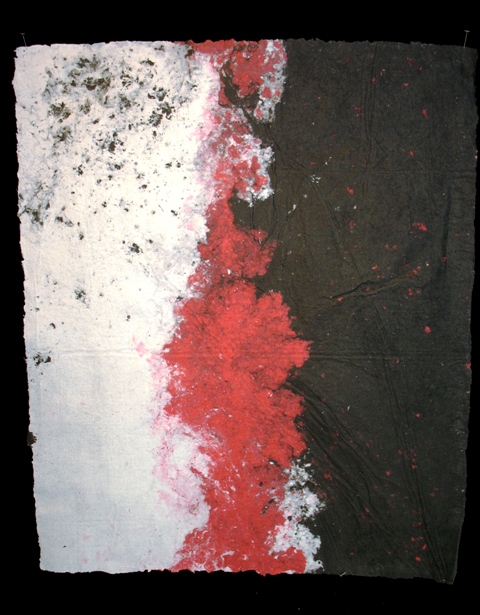 Tracer by Eli Wright, Mike Blake, Drew Matott & Jon Michael Turner, 2007
Pulp painting on Combat Paper with abaca
"Simply because we have seen so many people come through that are not anti-military, they're not anti war, they're just trying to recover and put their lives back together. They believe that they served their country and they did right and they did what they had to do, but their experience may be such that they are affected in ways that they are not able to reintegrate into society."
Scott Meeker of the Navy agrees that the project goes beyond politics. "I'm probably one of the biggest patriots out there," he tells me over the phone from his home outside of Savannah, Georgia, where he helped organize a Combat paper workshop. "The people highlighted at the forefront tend to be anti-war; but everyone involved has a different way of dealing with politics. This form of expression is individualistic."
Perdue adds, "Keep in mind that there are many things going on over there.  Some are kicking in doors and raiding homes; others are building bridges and paving roads; and yet others are vaccinating livestock and training the military. Certainly you can see how an anti-war sentiment can be derived from participating in some of these tasks rather than others."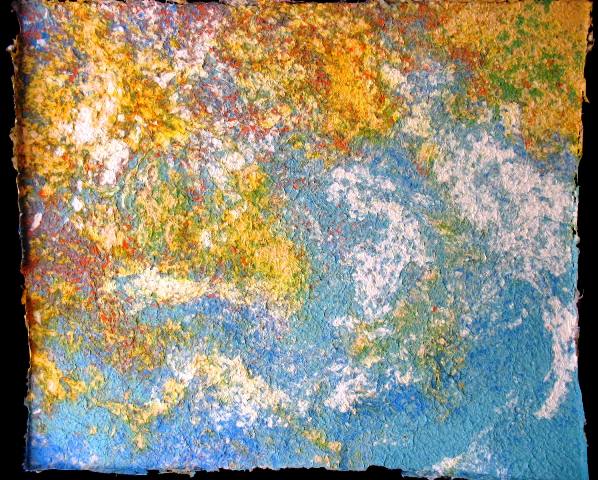 The Thin Line by Jon Michael Turner, 2008
Pulp painting on Combat Paper
She continues, "I think the thing to remember is that the experience [of war] is different for everyone. Many veterans recall memories of the brothers and sisters with whom they served, the duties they performed and experiences while wearing their uniform.  Combat Paper allows them to sacrifice something with personal emotions, perhaps unshakable, haunting memories, into a positive substance: paper, upon which they can create and continue to confront these feelings."
The CPP has effectively fostered a conversation between the community, veterans, and their families, giving a personal reference point to the realities of war.
And while process is emphasized, it is not surprising that the catharsis associated with truly beginning to let go of these emotions has thus far produced some damn good art.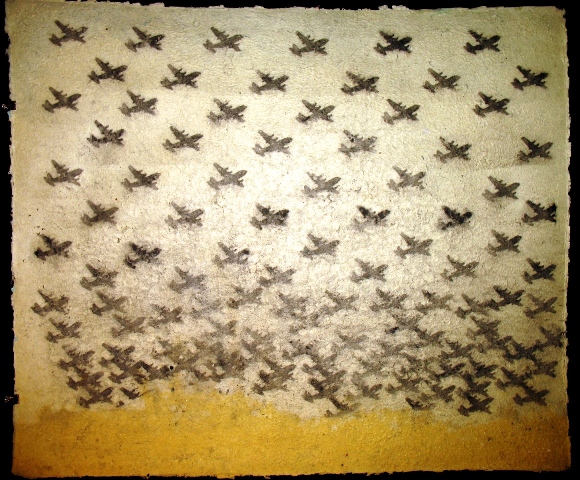 Untitled by John LaFalce, 2009
Pulp printing on Combat Paper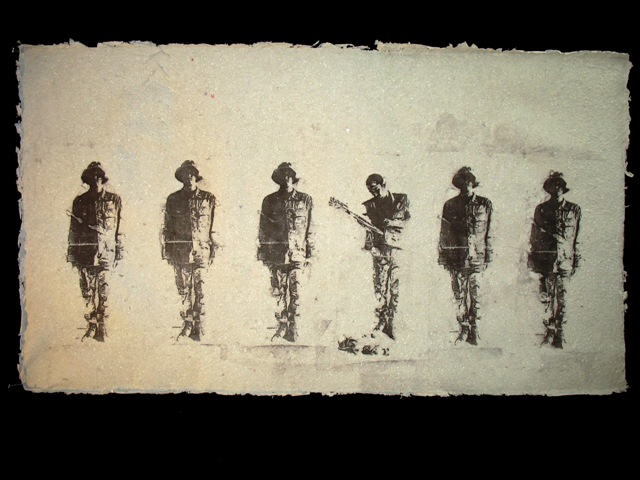 Breaking Rank by Drew Cameron and Drew Matott, 2007
Pulp printing on Combat Paper
The scope of this project and the talent of the people behind it are really too vast to capture with one profile. To learn more, check out their website here or visit a workshop in your area.