April 2010 is Here with Charlie Isoe x Marci Washington
Juxtapoz // Monday, 22 Mar 2010
1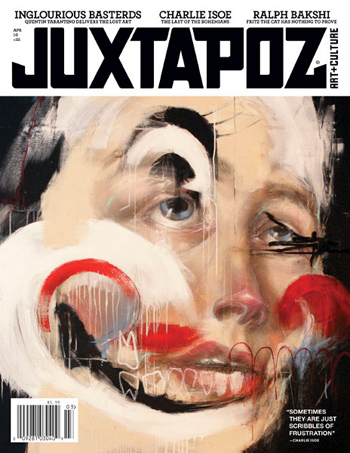 In case you hadn't noticed, our fresh new April 2010 issue is currently hitting newsstands and mailboxes alike with Charlie Isoe and Marci Washington staring you down on the covers.
Charlie Isoe (work shown above) on the cover of our April 2010 issue is what some would call the "Next Big Thing," which would neglect the fact that he is a thing right now, which he is, and a quite good thing at that. The thing is art, and ever since Isoe brought his work indoors, he has captured the attention of enthusiasts, collectors, and critics across the globe. He brought it in, but kept the canvases large.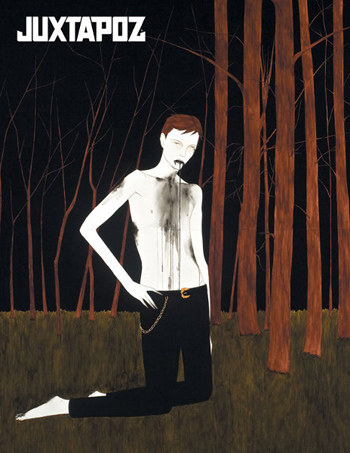 Gracing the subscriber cover is a force to be reckoned with, the dark work of Marci Washington (shown above).
Also in April is the Lost Art of Inglourious Basterds, the once abandoned poster art project of the Academy Award winning film, featuring work of David Choe, Grotesk, Alex Pardee, and more. Rounding out April is Ralph Bakshi, David OReilly, Ian Johnson, Deanne Cheuk, and Marci Washington.
Check it all out now in our webstore or get smart and subscribe to Juxtapoz (knowing you'll save 58% off the newsstand price).
A digital subscription may be the best idea of all. You spend all your time on your cell anyways, so why not gain access to the entire issue digitally? Right now, we're offering a special 3-month trial for this digital subscription offer. Details HERE.