Another Look at ESPO's A Love Letter for You in Philly
Juxtapoz // Friday, 09 Oct 2009
1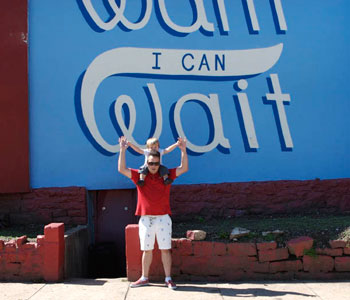 To Philly with Love...
Words and Images by Sarah Lester

'A Love Letter to You' is the latest mural project led by Steve Powers (a.k.a ESPO) and the Philadelphia Mural Arts Program (M.A.P). The project encompasses a series of love letters from an artist to his hometown, West Philadelphia residents to their neighborhood and the story of a guy declaring his love for his girl to the world. They are messages that will resonate with anyone who has ever loved.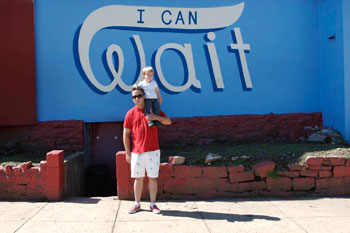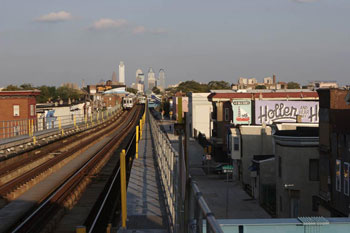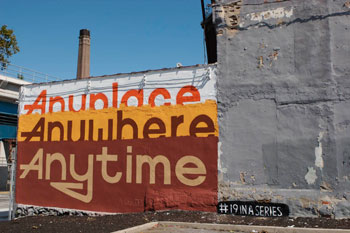 These bold, graphic murals are designed to be viewed from the subway and announce themselves from 46th street to 63rd street the along the Market-Frankford elevated (EL) subway line. The EL runs from Central to West Philadelphia and the socio-economic changes from the CBD, station by station, to West Philadelphia are very evident. The pieces carry on a rich history of painted signs in the area, many of which are still present today- albeit cracked and faded they indicate a previous inhabitance of industry. Bellowing messages like "If you were here I'd be home now" and "Remember sometimes it hurts, sometimes it doesn't" they exemplify the work of Steve Powers, a marriage of humor, color and heart. At the projects completion there will be fifty murals dotted along the Market Street corridor.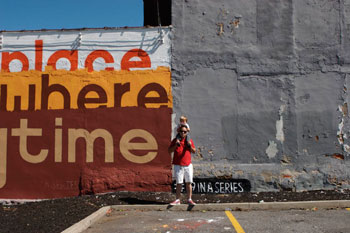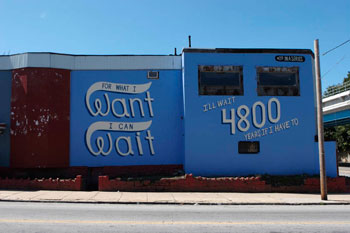 Powers may be well known for this latest project, but his creative endeavors along Market Street began long before this year. As a teenager in the 1980s he was known as one of the areas most prolific graffiti writers and then made, what he calls, 'a lateral move into sign painting.' Powers respect for this artistic style seems to have stemmed from his West Philadelphia roots, and what he saw as a more effective way to make yourself heard. In his introductory statement on the Love Letters website he states, "When you paint graffiti, you are an outsider that is broadcasting your signal to the center of the community. When you paint a sign, you are broadcasting from the center of the community to the periphery. Graffiti is a youth testing out a microphone; signs speak into the mic eloquently and with authority. Even as a teenager I could see a huge difference in how my work was perceived versus the painted signs that commanded respect."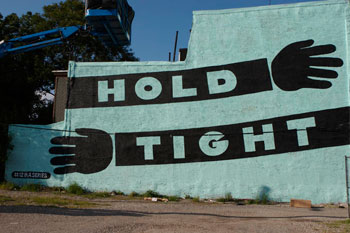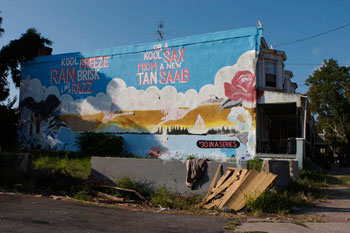 Teaming up with the Mural Arts program, which began in 1984 as part of the Anti-Grafitti network, we wonder how the once notorious ESPO can see eye to eye with the programs driving force, Jane Golden. Speaking of how she saw the raw energy and talent possessed by graffiti artists, including a teenage Powers, she knew if she could channel this in a new direction, great things would be possible. Powers himself said at the opening reception for the Love Letters project that "...what is wrong with graffiti is how it's applied most of the time." Staying true to his roots, this is the only mural project in Philly to use spray cans- he refused to sign a pledge to cease using spray cans and he never joined the anti-graffiti network. Jane Golden and the M.A.P are somewhere between a government agency and a non-profit, their passion and devotion for creating these murals, and what it can mean for a community, is truly moving.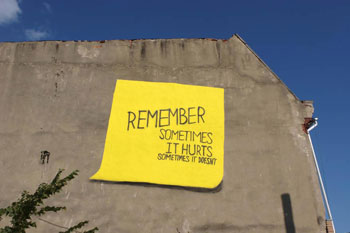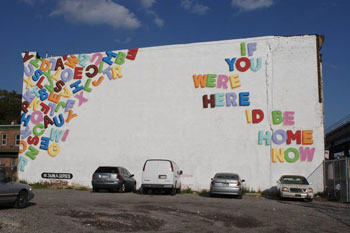 M.A.P strongly involve the community in every aspect of creating a mural, and offer award-winning free art programs for at-risk teens as well as restorative justice programs for young people convicted of graffiti offenses and other minor crimes. There are also mural programs for men and women in correctional facilities throughout Philadelphia. In all of these programs youth and adults who show promise and passion for mural making are encouraged to continue with the offer of further education for teens and employing inmates to install murals in their communities upon their release. There is an obvious commitment within the work of the M.A.P and Powers himself to educate the public and encourage creativity, giving people the skills and confidence for their own self-expression. After being awarded a Fulbright scholarship in 2007 Powers used the money to create public artworks in Ireland, with the help of teenagers from housing projects in Dublin and Belfast. Murals were erected in areas including Lower Shankhill, a site of much violence in Northern Ireland and re-appropriated the style of painted memorials. In an interview in the New York Times Powers said, "I'm taking the form of the murals, which are insanely powerful for all the wrong reasons, and trying to retain some of the power and use it in a really good way."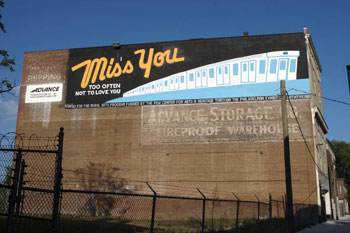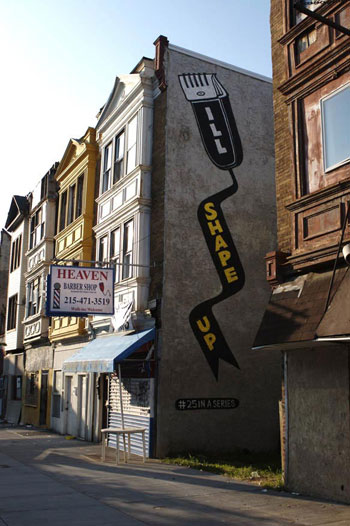 Powers himself had a father who was absent most of his teenage life, and it seems he gained a great deal of mentorship from the Philadelphia graffiti community. Now, with a two year old son of his own, Powers is not only breaking a cycle within his own family but in countless others as well. It is here we can see how a once infamous graffiti artist, and an organization that began as part of the Anti-Graffiti network, are able to see eye to eye. Something very special is happening in Philadelphia, demonstrating an overwhelming sense of camaraderie and the sentiment that great things are possible when you give back. At the opening of the 'Love Letters' project Powers reinforced the idea that if you want to make something happen, you do what it takes to make it happen. The work of the Philadelphia Mural Arts Program and the vision of Steve Powers are testament to this.

More on A Love Letter for You in Philly at www.aloveletterforyou.com