Animal Lovers Rejoice with A Cry for Help Show
Juxtapoz // Tuesday, 05 Jan 2010
1


This group show is a benefit for endangered species with an installation from Bumblebee (shown working on the install below) as well as a group show featuring the works of over 100 artists.

It doesn't stop with art on the wall, however. Prints from Liz McGrath, Amy Sol and Buff Monster will be available opening night with all proceeds from each going to Born Free USA. There will also be pet adoptions (including Strangest Angels Animal Rescue for dogs and cats and the Bunny World Foundation for bunnies, duh), as well as blanket, toy and food donations and more. The gallery asks that you please bring all item donations you can this weekend, January 9th and 10th.

Please click here for sneak peak of several works in the show, as well as many pics of works in progress, along with pictures of several of the participating artist's pets.

Click here to view the complete artist lineup and all the details for this very special show.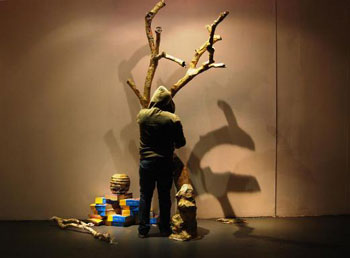 Thinkspace
4210 Santa Monica Blvd.
Los Angeles, CA 90029
In the Silver Lake area of Los Angeles near Sunset Junction
www.thinkspacegallery.com