Animal Collective's ODDSAC Film Screenings
Juxtapoz // Tuesday, 09 Mar 2010
1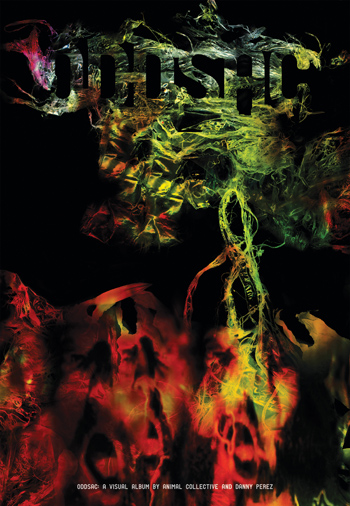 ODDSAC is a feature film collaboration between the band Animal Collective and filmmaker Danny Perez. The surreal film was co-conceived by and stars Animal Collective, whose 2009 album Merriweather Post Pavilion was named album of the year by…pretty much everyone.
ODDSAC promises to be a dense and surreal layering of audio and visual elements that eschews conventional narrative to create a visceral, immersive experience.
The film features an original score with new songs from the band and complex digital manipulation by Perez, a debut filmmaker and visual artist known for his concert projections with musicians such as Black Dice and Panda Bear.
ODDSAC represents a new synthesis of music and film, a "visual album" whose songs will not be released in any other form. ODDSAC is the result of over four years of intense collaboration between Perez and the band.
"It was meant to be an open-ended operation of audio-video synthesis, the passing back and forth of visuals and sound so that each would inform the other and create an organic structure," said Perez.
Director Danny Perez
Visual artist Danny Perez' evolving aesthetic is informed by a mutated sense of rhythm and the relationship between sound and image. He unique visual constructions have screened at galleries and museums worldwide and in conjunction with touring bands like Black Dice. His debut feature ODDSAC is a collaboration with the band Animal Collective and a visionary visual album and their de-facto new album.
Danny was born in Washington, DC and currently resides in Philadelphia. He graduated from NYU in 2002. Danny is currently developing his next feature, which he calls a cross between Bully, Altered States, and Evil Dead.
Animal Collective
Animal Collective is a band originally from Baltimore, Maryland, currently based in Lisbon, DC, NYC and Baltimore. Animal Collective consists of Avey Tare (David Portner), Panda Bear (Noah Lennox), Deacon, (Josh Dibb), and Geologist (Brian Weitz). Records released under the name Animal Collective may include contributions from any or all of these members; the lineup is not uniform. The band members met in high school and started recording together in various forms of collaboration from a young age. The group also runs the record label Paw Tracks on which they have released their own material as well as that of other artists.
ODDSAC SCREENINGS
March 17
Chicago IL, USA
Music Box Theatre
$15. 7pm, 9pm.
March 20
Minneapolis MN, USA
The Cedar
$15. 7pm, 9pm.
March 22
Los Angeles CA, USA
ArcLight Cinerama Dome
$15. 7pm, 9pm.
March 25
San Francisco CA, USA
Sundance Kabuki Cinemas
$15. 6:30pm, 8:30pm.
March 29
Portland OR, USA
Cinema 21
$15. 7pm, 9pm.
March 30
Seattle WA, USA
The Egyptian Theatre
$15. 7pm, 9pm.
For tickets, more information on the film and a trailer download please visit www.oddsac.com