Andy Warhol's Eight Elvises Sell for $100 million
Juxtapoz // Tuesday, 01 Dec 2009
1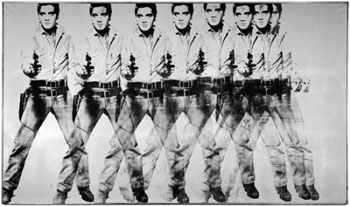 Times may be tough for you, but not for a certain Andy Warhol collector. Warhol's infamous Eight Elvises just sold for a whopping $100 million.

The anonymous buyer has acquired the Eight Elvises in a private sale, sending Warhol straight up into the top 10 list of the most expensive artists of all time.

An auction price of $43.8m for his 200 One Dollar Bills in New York earlier this month confirms Warhol as the marquee name in the art market.

Unlike most of Warhol's other pieces, which are screen prints made by his assembly line of assistants in his infamous NYC Factory, this Warhol Elvis piece is unique. Warhol only made one of the work he called Eight Elvises.

Although the sale of Eight Elvises was completed last year, details have only just emerged after a year-long investigation by the art writer Sarah Thornton, who published her findings in this week's Economist.

The picture, a 12ft canvas, has not been seen in public since it was exhibited in Los Angeles in 1963 as part of a much larger, 37ft canvas with 16 Elvises on it. When that massive work was dismantled, Eight Elvises went back to being one distinct piece.

In the late 1960s, the work was sold to Annibale Berlingieri, an Italian collector. Since 2002, he has consistently been one of the three most bought and sold artists. At the height of the art market boom, in 2007, auction sales of his work totaled $428m, the highest turnover of any artist.

Although there is no doubt about the sale, the buyer remains a mystery. There are, however, only a few individuals who would be able to afford such a work.

All this for work by a guy who wore a wig and rarely talked at social events? Yes, we love Mister Warhol.