Image Gallery
Andrew Schoultz "Unrest" at Morgan Lehman Gallery NYC
Juxtapoz // Thursday, 19 May 2011
1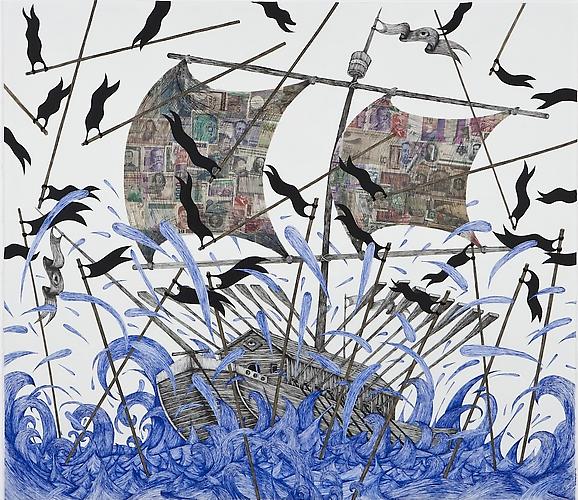 Tonight, May 19,
Andrew Schoultz'
new solo show,
Unrest
, opens at Morgan Lehman Gallery in NYC. The SF-based artist continues to build an expansive and experimental body of work, and rather than "depict literal narratives of these events, Schoultz captures their essence using an ever-expanding arsenal of pictorial symbols."
Not to be redundant, but
Unrest
looks expansive, with Schoultz tackling various worldwide topics and metaphors in various different mediums and backdrops. Lehman writes, "Billowing clouds of smoke create an "all-over" surface reminiscent of abstract expressionism and Op-art. These stylized clouds both unify the composition and veil the reality of the horrors depicted in the background. The obscuring impact that these clouds has on the images they hide may indicate the frustration Schoultz has with the partisan and misleading journalism the press has in disseminating information to the public."
Andrew Schoultz
Unrest
May 19—July 1, 2011
Morgan Lehman Gallery
New York, New York