Andrew Brandou is In The Garden of The Mystic
Juxtapoz // Sunday, 18 Oct 2009
1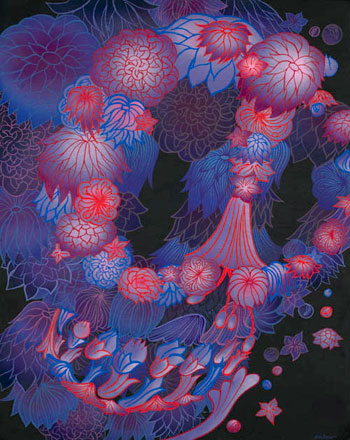 Opening on Halloween night, Los Angeles artist Andrew Brandou unveils his second solo show at Corey Helford Gallery entitled In The Garden of The Mystic. Influenced by 1960s posters, music and psychedelia, Brandou's new work takes a walk on the wild side and a more organic narrative ensues. Sounds perfect for All Hallows Eve.

The artist's iconic flower motifs, skulls, bunnies and boxes transform into a kaleidoscope of stunning psychonautic imagery. Ornate gold leaf accents decorate mind-expanding dreamscapes where the ego merges into the id, fear is released and beauty resides.
The exhibition will also include a rare series of limited-edition silkscreens on wood block based on vintage rock posters. Open to the public, the reception for In The Garden of The Mystic takes place on Saturday, October 31, and the show will be on view until November 18, 2009.


More info on In The Garden of The Mystic at www.coreyhelfordgallery.com

Andrew Brandou was raised in Michigan with a Catholic school upbringing. However, his interests have always leaned toward the darker side, including the occult, magick and mind control.

A graduate of Otis Parsons, the Los Angeles based artist worked at the legendary Paper Moon Graphics card company, as well as on numerous entertainment projects such as The Simpsons, Spongebob and Ni Hao Kai-lan. As an art director for Meltdown Comics and Span of Sunset, Brandou designed their visual presentation, and his work has graced the pages of Juxtapoz, The New Yorker, Swindle, Mean Magazine, and SF Weekly as well numerous books including Otis School of Design Alumni book. Brandou has exhibited in cities worldwide including Los Angeles, San Francisco, New York, London, England and Bern, Switzerland.

For more information about Andrew Brandou, visit howdypardner.com.