Analyzing the Berlin Art Scene Through Blu's Murals
Juxtapoz // Tuesday, 11 May 2010
1
Aside from the sheer size of these pieces (he uses a cherry picker and next to no assistance in completing these murals) what is impressive about these particular Berlin creations is the fact that, two years later, they all still stand almost completely unmarked. For anyone that has been to Berlin, this is very impressive because the city is literally littered in graffiti. And not the good kind.
Tags and quickly scrawled names line every single street, countless homes, businesses, and train yards. But it seems they are rarely buffed or painted over. True, Berlin is a relaxed city and is extremely supportive of the arts (many are equating Berlin's current scene to that of New York City in the 1970s and 80s due to the staggering number of artists flocking to the German city due to cheap rent and food). The city offers tax breaks to artists and offers exceptional, affordable healthcare to residents. All these factors unite to foster a community pulsing with creativity.
The critique, however, from many artists and gallerists with which we spoke there, is that due to the vast number of artists, few fulltime paying jobs, and incentives to create in Berlin, the urgency to push oneself and evolve can be too relaxed. Those involved in the scene argued to us that essentially the level of support can very literally backlash on artists, as some creatives are lulled into a false sense of security as the larger artistic community is generally laid-back.
On the other hand, every emerging artist does need a supportive and affordable living situation in order to experiment and gain notoriety in his or her starting stages. Only time can tell where the Berlin, and greater German art scene, will head. But undoubtedly, it is a city to watch.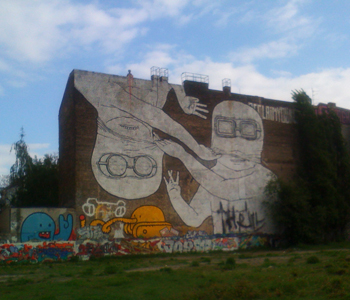 Blu's 2008 mural in Berlin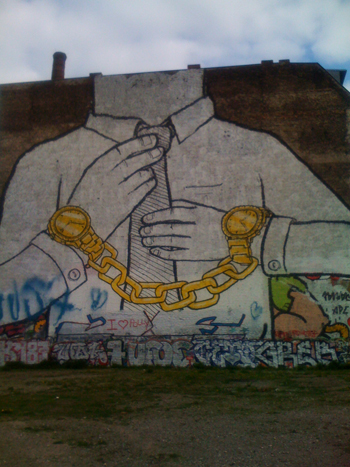 The other portion of Blu's mural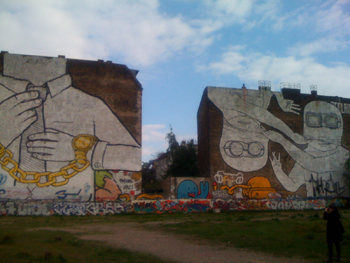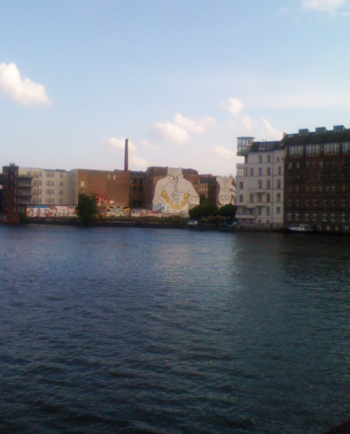 A size of the mural's scale from across the Spree River in central Berlin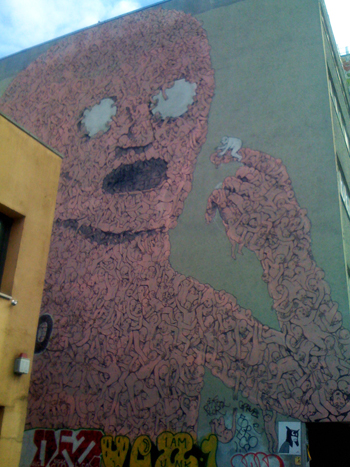 Another Blu mural nearby features a figure comprised of an array of other human bodies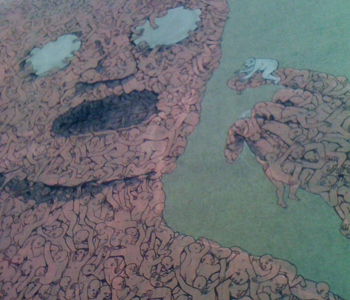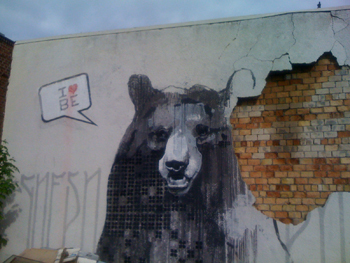 Not a Blu mural, but one of Berlin's classic bears takes over another nearby wall, reminding viewers it loves Berlin
If (gasp) you have yet to see Blu's Muto film, here it is again: