An Interview with the UK's David A. Smith
Juxtapoz // Sunday, 20 Mar 2011
1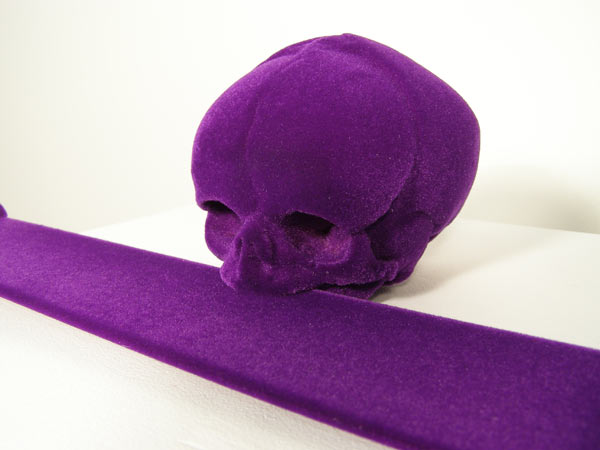 Helen Soteriou sits down with UK-based sculpture and installation artist David A. Smith, as his works are about to be showcased at Hybridity and Mutation exhibition at HRL Contemporary in London.
Can you tell us about yourself?
My name is David A. Smith. I was born in 1983 in the UK. I have an MA in Fine Art from Chelsea College of Art and Design. I am mainly interested in sculpture and frequently use light in my pieces.
Have you always been creative?

I guess so. I was pretty happy as a kid on my own just making and doing things. My father once took me to a farm auction and bought me a box old machine gears. By that afternoon I had connected them all together on a board just to see how they all turned. Although at that point the creative spark was also helped along by a healthy portion of Lego. Apart from that I have always kept sketch books, and a keen eye on anything that interests or inspires me.
What or who inspires you?

Nature inspires me the most, but also ancient myths, legends folklore. Although I always find something in Hammer Horror movies, Retro-futurism and, to keep this list short, anything that Daniel Clowes has written. Artists that inspire me are varied as I don't have one specific genre I subscribe to. But I love the engineering that goes into Carsten Holler's works and I think the way organic forms become warped in the works Berlinde de Bruyckere are stunning.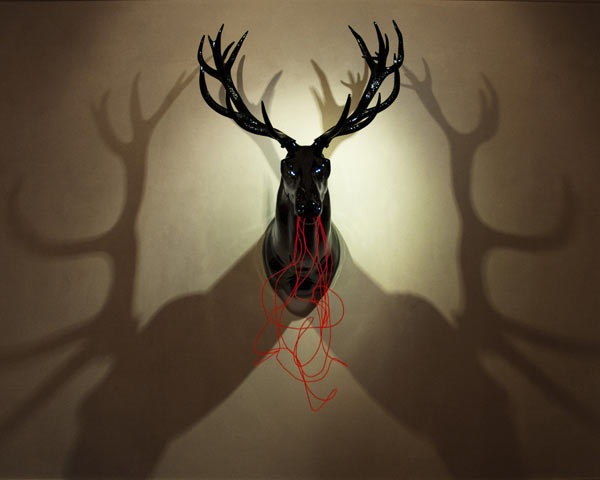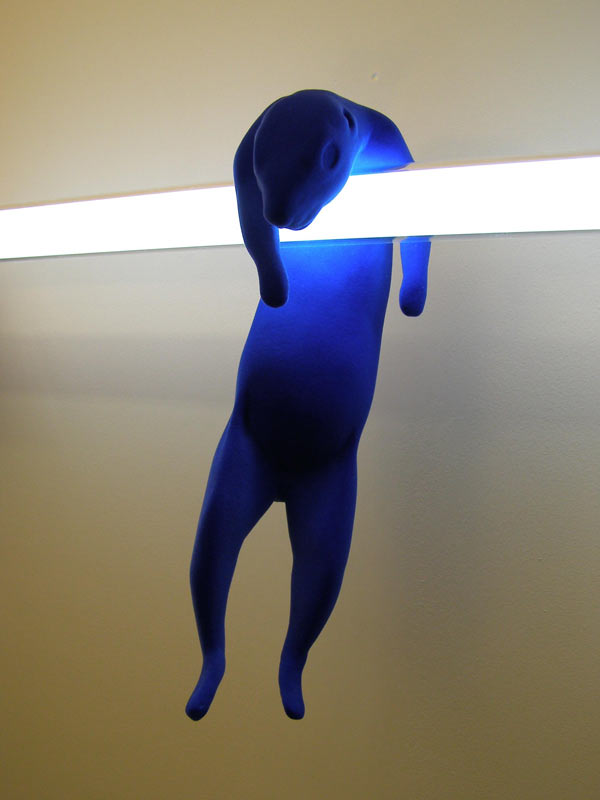 Your mixed-media sculptures are quite dark. What do you think this says about you?
I do have a slightly dark sense of humour. But I have always been interested in ghost, ghouls and shady parts of human nature. When I was young I used to go to my library and renew their only ghost book repeatedly. Although I am quite a happy person I am drawn to the darker corners of my imagination. I suppose it's that dedication to investigating something unknown or scary that drives me.
Can you tell us about your creative process?
My process usually starts with an idea that I have. Some ideas and thoughts I have are so strong, so complete, that I pursue them quite relentlessly. A lot of the time they just jump in my head pretty quickly. They can wake me up at night, so like many artists, I always have my sketchbook handy. I can clearly see what I want a piece to be at the outset and although certain adaptations take place the end is always clear in my mind. I can pretty much see how I want a piece to look in a room from the outset. Realising some pieces can be quite time consuming, but always worth it.
Where do you source your materials from?
My materials come from a variety of sources. Taxidermy and Medical/Anatomical suppliers are very useful so are interesting objects picked up from second hand shops or car boot sales. This isn't to say objects acquired end up involved in final pieces but it's nice to have some objects, like my old projectors, as I am a bit of a hoarder. At the other end of the scale there are the suppliers of the Electro-luminescent wire that I use. Although this material is quite expensive it is incredibly versatile and its visual impact is second to none.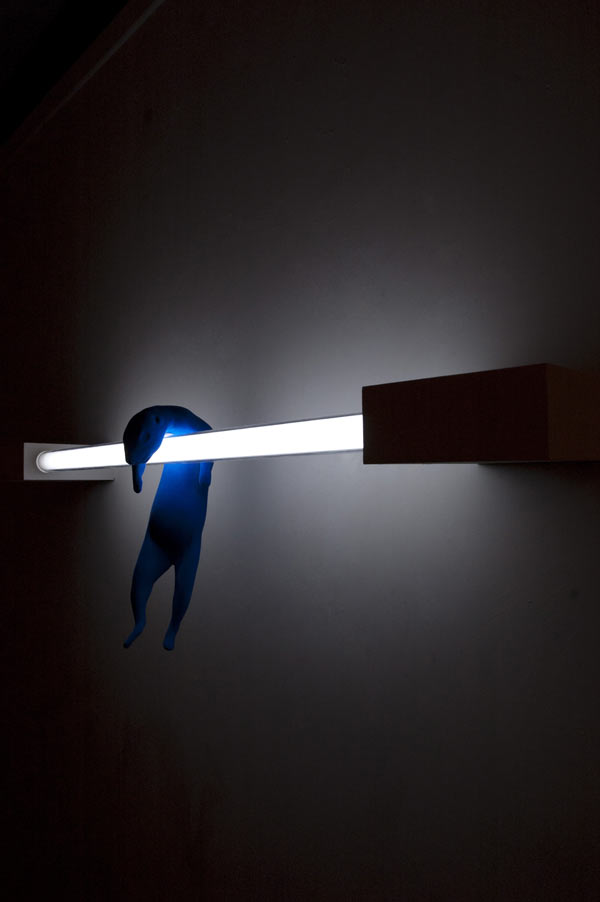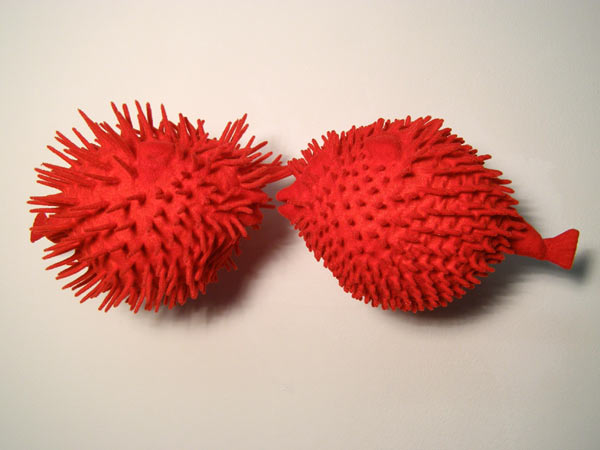 You use a lot of different forms of light in your work, what do you think this adds?
Light for me adds more to a surface and it is incredibly versatile. I use light as much as a focal point for my works as I do as a way of highlighting areas on a piece. The Deer busts are finished with an incredibly reflective gloss finish. When the light is reflected in this surface it adds to shape of the piece, areas become far more defined, and the piece is somehow animated. With the Deer busts the light from their mouths is a language of the dead, an incomprehensible yet alluring twist of words that is physical not audible.
You also use a lot of skulls and bones, why do you like working with this medium?
I like to use natural materials but particularly teeth and skulls. I do have quite an interest in the end of things. When you get to see the true structure of something, like its skeletons or its teeth, right down to the root, you get a feeling for how it began. But these lingering components of bodies, be they man or animal are amazing. For instance the Antlers on a Deer can seem quite whimsical and it is so easy to forget that they are as much for adornment as they are for fighting. Watching Stags fight will show you how this beauty quickly becomes vicious.
Can you tell us about your involvement with Eat Your Heart Out?
My involvement with this event was due to my participation in the previous event Cake Britain: The Mad Artist's Tea Party. This paired Artists and designers up with bakers and chefs to create edible art works. It was from there that the organisers took it to a darker and more risqué place. It was great fun to do something quite gory. My Bloodied Bambi cupcake design that Curly Sue Cakes brought to life were fantastic. I made each one of the thirty cakes its own Certificate of Authenticity and spattered each one with fake blood. It was great to do and all the cakes sold out. My thanks have to go to Curly Sue Cakes and of course Miss Emmylou Cakehead (or Emma Thomas) for her interest in my work and her energy on this continuing project.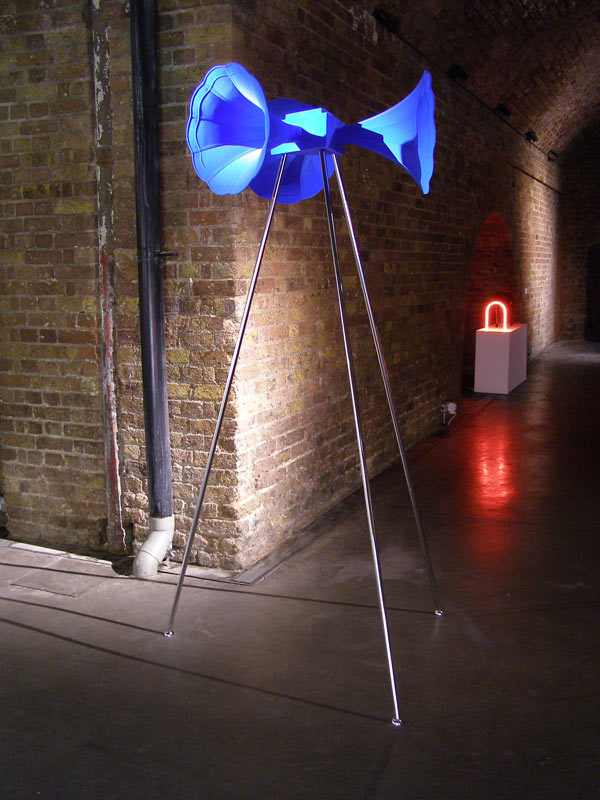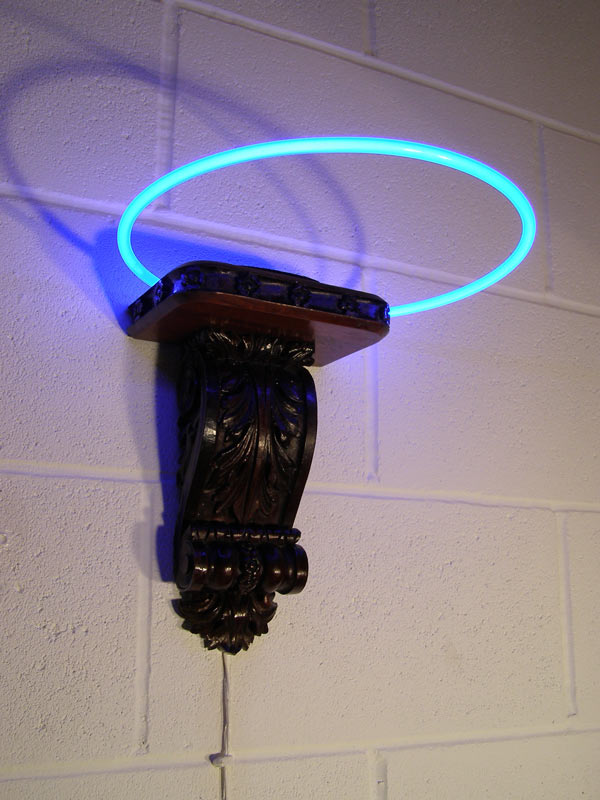 What has been the public's reaction to your work?
The reaction from the public has been overwhelmingly positive. Since completing my MA in 2009 I have been very busy with shows and commissions. The best thing about it is that all of the attention and interest in my work was totally unexpected. I thought I would sell a piece or two, never that things would take off as they have. I have sold to some amazing collectors who have all been keen on keeping up with what I do next.
What has been your favourite piece to date?
It's hard to pick out one favourite but there are two that spring to mind. Glory which was my biggest piece to date was a large Stag bust. The Electroluminescent wire alone was ten metres long and cascaded out of his mouth exactly as I had wanted it to. It's one of my favourites as I had wanted to achieve the idea for so long. It took a long time to complete and there were points where I did think it would make it (particularly as it nearly, physically, didn't fit out of my studio) but in the end it made it. I felt like it had all been worthwhile.
What piece has caused the most attention and why?
Shuck and Thief have been quite widely covered. Shuck was the skeletal Canine piece that was at my MA show and Thief was shown at the Catlin prize last year. Shuck got quite a lot of attention at Chelsea and I was told at the time it was being widely talked about, it sold straight away so I couldn't have been happier. Thief garnered a lot of attention too as it was also auctioned at the BFAMI/Christies Charity auction. I was happy with Thief as it used a Neon light which is not that forgiving when you transport it around too much. So for it to survive all its journeys to date has been an achievement.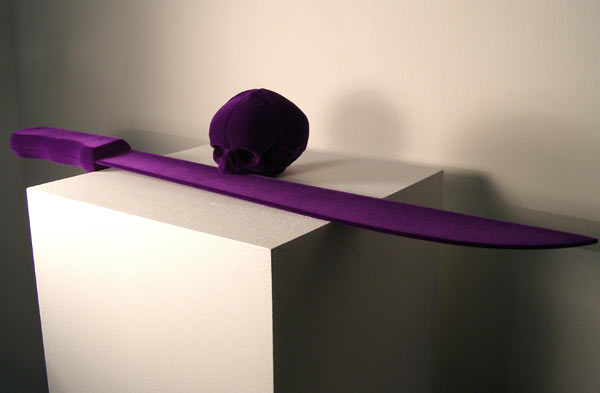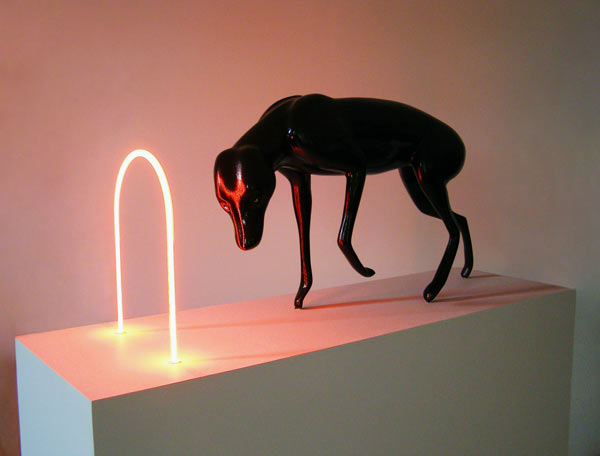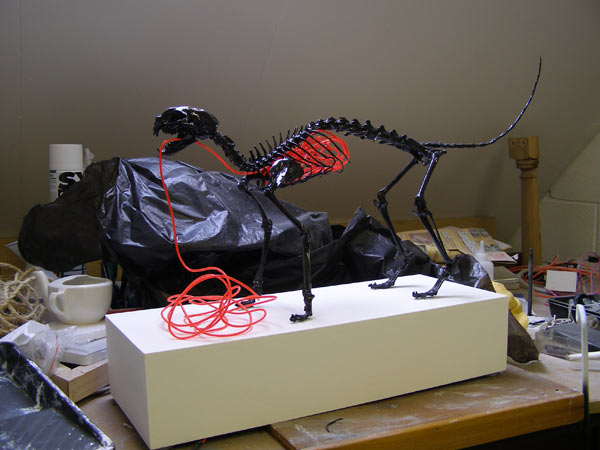 What type of individuals buy your work and where is it exhibited?
Private collectors and individual commissioners have so far acquired a majority of my work to date. The University of the Arts London picked one piece up at my MA show but other than that my work exists in the homes and collections of individuals. Apart from that new works are being exhibited in the upcoming shows I have this year
What do have planned for the rest of the year and how do you see your work developing?
The rest of the year is quite busy. Next up is The Nature of Change: Hybridity and Mutation with HRL Contemporary. After that is The Catlin Prize has invited me back to exhibit with them as part of the curator's (Justin Hammond) pick of artists from the last five years of the prize. Later on in the year there a quite a few projects being discussed but as yet I have been told to keep them under my hat, for the time being anyway. Watch this space as they say. In the meantime I've got some commissions to get on with so I've always got something exciting to do.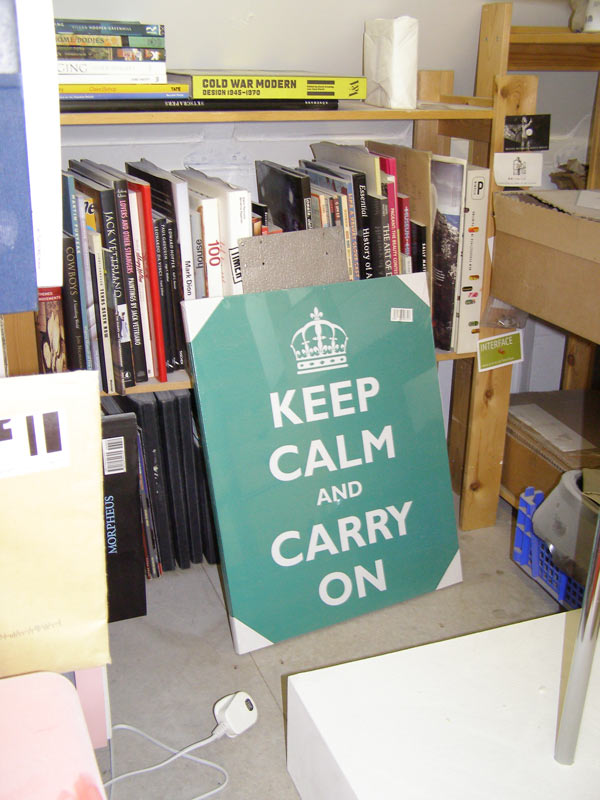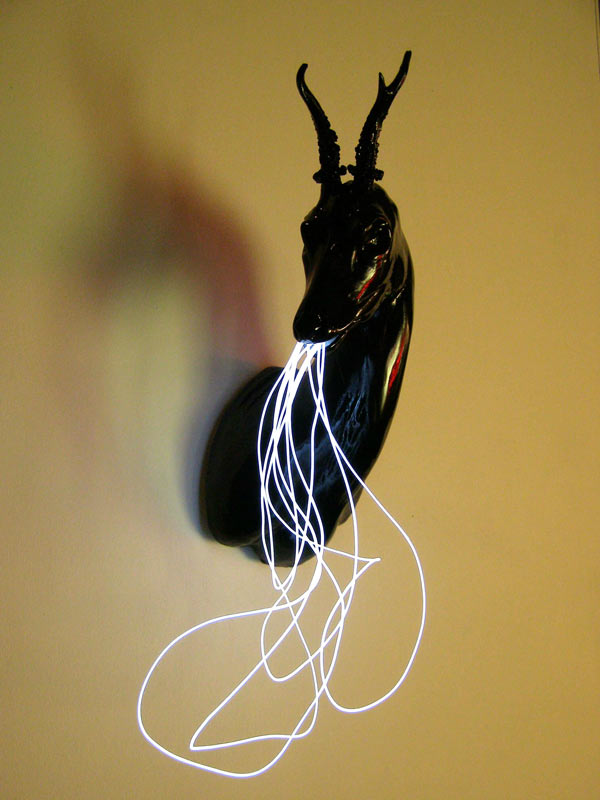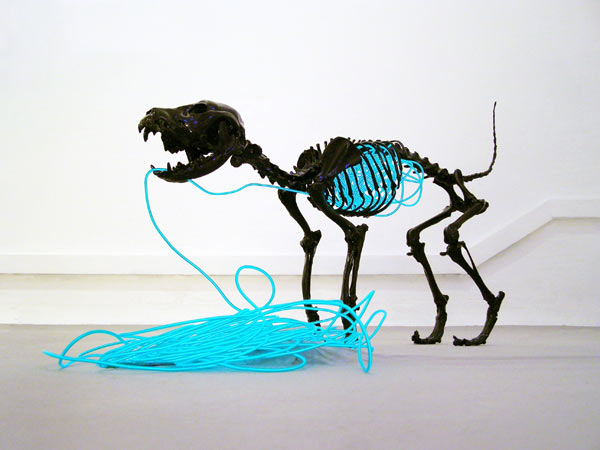 http://www.davidasmithart.co.uk/

HRL Contemporary
4 Wilkes Street,
The Old Truman Brewery,
London
E1 6QL