An Interview with Photographer Angela Boatwright
Juxtapoz // Friday, 06 May 2011
1
Throughout the early '90s Angela Boatwright was a growing presence within the New York skate community and at underground hardcore shows. In the past fourteen years she's photographed countless celebrities and bands, such as Black Crowes, Interpol, Shephard Fairey, Andrew WK, Method Man, Ellen Page, and Juliette Lewis. Her photography has been featured in numerous magazines, campaigns, and art books, such as Monster Children, New York magazine, Spin, Nylon, Vibe, Dazed and Confused, Vice Photo Book, and Definition: The Art and Design of Hip Hop. She is currently directing, filming, and producing a documentary about heavy metal bands that tour throughout the year.

Interview by Rose Athena
Rose Athena: Have you always known you would be a photographer?
Angela Boatwright: Yes and no - I mean that's a hard question to answer.  I've been shooting photos since I was 14 years old. I've always identified with being a photographer pretty heavily.  In terms of photography as a job - yes, I am a photographer.  This is how I make money... that still sounds insane to me!
You moved from Ohio to New York at 18. Can you describe your time in New York during your 20s? What were your first photo-type jobs?
New York in my twenties was fun as hell.  The city was a little different back then - I used to go see tons of hardcore shows at CBGBs.  My roommate skateboarded and his friends were always over.  I was shooting for magazines a lot and back then getting gigs with magazines was a big deal.  Shooting for Vibe for example, that was an honor.  Really.  When the internet popped up I got a ton of work shooting advertising for websites.  I lost a bit of money when a lot of those sites went bankrupt.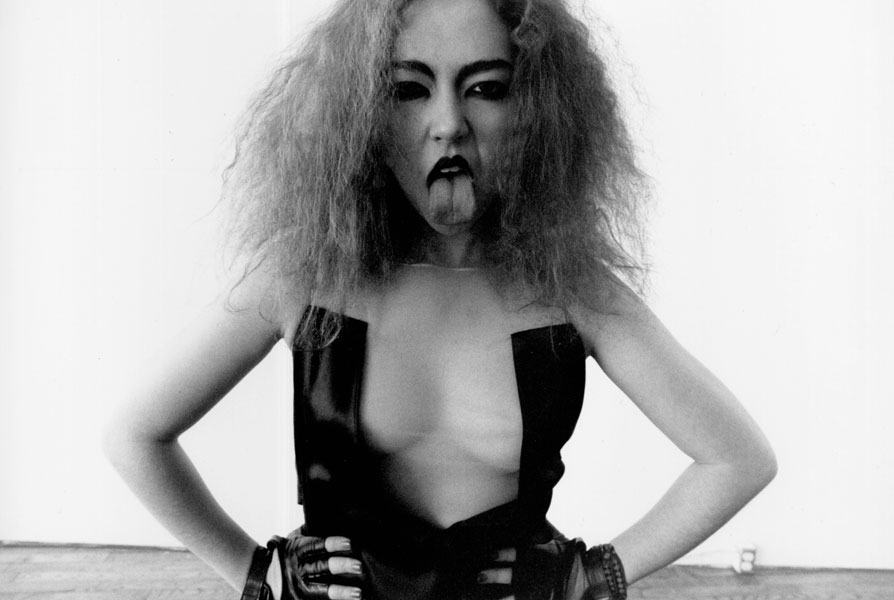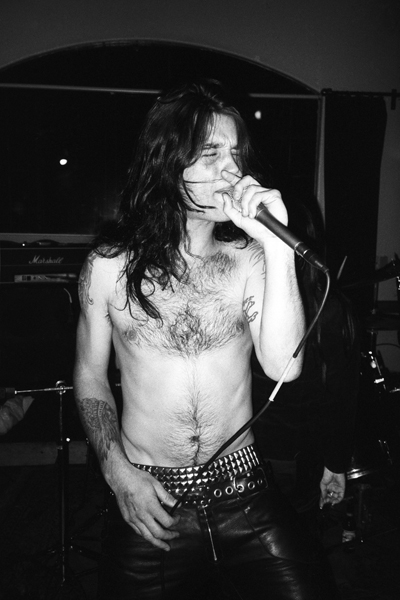 You were creative director and photo editor at Mass Appeal for many years. How did that affect the trajectory of your career?
Working for Mass Appeal was an extension of my ability to choose and direct projects.  I was freelancing as a photographer but creative directing gave me an outlet to incorporate artists and photographers that I loved.  Just shooting photos has never really been enough for me for some reason.  I still take on a million projects, curate, and publish other artist's work. As of today (a few hours ago, actually) I'll be creative directing a book that is being produced by the old editor & chief of Mass Appeal, Sacha Jenkins.
How did you end up publishing Peter Beste's Norweigan Black Metal?
Peter had been working on the black metal project for a long time before he even brought it to Mass Appeal - Peter's amazing, he worked at Starbuck's forever saving money to go to Norway.  I can't fully remember the details but Peter brought the project to our attention.  I looked through every single one of his contact sheets - he had a million of them.  I spent so much time editing that story.  It was a blast.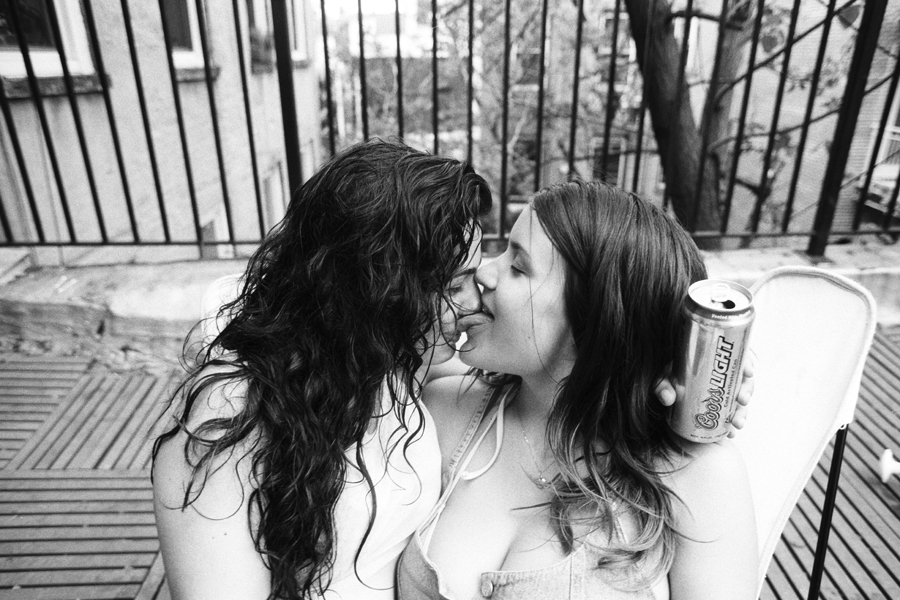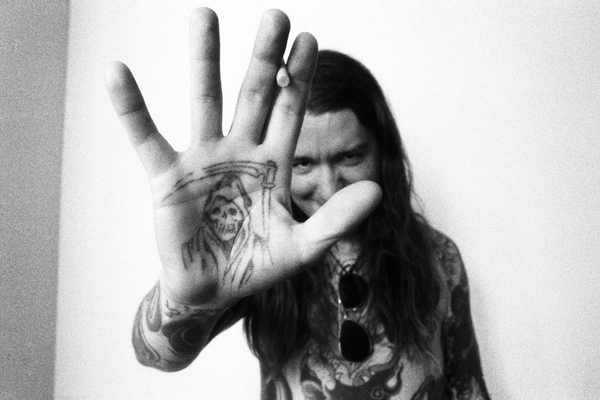 So you're working on a documentary about metal bands that tour year-round. Which bands are featured? How close is it to completion?
It's maybe a third of the way finished, hopefully.  It's about bands that tour a huge portion of the year and how touring can be a necessity for certain bands due to the state of the music industry. I've been out with several bands so far: Holy Grail, Toxic Holocaust, and Saviours to name a few.
I love that Toxic Holocaust song "666."

Don't forget "Nuke the Cross"!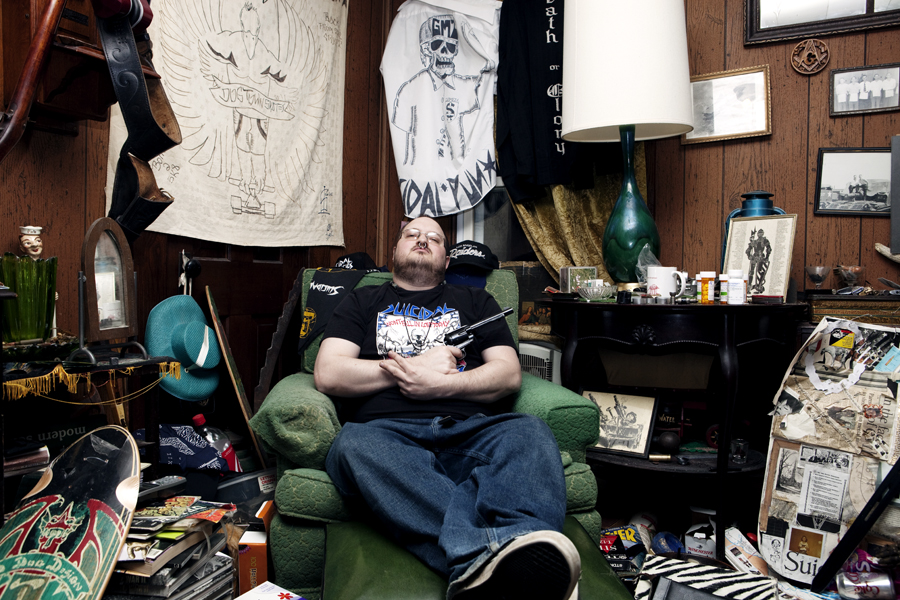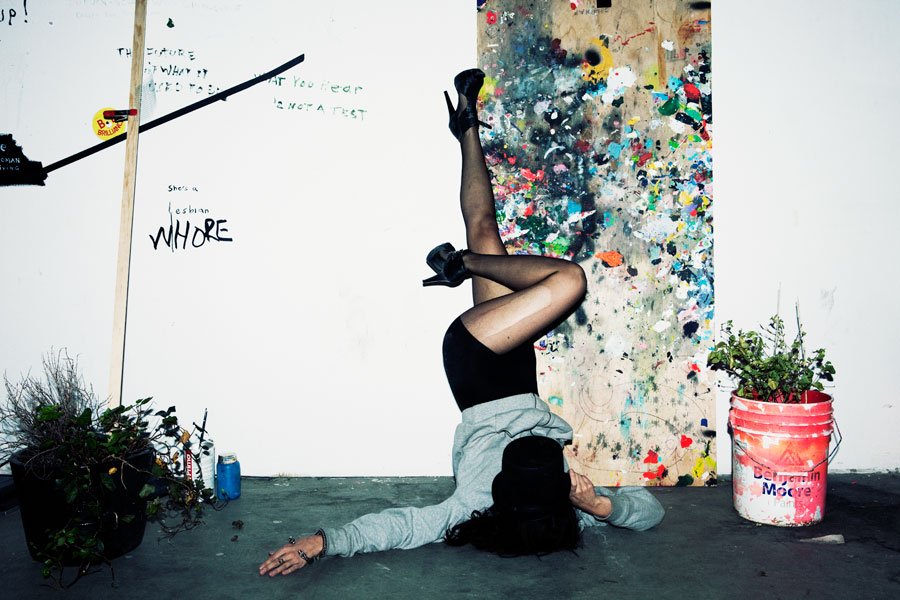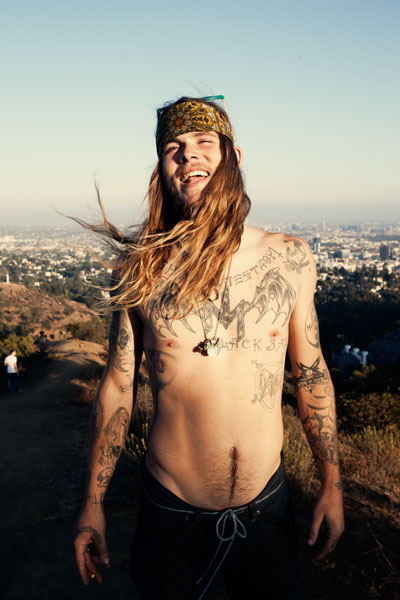 How's the metal scene in New York these days?
There are some pretty sick bands in NYC right now, Mutant Supremacy and good friends Natur to name a couple.  I just got back from San Francisco where I saw one of the sickest shows of my life - Black Cobra and Futur Skullz played at El Rio and it ripped.  Part of me would love to live in San Francisco…
Why do you still live in New York, as opposed to LA or SF?
I've lived here for 18 years - there's a huge part of me that's severely attached to this city.  I spend a lot of time traveling and my apartment here is super cheap.  Other than that, I'm not sure.  LA is tricky because of traffic.  I guess I'd get used to it.  If I moved to LA however my heart wouldn't be in that decision.  SF however would be a great place to get lost in...
What's your studio like in New York, Do you do a lot of shoots there or is it more of a personal space to work alone in?
Oh it's just an office absolutely filled with hard drives.  I work in a space with a ton of amazing editors, film makers, directors, oh and I'm right above Saved tattoo.  It's an awesome community.
What are some of your favorite tattoos?
I have Diamond Head lyrics, Metallica lyrics, and an Angel Witch tattoo.  I have some Ben Tour artwork tattooed on my left arm.  I didn't know him when I found the piece - I emailed him and asked if he was okay with me getting it tattooed and he said yes.  That was fun.  I just got "Solitude" tattooed on the underside of my fingers.  It's a Candlemass song.  There's a theme here...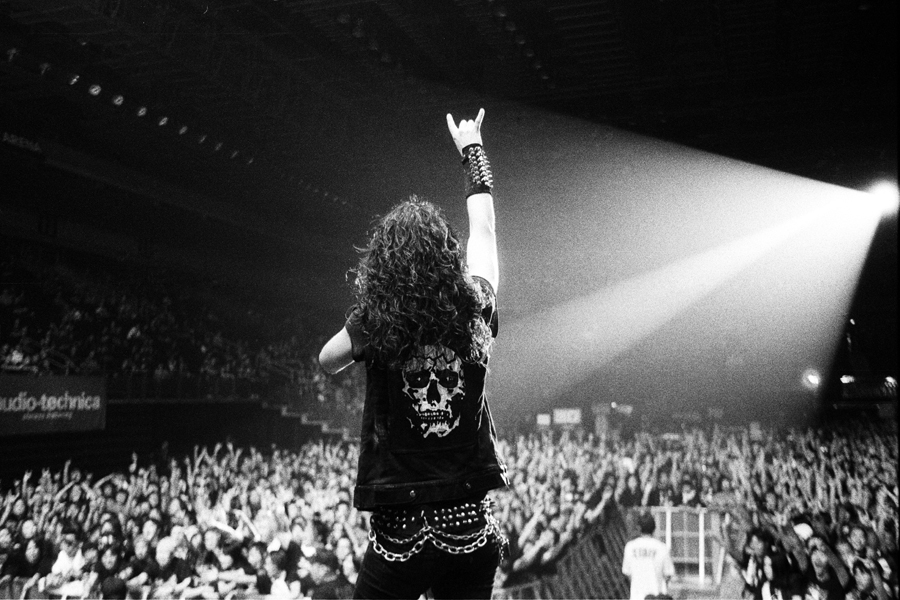 What do you like best: shooting on a music tour, shooting in an exotic country, or shooting in New York?
Shooting bands on tour in an exotic country sounds good! I love love love other countries... It can be impossible to get high speed film into other countries but I like going to them.
Do you still shoot predominantly with film?
For personal stuff, almost entirely.  For work it's 70/ 30 digital/ film.
Do you think about lighting a lot before you begin a shoot?
Yeah sometimes - depends.   I think I try and figure the story of the shoot out first then lighting later, what best suits the story.  I don't like to have things too planned.
What's your preferred equipment to work with?
Again it depends on job.  With personal stuff it's my Nikon FE2s or lately I've been using the trusty 'ole Contax 645 AF.
Your work appeared in Full Bleed, a book of New York skate photography. Did you ever want to be a skate photographer of sorts?
I guess maybe when I was really young.  I always looked at skateboarding magazines for inspiration.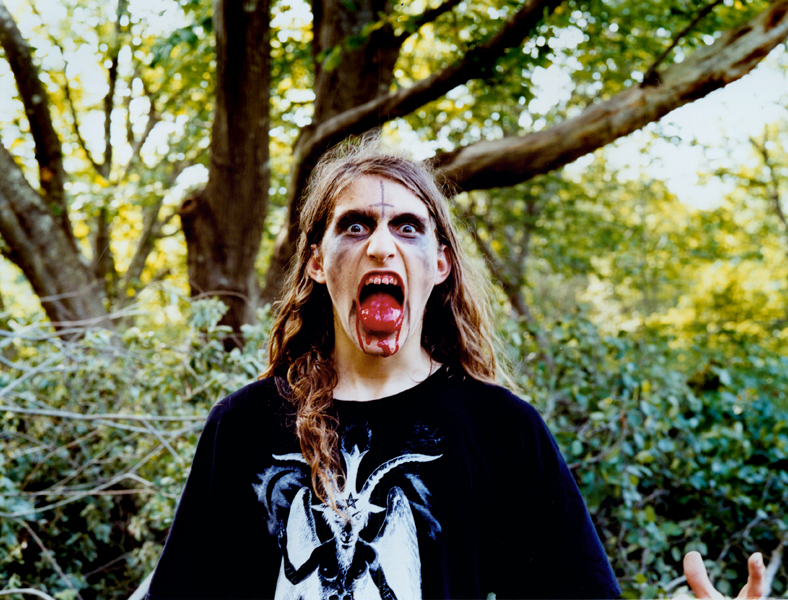 Any comments on the skate scene as it relates to the art world? Did you hang around Alleged much back then?
One of the first things I did when I moved to NYC was go to an opening at Alleged when it was on Ludlow.  I have always been drawn to skateboarders (and graffiti writers for that matter) that take photos.  They have a different and very particular approach to their pictures.
I always think of that interview between you and Patrick O'Dell, when you mention how much it sucks to miss a photo - and there's this photo regret graveyard in your head.
So many graves in my photo regret graveyard... Maybe missing photos is part of taking photos.  Deep huh?
Yeah it is kind of paradoxical! What's the best show you've ever seen?
I saw GN'R on the 'Appetite' tour - that was pretty sweet.  I was PSYCHED for that.  I punched my fist through glass on accident when I was 14 because I was late to see Bon Jovi and was freaking out. Black Tusk and Saviours in Columbus, Ohio at last year's Scion Fest after party was pretty awesome.  I saw Metallica four times on the '...Justice' tour. I got to watch Def Leppard a few years back standing on the side of the stage next to Jon Bon Jovi.
Who are your favorite photographers/artists?

I love Dave Schubert's work, Dennis McGrath, Josh Wildman, Ed Templeton, Estevan Oriol. classics like Ellen Von Unwerth, Sally Mann, Bruce Davidson, Ricky Powell.  I'm a big fan of Philly based Dan Murphy, Patrick Griffin, Jai Tanju's 'Film Por Vida' project... Cheryl Dunn is an inspiration for sure.  And of course Penelope Spheeris, Jenny Lens… Oh and Helen Stickler - I love 'Stoked.'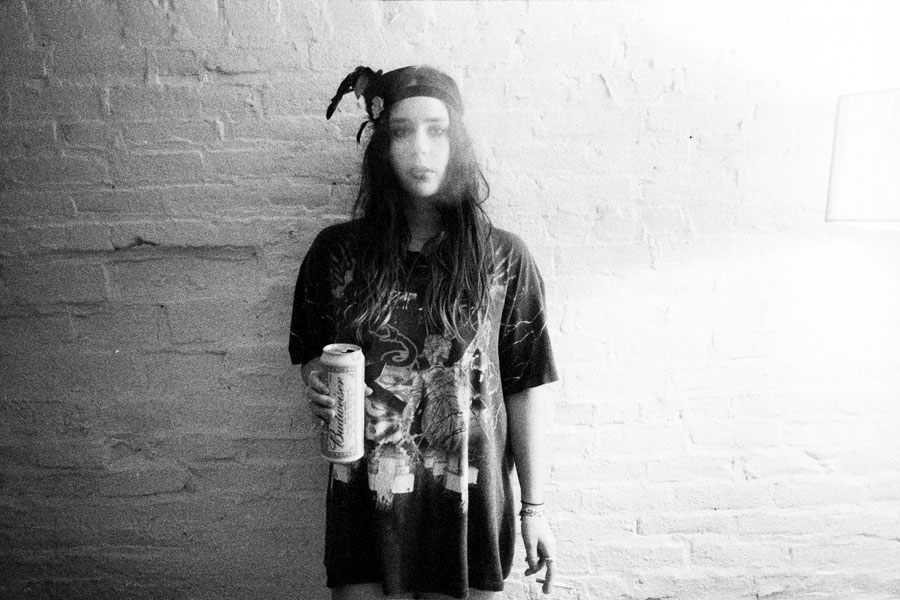 Do you feel like your relationship to photography has changed over the years?
My relationship with photography changes everyday.  I've always been fairly serious about my work, since I was a teenager.  I've always wanted to learn as much as possible and try new things. Right now I'm working on myself, becoming a better person in my eyes - finding more truth in what I do.  I'm hoping that this will effect my work in a certain way.  Now that I've got the technique down, I'm looking to break some personal boundaries.
It's always seemed like you allow a lot of your own personality to be apparent in your work. It's clear in the past few years you've been branching out more and more.
Really?  That's good.  It's a pretty slow process, self exploration and all that crap.
It is slow, especially through your own eyes. I think for your audience the changes are perceived more rapidly. Do you plan to be a photographer until your fingers can't click and your eyes can't see?
Who knows - I love music so much I always think I'd rather be blind than deaf. So yeah count me in as the blind photographer.
Angela Boatright is represented by Capture in Hollywood, CA.
Juxtapoz would also like to thank Angela for providing images of Rammellzee for our feature in the April 2011 "Art In the Streets" issue.
http://angelaboatwright.com/killer/kog_projects.html
http://angelaboatwright.blogspot.com/