An in-depth look at the March 2011 Juxtapoz featuring Emory Douglas, Gus Van Sant, and Johanna Jackson
Juxtapoz // Tuesday, 15 Feb 2011
1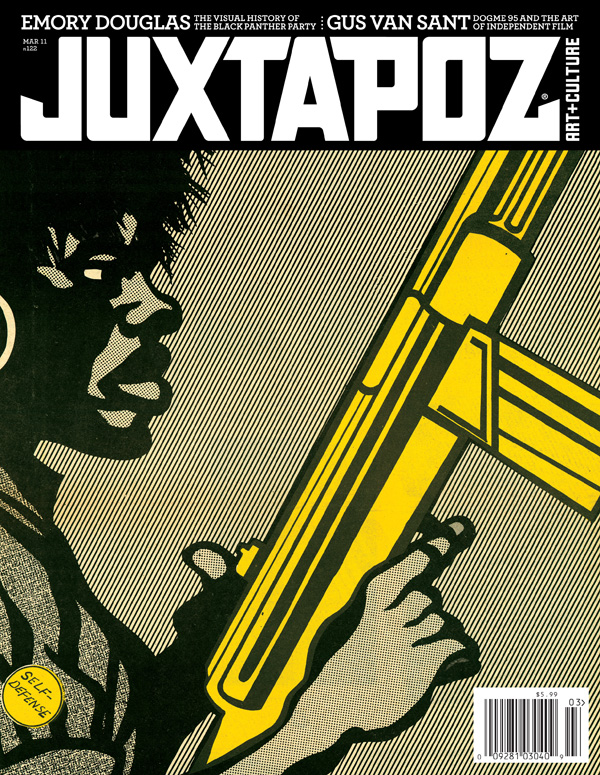 Here are the contents of the March 2011 issue, featuring cover artist Emory Douglas.

Emory Douglas—Shaun Roberts catches up with the Black Panther Party's Minister of Culture, and the man responsible for the iconic poster and newspaper art that the Panther Party produced in the 1960s and '70s. Douglas also created the now famous Black Panther logo. In this interview, Douglas gives an overview of how he met the other Panther Party members, the stories behind the art, and his political and artistic endeavors today.

Gus Van Sant—We stop by Gus Van Sant's Portland, Oregon apartment and speak to him about Dogem 95, filmmaking on your own terms, and the power of independent thinking. We present a collection of Van Sant's polaroid photos, and find out how they connect with his career in film.

Alex Lukas—Caleb Neelon talks with the Philadelphia-based fine artist about unique screenprinting techniques, Cantab Publishing, and creating flooded, apocalyptic cityscapes.

Johanna Jackson—In conversation with the Beautiful Loser, who has recently moved to Los Angeles from Portland, we find Johanna Jackson creating unique textiles, moving away from the gallery circuit, and feeling that sameness of stuff is interesting.

Joe Brook—The legendary skate photographer for SLAP and Thrasher shows his photos of Mark Gonzales, Spike Jonze, and Big Blue.

Buy the issue now in our webstore, or SUBSCRIBE NOW and GET the SUBSCRIBER-ONLY COVER.