An Artist's Lost Fame: John Lurie's fall from grace?
Juxtapoz // Sunday, 22 Aug 2010
1
The essence of the rather lengthy article, Sleeping with Weapons, is this: artist, actor and musician John Lurie was famous in the 80s and early 90s in NYC and became somewhat resentful of his fall out of the limelight. But perhaps a series of unusual events (described by Tad Friend in this week's New Yorker) helped to reinvigorate his artistic passion, and even life.
Writer Tad Friend first introduces Laurie with:
"From 1984 to 1989, everyone in downtown New York wanted to be John Lurie. Or sleep with him. Or punch him in the face. Lurie, the star of the Jim Jarmusch films "Stranger Than Paradise" and "Down by Law" and the saxophone-playing leader of the jazz-punk group the Lounge Lizards, was intensely charismatic. He wore a Borsalino fedora and old suits and painted expressionist album covers and picked up girls at the Mudd Club and snorted coke at the Palladium."
He was good looking, talented, and cool. He hung out with Basquiat and Jim Jarmusch and is still close friends with Flea. Then, about a decade ago, when Lurie was approximately 50 years old, he was stricken with a mysterious disease which confined him to his SoHo apartment for six years. During this time he refined his painting and befriended a younger artist, John Perry. The became very close friends, and in the fall of 2008, Perry asked Lurie to pose for him for an instructional TV pilot called "The Drawing Show." A few hours in, Lurie became ill, left near the end of the sitting, and collapsed in the hallway.
Perry became convinced that Lurie had exaggerated his illness and botched his pilot, along with his chance at landing a TV show. The disagreement escalated to the point of police complaints by both men, Perry incessantly calling Lurie and even following him. Lurie was reported to have become convinced Perry wanted to kill him and went into hiding in 2008. In February of 2009, Lurie moved to Flea's house in Big Sur to paint, and continued to bounce around the globe to avoid, what he believed, was Perry's murderous stalking.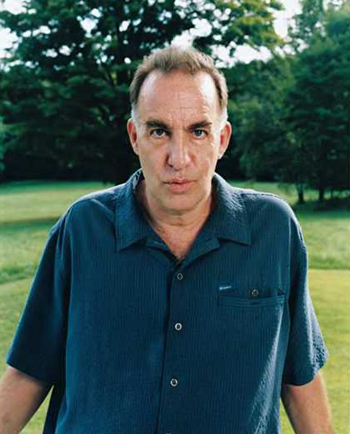 John Lurie  (above photo of a young Lurie in 1984)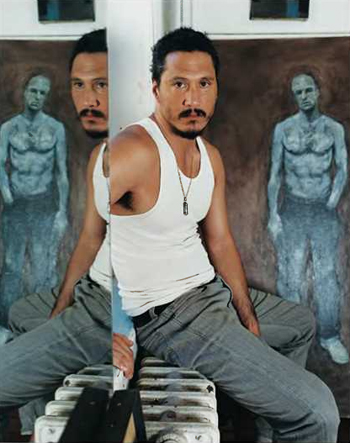 John Perry
According to Friend in the New Yorker, Lurie became paranoid, and resentful of other more successful artists with whom he'd once collaborated with. "The people who made it from the eighties had nothing to sell out in the first place. Jim Jarmusch, David Byrne, Keith Haring- all the bad ones got ahead, all the apple-for-the-teacher lightweights. The ones who are really great have a sense of madness and can't hold it together. […] Of the real artists from then, I'm the only one who is still alive and has his own liver."
Which raises a few questions. What makes a great artist and who goes down in history? It's no secret that many talented artists never receive notoriety, while others do. It's often a matter of being in the right place at the right time, but it does get one's mind turning over questions of intention, talent, marketing, aging, and legacy.
"The dream of artists – which is simply the dream of friends and lovers magnified – is to plant themselves in other people's heads," writes Friend towards the end of his article. "By that standard, John Perry has created a masterpiece. Last summer, Lurie wrote a friend that Perry, "has been in every facet of my consciousness for months…Every dream, every brush stroke. He has infected my mind."
"The protracted duet has become a kind of living performance piece, but neither man is able to see it as art: Perry because he views himself solely as a painter, and Lurie because he never before associated art with a fear of death. Curiously though, the struggle seems to have inspired them both; artists sometimes require an enemy. Both men have gone on to successfully show their works, and as Lurie told Friend, "It's strange, but being ready to fight everyday- I think it's made me younger. If something this formidable hadn't happened I would have never left my apartment. But I got away, I started painting again."
Read the full article, Sleeping with Weapons, by Tad Friend in the New Yorker (August 16, 2010, p. 51)
Photos by Gillian Laub.