American Realities: Greg Escalante and Nathan Spoor peek into Clare Rojas
Juxtapoz // Wednesday, 15 Apr 2009
1
Greg Escalante and Nathan Spoor take a look at the exhibit American Realities, featuring the latest works from superstars Clare Rojas, Andrew Jeffrey Wright and the elusive 'Lydia Fong.'

With all the artists on hand and performing in one way or another at the opening, it was quite the event and entertained eager crowds for hours on end. Follow Escalante and Spoor for more coverage below: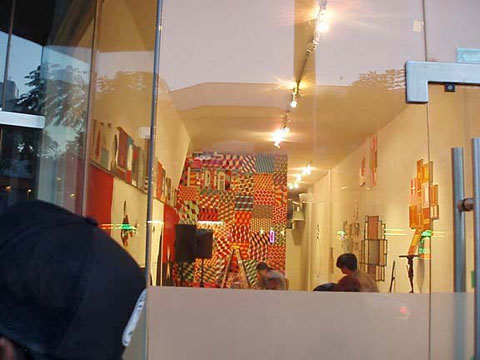 On arrival there was a slight wait whilst the gallery became viewer-ready. The fellow on the right there is Barry McGee, giving an eyeball to the lovely gallery assistant working on Lydia Fong's wall.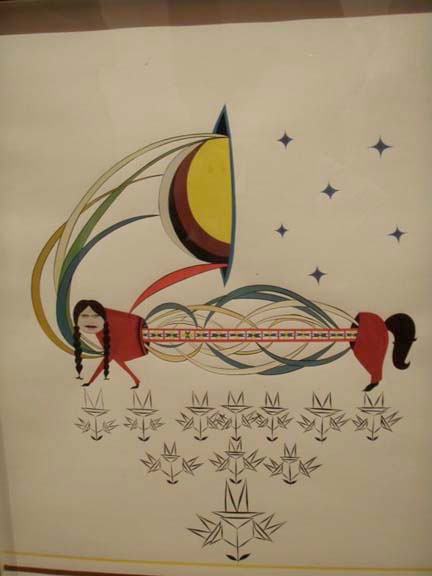 Clare Rojas work is very interesting. In fact, it's so fascinating that you can get lost between the imagery, absorbed in her unique voice for the contemporary female.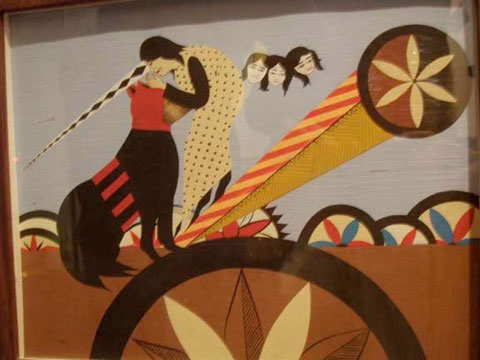 Though Rojas' work is often called "folk" art, it is not. Rather, it borrows elements for her messages addressing the resiliency of the modern female.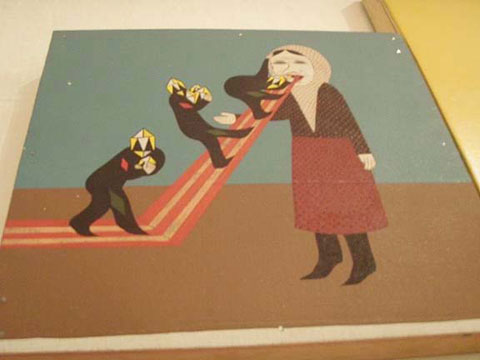 In her works, the female is often taken as being a sad representation of women's plight. Not so, she would say. The work exists to show an alternative reality or possibility to the views on modern women, and creates a safe place for them to exist as well as address the issues of achieving beauty and relaying a message of peace.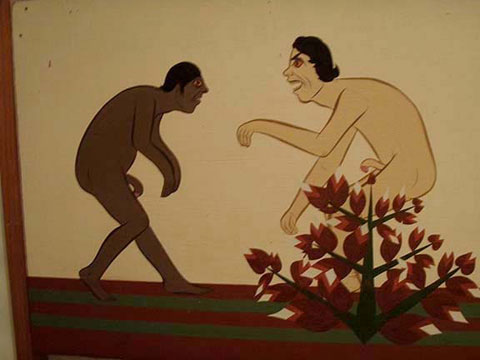 Clare's work quite often employs her crafty sense of humor to achieve her message, in which the men's are not overlooked.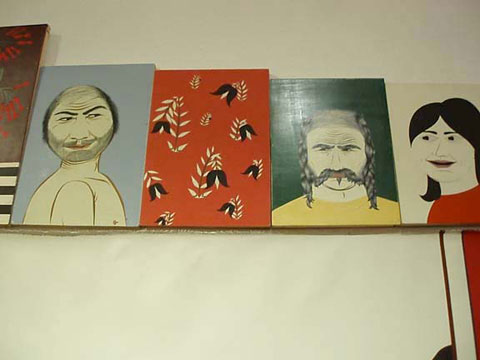 Equally amazing to note is that Clare has a story for her work, and each piece within the work has a story that connects it to all the rest. In essence, it is a community carrying her message, an organic and well-heeled correspondence that continues from one painting to the next. Here are some other fine examples of Rojas' work…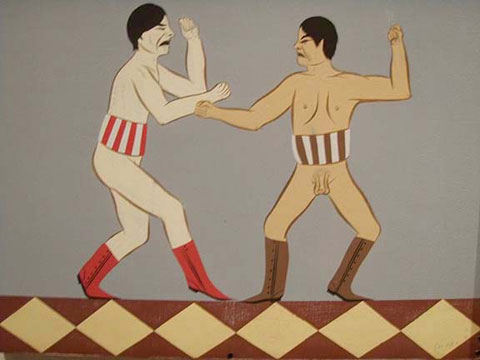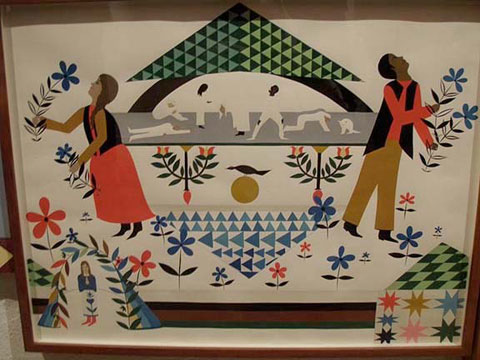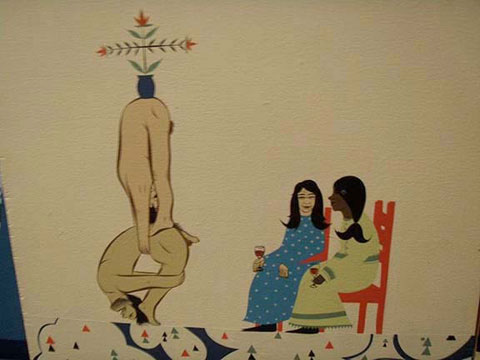 In the office area is a huge Date Farmer's piece of Obama, I'm talking wall-sized here. You can't wrap your arms around that roll of bubble wrap unless you're way bigger than huge.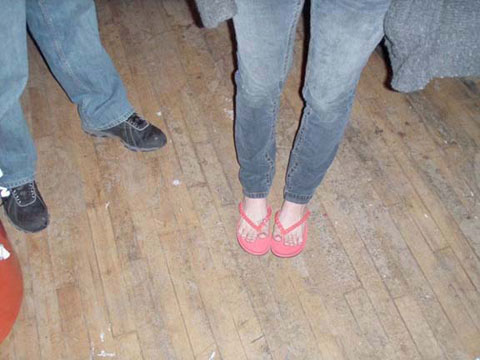 Los Angeles painter Lola was bringing her toes to the exhibit.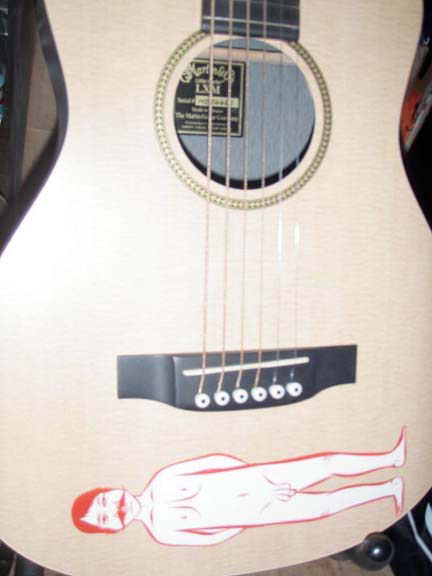 Here's a shot at Clare's guitar, or should I say, Peggy Honeywell's guitar. Midway through the opening Peggy got up and entertained the happy throng with a few of her best hits.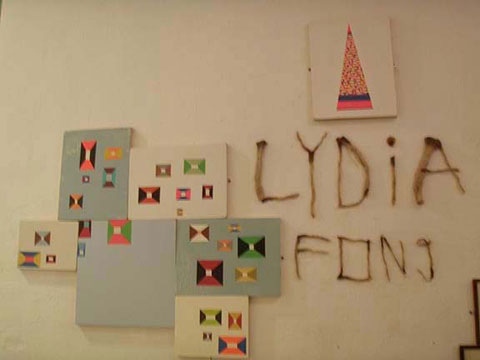 Ah, the elusive Lydia Fong. While no live footage or photos seem to exist of the Shanghai artist, we enjoy the work as we lie in wait.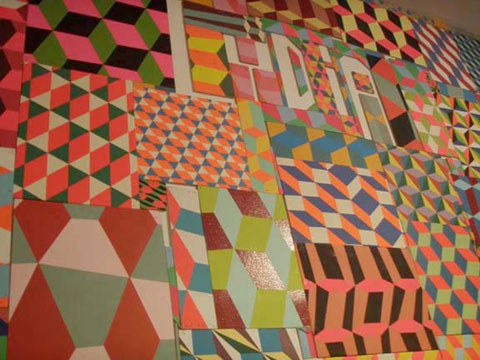 Here's a close up look at the Fong installation. Though there are rumors floating around that Barry McGee has something to do with the Fong works, I'm just not sure I see it…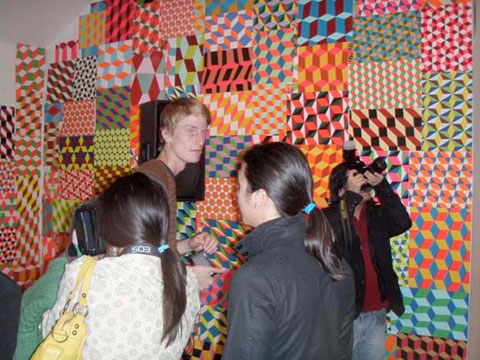 No, nothing like Barry McGee at all, do you think so? I just don't see the similarities.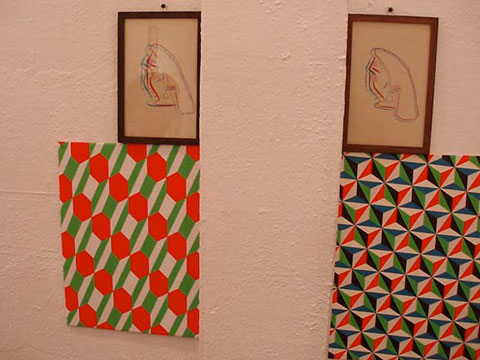 More Fong works. I still don't see what you're talking about, where exactly does that come off like Barry's work? Fong is gooood.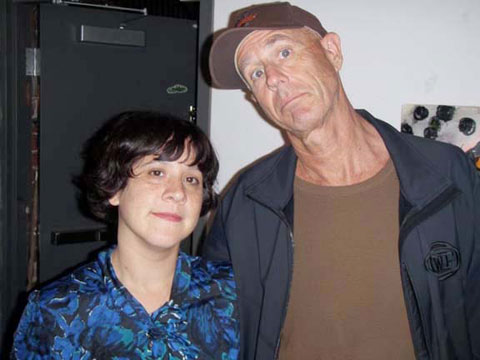 Rojas takes a minute from her performance break to hang with Stecyk.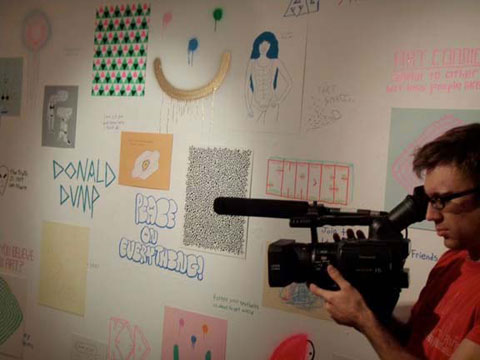 Andrew Jefferey Wright is a founding member of the infamous Space 1026 community in Philadelphia. He's also a very interesting visual artist and renowned film creator. Though he is a film artist, this is not him with the camera.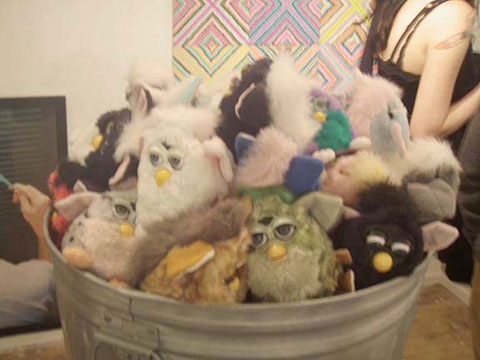 In the center of his room was a can full of those crazy "furbie" dolls…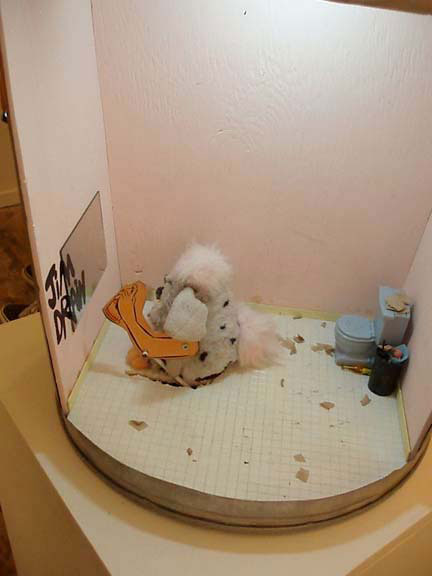 …with a cutout back showing a runaway furbie making his mark on the restroom scene inside.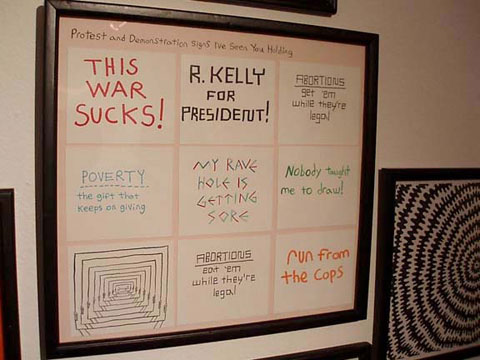 AJW posted up a really interesting experience in that little room at New Image. Everywhere you look there's something fun and interesting. I don't even want to know more about his rave hole though…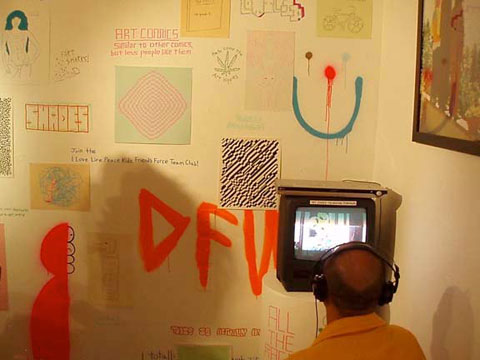 Viewer enjoys some of AJW's video work.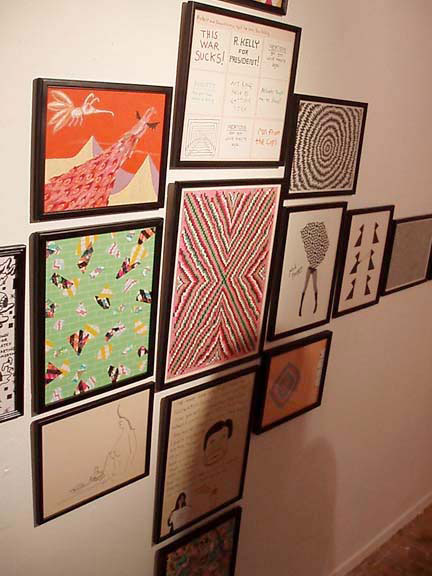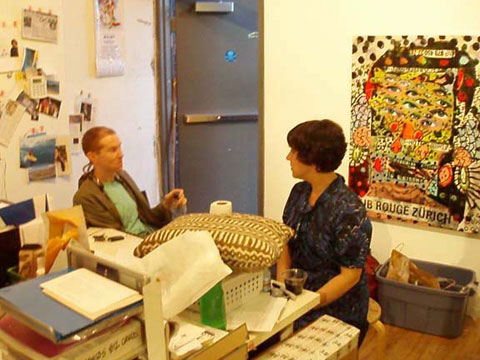 Andrew Jeffrey Wright and Clare Rojas hanging out in the office, beyond the din of the crowd up front. Interesting note: the two worked on a collaborative video piece called, "The Manipulators," which has won the top prize for animation at the New York Underground Film Festival and the New York Comedy Film Festival. Barry McGee is actually right outside that door testing out new cans of spray, about to have an art outing.