Full Screening Schedule of All the Wrong Art— Juxtapoz Magazine on Film at MoMA in NYC this February
Juxtapoz // Wednesday, 12 Jan 2011
1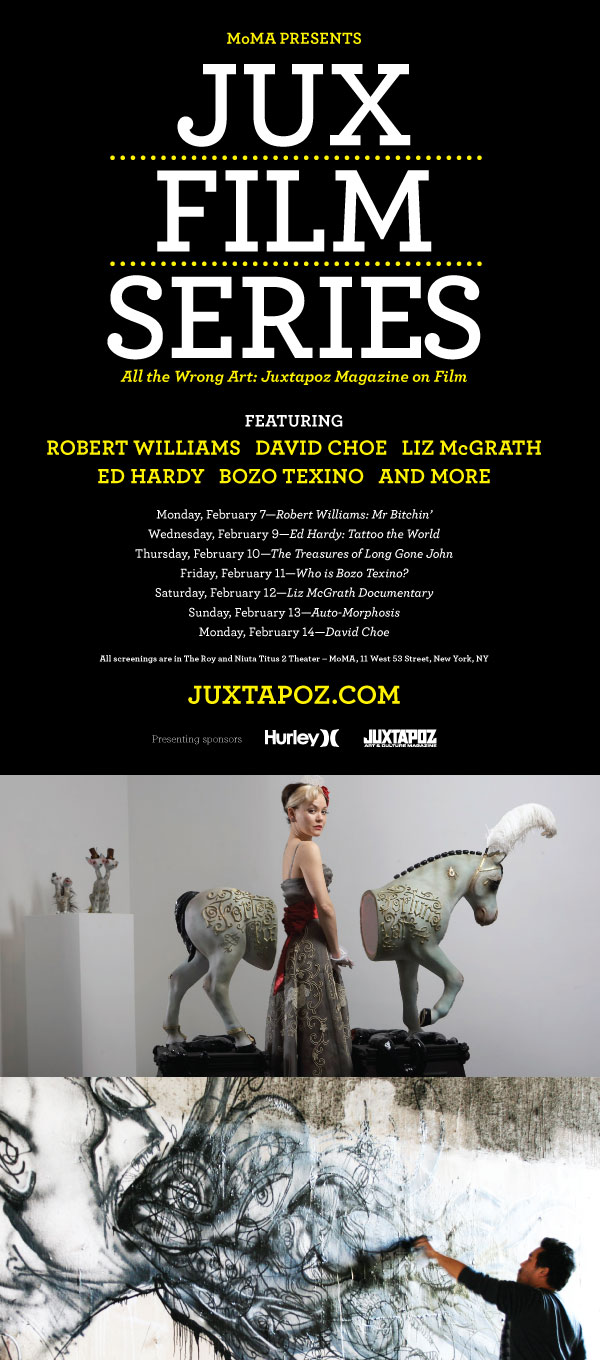 We mentioned this on our site last week, but to be honest with you, we are very much looking forward to our film series,
All the Wrong Art: Juxtapoz Magazine on Film
at MoMA (yes, that Museum of Modern Art) in NYC starting this February 7, 2011.
The Museum of Modern Art has officially updated their website with a full listing of all screenings and details of each film.
Monday, February 7, 2011: An Evening with Robert Williams
Juxtapoz magazine founder and self-described "conceptual realist" painter Robert Williams (b. 1943) is regarded as the godfather of the Southern California–based Lowbrow and Pop Surrealist art scenes. He began his career as a commercial artist for Kustom Kulture entrepreneur Ed "Big Daddy" Roth in the mid-1960s, and was later a member of the Zap Comix collective that included R. Crumb, S. Clay Wilson, Spain Rodriguez, and Rick Griffin. In the late 1970s he helped organize the Art Boys, a loosely affiliated fraternity of L.A. artists that included Gary Panter, Mike Kelley, Matt Groening, and The Pizz. While he was already a towering figure in the underground comix and music scenes, his work reached a new audience when the painting Appetite for Destruction (1978) was used as the original cover image for the 1987 Guns N' Roses album of the same name.

This opening program in the exhibition "All the Wrong Art": Juxtapoz Magazine on Film features the East Coast premiere of Douglas Blake's biographical documentary Robert Williams: Mr. Bitchin' (2010, USA). The screening is presented by the director, and is preceded by a conversation between Williams, the film's co-directors Nancye Ferguson and Douglas Blake, and Carlo McCormick, culture critic and senior editor of Paper magazine.

Wednesday, February 9, 2011: Ed Hardy: Tattoo the World
(Followed by a discussion with Ed Hardy, New York artist Ruth Marten, and director Emiko Omori)

Thursday, February 10, 2011: The Treasures Long Gone John
(East Coast premiere. Followed by a discussion with Long Gone John and director Gregg Gibbs)

Friday, February 11, 2011: Who is Bozo Texino?
Saturday, February 12, 2011: Bloodbath
(East Coast premiere. Followed by a discussion with Elizabeth McGrath, Debbie Harry, and director Cecil B. Feeder)
Sunday, February 13, 2011
:
Auto-morphosis

(Followed by a discussion with Harrod Blank and artist Hoop)
Monday, February 14, 2011: An Evening with David Choe
Born in 1976 and raised in Los Angeles, David Choe began his career as a school drop-out and wandering graffiti artist. In the 14 years since he self-published the graphic novel
Slow Jams
(1996), Choe has created a kinetic body of work as an illustrator, muralist, painter, collagist and sculptor. His potent figurative work, inspired by body art, pornography, religion, and indigenous cultures, has been described as "compellingly repulsive."
In this closing program of the exhibition
"All the Wrong Art":
Juxtapoz
Magazine on Film,
filmmaker Harry Kim presents his documentary
Dirty Hands: The Art and Crimes of David Choe
(2008). Filmed over a 10-year period, it recounts Choe's misadventures in the Congo and Japan and charts his creative activity from the mean streets of L.A. to the executive offices of Facebook. The screening is followed by a conversation between Choe, director Harry Kim, and New York artist Ron English.
FOR FULL INFORMATION, VISIT MOMA.ORG,
and STAY TUNED TO
JUXTAPOZ.COM
FOR MORE DETAILS.