Alex Pardee Has "Letters From Digested Children"
Juxtapoz // Friday, 19 Dec 2008
1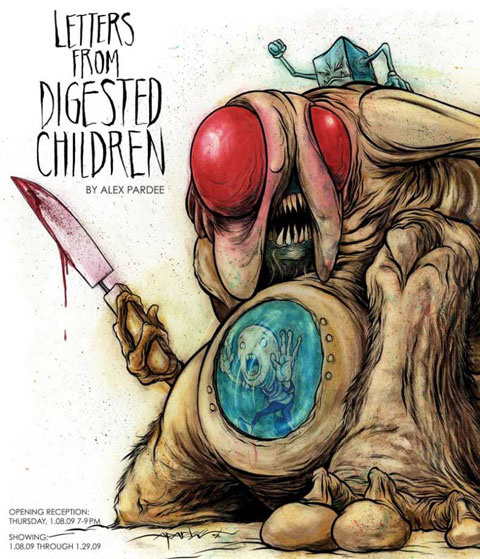 We're more than stoked that our homie Alex Pardee (Juxtapoz #79) will be one of the upcoming solo shows to hit FIFTY24SF Gallery this January. This guy has one of the craziest, most delightfully grotesque imaginations we've had the pleasure (or horror) of digesting on a continuous basis, and we cannot wait to see what new creatures he conjures for his upcoming show, Letters From Digested Children.

The exhibit features a whole new collection of drawings and paintings by Pardee. Get ready for some seriously creepy, yet introspective, new creations from the artist, just don't eat right before you come to the show. It may not settle too well when you're checking out the Letters From Digested Children, which will be will be on display at the upper level of the FIFTY24SF Gallery from January 8 - 29, 2009.

Learn more on Alex Pardee's Letters From Digested Children below: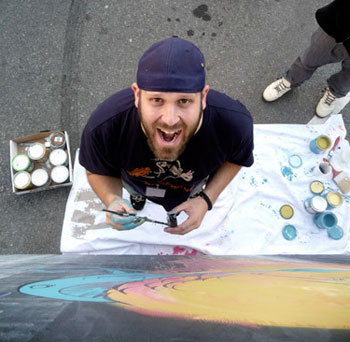 Alex Pardee's unique style is one conceived through watching years of horror movies, writing graffiti and listening to gangster rap.

His pieces are often brought to life by translating random shapes and colors into signs of torment and absurdity. By juxtaposing these two conflicting moods, Alex makes his works more personal to his viewers, forcing them to project their own feelings and emotions onto each character in his twisted universe. His love for drawing and painting spawned from his fascination with the grotesque images of Garbage Pail Kids and "Tales from the Crypt" comics.

For years, Alex used sketch drawing and graffiti as an emotional outlet and has devoted every minute of his life to creating an entire universe of characters and monsters. His characters have spawned a plush line, calendars, clothing and art exhibitions. In Letters From Digested Children, Alex Pardee pays homage to the children who are eaten by monsters.

Alex states:
"Each year, thousands of children turn up missing. Some are found. But most, unfortunately, are not. Many of the children are victims of abduction, some are runaways, and a large handful of them . . . have been EATEN by monsters. However, the digestive system of many monsters is abnormally slow, and a large portion of these children that have been eaten are still ALIVE, patiently waiting to be saved.
"Over the last year, from various parts of the country, I have gathered a selection of written S.O.S. letters from some of these children who are slowly being digested by the monsters that devoured them. My new solo art exhibition, titled Letters From Digested Children will showcase those S.O.S letters, as well as all new artwork, installations, and portraits of some of the more popular child-eating monsters in honor of the children who have been wrongfully eaten, and slowly digested."

Alex Pardee's devotion to his art has gained the attention of Warner Bros., Reprise Records, Freeze Management, Hurley International, KidRobot, Twenty Twenty Skateboards, and more. In 2004, he was tapped by the gold-selling rock group The Used to design the artwork for their album, "In Love and Death." Alex's designs were not only applied to record, but also the band's merchandise, website, marketing campaign, and the music video for the single "All That I've Got." More recently, Alex has been working with Def Jux recording artist CAGE, as well as STREET DRUM CORPS, TOP-R, EL-P, and high-fashion designer Dr. Romanelli.

The show features new drawings and paintings and Letters From Digested Children will be on display at the upper level of the FIFTY24SF Gallery from January 8 - 29, 2009.
More on Alex Pardee at www.eyesuckink.com