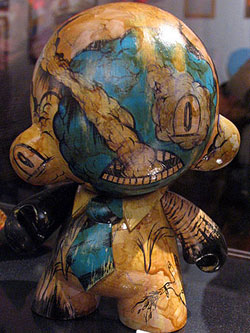 When I was in LA at the home of Sourharvest's Shawn and Andy Hosner, I noticed a painting that I liked, but didn't recognize the artist right away. Andy said to me, "Oh that's Alex Pardee, he's amazing." I made a note... and when I got home, did a little research and realized I had seen his work before. He did a Munny that I remember liking a lot - which is pretty exceptional considering the volume of contributions in the Kid Robot's three city Munny fundraiser show back in November.

I checked out Alex's website and read his news blog which hadn't been updated in a couple months, so I sent a little email asking what he's up to. Despite being in three group shows this month, having a new book, web store and clothing line coming out, preparing for the Taste of Chaos tour in March and the Alternative Press Expo in early April, Alex and I worked out a time to meet and talk.

EO: Where did you go to art school?

AP: I didn't go to art school. I just figured it out on my own.

Coming from a graffiti background helped a lot because the mindset is sorta D.I.Y. It's not common knowledge how to do those techniques. It's a lot slower to figure it out on your own, but I think if you have the patience for it, it might be a better way in the long run.

It's been a really really slow road, but I've been happy the whole time. I don't always know where my money's coming from, but I somehow always work it out.

EO: From looking around at your studio, it seems you've figured out a lot of the tricks of the trade. You've got a lightbox and such.


AP: Well, my time constraints are ridiculous, especially with freelance work. I try to streamline things as much as I can. I'll sketch things out, but it's hard for me to make the same sketch twice so I use a lightbox sometimes, or scan it, blow it up and transfer it.






EO: You live in Walnut Creek, CA - which is kind of a mild-mannered, almost cookie-cutter town. How did you end up here?

AP: I grew up in Antioch, I don't know if you know where that is, it's a little farther east, a little Gummo town. And I got kicked out of junior high there, in 8th grade, and in order to not repeat the 8th grade, they sent me to another school district, so I came out here, which was fine.. the school was nice and everything but I just hated everything about it, I was like, "Fuck Walnut Creek!" Then I graduated from high school here and vowed to never come back. Moved to Sacramento for awhile, and San Francisco for awhile, and now ten years later, now that I'm old - well, oldER, I kinda like it here. It's quiet.

All I do is hermit-out in here anyways so it doesn't matter where I live. There's Target and BART (Bay Area Transit) and Kinko's, so I'm fine.

I have a shop up in Novato, and I'm back and forth between here and there all the time, so I'm considering moving up north a little bit. At the same time, I'm down in LA every other weekend, which I hate...

EO: You hate LA?

AP: Well, I don't really hate it. I don't think I fit in LA very much. I can't read people very good and it seems like everybody there has a scheme. I don't know, it's just every time I go down there, everyone's so Hollywood and I don't know how to do that. But I mean, it's fun and there are more opportunities down there than here. Everyone I work for is down there.




EO: Are you a nocturnal person?

AP: Yeah. I work from pretty much one in the afternoon, to seven in the morning.

EO: Those would be my dream hours!

AP: I wake up at noon, when the sun forces me to wake up. Take a shower or not and get back to work. It's very stressful and carefree at the same time.

My sleep schedule has always been fucked. If I have to get up early for something, I can't just force myself to go to sleep the night before. I have to either take Nyquil or hit myself with a hammer.




EO: What do you have coming up?

AP: I'm going to Sacramento on Friday for the opening of Four Squared at Toyroom Gallery, then my roommate and I are going to LA to see my friend John Wayshak's show with Jason Alexander and Lee Ballard and some other people at Subject Matter.. I guess that's Costa Mesa.

And then I'm going on the second half of the Taste of Chaos tour which is kind of like the winter version of the Warped Tour. I went last year with The Used, and this year they're not touring but I get to go along anyway. I just set up a merch table and I have a bunch of exclusive shirts and prints and I have a new book coming out called And So He Bathed In The Blood Of The Lepers.




EO: What was the first tour like?

AP: It was really really good, it was really weird, because I didn't know what to expect, but I talked to a lot of people and got a lot of stuff out there.. to places that don't even have the internet.

It was a lot more work that I thought it would be. I almost didn't do it again this year because it physically taxed me so much. There's driving for nine hours, setting up for two hours, working for six hours, breaking down for an hour, and having to be in the next state in six hours.

Last year I had one helper person but he couldn't drive, so I did all the driving. This year I'm actually taking two people with me - which is better. And I'm taking less stuff, a more narrowed down selection.

EO: It sounds like APE on the road.

AP: But it's to a completely different crowd, and there's no competition, except with band merchandise... A couple days after I get back from tour, it'll be time for APE.




EO: There are going to be so many great artists at APE this year.

AP: Yeah, APE is my favorite show. And we're doing Comicon... And there's this other thing called World of Horror that's coming to San Francisco this year - my roommate Dave Correia and I are gonna do that. And I do Fangoria every year.

Basically I have my whole year planned out. It's overwhelming and I don't know where all the money is gonna come from, but it always works out. I've been doing freelance work for about 4-5 years now, but just this past year I have been able to get jobs that are like "yeah, we want you, but we just want you to do what you want" which is awesome.

EO: Yeah, that is the ideal isn't it?

AP: At least that's how they're pitched to me, but then they always have influence on the outcome. And if worse comes to worse, and they end up passing on what I've made, then I still have something that I can use for something else.

Hurley is the big company I'm working with right now, pretty much full-time for the past couple months. And they're being really supportive, we're doing co-branding on some clothes. We work so far in advance though... I'm working on stuff for winter 2007.



Eye Suck Ink HQ + one giant deflated handturkey...

EO: What can we look forward to for your show at Toyroom Gallery this weekend?

AP: My new book will be out and available. It's an 84 pages of hand turkey drawings, it's awesome. We're going to be having projection-stuff and painting on the insides and we're gonna give out little free eyes that you can stick right here (points to forehead...)

EO: Free stick-on eyes!?...

AP: Yeah!




EO: Okay, before I go, any shoutouts?

AP: Oh yeah, Jon Wayshak www.scrapbookmanifesto.com, Dave Correia (www.playwithknives.com), & Greg "Craola" Simkins www.imscared.com

-----------

Triclops "a 3 eyed exhibit of the absurd" opens February 17th & 18th and runs through March 11th at Toyroom Gallery in Sacramento, CA.

Visit www.toyroomgallery.com for more information about this show.

Visit Alex Pardee's website www.eyesuckink.com to see more of his work.