Ai Weiwei's 'Sunflower Seeds' Installation Causes Health Concern at Tate Modern
Juxtapoz // Thursday, 21 Oct 2010
1
Ai Weiwei, a conceptual artist from China, filled the Tate's Turbine Hall with millions of ceramic sunflower seeds as part of the Museum's Unilever Series. As part of the magnificent experience, the public was invited to walk on the pool of seeds, pick them up, and inspect the delicate handiwork.
"The black-and-white seeds crunched delightfully underfoot, and the whole thing resembled an indoor pebble beach, with people strolling about and then plunking down to sit or recline," reports Roberta Smith of the New York Times. "One young man had buried himself."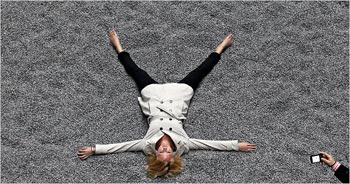 Clearly, viewers were whole-heartedly embracing the installation. But only a week after Sunflower Seeds opened, the Tate, in consultation with the artist, decided that people would no longer be allowed to enter the work, saying that the dust they stir up posed a health hazard. Now it can be viewed only from behind ropes or from the bridge that spans the Turbine Hall one floor up.
Smith continues: "What is the dust? The seeds, cast in porcelain, are painted with black slip — essentially liquid clay — and fired. (Some 1,600 residents of a village that once provided porcelain to the imperial court produced them over the course of several years, as documented in a video that accompanies the piece.) This process yields a matte finish that looks exactly like that of real sunflower seeds, but slip lacks glaze's imperviousness to wear and tear.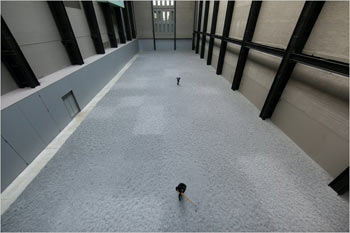 "The use of slip without glaze is highly unusual on porcelain, although typical on stoneware, with which it bonds more completely. But 'stoneware' lacks the cultural resonance of 'porcelain,' which refers to a form the Chinese invented, and using glaze would have made the seeds less seedlike and probably very slippery, creating a different problem for the public. All this suggests that Mr. Ai and the Tate must have known that his piece was something of a gamble from the start; so far, it appears that they took it and lost."
More info on Sunflower Seeds from our previous coverage and on the Tate Modern website, www.tate.org.uk